Chi Dog Review: Healing Food Therapy for Dogs
Published on May 31, 2023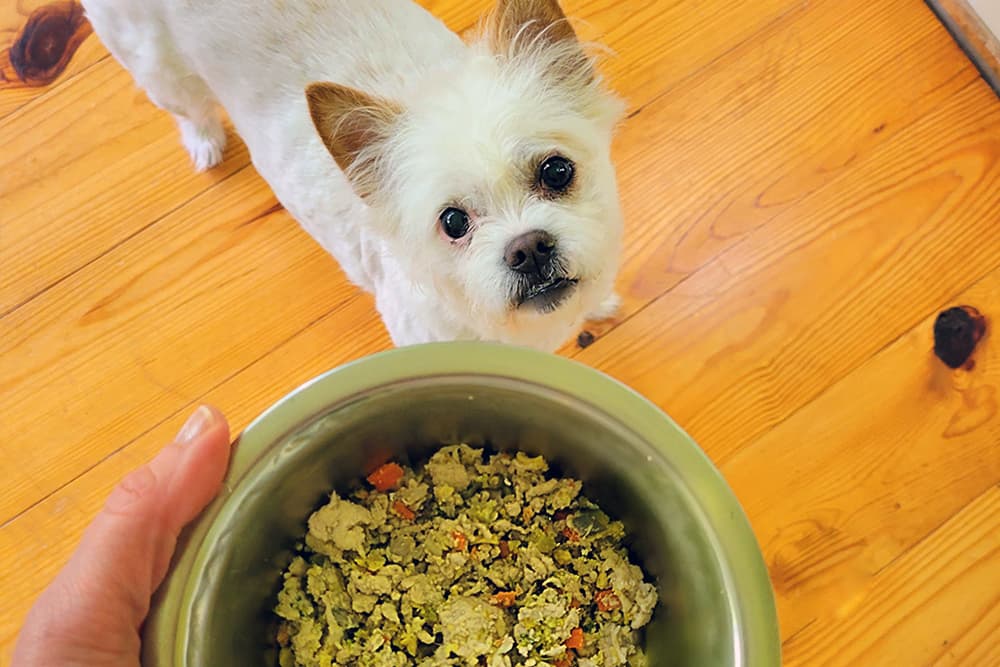 "You are what you eat" might sound cliche to some, but there's a lot of science-backed wisdom behind the saying. And it doesn't just apply to humans! What we eat has a huge impact on the overall health and wellness of people and pups, alike. And, now, innovative dog food company Chi Dog has taken that nutritional philosophy one step further, by combining the best of Eastern and Western veterinary medicine to create fresh, customized meal plans for dogs using premium, human grade ingredients.
I recently gave Chi Dog's fresh, veterinarian-developed dog food a two-week trial on my own pups to find out if the meals are as good (for dogs) as they look (to me)! Here's what I discovered.
and save 30% off your first order
Human Grade Dog Food: Does it Matter to Dogs?
While kibble has long dominated the global pet food market, the fresh and human grade dog food segments have seen explosive growth in recent years. But does "human grade" mean anything for dogs, or is it just a marketing buzzword?
On its own, the term "human grade dog food" doesn't necessarily mean the food is nutritious or good for your dog, just that the finished product is deemed fit for human consumption by the FDA.
However, Chi Dog natural food for dogs goes above and beyond the human grade label. Chi Dog recipes have been formulated by expert veterinary nutritionist Dr. Edward Moser, DVM, to exceed both AAFCO nutritional standards and FDA standards for human grade food.
The result is fresh, naturally delicious dog food made from simple, healthy, whole-food ingredients that are easier for your pup to digest. So they can get the energy, protein, vitamins, and minerals they need to thrive, without all the fillers, preservatives, and additives present in other dog foods.
What is Chi Dog?
Chi Dog is a holistic dog food brand that offers fresh, lightly cooked, whole food diets for dogs made from premium, human grade ingredients, delivered right to your door. It was launched by integrative veterinarian, Dr. Susan Bohrer, DVM, after she saw how dramatically her canine clients' health issues improved when she prescribed simple, home-cooked meals as an alternative to processed dog food.
While Chi Dog adheres to Western veterinary standards, it is based on the five elements theory of traditional Chinese veterinary medicine, which says that all living beings are one of five types, or elements — Wood, Fire, Earth, Metal, or Water. And our elemental nature affects everything from our behavior and relationships to health and well-being.
Chi Dog offers nutritious meals specifically designed to cater to every dog's elemental needs. According to traditional Chinese Veterinary food therapy, eating the proper diet for their element keeps your dog's life force (or chi for dogs) in balance, which promotes overall health and well-being. While eating the wrong diet can cause imbalance, leaving dogs prone to disease.
Benefits of Fresh, Human Grade Dog Food
Chi Dog is founded on the idea that "food is the first medicine," which originated thousands of years ago with Hippocrates, the father of medicine.
But not all diets are created equal. And Chi Dog food stands out from other fresh and human grade dog food brands by offering pet parents the ability to customize a meal plan based on their dog's specific health needs.
According to Eastern veterinary medicine, these health needs often relate to a dog's element. So Chi Dog offers five different elemental diets based on warming foods and cooling foods for dogs. You can determine your dog's element by taking a simple two-minute quiz on the Chi Dog site. Based on your dog's results, Chi Dog will recommend the appropriate diet for your pup.
Putting Chi Dog Holistic Dog Food to the Test
I'm what you'd call a die-hard pet person. I've worked in the pet industry for over twenty years, both as a dog trainer and as the owner of a pet products shop. And I share my home with two senior dogs — Millie, a thirteen-year-old Smooth Brussels Griffon, and Olive, a twelve-year-old mixed breed dog.
In terms of their food preferences, my dogs couldn't be more different. Millie is a picky eater who walks away from a full bowl if it contains even a hint of something she doesn't like, while Olive chows down on anything you put in front of her, from orange slices to lettuce.
Unfortunately, that tendency to eat anything and everything has, understandably, packed a few extra pounds on Olive. I was intrigued by the thought of testing out a diet designed to work with a dog's natural type or element. So, for the purpose of this review, I let Olive be my primary Chi Dog test pooch.
Choosing the Best Diet for Your Dog
To find out which diet would be the best fit for Olive, I started with Chi Dog's questionnaire. I did hit a bit of a stumbling block when it came to the "breed" section because Olive is a mutt and there wasn't a "mixed breed" option. Her DNA test said that she's 37% Shih Tzu, so that's what I selected (she's also 37% Chihuahua). Then I filled out her age, weight, body condition, and activity level. (That last one was easy. She's 100% couch potato!)
The "health issues" section of the questionnaire gets to the nitty gritty of overall wellness, with choices that include concerns like seizures, weight gain, anxiety, allergies, cancer, and inflammatory bowel disease. As a senior, Olive is dealing with a few special needs, so I ticked those off.
Based on my answers, Chi Dog recommended three elemental diets for me to choose from. Though you also have the option of rotating in other diets, according to your dog's needs or preferences.
Once I made my choices, the Chi Dog meal delivery box arrived within days. It was well-packed with dry ice to keep the meals frozen and safe. And it also contained instructions on how to transition from our standard kibble to the whole food dog food diet.
The individual meals come in rectangular plastic bags, which stay fresh in the refrigerator for up to seven days. I selected a packet containing the Metal diet for Olive's introduction and let it defrost overnight.
Chi Dog looks impressive in the package, almost like a meatloaf, with easily identifiable vegetables in the mix. The consistency is a little crumbly, which means that it's easiest to spoon the food into a bowl. The enclosed feeding guide made it easy for me to determine how much to feed Olive each day.
Switching to a Holistic Dog Food
To prevent gastrointestinal distress that can come from switching foods too quickly, the Chi Dog feeding guide recommends transitioning slowly over the course of a week, adding increasing amounts of the Chi Dog formula to the former food each day.
I typically feed Olive and Millie high-quality kibble. And they're used to add-ins like fresh vegetables and meat. But the Chi Dog diet seemed to be a next-level addition to their menu. Even on the first day, with a mix of just one part of the Metal diet to three parts of her regular kibble, Olive was practically singing as she waited for me to put her bowl down.
She ate her food faster than she typically does (even when I add yummy extras) and proceeded to lick the bowl clean several times.
Millie definitely shot me a reproachful look when she realized that Olive's breakfast contained something extra special, so I promised to give her a taste at dinnertime.
The Chi Dog Difference
To say that Olive enjoyed her meals is an understatement. I didn't think it was possible my eager eater could get any more excited about her food than she already is. But serving Chi Dog made her race to her food spot. She loved it enough to revisit her bowl several times throughout the day just to make sure she didn't miss a morsel.
Our test period for this Chinese food therapy was only a month, which often isn't enough time to notice a significant change in health. That said, I definitely noticed that Olive's waste was more tidy and compact than usual once she started eating Chi Dog meals. Plus she didn't have as much flatulence, so Chi Dog appears to have improved her digestion. And her joy at mealtimes was adorable!
Things We Like:
There's a lot to appreciate about Chi Dog, including:
The company was founded by veterinarians with a background in Eastern veterinary medicine who have an understanding of and devotion to holistic healing philosophy.
Recipes feature fresh, clean, human grade ingredients, are high in protein, low in carbohydrates, and contain no preservatives or fillers.
Made fresh in the USA, where they are lightly cooked in USDA-certified kitchens.
Customizable meal options can be fed therapeutically to address specific health concerns or as part of a maintenance diet for healthy dogs.
Both of my dogs loved Chi Dog meals. (I cheated and let Millie have some too!)
I could see fresh, whole ingredients, like carrots and potatoes, in the bowl
Easy to order and serve.
Things to Consider:
Meal portions aren't specifically calculated to an individual dog's ideal weight.
Taking fresh dog food on the road requires extra planning to ensure your food stays frozen and safe.
The vegetarian diet option might not be a good fit for all dogs. Be sure to talk to your veterinarian before starting any new diet.
While I thought the quality of the meals was incredible (and Olive raved about the taste), you will pay more for a fresh diet than you would for most kibbles and canned food. Olive's diet works out to approximately $8/day for a 30-pound dog.
Chi Dog Food: Our Verdict
What's our final Chi Dog food review? We were big fans of this unique, holistic dog food! From the simplicity of incorporating it into Olive's diet to the way she absolutely loved it, I was sold on these healthy healing meals from the first bowl! And she seemed to have a much easier time digesting her fresh dog food meals. I can't wait to see what other effects a Chi Dog diet will have on my omnivorous Olive.
and save 30% off your first order