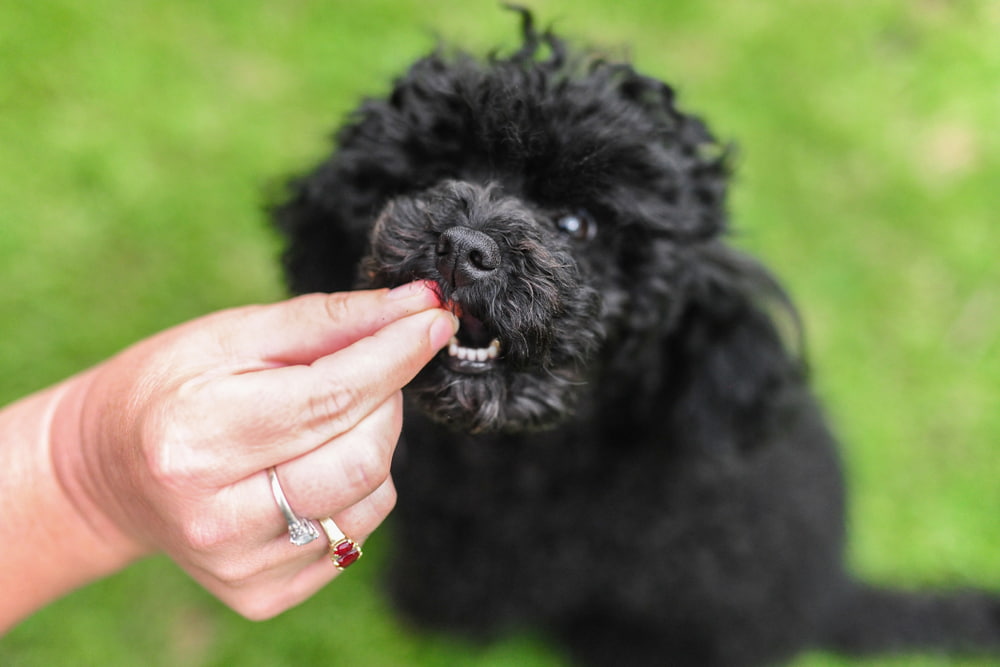 Is your dog high-strung? Easily stressed? Or just a bit on-edge from time to time? Doggy life may seem idyllic, but even the happiest pups can have trouble handling the stress and anxiety of modern life.
In recent years, the pet industry has seen a huge surge in CBD products designed to calm such anxious pets. And, according to the latest statistics, the trend shows no sign of stopping. A report issued by data and analytics giant Nielsen in conjunction with industry experts predicts that within a few years, hemp-based CBD pet products will represent up to 5 percent of all CBD sales within the U.S.
Though CBD can be a helpful super soother for stressed-out pets, that's not the only reason pet parents are turning to CBD treats, tinctures, chews, and more. Makers of CBD pet products tout the all-natural ingredient for the full-body benefits it can provide, as well.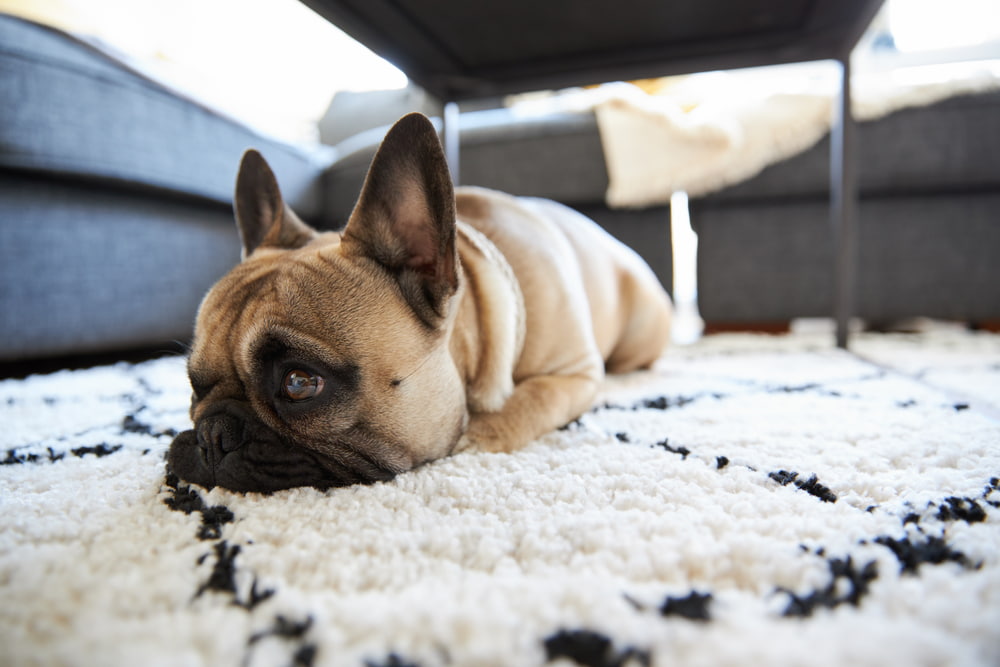 For example, the California-based company Penelope's Bloom was born out of the founders' search for pet-safe CBD products to soothe the pain of their beloved French Bulldog, Penelope, who suffered from chronic disc degeneration of the spine. To help other pet parents, they now make affordable, high-quality, organic CBD pet treats and supplements that are safe for both dogs and cats.
Whether you're considering pet-safe CBD to help soothe your stressed-out pup or improve their overall health, CBD-infused dog treats can be a great way to ease into and explore the world of CBD pet products. Yummy CBD dog treats are formulated to be more palatable than most oils, tinctures, and pills. Plus, what dog doesn't love a treat? In this article, we'll break down the benefits of CBD dog treats and recommend some of the best options out there for your pup.
CBD Dog Treat Benefits
Many dog parents are warming up to the idea of using CBD pet products to help their pooch — and with good reason. Though it's no magical cure-all, CBD can be used to target a broad range of behavioral and health issues — not just dogs who bark, shake, and shiver at the sound of fireworks or thunderstorms!
So what kind of CBD should you consider for your dog? You'll find a variety of pet-friendly product forms available, from capsules and pills to oils, ointments, and creams. But if you're looking for CBD that will get your dog's tail wagging while it gets to work, there's nothing better than tasty CBD dog treats.
In addition to their calming benefits, CBD dog treats can also address specific (and common) canine challenges, including:
Chronic joint pain
Restlessness
Separation anxiety
Excessive barking
Inflammatory conditions
Seizures and neurologic disorders
Gastrointestinal support
Keep in mind that CBD dog treats, like all supplements, may interact with medications your pet is currently taking. It's always a good idea to consult with your veterinarian before adding CBD treats to your dog's diet, to confirm that they're safe for your pet.
How We Ranked Our CBD Dog Treats
There's no shortage of CBD dog treats on the market. So, to help pet parents choose the tastiest, most effective treats, we ranked our favorites using a combination of first-hand experience (from pet parents), taste-testing (from pets), and reviews from existing customers.
We also based our picks on these important considerations:
Is the product veterinarian formulated or recommended?
Is there third-party testing? This allows for impartial reviews of the CBD treat's ingredients, formulation, and function.
Is it designed for pets? Never give your dog a CBD product designed for people.
Manufacturing process: How was the product manufactured and where?
Ingredient honesty: What ingredients are used and why?
Sourcing transparency: Where is the product grown and manufactured?
Labeling clarity: Are the instructions clear and understandable? Is dosing noted?
Customer service: Where can a pet parent call or connect with a representative for more information?
7 Best CBD Dog Treats
Here are our top recommendations for CBD dog treats every pet parent should consider.
All featured products are chosen at the discretion of the author. However, Vetstreet may make a small affiliate commission if you click through and make a purchase.
Our Picks
Best CBD Dog Treat: Overall Winner
Our Pick: Penelope's Bloom CBD Dog Treats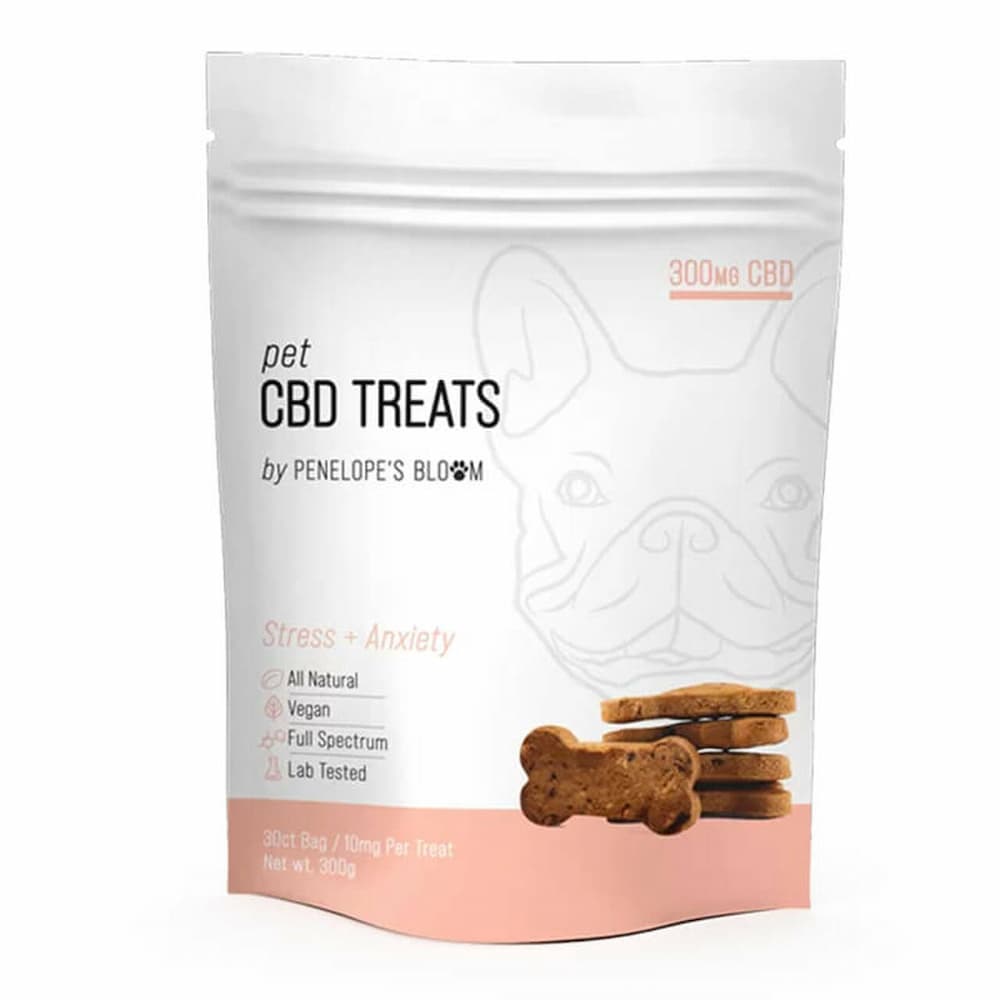 Many dedicated dog moms and dads find CBD treats highly effective for relieving a variety of canine conditions. Our deep dive into the best CBD treats for dogs places Penelope's Bloom CBD Dog Treats as our overall top pick. Whether your dog needs CBD for relaxation, mobility, or immunity support, Penelope's Bloom has a wide selection of tasty CBD options. Every treat is made from organically grown hemp that's held to human-grade standards, to take the guesswork out of buying the best CBD treats for your pet. Plus, Penelope's Bloom treats are fairly priced with a 20 percent subscriber savings.
Penelope's Bloom CBD Dog Treats are made of full-spectrum CBD oil, which allows cannabinoids and terpenes to work together for an enhanced "entourage" effect. This provides optimal impact to help calm, support, and improve your dog's specific issues. No two dogs are alike, so Penelope's Bloom offers a variety of CBD dog treats for specific issues. Consider the mix and match 3-pack bundle for multi-dog households or to score extra savings.
Highlights
Made with the highest-quality, human-grade hemp that's organic, vegan, cruelty-free, non-GMO, and grown without pesticides
Enviro-friendly packaging is made from recycled materials
Baked in small batches, featuring sweet potato flavor dogs love
Smells like freshly baked oatmeal cookies
Contains tasty organic blueberries, spinach, flaxseed, and more to delight your dog's tastebuds
For dogs of all life stages
Made in the United States
Available in standard (10 mg CBD per treat) and extra strength (20 mg of CBD per treat) dosages
Things to Consider
Best CBD Treats for Overall Wellness
Our Pick: Honest Paws Well CBD Bites
Get 15% off your order with code VETSTREET
With 40 mg of organic full-spectrum hemp oil containing 5 mg of naturally occurring CBD, these tasty, crunchy treats deliver full-body health benefits in every bite. Formulated to support your dog's immune system, promote calmness, and boost cognitive health, Honest Paws' Well Bites feature the very best ingredients, so they're absolutely yummy, too. Each treat features organic oats, barley, and peanuts grown right here in the USA, plus shaved coconut for a creamy coconut flavor your dog will love. There are very few coconut-based wellness treats on the market, but Honest Paws gets four paws up for this product.
Highlights
Made in the USA with globally sourced ingredients
Each tasty, crunchy bite contains lab-tested full-spectrum hemp oil with 5 mg of naturally occurring CBD
Non-GMO, pesticide-free, gluten-free, and soy-free
Contains no sugar or added colors
Verified USDA Organic & NASC-Certified to meet the strict quality standards of the National Animal Supplement Council
30-day money-back guarantee
Things to Consider
Daily dosage depends on your dog's weight
Also contains organic peanut butter made from USA-grown peanuts
Best Meaty Flavored CBD Dog Treats
Our Pick: MediPets CBD Dog Treats
CBD treats are only effective if you can get your dog to eat them. And when it comes to taste tests, Medipets' extensive line of deliciously meat-flavored treats is a home run. Whether you choose Meaty Steak, Beef Wraps, Wavy Bacon & Cheese Bites, Kabobs, or Specialty Dog Biscuits, your pup's palate will thank you. And because MediPets dog treats come in a variety of CBD strengths, these treats are perfect for multi-pet households. For example, the Meaty Steak option has 5.5 mg of CBD per treat. The Beef Wraps include 3 mg of CBD per treat, and the Wavy Bacon and Cheese Bites contain 10 mg of CBD each. So you can be sure your pet is getting just the right amount of soothing CBD.
Highlights
Flavored with real beef and infused with industrial CBD hemp oil
Made in the United States
Available in 16 different flavors and dosages to meet the varying needs of each dog in your family
For dogs with food sensitivities or choosey palates, there are lamb, salmon, and other tasty flavors
CBD dose varies by product, so check labeling before purchase
Things to Consider
Some MediPets products contain ground yellow corn and meat by-products
Exact dosing instructions by weight are not included
The amount of CBD listed on the front of the label is for the whole container
Best Fruity Crunchable CBD Dog Treats
Our Pick: King Kanine King Kalm Crunch
Get 15% Off Site-Wide with Code VETSTREET
Searching for a CBD option that's a balm for your dog's spirit and health, as well as a true treat for their taste buds? Look no further than King Kalm Crunch CBD Treats. These all-natural calming cookies are made from yummy organic ingredients like honey, apples, and turmeric, combined with broad-spectrum cannabidiol derived from hemp grown in the USA. King Kalm Crunch is GMP (Good Manufacturing Practices) certified and made in an FDA-registered facility for total quality. Each King Kalm Crunch treat contains between 3 and 4 mg of CBD per treat with approximately 30 treats in an 8-ounce bag.
Highlights
Made with pure, honest ingredients like organic apples, cinnamon, oat flour, flax seeds, blueberries, sweet potatoes, almonds, and honey
An independent laboratory tests all King Kalm CBD dog treats for safety
Available in three tasty choices: apple cinnamon, blueberry, and honey oat
Formulated by a licensed holistic physician and nutritionist
Pesticide and solvent-free
Follow treat-dispensing instructions on the packaging
Things to Consider
King Kanine recommends consulting with your veterinarian first if your dog is on any medication before feeding their CBD treats
Only available in 8-ounce bag size
Made in small batches, so some flavors sell out quickly
Best Gourmet Flavors CBD Dog Treats
Our Pick: Pet Releaf Edibites
Is your dog into pizza? Sushi? Sweet potato pie? Now, dogs can choose CBD relief that's available in a veritable smorgasbord of palate-pleasing flavors, thanks to Pet Releaf's extensive line of Edibites CBD dog treats. You'll find a flavor to fit just about any dog's taste preferences, from Peppered Bacon to Peanut Butter & Carob. Edibites are infused with full-spectrum hemp oil extracted from hemp grown in the U.S., on Colorado family farms. Edibites designed for small and medium breeds contain 1.5 mg of active CBD, while Edibites for larger breeds contain 3 mg. As a special treat, look for special edition Edibites in pizza and sushi flavors, featuring the artwork of Keith Haring on the packaging — a reminder that every pet's life is a work of art!
Highlights
Large selection of flavors and sizes to meet every dog's needs
Each treat contains no fillers and no chemical preservatives
Pet Releaf Edibites are free of corn, soy, dairy, and wheat
Pet Releaf's CBD hemp oil is extracted using pressurized air to remove CBD from the plant
Number of Edibites to dispense daily varies by the weight of your dog
Edibites are available in crunchy or soft chew formulas
Things to Consider
The company recommends an examination from a veterinarian before using the product
Can be used twice daily with the dosage split between morning and evening
Best Relaxing CBD Hard Chew
Our pick: Kradle Chillers Relaxing Hard Chews
Most CBD treats get gobbled up quickly, but Kradle found a solution. Their Chillers hard chews are designed to be long-lasting. So your dog can enjoy the meaty bacon flavor for long stretches of time while reaping the relaxing benefits of CBD combined with Kradle's proprietary BotaniTek™ blend of proven natural calming ingredients. For pet parents who prefer a smaller dose, Chillers break in half easily and are formulated for easy digestibility and everyday use. Each Chiller contains CBD from broad-spectrum hemp extract and comes individually wrapped.
Highlights
Third-party tested for purity and potency
Contains patent-pending proprietary BotaniTek Blend designed to interact with your dog's endocannabinoid system to reduce stress
Certificates of analysis available online
Bacon flavor so dogs enjoy the taste
Dosing depends on the size of your dog
Made in America with U.S.-farmed hemp
Things to Consider
Not advised for dogs on antidepressants
Always supervise your dog when they eat oversized chewable treats to avoid choking or swallowing whole pieces
Best CBD Calming Pet Chews
Our pick: Medterra Pets Calming CBD Chews
If your dog likes to sit and work on a tasty chew, consider Medterra Pets' Calming CBD Chews in Bacon Flavor. These THC-free, grain-free tasty soft chews satisfy even the most finicky canine palates. Each bag contains a generous 30 chews so you are prepared for any anxiety-inducing event. In addition to 99.6% pure CBD, each chew contains valerian root known for relaxing qualities and L-tryptophan, a natural amino acid for anxious dogs. Your dog receives 10 mg of CBD in each chew, making it easy to customize according to your dog's size.
Highlights
Third-party lab tested and verified with a certificate of analysis on file.
US Hemp Authority certified
Organically grown hemp is non-GMO
Made in America
Bacon flavor is an enticing flavor for dogs
Many positive reviews from satisfied pet parents.
Things to Consider
Intended for dogs 12 weeks and older.
Multi-dog households may use the contents up faster.
Best to supervise your dog during chew time.
CBD Dog Treats FAQs
Whether you're perusing the aisles of your local pet supply store or searching online, finding the best CBD treats for dogs can be a challenge. If you're overwhelmed with questions, here are some important answers to help guide your search.
What is CBD? CBD is the common name for cannabidiol, a non-intoxicating chemical compound found in members of the Cannabis sativa plant family, which has been shown to benefit the health of both pets and people.
What's the difference between CBD and hemp oil for dogs? CBD is most often extracted from the hemp plant because its leaves, flowers, and stalks contain high levels of cannabidiol. So you may see the terms "CBD oil" and "hemp oil" used interchangeably on CBD dog treat packaging.
However, don't confuse either of these with "hemp seed oil." Though high in Omega-3 fatty acids, hemp seed oil does not contain any CBD.
How many CBD treats are safe for my dog? No two CBD dog treat formulations are the same, so be sure to follow the feeding directions on the package. Though CBD treats can't get your dog "high" — because hemp contains very little THC, the intoxicating compound found in hemp's better-known cousin, marijuana — that doesn't mean your dog can scarf them down like any old treat. Always follow the weight-based feeding instructions on the packaging to ensure your dog gets the best benefit from their CBD treats.
Are there any side effects to giving CBD treats to my dog? Like any supplement, CBD treats may cause different reactions in different dogs. Pets that are sensitive to the compound may experience mildly adverse reactions, including dry mouth, lethargy, diarrhea, inappetence, and vomiting. To be safe, start slowly when feeding your dog any new treat or food, and always check with your veterinarian about dosing.
CBD Dog Treat Tips for Success
Finding the right high-quality CBD treats for your dog may take some time, so don't get discouraged if you don't see results right off the bat or your pet turns their nose up at the treat.
What works for one dog may not benefit another, so you may need to shop around and experiment a bit. Hopefully, our guide, tips, and recommendations will help you in your journey so you know what to look for.
When testing out new CBD treats or any CBD pet products on your dog, the folks at ProjectCBD advise pet parents to keep a journal that tracks your dog's general demeanor and behavior, so you can see what works best. Be certain to review the products you're considering with your veterinarian, as well as any side effects you notice once you dispense the treats. Some medications may be contraindicated, so it's best to be on the safe side and protect your dog.