9 Best Dog Vitamins and Supplements
Your morning routine includes popping a multivitamin, taking a biotin supplement for healthy skin and hair, and starting an elderberry syrup regimen at the first sign of the sniffles—and you feel great. So, if vitamins and supplements are a big part of your wellness regime, should you give them to your dog, too? For a lot of pet owners, the answer is a resounding YES.
Pet owners spent a whopping $800 million on pet supplements in 2020 with vitamin supplements for joint health, heart health, skin and coat health, and digestive health topping the list as the most popular options.
What Vitamins are Good for Dogs?
Your dog needs several vitamins and nutrients to help them maintain good health. Vitamin A helps with vision, immune function and growth; vitamin D, calcium, and phosphorous support strong bones and muscles; vitamin E protects against cell damage; riboflavin and magnesium boosts enzyme function; and zinc helps metabolize protein and carbohydrates, according to The National Academies.
Without adequate vitamins and minerals in their diets, dogs could suffer from poor growth, muscle weakness, lethargy, diarrhea, loss of hair, skin lesions, convulsions, appetite loss, and a host of other health issues.
A complete and balanced diet provides all of the vitamins and minerals your dog needs for optimal health but supplements could be beneficial.
Best Dog Vitamins: What to Look For
There are vitamins for older dogs, vitamins for small dogs, vitamins for pregnant dogs, and vitamins targeted for specific health and wellness benefits, which can make it hard to know which ones to choose.
Although the U.S. Food and Drug Administration doesn't regulate vitamins and supplements formulated for pets, it doesn't mean that there are no options to gauge the quality and purity of the supplements you purchase for your dog.
Look for the National Animal Supplement Council seal. The third-party certification verifies that vitamins were made with quality ingredients and manufactured under strict guidelines. The website also has a list of supplement recalls and is a good spot to check before making a purchase.
Consumerlab.com evaluates supplements, including pet supplements, for quality ingredients and correct product labeling. It's an independent, subscription-based site.
Your veterinarian is also a good source of information and can recommend quality dog vitamins that are specific to your pet's needs.
Dog vitamins are sold as powders, liquids, pastes, and capsules. Powders, pastes, and liquids can be added to dog food (or another high-value food item) to mask the taste while pills might need to be tucked into pill pockets if your dog is reluctant to take her daily vitamins.
9 Best Dog Vitamins and Supplements
Ready to choose the best dog vitamins and supplements for your canine companion? We rounded up some of our favorite picks for different life stages and needs.
All featured products are chosen at the discretion of the author. However, Vetstreet may make a small affiliate commission if you click through and make a purchase.
Our Picks
Best All-in-One Multivitamin for Dogs
Our pick: Daily Great All-In-One Multivitamin
Sometimes less is more, which is why Daily Great's All-In-One Multivitamin is the best choice for busy pet parents. Remove all guesswork of what to give and how much is needed, thanks to this four-in-one formula. Packed with vitamins and minerals in a tasty chicken-flavored chewable treat, dogs receive core vitamins and more throughout all life stages.
Highlights
Helps promote a dog's healthy skin and coat with omega 3s
Keeps hips and joints at optimal performance with glucosamine and chondroitin
Beneficial probiotics for a healthy gut
Dogs with a lack of energy may benefit from Daily Great supplement support
One and done means less work for dog moms and dads
Things to Consider
One serving is two chews for dogs up to 30 pounds
Dogs over 30 pounds require more than two chews per day
Not intended for pups under 12 weeks old
Best Dog Vitamins for Preventive Health
Our pick: Front of the Pack The One Daily Dog Supplement Powder
Get 20% off with code VETSTREET20
If you're looking for "top-to-tail" preventive support, Front of the Pack's (FOTP.com) The One dog supplement powder provides eight essential benefits in one daily dose. This convenient blend of 12 clinically-proven ingredients was designed to relieve hip and joint stiffness, support healthy digestion and immune health, soothe itchy skin and allergies, and maintain healthy heart function, among other perks. Simply sprinkle the broth-flavored powder onto your dog's food once a day or mix it in with her favorite healthy snack.
Highlights
Active ingredients include prebiotic fiber, krill, glucosamine, chondroitin, MSM, taurine, curcumin, and green tea extract
Non-GMO, no artificial flavors or colors, hypoallergenic, and pesticide-free
Vet recommended
Made in and ships from USA facilities
60 scoops per pouch
Things to Consider
Suitable for dogs over 1 years old
If you have a larger dog, you will run through your supply faster. Suggested serving is 1 scoop for dogs weighing less than 25 pounds, 2 scoops for dogs 25-50 pounds, and 3 scoops for dogs 50 pounds or more
You won't see results right away, but the company says positive improvements should begin to appear within 4-6 weeks
Best Dog Vitamins for Skin and Coat
Our pick: Finn Skin & Coat Supplement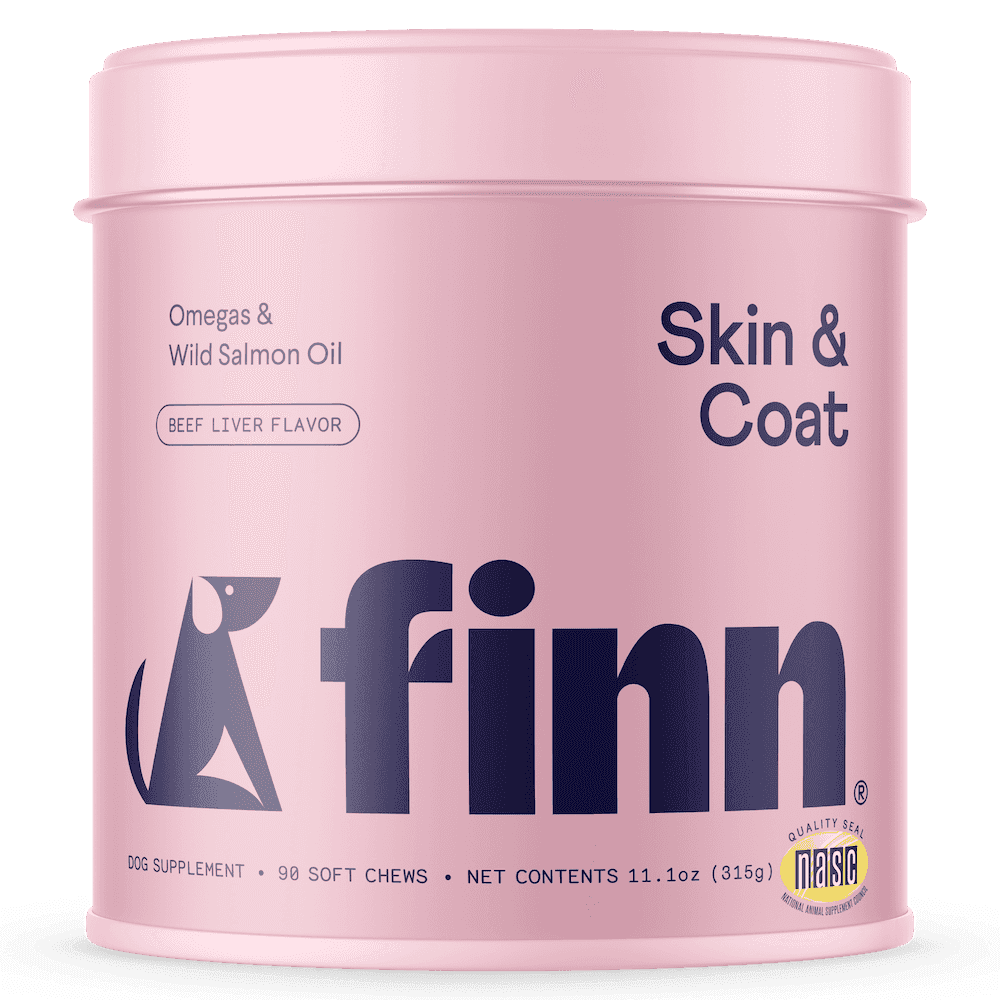 20% off all orders with code VETSTREET20
If you're looking to provide nourishment to your dog's skin and coat, this option from Finn is an excellent choice. Fatty acids help keep their coat shiny, while EPA and DHA are healthy omegas that are great for itchy skin. These beef liver-flavored chews can even bring out the natural highlights in your pup's fur.
Highlights
Contains fatty acids, Alaskan salmon oil, EPA/DHA, biotin, and vitamin E.
Helps support coat shine and highlights, as well as moisturized skin.
May help with shedding.
Steel packaging is 100% recycled/recyclable.
Great for all life stages.
Finn maintains high quality/safety standards for every batch.
Things to Consider
Some customers mentioned their dogs did not like the taste/smell.
Best Dog Vitamins for Shedding
Our pick: Dinovite

Ingredients like ground flaxseed, vitamin E, dried kelp, zinc, alfalfa nutrient concentrate and prebiotics and probiotics help support skin and coat health. A single scoop added to your dog's daily diet can help reduce shedding, dry skin, scratching, excessive licking, and stinky coat.
Highlights
The combination of nutrients, amino acids, and omega-3 were designed to support healthy skin and a shiny coat.
Scoop is included for easy measurement.
Made in the USA.
Things to Consider
Should be introduced gradually to avoid digestive upset.
Best used with canned dog food to enhance the flavor.
Best Hip and Joint Vitamins for Dogs
Our pick: Nutramax Dasuquin with MSM Soft Chews
Your dog will gobble up these flavorful soft chews. The formula is based on a decade of clinical research and includes science-backed ingredients to support joint health, including glucosamine, chondroitin, and methylsulfonylmethane. It's hailed as a "comprehensive joint management formula for dogs" that stimulates cartilage production.
Highlights
Made with all-natural ingredients
Contains the key joint health ingredients glucosamine and chondroitin
Clear dosing instructions based on dog's weight
Made in the USA
Things to Consider
Must be stored in a cool, dry area
The price is higher than other soft chews for joint health
Best Dog Vitamin for Gut Health
Our pick: Purina Pro Plan FortiFlora Probiotic Supplement
This veterinarian-formulated supplement powder supports good gut health. It's made with ingredients like vitamin E, zinc, and beta carotene to boost healthy microflora in the intestine to reduce stomach upset, gas, and diarrhea.
Highlights
No mess or measurements: Individual packages can be sprinkled on top of your dog's food.
Proprietary formula that contains live microorganisms and antioxidants to support good gut health.
The microencapsulation process used to manufacture the powder helps with absorption.
Affordable option for intestinal support.
Things to Consider
Should be offered only at the direction of a veterinarian.
Best Senior Dog Vitamins
Our pick: NaturVet VitaPet Senior Daily Vitamins plus Glucosamine
These veterinarian-formulated vitamins were designed to help senior dogs feel young again. Each soft chew contains vitamins, minerals and amino acids, including glucosamine, magnesium, copper, zinc, potassium, calcium, phosphorus, niacin, folic acid, vitamin A, vitamin B12, and vitamin E.
Highlights
Daily vitamins made with natural ingredients.
Veterinarian-formulated and made in the USA.
Wheat-free
Affordable formula
Things to Consider
The formula is not grain-free
No added flavoring, so dogs may not like the taste.
Best Vitamin for Dog Eyes
Our pick: Animal Necessity Ocu-GLO Vision Dog Supplement
This vision supplement for dogs contains 12 different antioxidants from omega-3 fatty acids to grapeseed oil to support eye health. The liquid gel caps, formulated by board-certified ophthalmologists, protects ocular cells at the DNA level.
Highlights
The formula "may lessen the symptoms of eye disease."
Made in the USA and certified under FDA Good Manufacturing Practices to guarantee safety and purity.
Also available in a powder.
Things to Consider
Do not give to dogs that are taking anticoagulant medications.
Some of the ingredients are toxic to cats.
Best Multifunctional Vitamins for Older Dogs
Our pick: Zesty Paws 11-in-1 Bites
There are a lot of vitamins, minerals, and nutrients packed into these bite-sized chews for adult and senior dogs. Each chew contains glucosamine, chondroitin, vitamin A, vitamin C, vitamin E, cod liver oil, biotin, and more to help with joint health, digestive support, immune response, skin and coat health, kidney and urinary support, vision and cognitive function.
Highlights
Grain-free, wheat-free and soy-free
Chicken flavored to enhance taste
Soft chews can be offered as treats or added to dog's daily diet
Made in the USA with premium ingredients
Things to Consider
Dosing is based on weight
The chews contain 33 percent fat by volume and may not be suitable for dogs on no-or low-fat diets
Dog Vitamins: Tips and Advice
Some vitamins—or ingredients—might not be safe for certain dogs, including pregnant or nursing dogs or dogs taking certain medications. It's best to consult with your veterinarian for advice on the best dog vitamins.
Remember: It's essential to stick to vitamins made for dogs. Several vitamins and supplements manufactured for humans contain xylitol, an artificial sweetener that can be fatal for dogs. In fact, ASPCA Poison Control included it on its top 10 list of pet toxins.
Store supplements in a cool, dry location out of reach of pets.
The more information you have about how vitamin supplements for dogs can improve overall health and wellness and how to find the best dog vitamins, the more confident you'll feel purchasing products that will help promote your dog's health and wellbeing.