Best Pet CBD Brands to Know About
CBD products have flooded the market ever since CBD from hemp became legal in 2018 in the Agriculture Improvement Act. CBD (cannabidiol) is the non-psychoactive component of the hemp plant. It can be consumed in the form of chewables and tinctures to help relieve stress, pain, anxiety, and other issues.
As more people turn to this trendy therapeutic product for common ailments, pet parents are wondering if CBD can also be good for their dogs and cats. The Food & Drug Administration has not officially approved cannabidiol products for therapeutic use in pets; however, that hasn't stopped pet parents from choosing holistic methods to try and alleviate certain issues in their pets, whether it's anxiety from fireworks, or pain from osteoarthritis.
We have put together this guide to CBD for pets to help you understand its potential benefits and risk factors. This guide will also cover how to buy CBD, ways to administer it, and a list of trusted pet CBD brands.
CBD for Pets: Benefits and Uses
A quick look at the science behind how CBD interacts with the body shows how effective this plant-derivative can be in helping with certain health issues. According to Dr. Jamie Richardson, medical chief of staff at Small Door Veterinary in New York City, hemp contains cannabinoids that interact with our endocannabinoid system, which in turn contains cannabinoid receptors throughout the body.
"When cannabinoids engage with these receptor sites, different functions are affected, including pain sensation, mood, appetite, the immune system, and more," she says.
CBD benefits for pets include relief from conditions such as anxiety, stress, seizure disorders, and chronic pain. However, Richardson states that "we do not currently have a lot of research-based evidence on its effectiveness in pets." But rest assured that there is "nonetheless plenty of anecdotal evidence suggesting benefits for pets, and many studies are currently in progress."
Richardson says many pet parents have found success with pet CBD in "calming stressed or anxious pets, helping reduce the number or severity of seizures, and lessening pain."
"A study from Cornell University showed that nearly all dogs with osteoarthritis had improved pain scores and evaluations when taking CBD twice daily, compared to the dogs who received a placebo treatment." (1)
Potential risks of CBD have not been well researched; however, Richardson says that the side effects observed in pets have been minimal and include "tiredness, soft stool, and some changes in appetite have been observed occasionally."
At Small Door Veterinary, CBD is recommended for some dogs, but it is not currently recommended for cats, and will not be until more studies on its safety take place. "Cats are a sensitive species, and often have difficulty processing drugs that are safe in humans and dogs," explains Richardson.
Pet CBD: What to Look For
Pet CBD products come in the form of chews, tinctures, capsules, and treats. Pet CBD in the form of tinctures can be added to your pet's food via a dropper, while chews and treats can be given on their own.
There are currently no regulations for CBD products. Additionally, according to Richardson, "commercially available CBD products contain varying levels of cannabinoids, terpenes, and even contaminants that could possibly endanger a patient."
She suggests speaking to your veterinarian for a recommendation and choosing products that have been involved with "scientific research, go through rigorous quality control measures, and provide thorough information on dosages and ingredient lists" to avoid potential risks.
When purchasing pet CBD products, read consumer reviews, check the labels for dosage and ingredients list, and read the website for information on third-party testing.
It's also important to never give your pets CBD products made for humans. "Human medical and non-medical marajuana, as well as some hemp products, contain THC (the main psychoactive compound that makes people feel high), which can cause toxicity in pets, requiring ER treatment," warns Richardson. Edible products for humans are also dangerous to pets because of the artificial sweetener, xylitol, which is toxic to pets.
9 Best Pet CBD Brands to Know About
All featured products are chosen at the discretion of the author. However, Vetstreet may make a small affiliate commission if you click through and make a purchase.
The following pet CBD brands have been selected by carefully reading consumer reviews, reviewing each brand's website for safety and third-party testing information, ease of use, variety of offerings, and price points.
Our Picks
Here are some of the best brands and products when it comes to CBD for pets:
ElleVet is the only CBD + CBDA (cannabidiolic acid) product that is proven to work in a clinical trial (1). "They are heavily involved with leading veterinary research institutions looking at the possible applications of CBD in pets and provide a certificate of analysis indicating the potency, per-dosing unit and ingredients of their products," says Richardson. ElleVet products help with stress, itchy skin, joint discomfort, and cognitive issues in senior pets.
Highlights
Participation in cutting edge research means your pet is getting one of the best products
Peanut butter-flavored CBD pet treats are made with a proprietary blend of CBD and CBDA and organic ingredients
Offers emergency use chews for urgent use to calm a dog in stressful situations
Third-party lab tested
Things to Consider
Higher price; chews range from $79.95 to $89.95

Save 20% off your order with code VETSREET20
While many CBD products for pets contain trace amounts of THC, one of the reasons we love FOCL's Premium CBD Pet Drops is that they are super-effective and THC-free. That means your dog or cat can enjoy the same calming benefits of CBD as you can, and you don't have to stress out about harmful toxins or purity. Each bottle is third-party tested to ensure the oil is safe for pets, and FOCL shares test results on their website, so you can see exactly what's in the product. FOCL employs the same rigorous quality control guidelines for both their human and pet products, which means your pet gets the same organic, locally-grown ingredients for superior calming and soothing benefits. Pets can live more comfortably, and pet parents can feel safe dispending FOCL's CBD drops to their dogs and cats.
Highlights
May help alleviate anxiety and acute or chronic pain in dogs and cats
Can help pets sleep better and feel more rested
Safe for regular usage
Because FOCL's product contains no THC, it is safe for use with dogs and cats
User-friendly dosing – shake the bottle, squeeze to fill dropper, and dispense
Free shipping and discounts on subscriptions
Multiple flavors for a variety of palates
Things to Consider
Recommended to start with a smaller dose and increase/adjust as needed in conjunction with your veterinarian's advice.
You may need to experiment with which flavor your pet likes best
Save 20% off your entire order with code VETSTREET20
When it comes to your pup's health and happiness, no pet parent wants to settle for "good enough." With Batch Pet CBD Oil, you don't have to. This tasty tincture is crafted in small batches from single-origin hemp organically grown on a family farm in rural Wisconsin. It's made with CBD extracted exclusively from hemp flowers for maximum purity and potency, plus real ingredients like wild Alaskan salmon oil and bacon oil for maximum flavor, too. That means no more battling with your pet over bitter-tasting CBD formulas. Batch helps regulate your pet's mood, pain, and hunger quickly, naturally, and without compromise. That's a win-win for everyone.
Highlights
Grown, harvested, processed, and packaged in Wisconsin
Made with premium, all-natural ingredients
Certified cruelty-free by Leaping Bunny Program
In-house and third-party lab tested
Effective for dogs and cats of various sizes
Can be mixed with food or administered under the tongue
Contains less than .1% of THC, so won't get your pet "high"
Things to Consider
Depending on size of the dose, 1 oz bottle may not last long
Relatively young company, but growing quickly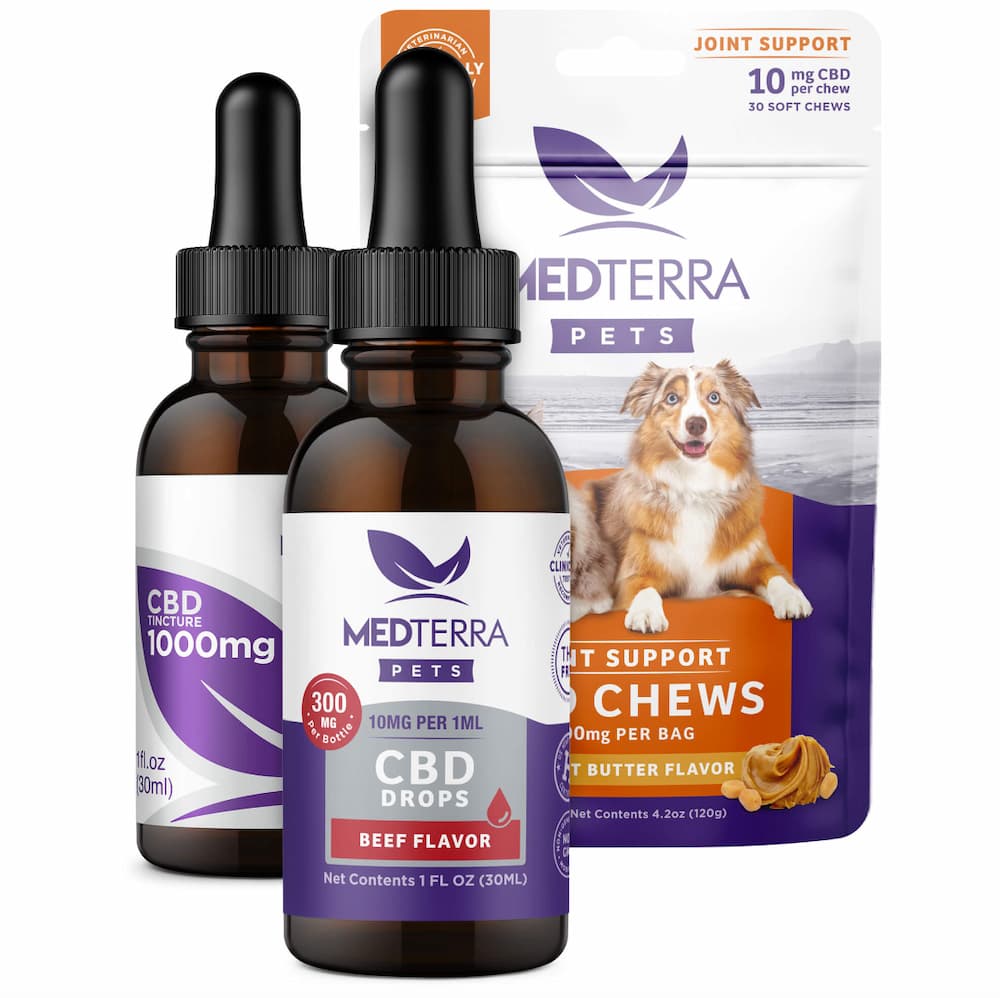 Get 15% Off Medterra CBD for Pets. Use Code CALMPET
Medterra's pet CBD products are formulated with the highest quality cannabidiol, and the goal is to provide our furry friends with the same curative benefits humans enjoy from CBD. A collaborative study between Baylor College of Medicine researchers and Medterra supports the safety and therapeutic potential of hemp-derived CBD for relieving arthritic pain in dogs (2). Medterra offers CBD chews and CBD pet drops in flavors like beef and chicken. Pet parents can choose from CBD chews for joint support, calming chews for pet anxiety, and drops to administer your pet's daily dose with ease. Medterra sells a bundle of three of its products for customers looking to try CBD for the first time.
Highlights
Made in the USA
All organic ingredients
Non-genetically modified
Third-party lab tested
For both dogs and cats
Things to Consider
Expect long wait times to receive your purchase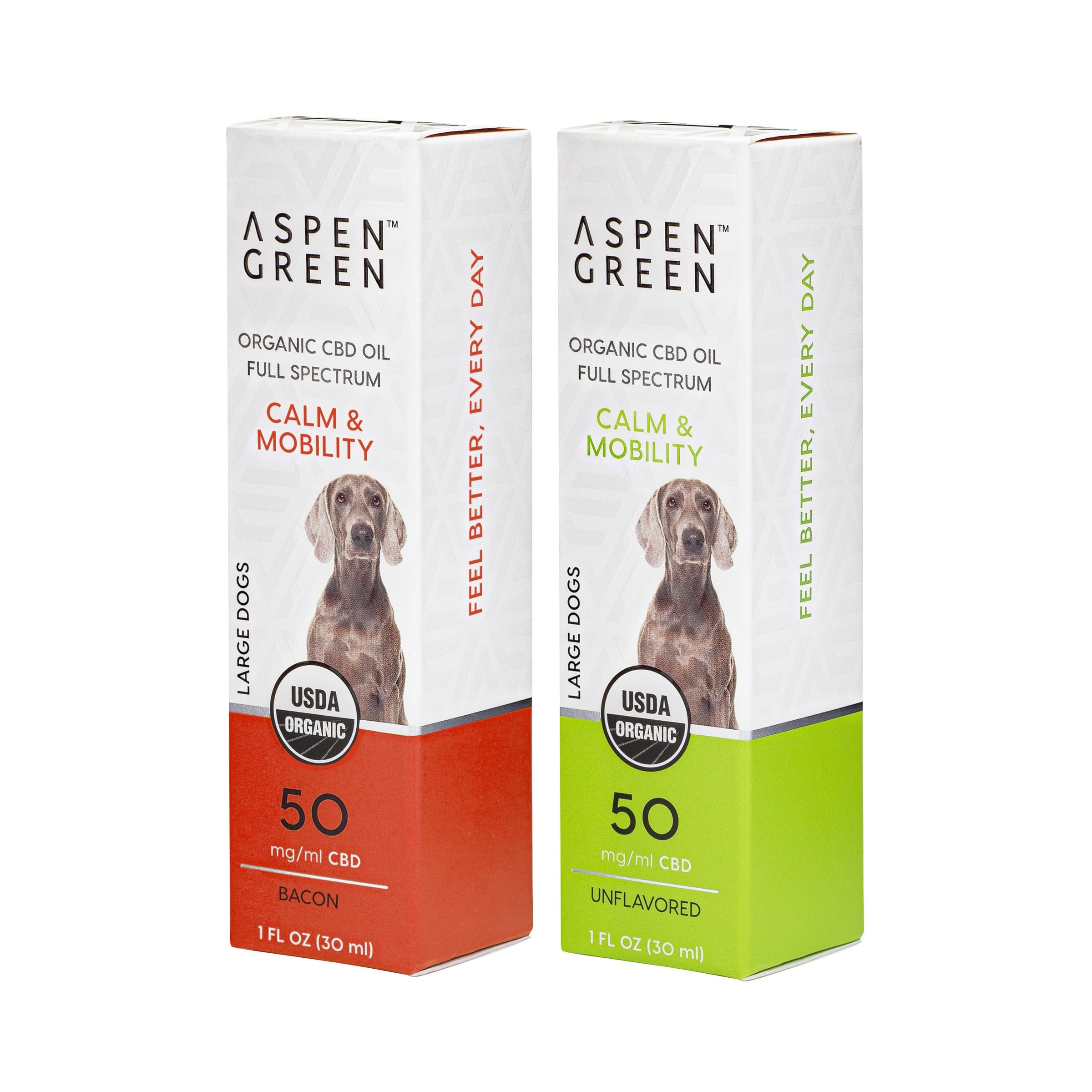 20% off with code VETSTREET
Built on the principles of quality, integrity, and transparency, Aspen Green has recently added a pet CBD line to their lineup of pure, organic, full-spectrum CBD products. From mobility and calming chews to oil for large, medium, and small pups, Colorado-based Aspen Green has a variety of options to keep your dog feeling their best. Their CBD oil also comes in flavored and unflavored selections to appease even the pickiest pups.
Highlights
Full-spectrum, vegan, certified organic CBD products
All formulas are sustainable and non-GMO
Available products: calm soft chews, mobility soft chews, and calm/mobility oil for large, medium, and small dogs
CBD oil comes in both unflavored or bacon-flavored options
Utilizes supercritical CO2 extraction for high-quality, pure CBD oil
Things to Consider
Only one product (CBD oil for small dogs and cats) is formulated for kitties
Higher price point than most options on our list
Charlotte's Web boasts a newly-expanded pet line that includes botanical blends, chicken-flavored oils, and topical balm for your dog's total well-being. Whether you've got a senior dog with hip and joint issues or a young pup with a lot of anxious energy, these pet CBD chews and drops can provide comfort. The hemp-infused balm helps maintain skin health and supports dogs with sensitive skin.
Highlights
NASC certified seal is awarded to manufactures and suppliers that have passed the NASC (National Animal Supplement Council) facility audit and comply with quality standards
Chews come in chicken flavor
Offers hemp-infused balm to promote skin health
Third-party lab tested
Things to Consider
Not to be used for cats; these products are designed for canine wellness
Canna Pet CBD is the first and only hemp and terpene (naturally occurring chemical compounds in plants) product that's designed for both cats and dogs. It comes in the form of oil, capsules, and treats/biscuits that can be purchased from select veterinary clinics or online. Dog biscuits come in flavors such as maple bacon and turkey. It also offers a vegan alternative with peanut butter, banana, and apple.
Highlights
Formulated with organic hemp grown in USA
Formulations are non-GMO, vegan, and free of animal products
Covered by major pet insurance companies such as Trupanion and Petplan with veterinarian recommendation
30-day money back satisfaction guarantee
Things to Consider
Consumers have complained about difficulty in use navigating the website to purchase products
Products often are out of stock
Treats can be a bit too hard for senior dogs
No third-party testing results published on the website
As the name suggests, HolistaPet is all about treating your pet's anxiety and boosting immunity and joint health with holistic methods. It's also one of the few brands that provides calming chews for cats. Dog treats come in flavors such as green apple and peanut butter.
Highlights
Made from premium Colorado hemp and organic natural ingredients
Three distinct flavors for dog treats and salmon-flavored CBD treats for cats
30-day money back guarantee with no questions asked
Third-party lab tested
Reasonable prices
Things to Consider
Expect slow shipping times
Flavor may not be suitable for all dogs
Pet Releaf products are grown in the United States and are both herbicide and pesticide free using full-spectrum cannabinoids. They offer several different oils, tinctures, chews, and products for dogs and cats. By utilizing the entire hemp plant in their processing through the CO2 method, Pet Releaf is able to offer human-grade products for pets.
Highlights
Large product selection from which to choose
Products are designed for specific reasons, i.e., digestive health, joint support, calming, etc.
Veterinarian formulated
Third-party tested for consistency and quality
NASC certification
Things to Consider
A bit pricey
May take a bit of time to determine which formula and dosage works best for your pet
Pet CBD: Tips and Advice
Before giving your dog or cat any CBD pet treats or CBD oils for pets, consult with your veterinarian to find the right product and dosage for the condition to be treated. If your pet is suffering from any underlying diseases or taking any other medications, the animal's body may not be able to metabolize pet CBD products. More importantly, once you've chosen the right product for your pet, read and follow the manufacturer's dosage instructions as dosage is product-specific.