7 Best Prebiotics for Dogs
Prebiotics for dogs are the unsung heroes of the canine gut. Probiotics tend to get all the attention, but prebiotics serve a very useful, distinct, and viable purpose in your dog's overall digestive health. At least 70 percent of your dog's immune system is in his gastrointestinal (GI) tract (1), so you can imagine why it is important to keep harmful bacteria out of it.
Incorporating a quality prebiotic into your dog's diet may help boost his immune system, keep his gut healthy, promote bone strength, and balance blood sugar levels (2). But like dogs, no two prebiotics are the same. We'll break down exactly how prebiotics work, plus share our recommendations for the best prebiotics for dogs.
What Are Prebiotics for Dogs?
As pet parents seek a healthier lifestyle for themselves, they also want to support the overall well-being of their four-legged family members. Not surprisingly, a need arose in the canine marketplace to address gut balance, flatulence, digestive upset, and conditions like inflammatory bowel disease. Enter prebiotics.
The International Scientific Association for Probiotics and Prebiotics defines prebiotics as "a substrate that is selectively utilized by host microorganisms conferring a health benefit." (3) Translated in simpler terms, prebiotics serve as a food source for good bacteria in your dog's gut. This helps prevent nasty microorganisms from growing and thriving (1).
Manufacturers know dogs are individuals, so what works for your pup may not work for another. We've become savvier and more knowledgeable about what goes into our dogs' bodies. Therefore, prebiotics are available in various forms, including:
Powders
Capsules
Tablets
Chewables
Liquids
Pastes
Apple and banana are high-fiber foods that are also good sources of prebiotics, but trying to work them into a dog's diet can be difficult. Oftentimes, it's easier and more effective to supplement with a well-researched, high-quality prebiotic that contains everything your dog needs.
Prebiotic vs Probiotic for Dogs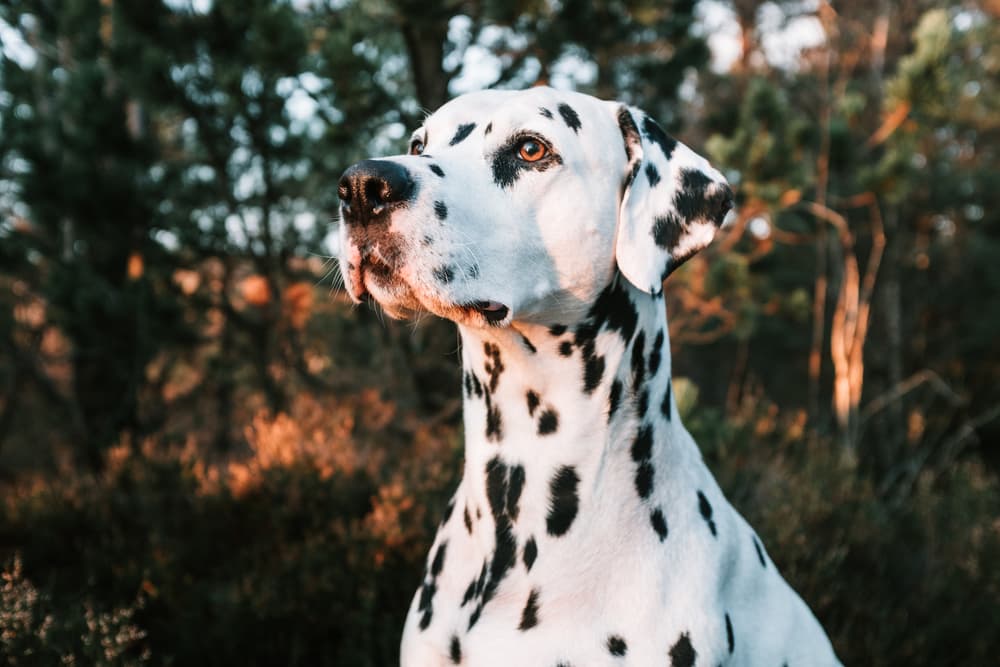 When comparing a prebiotic vs probiotic for dogs, remember that prebiotics help probiotics sustain themselves. "The difference between a probiotic and a prebiotic for dogs is that a probiotic adds to the beneficial bacteria to your dog's gut and a prebiotic aids in maintaining them so they flourish within your dog's stomach," says veterinarian Dr. Brian Evans, clinical director of the pet telemedicine service Dutch.
When prebiotics work in tandem with probiotics for the overall good of your dog's gut and immune system, a synbiotic relationship exists (4). For this reason, you'll often see prebiotics paired with probiotics in many products.
Prebiotics for Dogs: What to Look For
Because dietary supplements like prebiotics and probiotics are not as heavily regulated as medications, veterinarian-developed and veterinarian-recommended options are the right choice to ensure effectiveness and safety, Evans says.
When purchasing a prebiotic for your dog, consider the following:
Does the product contain natural ingredients?
Is the product veterinarian developed or recommended?
Is the product designed specifically for dogs?
Will it be easy to give to my dog?
Did my veterinarian recommend or agree that I can give my dog this type of product?
Has any third-party testing been done on the product?
How should the product be stored?
There should never be any artificial sugars or sweeteners, such as xylitol, in any products you give your dog. Ask your veterinarian if your dog is already receiving an adequate amount of prebiotics in his dog food or if supplementing will be beneficial.
Our Picks
7 Best Prebiotics for Dogs to Consider
All featured products are chosen at the discretion of the author. However, Vetstreet may make a small affiliate commission if you click through and make a purchase.
Best Dog Supplement Powder with Prebiotic
Our pick: Meaningful Tree's Super Pet Total Health
Basic, simple, honest, and transparent are at the heart of Meaningful Tree's Super Pet Total Health dog supplement powder. This proprietary formula combines extra virgin olive oil with acacia fiber, a natural prebiotic. While the acacia fiber supports your dog's gut and digestive health, antioxidants like vitamin E found in extra virgin olive oil (EVOO) help fight free radicals. EVOO also contains omega-3 fatty acids and other nutrients to support your pup's skin and coat health.
Highlights
Made in the United States with sustainable ingredients
Adds luster and sheen to your dog's coat
Acacia fiber promotes solid poops and overall digestive health
Contains antioxidants to fight free radicals
Contains polyphenols for brain health
Easy-to-use powder that you blend or sprinkle on your dog's food
Things to Consider
Keep the container near your dog's food so you don't forget to serve it daily
Use ½ scoop for dogs up to 30 pounds and one scoop for dogs over 30 pounds
Sample buyer review: "I purchased this as a gift for my sister-in-law who recently visited with her dog. She has been raving about the results. Her dog had no issues with this sprinkled on his food and she has already noticed a shinier coat and improved digestion."
Best Prebiotic for Dogs with Pumpkin
Our pick: Super Snouts GI Balance Digestive Supplement
Pumpkin is often touted as a superfood for dogs, and with good reason. Pumpkin can help slow down your pup's digestion and passage of waste. This delayed action means more time for his body to absorb the water it needs to form solid stools. Super Snouts combines fiber and prebiotics to reduce flatulence, reduce nausea, and support your dog's digestive health. In addition to pumpkin, Super Snouts contains apple fiber, Egyptian fennel, organic agave inulin, and organic ginger.
Highlights
Made with agave inulin, which serves as a healthier substitute to sugar and feeds natural flora
Apple fiber cleanses the lower bowel and colon
Includes ginger for nausea, gas, and motion sickness
Fiber-rich pumpkin promotes healthy, firm stools
Egyptian fennel seed helps to reduce gas
Things to Consider
Should be fed once a day
The manufacturer suggests mixing the product with equal parts water and adding to your pet's food, but you can also feed it dry
Daily serving amount will vary based on your dog's weight and can range from as little as 1-3 teaspoons for dogs up to 25 pounds to 3-5 tablespoons for large dogs 75-100+ pounds.
Do not feed to dogs who have an adverse reaction to apples
Sample buyer review: "This stuff is great! My dogs were recently put on antibiotics, and I had to have some probiotics to replace what the antibiotics killed. I have used Super Snots products before so thought I would try this. It has worked wonders. One of my dogs had stomach issues, that issue is totally cleared up, all their poop is solid and looks good."
Best Capsule Prebiotic for Dogs
Our pick: VetriScience Laboratories Vetri Mega Probiotic with Prebiotic
Achieve digestive balance with these prebiotic and probiotic capsules from VetriScience Laboratories. The prebiotic in these capsules, fructooligosaccharides (FOS), are carbs made of two naturally occurring sugars. They can help maintain colon health and promote beneficial bacteria (5). VetriScience recommends this product for dogs with food intolerances, diarrhea, constipation, or flatulence. Since it's a non-dairy formula, it will not upset your dog's gut.
Highlights
An all-natural source of beneficial microorganisms, with 5 billion microorganisms per capsule
Contains probiotics and a prebiotic (FOC)
Can also be given to cats for multi-pet households
Beneficial to a dog's immune and neurologic systems
Veterinarian-formulated
Manufactured in the USA
Things to Consider
Give one capsule to dog up to 40 pounds and two capsules for dogs over 40 pounds
Manufactured suggests giving to your dog after a meal
Should be stored in a cool, dry place and suggested refrigeration after opening
Recommended for stressful times, dogs with food allergies and sensitivities
Available in 120 or 240 count
Sample buyer review: "My dog's poop has been way healthier and she seems to have so much energy these days. I really do believe it has to do with this product! I give it to her every day, I mix 2 capsules (open them and pour the powder in her food) every morning and it has made a huge improvement on her health. I will always buy these!"
Best Chewable Prebiotic for Dogs
Our pick: Great Pet Great Poop Digestive Support Dog Supplement
Poop happens, but it's even better when it's great poop. Some pet parents prefer giving their dog a chewable supplement, which is why Great Pet's Great Poop is a winner. This chicken-flavored chew combines several products in one, including fiber, probiotics, digestive enzymes, and inulin (the prebiotic). It's hard enough to get everything into our dogs bodies and make sure they like the taste and aren't getting unnecessary preservatives. Great Poop takes the guesswork out of supplement management with its all-in-one chewable for dogs.
Highlights
Contains no corn, soy, preservatives, or artificial flavoring
Supports the digestive tract with a multi-pronged approach
Nutritious and delicious for even the most finicky canine palate
Firms up loose stool, prevents constipation, and relieves bloating
Generous 120-count product, made in the USA
High fiber with oat flour and flax seed for an added omega-3 benefit
Your dog gets a tasty treat without hiding anything in his food
Things to Consider
Store in a cool, dry place (no need to refrigerate)
Use in dogs over 12 weeks of age
Contains a 4-month supply for most small breeds; 1-month supply for larger dogs
Sample buyer review: "I have tried everything known to mankind to firm up my 15-year-old mixed Poodle's doo doo with minimal success UNTIL now! It 'seems' as though this product might be doing the trick. Her poops are firming up after only using the product continuously for five days. Her poo started improving after only two days."
Best Tablet Prebiotic for Dogs
Our pick: Vetericyn All-In Dog Supplement
Vetericyn is a trusted name that has been manufacturing high-quality pet products since 2009. Their All-In dog supplement covers several bases of canine health, from prebiotics for a healthy gut and nutrient absorption to digestive enzymes for healthy digestion. The liver flavor is drool-worthy to dogs, and each container is packed with 90 tablets, which are scored to break if desired. The product grows with your dog throughout his life stages, as there are several formulas available.
Highlights
Available in puppy, adult, and senior formulas
May soothe skin-related issues associated with seasonal allergies
Helps the body by promoting resistance to pathogens
A complete source of canine vitamins and minerals
Gluten-free, lactose-free, and GMO-free
Made in America
Can be fed as is or broken up to mix into your dog's food
Things to Consider
Choose the right life stage for your dog's age
Contains liver powder
Dogs up to 10 pounds get one tablet per day, dogs over 50 pounds receive three per day
Sample buyer review: "We love that we can take the guesswork out with this for our two-year-old dog that has so many benefits in one single supplement. Thank you, Vetericyn, for this patented complex that makes sure he gets all the vital ingredients in one shot."
Best Liquid Herbal Prebiotic for Dogs
Our pick: Animal Essentials Healthy Gut Herbal Prebiotic
Some pet parents prefer a liquid format prebiotic for easy dispensing. Animal Essentials Healthy Gut Herbal Prebiotic Dog & Cat Supplement contains certified organic chicory root, marshmallow root, fennel seed, and yucca to feed the good bacteria in your dog's gut. Use the included dropper to measure the exact amount of prebiotic as indicated on the label. A little goes a long way with this prebiotic, which is made in the USA.
Highlights
Alcohol-free and made with pride in Phoenix, Arizona
Carries the NASC (National Animal Supplement Council) quality seal
Can be given directly into your dog's mouth or mixed in with his food
Organic herbal formulation designed to support healthy, digestive microflora
Chicory root supports mineral absorption and digestion
Reviews indicate some pet parents use it for their pet's irritable bowel disease
Things to Consider
Check with your veterinarian if you plan to use this daily
Can also be used on cats
Sample buyer review: "My dear Harper is two years old and has had recurring vomit issues since she was a baby. Not every day but enough in the morning to indicate she wasn't feeling well. I started this Healthy Gut liquid because she doesn't eat wet food. It has worked very well for over two weeks. It only takes a small amount at the end of the dropper once a day to soothe her stomach. I will be buying more!!"
Best Prebiotic Dental Sticks for Dogs
Our pick: PetLab Co. Prebiotic Dental Sticks
Imagine being able to support your dog's dental and gut health in a treat format. PetLab Co's prebiotic dental sticks are safe enough for everyday use to promote healthy digestion and support gum health. Infused with flax seed, chicory root, organic coconut oil, and peppermint oil, this product is a win-win for dog moms and dads who don't want the fuss and muss of a liquid, pill, or capsule.
Highlights
Two beneficial features in one tasty dog treat
Available in 6-count or 24-count bag
Contains chicory root (inulin), which supports a dog's natural immune system
Designed to freshen breath and support oral hygiene from within
Made without fillers
Can be used daily on dogs over 12 weeks of age
Things to Consider
Higher than average price point
Made in Ireland
Each dental stick is 76 calories
Sample buyer review: "My little Cavalier King Charles has acid reflux and when I give him these, it helps keep it away."
Prebiotics for Dogs: Tips and Advice
Always store prebiotics as indicated on the manufacturer's product label. Since many prebiotic products also contain probiotics, which are live microorganisms, they may need to be refrigerated. "It is important that pet owners store probiotics as directed to avoid killing off the bacteria and ruining its effectiveness," Evans says. Prebiotics are more durable, so standalone products do not need to be refrigerated unless otherwise indicated by the manufacturer.
Never give your dog multiple prebiotic products at one time, as he can suffer a host of side effects, ranging from diarrhea to dehydration. It is best to start slow when adding anything new to your dog's diet to ensure the product agrees with his system.
Do not give your dog a prebiotic or probiotic intended for humans. The product you use should be specifically formulated for dogs.
Prebiotics can aid in your dog's digestion so nutrients are better absorbed and his immune system can perform at its full potential. Always talk to your veterinarian if you notice any side effects or worrisome changes in your dog's bowel movements or digestion.