How Do Probiotics For Dogs Work?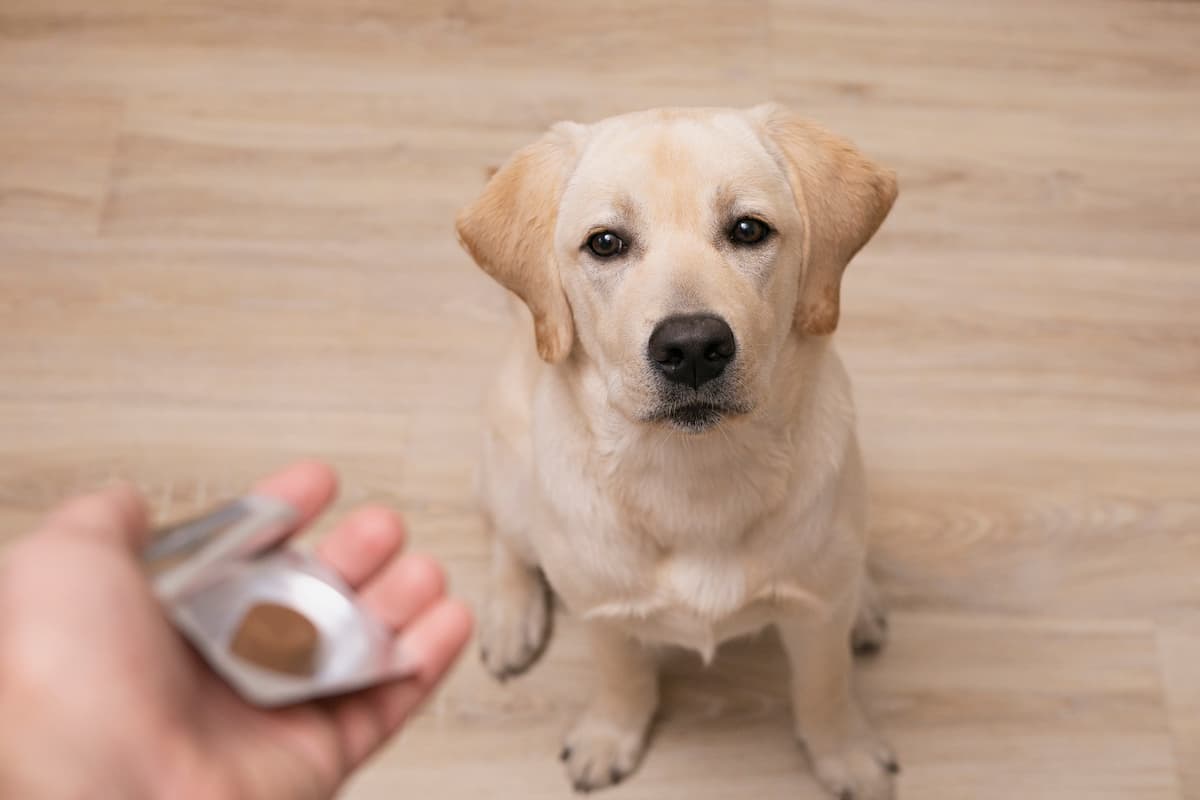 Probiotics for dogs have grown in popularity over the past twenty years, and with good reason. Studies show that the beneficial microorganisms in probiotics may improve a dog's digestive health, boost the immune system, and improve her overall well-being (1).
It's important to keep your dog's gut in tip-top shape, which is why many pet parents turn to probiotics for proper intestinal balance. Amazingly, a dog has several hundred families of bacteria living in her intestinal tract.(2) Without this bacteria, your dog's body could not digest nutrients properly.
Many factors influence your dog's gut bacteria, including her diet, exposure to chemicals, the amount of exercise and rest she gets, medications she takes, and any illnesses or parasite infections.
Probiotics for dogs work similarly to the way they work for humans. Benefits include:
Improved digestion
Minimize stomach upset
May reduce skin allergy symptoms
May support dental health
Decrease side effects of probiotics
Since no two probiotics for dogs are alike, here's everything you need to know about how probiotics work and the different types and forms of dog probiotics you might encounter. We'll also provide a helpful buyer's guide, along with our recommendations for the best dog probiotics for all kinds of pooches.
Best Probiotics For Dogs: Our Top Picks
We gathered our favorite probiotics for dogs together into one easy-to-scan list. Each probiotic on this list is designed with specific needs in mind. For example, your dog may do better with a chewable versus another dog that achieves maximum results with a probiotic powder. Peruse the list for the formula that works best for your pup.
How Do Probiotics For Dogs Work?
Probiotics are designed to promote healthy bacteria in your dog's gut to help improve digestion. Cornell indicates in recent years, probiotics have been used in dealing with diarrhea, GI upset, to combat urinary tract infections, immune system disorders, and anxiety.
Breaking down the word, 'pro' means in favor of, and 'biotic' means beneficial for life. Your dog's intestinal barrier is what prevents harmful substances from being absorbed. Probiotics get to work by limiting the ability of bad bacteria to penetrate the barrier and cause problems or disease.
The efficacy of probiotics varies from dog to dog and from product to product. Probiotics generally take time to show effect, with most high-quality products indicating up to two weeks. In other dogs, probiotics may not work at all. You may need to try different products. Always check with your dog's veterinarian before starting a probiotic for recommendations and further insights.
Veterinarians and pet parents realize the importance of supporting a dog's digestive health and overall well-being.
Your dog's gastrointestinal tract (GI) performs many functions – including processing nutrients, extracting nutrients, collecting waste, and passing waste material from their body. Amazingly, about 70 percent of a dog's immune system is in their GI tract!
How Do Dogs Benefit From Taking Probiotics?
Something all pet parents can agree on is wanting our dogs to live long, healthy lives. The right probiotic may help with conditions including but not limited to:
Diarrhea, depending on the cause and if it is associated with antibiotics
Allergic dermatitis to control itching
Dental disease to minimize bacteria
Anxiety and stress management
Chronic kidney disease
Recurrent urinary tract infections
Bloating and/or constipation
Irritable bowel disease
Weight management
Probiotics help the immune system operate more efficiently by maintaining a healthy environment in the GI tract, where 70 percent of a dog's immune system is located.
Think of your dog's gut as a castle. As invaders (harmful pathogens) attempt to enter the castle, probiotics are designed to thwart their entry.
For dogs with pre-existing health conditions, including irritable bowel disease (IBD), stress colitis, and diarrhea, veterinarians often recommend probiotics as part of the management and treatment plan.
How We Ranked Our Top Probiotics For Dogs
Author's note: I've been a Cocker Spaniel mom for over three decades. I've tried my fair share of probiotics with my dogs – everything from powders to capsules, treats to liquids. I always have one or two probiotics for dogs on hand in the event of a digestive episode. I've reviewed probiotics to the best of my ability over the years. In addition to my personal experience, we considered the following elements:
Safety and Transparency. Brand reputation is important, and so is the safe handling and manufacturing of the products. We looked for things like NASC labeling, guaranteed analysis, and clear and easy-to-follow dosing instructions.
Customer Reviews. From connecting with other dog moms and dads to absorbing online ratings and reviews, we assessed what people are saying about probiotics.
Price. Price varies according to the ingredients and strains used in each probiotic. We offer something for every budget without sacrificing quality.
Type of Probiotic. Some dogs won't eat their food if anything, such as a probiotic powder, is added to it, while other dogs prefer a chewable format. We made sure to include something for all canine palates and preferences.
Best Probiotics For Dogs: Our Top Picks
All featured products are chosen at the discretion of the author. However, Vetstreet may make a small affiliate commission if you click through and make a purchase.
Here are our selections for the best probiotics for dogs for your consideration.
Best Dog Probiotic: Overall Winner
Our pick: Great Pet® Great Poop Digestive Support Dog Supplement
Give your dog everything he needs for gut health in one tasty chicken-flavored chew. Dogs think they are getting a treat, but pet parents can feel good giving this high-fiber probiotic with digestive enzymes. Because some bacteria are actually good for dogs, Great Pet infuses 2 billion colony-forming units (CFUs) and inulin into each serving. Instead of giving your dog a separate fiber supplement followed by a separate probiotic supplement, opt for this all-in-one chewable product.
Pros
Stimulates the production of healthy bacteria for proper gut balance
May help alleviate digestive issues from stress or illness
Two million CFUs to modulate the immune system
May reduce intestinal canine gas
Designed to improve stool consistency
Made in the USA
Contains no corn, soy, artificial flavoring, or preservatives
Cons
The product is available in chicken flavor only
Dogs over 101 pounds require five or more chews per day
Probiotics are not a complete fix for all canine gut issues. Ongoing gut issues should be addressed by your dog's veterinarian.
Best Dog Probiotic + Prebiotic Blend
Our pick: Honest Paws Pre+ Probiotics Supplement for Dogs and Cats
We love Honest Paws Pre+ Probiotics supplements because they make it oh-so-easy to give your pup exactly what they need for healthy digestion and boosting immunity. Healthy Paws blends prebiotics (to promote good gut bacteria) with powerful probiotics (to aid digestion and balance gut flora) in a powdered form that's more bioavailable than probiotic treats or chews. Plus, each dose contains 5 billion CFUs and comes conveniently packaged in individual sachets or "sticks," so you can take the supplement on the go. And because the supplement is naturally flavored to taste just like oven-roasted chicken, your pup will never want to miss a dose!
Pros
Contains a robust mix of prebiotic inulin and Honest Paws' custom blend of probiotics
The powdered form offers better bioavailability for improved efficacy
5 billion CFUs per dose
Helps support gut health, immunity, and cognition
Conveniently packaged as single-dose "sticks" you can take them wherever you go
Yummy natural roasted chicken flavor
Made in the USA with non-GMO, globally sourced, organic ingredients
Third-party tested
30-day money-back satisfaction guarantee
Recommended for both dogs and cats
Cons
Honest Paws recommends one stick per day OR the dose recommended by your veterinarian
Only 30 sticks per bag, but you can subscribe and save 15% off automatic refills
Best Dog Probiotic With Pumpkin
Our pick: Open Farm Probiotic Supplement Chews for Dogs
Save 20% off the first auto-ship order with code VETSTREET20
These new soft chews from Open Farm can help support your dog's healthy digestion and gut health while promoting healthy immune function. Featuring a unique blend of seven active probiotics, the vet-recommended formula is also packed with yummy, wholesome, and functional natural ingredients like fiber-rich pumpkin and ginger for antioxidants. Plus, we love that you can trace the origin of every single ingredient Open Farm uses back to the source. No mystery ingredients here!
Pros
100% traceable ingredients
No artificial flavors, preservatives, wheat, corn, or soy
90 soft chews per container
Save 5% when you choose auto-ship
Sustainable packaging
Cons
Recommended daily amount is 1 soft chew for dogs up to 25 pounds, 2 soft chews for 26 to 75 pounds, and 3 chews for over 75 pounds
Start with half of the recommended amount for the first week, then increase to the recommended daily amount
Store in a cool, dry place
Best Dog Probiotic Paste
Our pick: Zesty Paws Pill Wrap Probiotic Paste
Perfect for pups who have trouble swallowing pills, this convenient probiotic paste delivers a double bounty of health benefits. The unique paste has a dough-like consistency, so it's easy to pinch off a piece and wrap it completely around pills of all shapes and sizes. Then you can just feed it to your dog like a treat. They'll get all the gut health benefits they need from the bacon-flavored probiotic without spitting out their pill or supplement. Sounds like a win-win to us!
Pros
Made with DE111 Bacillus subtilis and Bacillus coagulans for digestive and immune system support and balance
Paste easily covers most size pills for easier ingestion
Dog-friendly bacon flavor
NASC (National Animal Supplement Council) supported
100% satisfaction guarantee
Great price point
Cons
Some customers felt the paste dried out quickly
Best Natural Probiotics for Dogs
Our pick: FullBucket Daily Dog Probiotic Supplement
FullBucket is a 100 percent all-natural yeast strain probiotic for dogs. Sprinkle one 5-cc scoop onto an adult dog's food daily or ¼ scoop for puppies. The complete transparency of 5 billion CFUs of a specific yeast strain coupled with prebiotics, probiotics, and L-glutamine make this a pet parent's go-to product for their dogs. Given daily, FullBucket is designed to support a dog's gut microbiome, help digest key nutrients, and boost overall health.
Pros
Non-GMO
All-natural and vegan
Gluten-free
100 percent overdose-free
Micro-encapsulated probiotic to protect it from heat, moisture, and digestive juices in the mouth and throat
Manufactured in the USA
100 percent money-back guarantee
Lab-tested through third-party laboratories
Developed and used by veterinarians
Cons
Fussy dogs may balk at the powdered format on their food
Daily probiotic is only available as a powder, but FullBucket does sell a highly concentrated probiotic paste that can be used during periods of stress
Best Digestive Probiotic for Picky Dogs
Our pick: Finn Digestive Probiotic Chews
Some dogs can be very picky when it comes to treats and chews. Finn combines the best of both worlds (functional + tasty) in one delectable beef liver flavor probiotic chew. Finn uses a combination of pre- and probiotics, pumpkin for fiber, and FOS plus inulin for gut support. Pills can be tricky to administer, and dogs aren't always fond of finding them hidden in their food. Finn removes the stress with a chewable product that dogs find drool-worthy. American-made in an FDA-registered, cGMP facility, each chew contains no soy, corn, grains, or artificial ingredients. You might find your dog begging for his daily dose of Finn!
Pros
Certified through a comprehensive third-party audit with ongoing rigorous compliance according to NASC quality standards.
May help soothe stomach discomfort and aid in nutrient absorption
Each Finn soft chew contains 3 billion CFU per 2.5 G
Stress-free supplement administration based on your dog's weight (provided on container)
Made with plastic-free packaging for a better environment
Endorsed by veterinarians
Available as one tin, a two-pack, or a convenient subscription so your dog never misses a dose
Comes with a 60-day money-back happiness guarantee
Cons
Product is only available in beef liver flavor
Speak with your veterinarian before starting any new supplements
Best Instant Goat's Milk with Probiotics
Our pick: The Honest Kitchen Daily Boosters
The Honest Kitchen offers a daily boost of liquid goodness in the form of goat's milk with probiotics. The formula is a powder that turns into a liquid treat when warm water is added. This 100 percent human-grade formula features 5 billion active probiotics and digestive enzymes with dehydrated goat's milk. Some pet parents report freezing it in molds or as summertime treats.
Pros
Safe for puppies to support their digestion and immune systems
Can be poured over kibble or served alone
Made in the USA
Shelf stable
Made in a human-grade food facility
Cons
One canister makes around 30 servings for a 25-pound dog.
Intended for intermittent or supplemental feeding only
Only one size available
Best Probiotic Powder for Dogs
Our pick: Native Pet Probiotic For Dogs
Designed by a leading board-certified Ph.D. and veterinary nutritionist specializing in gut health, Native Pet's powder formulation contains four separate probiotics. According to the company, their powder has a longer shelf life than probiotics chews. It also contains a prebiotic to properly prepare your dog's gut for healthy bacteria.
Pros
Dehydrated beef broth is the main ingredient, so dogs love the taste
Powder is easily sprinkled over dry or wet food.
Can be used daily or as needed
Four different probiotic strains
Two types of prebiotic fiber
Contains organic pumpkin seed for added fiber
Cons
Dogs over 50 pounds require two scoops per serving
Some pet parents complain about the tall skinny canister being difficult to use the scooper
Best Liquid Probiotic for Dogs
Our pick: Mary Ruth's Liquid Probiotic For Dogs
If you prefer giving your dog vegan, non-GMO, gluten-free, tasteless probiotic drops, Mary Ruth's Liquid Probiotics is worth your consideration. This plant-based formula contains four strains and is water-based, so there is no fuss. With four live strains, this USDA organic formula is shelf stable and absorbs easily.
Pross
Multidog households can share the bottle
Dairy-free
Made in a Good Manufacturing Practice (GMP) facility
Can be dispensed as drops or pumped
Contains no corn, nuts, yeast, sugar, nightshades, or soy
Can be added to your dog's food
Cons
Each bottle contains a 30- to 90-day supply depending on your dog's weight
Probiotics for Dogs: Buyer's Guide
Before you spend money on a probiotic product for your dog, keep these elements in mind.
Format. You know your dog best. If he tends to be super finicky and refuses to eat dog food with any product mixed it, a powder may not be your best bet. Consider another format such as capsules, liquid, or a chewable treat-like probiotic.
Number of Colony-Forming Units (CFUs). Generally speaking, the more CFUs, the better. CFUs are the number of live bacteria in a probiotic product. Cornell University2 recommends between 1 and 10 million CFUs per day.
Expiration Date and Shelf Life. Ensure you will be able to use the product completely before it expires and that it is shelf stable. Refrigeration instructions should be clearly indicated on the packaging.
Packaging and Storage. Consider how the product should be stored. Packaging should indicate where and how to store the probiotic for maximum efficacy and freshness.
Return Policy. Understand the manufacturer's return policy, if any, should you not be satisfied.
Which Probiotic Is Best For My Dog?
Each probiotic is different. Some may contain pumpkin that your dog does not need. Others may contain multiple strains that work better on some dogs than others.
See if the product contains live and active cultures and if they are shelf-stable or require refrigeration.
Cost is a factor, as probiotics range from $10 to $50. You'll want the highest quality probiotic you can afford to meet your dog's needs.
Be sure to let your veterinarian know if you plan to start a probiotic, as it can interfere with certain medications, especially antibiotics.
What To Look For When Choosing A Probiotic For Your Dog
When shopping for a probiotic for your dog, ask your veterinarian about their choices and consider the following:
Does your dog mind a powder added to his food?
Is a chew easier to dispense?
Is the company reputable and a member of the NASC?
Is there a guaranteed analysis statement on the packaging?
Does your dog need a probiotic (for things like stress, diarrhea, constipation, etc.)?
What is the number of CFUs in the product (higher is better.)
What is your budget?
Are you a multidog household?
What are the reviews?
Cautions and Precautions With Canine Probiotics
Some probiotics may produce side effects, including gassiness or tummy upset. Stop the probiotic and report these side effects to our veterinarian for further direction.
Should Puppies Take Probiotics?
Puppies can take probiotics under the direction and orders of your veterinarian. Puppies can become sick with probiotics due to their not-yet-developed immune systems.
Sources
(1) https://www.vet.cornell.edu/departments-centers-and-institutes/riney-canine-health-center/health-info/power-probiotics
(2) https://www.morrisanimalfoundation.org/article/amazing-world-canine-gut-microbiome