7 Best Dog Goggles for Ultimate Eye Protection
If your dog spends a lot of time outdoors, you may want to consider eye protection for him. Dog goggles (or "doggles") can protect your pup's eyes from harmful UV rays, as well as wind, sand, snow, branches, dirt, and any other debris that might be flying around. Goggles for dogs come in a variety of sizes and types. You can find dog ski goggles, dog goggles for swimming, hunting dog goggles, and even stylish sunglasses for dogs. Plus, necessity aside, dogs with goggles are just plain adorable!
When it comes to choosing the right eye protection for your dog, it's not just a one-size-fits-all situation. You need to take into consideration what type of activities your pet likes and what you're trying to shield their eyes from. To help you pick out the right eye protection for your four-legged friend, we've selected our seven favorite pairs of doggie goggles.
Our Top Dog Goggle Picks
All featured products are chosen at the discretion of the author. However, Vetstreet may make a small affiliate commission if you click through and make a purchase.
What Are Dog Goggles?
If you're unfamiliar with dog eye protection goggles, there are a few things you need to know. Goggles for dogs, much like human swimming goggles, generally have two lenses that fit snugly on a canine's face and are held in place by a head and chin strap. Dog sunglasses are similar to dog goggles and protect against harmful UV rays. They often have one long, tinted lens shielding both eyes and don't always fit as tightly around the eyes as goggles for dogs do.
There are many activities for which pups will benefit from having goggles. Hunting dogs use goggles for protection against branches when running through a dense forest. Dogs who spend a lot of time at the beach will use dog sun goggles to protect against sand as well as the sun. Pups who love the water often use dog swimming goggles. And for protection against high winds, dog goggles worn during car or motorcycle rides are very popular. Eye protection can also be beneficial for dogs suffering from eye conditions such as conjunctivitis or glaucoma, or if they are recovering from eye surgery like cataract removal.
How We Ranked Our Top Dog Goggle Picks
In compiling our list, we researched which doggles worked well for a number of common dog activities, taking into consideration the following:
Quality and Functionality: We zeroed in on the performance of each pair of dog goggles, as well as how they held up to consistent use.
Recommendations/Reviews: Word-of-mouth is one of the best ways to find the latest and greatest products out there, so we made sure to check in with pet parents, veterinarians, and dog trainers to get their take.
Price: While many of the dog goggles that made the cut are lower in cost, there are some that have more features and therefore a higher price point, and we called this out accordingly.
7 Best Dog Goggles of 2023
Whether you're looking to protect your dog from wind, UV rays, or debris, or you just want a cool pair of doggy shades, here are the best dog goggles under the sun.
Overall Best Dog Goggles
Our Pick: QUMY Dog Goggles
For an all-around versatile pair of dog goggles, we love these—and so do thousands of other customers, according to their mostly 5-star reviews. Designed for dogs over 15 pounds, the QUMY Dog Goggles have shatterproof lenses with UV protection. Since they have adjustable head and chin straps for a snug fit on the face, they can be used in the car or as dog motorcycle goggles. They're also waterproof, making them ideal for use as dog swimming goggles or even dog snow goggles. Plus, they're available in five different colors, and you really can't beat the price!
Highlights
Versatile design can be used for a variety of activities
Great price point
Excellent reviews from nearly 9k satisfied customers
30-day return policy
Things to Consider
Only come in one size. The straps are adjustable to fit most dogs over 15 pounds, so this pair will not work for toy breeds. It's important to note that most of the negative reviews were from customers trying to use the goggles on smaller dogs.
Best Goggles for Large Dogs
Our Pick: NVTED Dog Goggles
There are a few reasons why these dog sunglass goggles are an excellent choice for medium to larger breeds. They have a wider frame and bridge design to accommodate bigger dogs, as well as adjustable chin and head straps to fit on many different head shapes and sizes. Plus, the wide single lens is equipped with 100% UV protection and air vents to prevent fogging. These versatile dog goggles/dog sunglasses can be used for hunting, in the snow, at the beach, for car/motorcycle rides, and more.
Highlights
Ideal for lots of different activities
Customers raved about the quality and comfort
Great price point
30-day return policy
Things to Consider
May not fit dogs with wide noses
Best Goggles for Small Dogs
Our Pick: NAMSAN Small Dog Goggles
For smaller breeds or puppies, these dog goggles are ideal. They have UV-resistant/anti-glare lenses and adjustable head and chin straps, making them perfect for the car/motorcycle, the snow, the beach, or hunting. These small dog goggles are designed to fit snugly and feature soft pads around the eyes for added comfort.
Highlights
Versatile design provides many uses
Comfortable fit
Several different color options
Great price point
30-day return policy
Things to Consider
Only come in one size. Straps are adjustable, but they're not meant for very small/toy dog breeds
Best Dog Goggles for Sun Protection
Our Pick: Rex Specs Goggles for Dogs
For the ultimate sunglass goggles for dogs, you can't beat Rex Specs. They have replaceable, interchangeable, impact-resistant lenses that also block out 99.9% of harmful UVA/UVB rays. The large spherical lens allows for excellent visibility, and the dynamic strap system and padded rims provide comfort and stability. Not only do these dog goggles shield your pup's eyes from the sun, but they can also be used as dog goggles for hunting, dog snow goggles, wind protection on a drive, or eye protection after surgery. And whether you're looking for large or small dog sunglasses, Rex Specs has you covered with five different sizes to accommodate just about any pup.
Highlights
Comfortable design
Excellent quality
Customers rave about using these goggles for all types of activities
Come in many different sizes and colors
Things to Consider
Best Dog Snow Goggles
Our Pick: Anti-Fog Dog Snow Goggles
Canines who spend a lot of time in winter weather are going to need a solid pair of dog snow goggles that have wind and UV protection, good visibility, and anti-fogging and anti-glare features. These stylish snow goggles feature adjustable head and chin straps and fully padded rims for comfort and stability. They can also be used as hunting dog goggles, motorcycle dog goggles, or eye protection after surgery.
Highlights
Stylish look
Wind/UV protection
Great price point
30-day return policy
Things to Consider
Best Dog Goggles for Hunting
Our Pick: Petleso Pet Goggles
These stylish dog goggles offer your pet protection from wind, UV rays, and branches/debris when on the hunt. They include a head and chin strap for secure comfort, and the waterproof lenses have side air vents to prevent fogging. Aside from being excellent dog goggles for hunting, they can be used for swimming or snow, in the car/motorcycle, or just as cool dog sunglasses!
Highlights
Many uses beyond hunting
Adjustable straps fit most medium- to large-size breeds
Customers claimed the goggles are easy to put on and work really well
Great price point
30-day return policy
Things to Consider
Best Dog Motorcycle Goggles
Our Pick: SHOPTREND Dog Hat with Goggles
If your dog likes to come along with you on your motorcycle or bicycle, you'll want to get the right protection for him. Ideal for medium/large breeds, these adorable motorcycle dog goggles come with a little matching biking helmet so your pup can ride in style while staying shielded from the harsh wind and possible debris. The goggles are outfitted with adjustable head and chin straps to keep them in place, and the waterproof lenses offer UV protection.
Highlights
Includes both dog motorcycle goggles and a dog bike helmet
Goggle lenses are waterproof and offer UV protection
Helmet comes in multiple colors and sizes
30-day return policy
Things to Consider
Goggles only come in one size and color; won't fit on small puppies or toy breeds
The "helmet" is not meant to be used in place of an actual motorcycle helmet. It's made of thin plastic and may not offer impact protection
Keep in mind that many dogs don't like wearing hats, so be sure to test out another small hat or bandana on your pup before springing for this set
Dog Goggles Buyer's Guide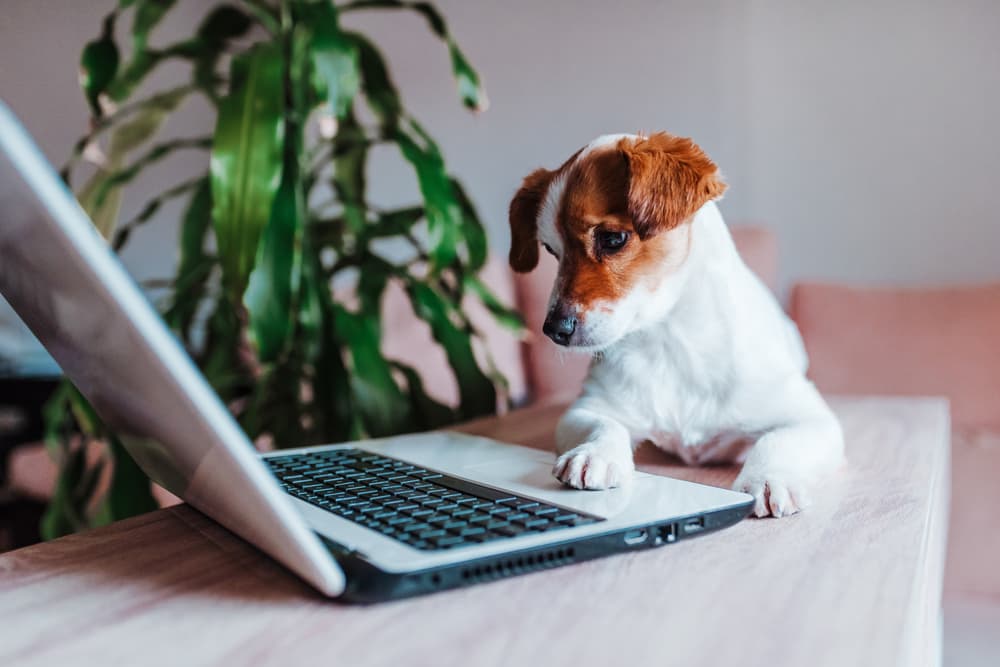 When shopping for the best dog goggles for your pet, here are a few things to consider:
Use. Whether it's protection against wind, UV rays, water, snow, or dust/debris, or even for sensitive eyes after a surgery, be sure to shop for the intended purpose.
Size and Shape. You need the goggles to fit well and be comfortable, otherwise your pup may refuse to wear them. And don't forget to shop for the actual size of your dog. For example, if you're shopping for a puppy, Dr. Alex Schechter, founder of Burrwood Veterinary in New York City, has this advice: "It's best to start with a small puppy goggle and work up to a larger goggle as your pup grows."
Most sellers list the measurements and size dogs their goggles fit best, so be sure to reference the size chart before buying. Dog goggles should fit snugly on the face and not move around. Padding around the lenses is essential for comfort in your dog's eye area.
Visibility. In general, the bigger the lens, the better the visibility. Select goggles with lenses that provide clear vision so your dog can see while playing or working. Per Schechter, you can even try using different types of lenses, such as tinted or polarized, to help filter out certain colors so your pup can see better in different conditions.
Quality. "Look for goggles that are made of high-quality materials and have been designed to last a long time without breaking or wearing out quickly over time," says Schechter.
Reviews. When shopping, be sure to read the customer reviews. Look for reviews from customers with similar size dogs as yours and who are using the goggles for similar activities as you. Also, check to see what customers say about the quality, sizing accuracy, and ease of use.
Price/Return Policy. When you're ready to purchase your new pair of dog goggles, you can price-compare with other online stores to get the best deal. Be sure to factor in shipping and if there's a return policy, in case the goggles don't fit correctly.
Tips for Using Goggles for Dogs
Many dogs don't like wearing anything on their head or face. If your dog is resisting his new doggles, you can train him using positive reinforcement. But first, make sure the goggles fit correctly; they should be secure but not too tight. If they hurt, your pup will never want to wear them.
Place the dog goggles on for short periods of time while praising your pup and rewarding him with treats. Gradually increase the amount of "goggle time" with encouragement, and your dog will eventually get used to them—and maybe even love wearing them!