8 Best Dog Harness and Leash Sets of 2023 
Published on September 19, 2023
Taking our dogs for a walk is an essential part of daily life for all us dog parents. So it pays to invest in quality gear that's designed to make the job as easy, comfortable, and safe as possible — like a dog harness and leash set.
Harnesses are rising in popularity as more dog owners become more aware of the benefits of using them with a leash, rather than using just a leash alone. Dog harnesses and leashes that are designed to work together can make walking your dog a walk in the park. In this article, we've rounded up some of the best dog harness and leash sets on the market to help you make the right choice.
Benefits of Dog Harness and Leash Sets
We all love enjoying fresh air with our pups, but as responsible pet parents, we also want to keep our dogs as safe and comfortable as possible. For drama-free walks, using a leash attached to your dog's harness is much safer than clipping the leash to their collar.
Harnesses offer better control, which is not only great for puppies in training and dogs who love to pull, but also for the best-behaved dogs. Using a harness also avoids any pressure on your dog's delicate throat area, something that's especially important for both smaller dogs and flat-faced breeds.
While you might typically see a lot of small dogs wearing harnesses, the truth is they can work for all breeds and types of dog. They're also great for hikes, where you need to steady your dog or help them over challenging terrain.
Types of Harness and Leash Sets
Dog parents are spoiled with choices when it comes to different types of harness and leash sets. There are plenty on the market for you to choose from, including the following:
Back-clip harness sets. The most basic and popular choice, this harness can be used on a multitude of different breeds. Bonus: your dog won't get tangled up in or chew on the leash with this type.
Anti-pull harness sets. Also known as front-clip harnesses, this type is great for teaching your dog not to pull on the leash. Front-clip harnesses work best for larger breeds as smaller dogs will often end up stepping on the leash. Just be sure to carry the leash high to make sure your dog doesn't get tangled!
Dual-clip harness sets. Get the best of both worlds with a dual-clip harness, which features front and back clips so you can switch between the two. If you have a double-ended leash, you can also clip this to both attachment points.
Step-in harness sets. If your dog doesn't like having a harness put on over their head, a step-in harness is the perfect alternative. These are great for smaller breeds and usually have a harness attachment clip on the back.
How We Chose Our Top Dog Harness and Leash Picks
In addition to utilizing our own experiences as pet parents, we did a lot of research when selecting our top leash and harness set picks.
Design/comfort. We zeroed in on different features — like material, padding, and adjustability — to ensure each option would provide a fantastic fit.
Safety features. Many of the leash and harness sets on our list have features like buckle locks, reflective trim, and grab handles to help keep your pup as safe as possible.
Reviews. We looked at what other pet parents had to say about each harness and leash set, noting some of the pros and even potential cons.
Price. In order to appeal to a range of different budgets, we included sets at a range of different price points.
Our List
8 Best Dog Harness and Leash Sets of 2023
All featured products are chosen at the discretion of the author. However, Vetstreet may make a small affiliate commission if you click through and make a purchase.
Overall Best Dog Harness and Leash Set
Our Pick: Best Pet Supplies Voyager Dog Harness and Leash Set
One of the best harness and leash sets on the market, this one comes in a variety of sizes and a huge range of colors — so your pup will always look their best in the park! The non-pull, fully adjustable harness has a choice of front and back leash attachment clips for total versatility, as well as wide straps to help evenly distribute pressure. Padding on the harness keeps your dog comfortable, while padding on the leash handle provides a cushioned grip for you. For added safety, both the harness and leash feature reflective accents.
Pros
Padded harness and leash handle
Harness is fully adjustable to suit your dog
Reflective accents
Great value
Choose from five different sizes and a variety of colors
Lots of positive reviews
Cons
Some customers said that the harness runs small, so be sure to measure your dog carefully before purchasing
Best Puppy Harness and Leash Set
Our Pick: Puppytie Puppy Harness with Leash
Cuteness alert! Keep your youngest furry friend safe and secure with this durable puppy leash and harness. The comfortable design is easy to put on and take off, making it great for short training sessions as your puppy gets used to wearing a harness and taking walks outside. Plus, both the harness straps and the leash are adjustable for a perfect fit.
Pros
Comfortable suede material with a soft lining
Adjustable harness and leash
Easy on and off
Available in multiple sizes and colors
Cons
Best for small or medium-size puppies
Best Collar, Leash and Harness Set
Our Pick: WINSEE Pet Harness, Collar, and Leash Set
Even when your dog is wearing a harness, they should still wear their collar with your contact information for added security. Make things matchy-matchy with this dog collar, harness and leash set! The stylish design comes with three coordinating pieces to ensure your dog will stylishly stand out wherever they go. But don't worry, you won't need to sacrifice function for fashion: this set is as durable and comfortable as it is adorable.
Pros
No-pull, choke-free, mesh-lined harness
Harness back handle can be used as a car seat tether
Lockable collar and harness buckles
Reflective accents on all three pieces
Adjustable fit
Great value for the money
Cons
Some customers had trouble with the fit
Best Small Dog Harness and Leash Set
Our Pick: Best Pet Supplies Voyager Step-in Air All Weather Mesh Harness and Leash Set
Harnesses are an excellent choice for small dogs, as they help protect your pup's delicate throat area from any undue collar pressure. But small dogs can sometimes wriggle out of nylon harnesses, which is why this step-in harness and leash set is such a great choice. The breathable air mesh harness is comfy for small dogs, while the lightweight leash won't weigh them down either.
Pros
Perfect for walks all year round
Reflective bands for added visibility
Extra security with a buckle and double D-ring
Simple step-in design
Cons
Some customers had issues with sizing; be sure to measure carefully
Best Large Dog Harness and Leash Set
Our Pick: tobeDRI No-Pull Dog Harness and Leash
We love the tobeDRI harness and leash set for large dogs. The harness features durable nylon webbing and oxford material that holds up for extended use, while the mesh lining provides added breathability. D-ring connections at both the front and back let you choose where to attach the included leash, which is made from heavy-duty rope climbing material and features a cushioned foam handle for extra comfort. Safety features like reflective stitching and safety locks at the buckles provide added peace of mind.
Pros
Harness has front/back D-ring connections, a back handle, and sturdy buckles with safety locks
Durable leash with cushioned handle and 360-degree rotating clip
Reflective stitching
Machine washable
Cons
Some customers had sizing issues
Best Matching Dog Harness and Leash Set
Our Pick: Dog Helios Teal Bark-Mudder Dog Leash and Harness
This eye-catching set is perfect if you're looking for a matching harness and leash that can stand up to daily wear and tear. Made from heavy-duty 600D nylon and polyester, the harness is incredibly durable and also bright enough to keep track of your dog if they're off-leash. The leash features a swivel buckle clip for easy movement, plus a foam handle for supreme comfort.
Pros
Durable harness features velcro closures
Top grab handle and reflective accents offer added safety
Leash has rubberized tension cords toward both ends
Multiple sizes and colors available
Cons
Best Personalized Dog Harness and Leash Set
Our Pick: BOBOPUP Personalized Harness Set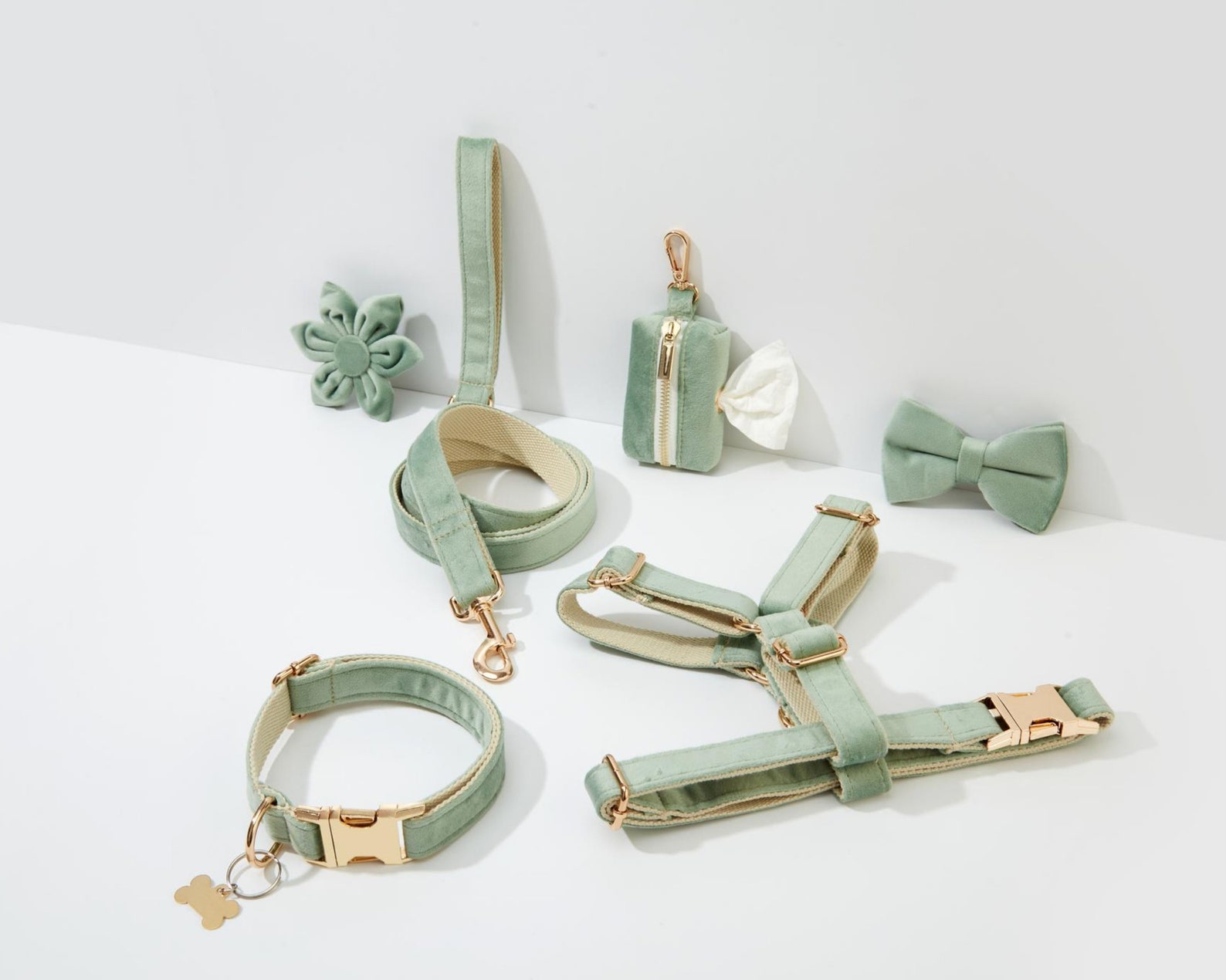 Let your pup shine on the local dog-walking scene with this personalized dog harness and leash set. Choose the standard harness and leash, or have fun adding other coordinating accessories (collar, flower accent, bow accent, and/or poop bag holder) to create any combo you want. You can even get your dog's info engraved on the buckle! We thought this color was gorgeous, but the seller has a variety of different shades/patterns available, so be sure to search their store to choose the perfect pick for your pup!
Pros
Choose any combination of coordinating accessories
Each piece is made with chic velvet material
Adjustable harness
Harness and/or collar can be engraved
Choose from four different hardware colors
Washable
Cons
Price will vary depending on the combo you choose
Best Value Dog Harness and Leash Set
Our Pick: AMTOR Dog Harness with Leash Set
Our final recommendation is this great value harness and leash set. With seven sizes from XXX-Small to X-Large, this option will suit almost all shapes and sizes of dogs. It's also a great choice if you're looking for a budget-friendly option but don't want to compromise on comfort and safety. The padding delivers a cushioned fit, while the magic tape, buckle, and double D-rings provide added safety and security.
Pros
Great price point
Step-in harness for easy on and off
Made from breathable air mesh and accented with reflective tabs
Leash has a thick handle and rotating clip
Available in a variety of different sizes and colors
Cons
Leash handle isn't as padded as other options
Leash and Harness Buying Guide
When looking into the different harness and leash sets on the market, there are lots of things that we as pet parents have to think about.
Comfort. Will certain fabrics or material rub your dog on a long walk? Over time, this may cause chafing or sore patches.
Safety. It's also important to think about safety features such as additional clips, double fastenings, or a handle for use when hiking. You may want to look at different designs depending on the size and weight of your dog — if you need a certain harness to suit a bigger dog, for example.
Your pup's (and your) needs. You might end up choosing a few different harnesses for different activities. It's also worth looking at your budget and what you want to get for the price you can afford. There are some really great value harness and leash sets on the market, so you should have no problem finding one you and your pup will love.
Safety Tips for Using Dog Harness and Leash Sets
If you're just starting out using a dog leash with a harness, it's best to be safe and figure out how your dog will react when putting it on. For the first time, try your dog's harness within the safety of your home. Offer your dog lots of verbal praise and treats, and leave the harness on only for a short time before removing it again.
During these sessions at home, build up the amount of time you're leaving the harness on; once your dog is comfortable, attach their leash and take a small walk around your house or garden. Never leave your dog at home alone with their harness on. Just keep in mind that some dogs will only need a day or two before they're ready to go for a walk, while others may need a little longer.
Remember to check the fit of the harness and make adjustments as necessary. You should be able to sit two fingers between each strap and your dog's body. For puppies, it's a good idea to check the fit and adjust regularly. You might also need to swap into a bigger size as your puppy grows.
Make sure your dog is comfortable wearing their harness and feeling the sensation of the lead applying pressure before you head out for a walk. Even though your dog is wearing a harness, they should also always be wearing their collar for added safety.