Dog Pajamas: 11 Picks for Snoozing in Style
Published on January 18, 2022
Is your dog the cutest dog ever? Of course. Is there anything that could make them even cuter? We say yes — and that's dog pajamas. Pet pajamas are a great option for cold winter weather, or as the perfect accessory for family photoshoots. You could even go a step further and dig into matching sets for the whole family and start a new holiday tradition.
If you're intrigued by the idea of investing in some cute dog jammies, keep reading. In this article, we've rounded up our favorite PJ picks, highlighting only the options that are both supremely comfortable and supremely cute. Even with those high standards, there's a surprising number of cuddle-worthy dog pajamas to choose from.
Do Dogs Need Pajamas?
Let's be honest, most dogs would be perfectly fine living their entire lives without ever wearing pajamas.
However, there is just something ridiculously adorable about dogs in pajamas. And some pet parents dress their dogs in pajamas for good reason. For example, snuggly jammies can help short-haired breeds like French Bulldogs, who tend to get cold during the winter months, stay extra warm and cozy. And for dogs recovering from surgery, pajamas may be an alternative to a plastic cone or e-collar. Some jammies may help keep sensitive incision sites covered and protected from licking or chewing — but be sure to check with your veterinarian to see if this is a valid option for your dog.
For the majority of PJ-loving pet parents, dog pajamas may be strictly for fun photo opportunities — and that's totally okay too! Just make sure to never force your dog to wear pajamas if they seem uncomfortable.
Dog Pajamas: How to Measure for the Perfect Fit
Before you rush out and buy that cute pair of pet pajamas, here are some helpful tips to ensure you're happy with your haul.
Take the time to measure your dog correctly. Most dog apparel size guides are based on three measurements: length (from base of neck to base of tail), chest, and neck. Use a soft fabric tape measure to check your dog's size.
Follow the size guide for the brand you're interested in, as sizes can vary drastically from brand to brand. If your dog's measurements fall between two sizes, it's usually best to choose the larger size.
Choose comfortable pajamas that won't restrict your dog's movements. Look for soft, breathable material, an elasticated waist, and open feet. Dog footie pajamas aren't recommended, as your dog could slip and lose their footing if their paws are enclosed. When it comes to sizing, pajamas made from stretchy fabric like cotton will usually be a bit more forgiving than those made from a non-stretchy fabric.
Best Dog Pajamas
Whether your short-haired dog needs a little help staying warm over the winter, or you're excited about surprising the family with matching pajamas for everybody, we've rounded up the best dog pajamas for you to choose from.
All featured products are chosen at the discretion of the author. However, Vetstreet may make a small affiliate commission if you click through and make a purchase.
Best Overall Dog Pajamas
Our pick: Fitwarm Knitted Thermal Dog Pajamas
These pajamas are made from a soft breathable fabric with thermal qualities to keep your dog toasty warm. The ribbed elastic on the leg cuffs ensures they're super comfortable, and the full-body style gives extra protection from the cold. Make sure to carefully measure your dog to check these pajamas will fit, as the sizes don't extend to larger breeds.
Highlights
High-quality materials
Soft, breathable, stretchy fabric
Excellent price
Comfortable design
Things to consider
Sizes don't fit larger breeds
Best Large Dog Pajamas
Our pick: Miaododo Cotton Large Dog Pajamas
Sure, tiny dogs in tiny pajamas are adorable. But big dogs deserve the occasional PJ day, too. And these soft cotton pajamas are the perfect fit. Designed for medium and large breed dogs, including Golden Retrievers, Labradors, and Rottweilers, these PJs feature a convenient zipper opening along the back, so you don't have to wrestle your large dog into a pull-over design. The stretchy fabric comes in a range of adorable patterns, so whether your pup is as sweet as a strawberry or as adventurous as an astronaut, you're sure to find an option to fit your pet's style. The full-body design keeps your dog warm and keeps shedding to a minimum — a plus for longhaired breeds.
Highlights
Good value for money
Made of soft, comfortable cotton
Convenient back zipper closure
Accurate sizing
Cute patterns
Things to consider
Full belly coverage may restrict male dogs
Best Small Dog Pajamas
Our pick: CuteBone Soft Dog Pajamas
These snuggly soft pajamas are designed specifically to suit smaller breeds, including Chihuahuas, Pomeranians, and Yorkshire Terriers. The four-leg design keeps your dog's body warm and cozy while the open belly feature ensures they can still do their business when they need to! Just make sure to measure your dog carefully, as the sizes of this brand run differently, compared to many others.
Highlights
Four sizes, all designed for small breeds
Made from soft, cozy fabric
Open belly design for potty time convenience
Lots of patterns to choose from
Things to consider
Sizing can run small
May not fit certain body types; manufacturer recommends measuring Bulldogs, Bassett Hounds, and Dachshunds carefully
Best Matching Dog and Owner Pajamas
Our pick: Pajamagram Matching Family Pajamas
Your dog is part of the family. So if you're going to dress your pooch up in PJs, why not make it a family affair with a matching set for everyone? These traditionally styled pajamas come in just about any pattern and color you can imagine, so you're bound to find one you'll love (or at least one the whole family can compromise on). The dog pajamas are designed to fit a wide range of sizes and feature convenient snap closures, plus a roomy design allowing for free range of movement.
Highlights
Breathable jersey fabric
Many designs and styles to choose from
Sizes range from XSM to XXL
Dog pajamas have an easy-to-use snap closure
Things to consider
Fabric may shrink after the first wash
Most Affordable Dog Pajamas
Our Pick: Vibrant Life Textured Dog Pajamas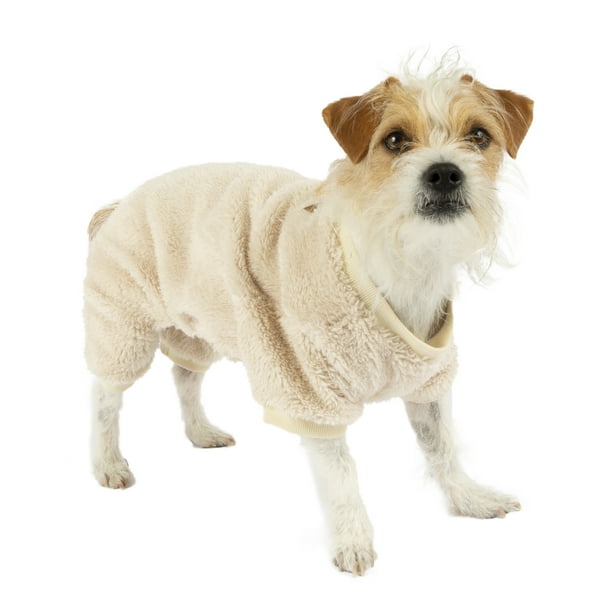 Forget denim-on-denim! We hear faux fur-on-fur is in, and these budget-friendly fleece dog jammies are here to prove it. Made from warm, fuzzy fabric, the pajamas are sure to keep any petite pup oh-so-cozy. Plus, they're easy to put on and and off for complete convenience!
Highlights
Fuzzy textured fabric
Easy to put on and take off
Available in multiple sizes
Excellent value
Things to Consider
Designed for smaller dogs
Spot clean only
Best Onesie Dog Pajamas
Our pick: Shed Defender Bodysuit
If you're looking for dog onesie pajamas that can help contain shedding and provide a range of other benefits while keeping your dog warm, this patent-pending design is a great option. The Shed Defender onesie originally debuted on Shark Tank, where its inventors pitched it as a solution to shedding, as well as a way to ease anxious dogs, protect against cold weather and UV rays, resist ticks and biting pests, and even replace e-collars after surgery. All that and comfy jammies, too! The full-body design is also made from an eco-friendly and sustainable fabric — always a bonus in our book!
Highlights
Comes in nine sizes ranging from XXXS to XXL
Choose from a wide range of colors and patterns
Zips from chest to tail
Made from Shed-Tex eco-friendly recycled fabric
Things to consider
Best Plaid Dog Pajamas
Our pick: Personalized Red Buffalo Plaid Dog Pajamas
These classic buffalo plaid dog pajamas are a great choice for easy, everyday wear. The soft polyester fabric will keep your dog warm and cozy, while the cute faux bottom patch design adds a touch of fun. You can even have your dog's name added to the back of these pajamas for a personal touch.
Highlights
Four sizes available
Customizable with your dog's name
Easy to put on
Available in a range of classic and whimsical patterns
Things to consider
Not suitable for larger breeds
Best Fleece Dog Pajamas
Our pick: FitWarm Unicorn Fleece Pet Pajamas
Shorthaired or thin-skinned dog breeds can benefit from a pair of fleece pajamas to keep them cozy on cold days. These plush fleece pajamas are available in a range of styles—from whimsical unicorns to cupcakes and everything in between!
Highlights
Made from soft, thick polyester fleece
Great value for money
Machine washable
Things to consider
Not made for medium or large dog breeds
Best Custom Dog Pajamas
Our pick: Personalized Silk Pajamas for Small Dogs
If your little prince or princess deserves only the best, then these custom embroidered pajamas are sure to hit the mark. Made from 100% silk in dark blue or dusty pink, you can have your dog's name embroidered across the back of these adorable custom pajamas. These might not add much extra warmth, but they're off-the-scale adorable.
Highlights
Made from high-quality silk
Customizable with your dog's name
Six sizes available
Things to consider
More stylish than functional
Best Dog Robe
Our pick: Doggie Design Cotton Bathrobe
While not pajamas, robes fall under the same cozy, comforting umbrella. And who doesn't need a little more of that? If your pampered pet needs something to keep them warm after a bath, then this cotton terry cloth robe is the perfect solution. The velcro closures make it easy to pop this on and off, while the robe ties add a touch of fun! Choose from two decorative embroidered designs on the back of the robe—a silver tiara or a gold crown.
Highlights
Soft and comfortable
Machine washable
Embroidered with your choice of gold crown or silver tiara
Absorbent fabric
Things to consider
Only available in sizes for small to medium dogs
Best Puppy Pajamas
Our pick: KYEESE Cotton Stretchable Dog Pajamas
Puppies tend to have less body fat than older dogs and may need help staying warm even if the weather isn't all that cold. These cute, lightweight dog PJs are the perfect solution for year-round coziness! Super-soft and stretchable, these pajamas come in small sizes, suitable for puppies from three pounds and up. Plus, they're made from a lightweight material, so you can use them in the summer months when even your AC could make nights too chilly for your pup. Choose from a green or pink striped design. And remember, It's best not to leave your puppy unattended while they get used to wearing their new jammies.
Highlights
Easy to put on
Made from super-soft stretchable fabric
No hard snaps or velcro
Things to consider
A puppy may get their legs caught