Dog Umbrella Options: 5 to Keep Your Canine Dry
Published on February 23, 2021
When it's raining cats and dogs, it can be hard to find the motivation to go outside. If your dog doesn't like getting wet, chances are he'd much rather stay inside, too. But come wind, rain, or snow, our dogs still need regular exercise (and to take care of business, of course).
Thankfully, the right dog rain gear can help keep your pet dry and happy. There are plenty of stylish and durable dog raincoats available on the market. However, if your dog hates the rain and also balks at wearing clothes, that's like the perfect storm. In this scenario, you might consider trying a dog umbrella or a dog umbrella leash.
Like all new things, a dog umbrella will take some getting used to. Your dog may be a little anxious about being underneath this newfangled contraption at first. But with practice, your pup may begin to appreciate what a difference these canine-friendly umbrellas can make.
If you're looking for a dog umbrella, read on. We've rounded up our favorite options that are functional, adorable, and sure to turn heads on your next walk in the rain.
What Is a Dog Umbrella?
Just like we use umbrellas to shield ourselves from getting wet in the rain, dog umbrellas are designed to protect our pups from inclement weather.
Most dog umbrellas pretty much follow the same concept: They have a chain at the bottom that hooks to your dog's collar or harness, the umbrella opens up around your pet, and a pole extends from the top for you to hold. From your perspective, it will look kind of like an inside-out umbrella. You may also see some dog umbrellas attached to the top of a dog coat, but these are less common.
When it comes to materials, most dog umbrellas are made of a clear, transparent plastic that is designed to be waterproof and windproof. Others are made with colorful, water-repellent fabrics.
Dog umbrellas are designed for smaller dogs, such as Yorkies, Shih Tzus, Pugs, Pomeranians, Chihuahuas, and Yorkshire Terriers. So if your dog weighs more than 15 pounds or is more than 20 inches long, a dog raincoat may be your best bet. (Check out our 9 Dog Raincoat Picks for Wet Weather.)
Shopping for a Dog Umbrella: What to Look For
All featured products are chosen at the discretion of the author. However, Vetstreet may make a small affiliate commission if you click through and make a purchase.
No matter which dog umbrella you choose, it is sure to make a statement. When shopping for a dog umbrella, you'll want to take price, style, and durability into account. Here are some other factors to consider:
Umbrella Size
Dog umbrellas vary in diameter, so you'll want to choose an umbrella that is the right size for your pup. Keep in mind that most dog umbrellas are best suited for small dogs. Companies typically provide a weight and length range for dogs to ensure the proper fit.
Comfort
You'll also want to look at the length of the connector chain that attaches to your dog's harness or collar. If the chain is too short, the umbrella will sit too close instead of comfortably hovering above your dog. Comfort is important for your dog, but you'll also want to feel comfortable at the other end of the umbrella. Some dog umbrellas have handles that adjust in length or angle, so you can customize it to your liking. You may also find a C-shaped handle more comfortable than a regular hook handle.
Material
Since umbrellas are designed to shield your dog from wet weather, they are made from waterproof materials, such as plastic or nylon. If you also intend to use the umbrella on hot summer days to provide shade from the sun, look for options that offer UV protection. Umbrellas that are made of colorful fabrics may obstruct your view of your dog. If you don't want your visibility to be affected, a transparent umbrella may be more practical.
Best Basic Dog Umbrella
Our pick: Perfect Life Ideas Pet Dog Umbrella
For your basic dog umbrella, consider this option from Perfect Life Ideas. Made with a waterproof, transparent plastic, it's designed to provide good visibility. You can easily keep an eye on your dog, and his view won't be obstructed either. The umbrella is 29 inches in diameter when opened and features a metal chain with a built-in leash hook. It's also lightweight, foldable, and easy to store.
Highlights
Folding stick umbrella is 26 inches long.
Opens to 29-inch diameter.
Affordable price point.
What to Consider
Ideal for dogs 12-15 pounds and 9-20 inches long.
Metal chain leash is on the short side, at only about 8 inches long.
Some reviewers noted weakness at the handle and poor construction.
Best Adjustable Dog Umbrella
Our pick: K&L C-Shape Dog Umbrella
If you're willing to spend a little extra for added comfort, K&L Pet's dog umbrella features an ergonomic C-shaped handle and an angle- and length-adjustable pole. Designed to be waterproof and windproof, the umbrella is made of transparent thermoplastic polyurethane material and has a 28.3-inch diameter. Plus, there's a convenient hook for hanging your poop bag dispenser.
Highlights
28.3 inches in diameter when opened.
12.2-inch chain with built-in leash hook.
Pole length can be adjusted from 20.8 inches to 23.6 inches.
Also available in a basic model.
What to Consider
Some assembly required.
Best suited for dogs that are less than 12 pounds and 19 inches in length.
The C-shaped umbrella costs more than the basic model.
Some reviewers warn that the shaft and handle aren't very sturdy while others claim it's not effective in strong winds or heavy storms.
Best Colorful Dog Umbrella
Our pick: Pet Life Pour-Protection Umbrella
Transparent umbrellas may be more practical for dog walking, but the Pet Life Pour-Protection Umbrella is sure to brighten things up even on the dreariest of days. Reflective lining across the border also makes it stand out from the pack. However, it's only 19-inches in diameter, which is considerably smaller than other umbrellas on our list. You may also find it harder to navigate since you won't have a clear view of your dog.
Highlights
Available in four color combinations: black with yellow handle, light blue with black handle, orange with red handle, or pink with white handle.
Compact (collapses to 2-inch diameter).
Reflective lining across the border.
Features leash/harness connector chain.
Things to Consider
Only opens to 19-inch diameter.
Not transparent.
Some reviewers report umbrella is difficult to close after use.
Best LED Dog Umbrella
Our pick: LESYPET LED Dog Umbrella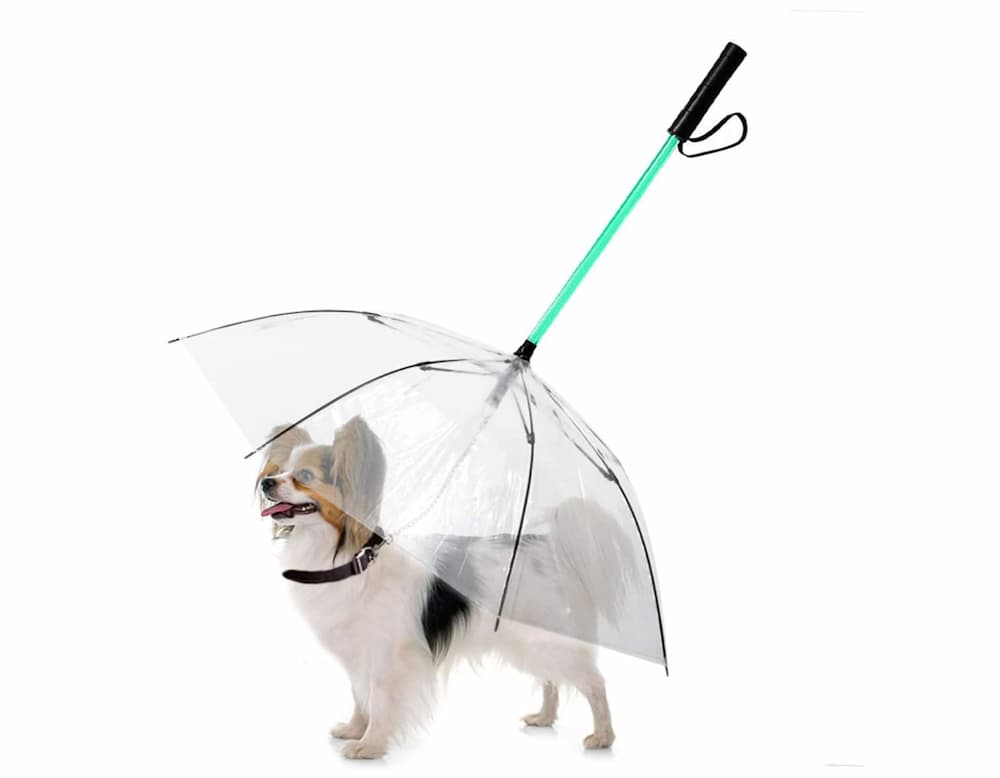 At this point you're probably wondering, what other bells and whistles can a dog umbrella possibly have? Allow us to shed some light on the subject. This LED dog umbrella can change seven colors and features a smaller flashlight on top of the umbrella handle to illuminate your path. Whether you plan to walk your dog at night or not, this umbrella is a fun option to consider. If lightsabers aren't your thing, the brand also makes a basic model and one with a C-shaped handle.
Highlights
Larger diameter umbrella at 33 inches.
Pole is 22 inches long.
Removable pet leash is 12.2 inches long.
LED lighting function can change 7 colors.
Small flashlight with switch at top of handle.
No installation required.
Matte finished handle has non-slip hand strap.
Things to Consider
Requires 3 AAA batteries.
Some reviewers noted that parts didn't fit together properly while others complained of weakness where the handle meets the umbrella.
Pole isn't adjustable.
Best Fashion Dog Umbrella
Our pick: Seymour Dog Umbrella
LED lights and colorful fabrics aside, all of the umbrellas on our list thus far pretty much follow the same concept. Seymour takes a different approach with this umbrella perched atop a wearable saddle coat. It appears less claustrophobic than a traditional dog umbrella, allowing your pet to move without restriction. The stylish coat is made of lightweight vegan leather. If the rain lets up, you can fold down the umbrella along your dog's back and fasten the fabric underneath a leather strap.
Highlights
Vegan leather coat is lightweight and easy to clean.
Offers protection against rain, UV rays and wind.
User-friendly and ready-to-wear.
Available in two sizes and three color combinations.
Small umbrella is 17-by-12.5 inches when opened and the medium is 19-by-14 inches.
Things to Consider
Small is designed for dogs 7-10 pounds and medium is for dogs 12-15 pounds.
Small is only available in red-red color combo, whereas medium only comes in gray-black or red-black.
Most expensive on the list, plus there is a delivery fee.
No online reviews available.