19 Luxury Dog Accessories for Posh Pups
If posh pups could buy gifts for themselves, they'd be stuffing their cyber shopping carts full of luxury dog accessories ranging from designer dining dishes and name-brand dog collars to high-end dog toys and bougie dog clothes.
Upscale pet items and accessories have gone to the dogs, especially in a year when our beloved pups are helping us manage a pandemic. In exchange for the cuddles and kisses our pets provide year-round, we've rounded up a host of items to spoil your dog. Make their holidays extra special with these luxury dog accessories that will have them wagging their tails with joy.
Our Top Luxury Dog Accessories
Doggy Dining Delights
Designer Dog Collars
Palaces Fit For A Canine King and Queen
Tech Talk
Luxury Dog Couture and Toys
All featured products are chosen at the discretion of the author. However, Vetstreet may make a small affiliate commission if you click through and make a purchase.
Doggy Dining Delights
Eating at home has become the new norm, so let your dog get in on the fun with an array of fancy, fun, and functional food bowls. Why let your dog simply eat his food when he can consume it in style thanks to these high-end bowls?!
Your dog is canine royalty, so allow them to eat and drink in upscale style. This vintage European double pet dish features a scrolled pattern to hold two dishes. From the Acanthus Leaf Collection, this intricately cast iron feeder blends perfectly into any home decor. The set sits lower to the ground making it the ideal selection for smaller dogs. Ceramic bowls are removable and dishwasher safe for easy cleaning.
Why should your dog eat or drink from a regular bowl when she can indulge in this contemporary modular design from Bowsers Pet Products?! As functional as it is fashionable, this elevated feeder was designed with your dog's health in mind. Elevated feeders help arthritic dogs from feeling discomfort during eating or drinking.
Made of water-repellant rubberwood that wipes clean, it comes with anti-slip cushioned feet for tiled or wood surfaces. Dogs should be able to eat or drink without lowering their neck too far or stretching too much upward. This Artisan Fossil Single Feeder is available in a variety of sizes to accommodate dogs of every life stage and height.
Bonus: The removable lead-free white ceramic bowl is dishwasher safe.
Go bling or go home, that's the mantra of this pretty in pink crystal-encrusted dual dog dining set. Face it, some dogs are divas and they deserve to dine like princesses. Whether this piece winds up being the star of your kitchen or the centerpiece of your dog's bedroom is completely your decision. Featuring two removable dishwasher-safe stainless-steel bowls, the base should be delicately hand washed (much like your darling diva).
Bonus: Available in several styles and color options.
Designer Dog Collars
Keep your pup styling all year long with a designer dog collar that fits his or her distinct personality. These luxury dog accessories are stand-out statement pieces that also offer functionality and durability.
Why walk when you can strut? Dog collars and leashes are a staple in every canine's must-have items, but this year it's all about overindulgence. The Louis Vuitton Baxter dog collar is sure to turn some heads at the dog park. With its monogrammed canvas, natural leather backing, and golden brass pieces, turn up the glam with this chic dog collar.
If the sticker shock of the Louis Vuitton dog collar is a bit much for your taste, consider this stylish collar crafted with soft Ultrasuede® material that's both breathable and washable. Made in the USA, this exquisite piece features a checkered bow with a Swarovski encrusted center. The pastel band adds a gorgeous pop of color.
For a smart look that's straight out of the Hamptons, consider this simple yet stylish collar from The Foggy Dog for your preppy pup. Striped cotton fabric covers durable nylon webbing, while shiny metal hardware adds a sleek finish. You can even have it engraved for an added fee.
Diamonds are a girl's best friend, but these faux diamonds are much more budget-conscious without losing their luxurious sparkle. Made from synthetic leather and faux pearls, this collar is soft enough to feel good against her skin. Suitable for any smaller-sized dogs, it comes in three size ranges for Chihuahuas through Boston Terriers.
Palaces Fit For A Canine King and Queen
Posh pups don't sleep, they slumber. And they deserve to snooze in the comfort of a high-end plush bed, palace, or both. Palaces are the new dog houses, after all. Let your dog have a socially distanced pajama party so each dog can pick out her favorite bed from our assortment of cozy comforts.
When the alarm clock goes off, you won't be the only one that doesn't get out of bed. Dogs who slumber in this Original Calming Donut dog bed feel like they are snoozing on the coziest cloud. Its high-loft, high-density fiber fill and plush vegan faux fur is so comfy, you may even be tempted to catch a few winks! Plus, all of the materials are pet safe, so you can feel good about this being your pup's home base.
Whether you have a small Shih Tzu or a mighty Great Dane, there's an option for every size. And when it's time to launder, just toss it in the machine.
Small dogs will really love the privacy and style of this tipi-inspired dog bed. Made of ultra-soft micro plush fabric, this luxury dog bed is cozy and comfy for those dogs that dream of glamping in the great outdoors. Plus, the bed cushion is removable and easy to clean by simply tossing it in the washing machine. And don't you just love the plaid entry curtains? An adorable touch!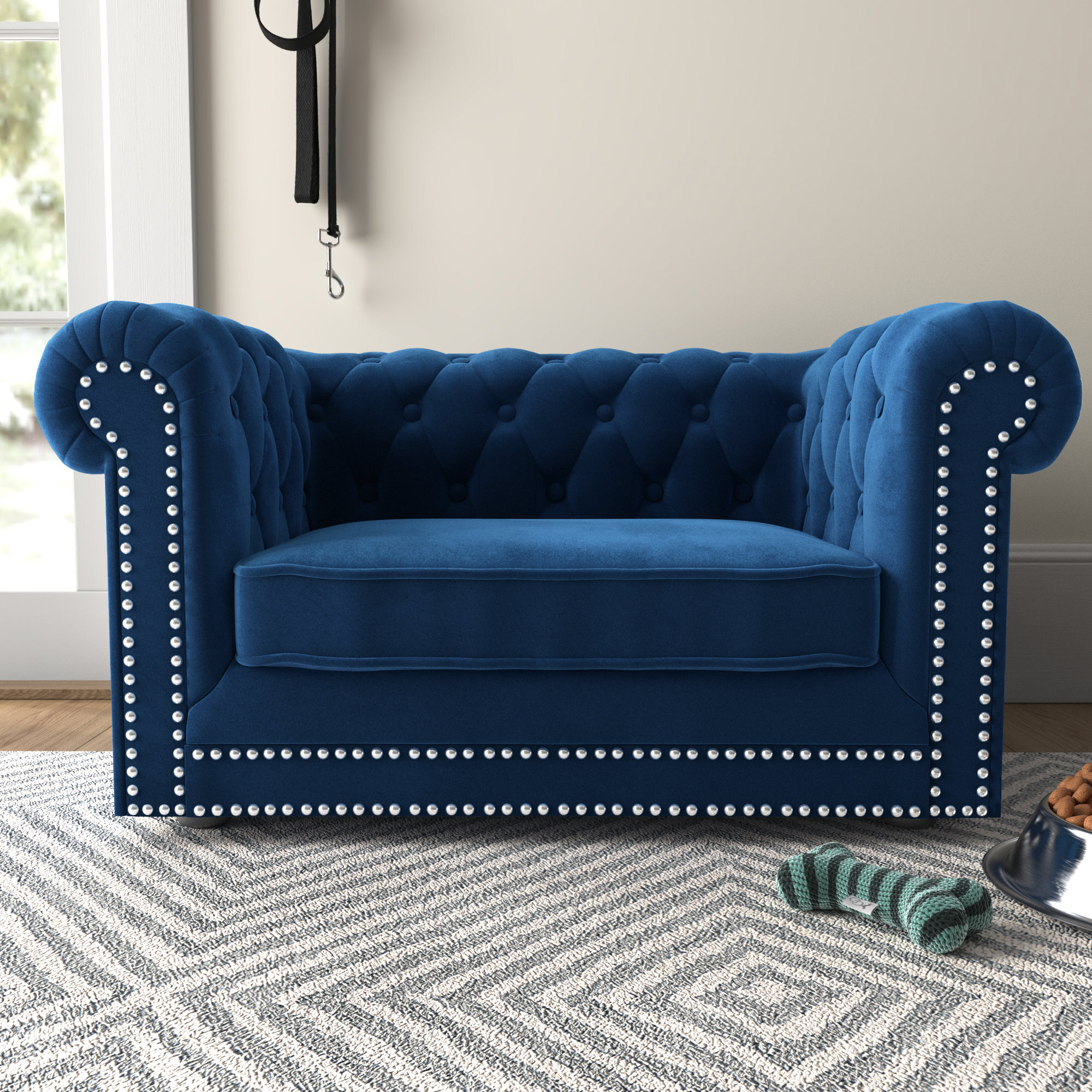 A beautiful dog deserves a beautiful, functional pet sofa that adds a touch of style to any pet lover's home. Featuring button tufting, nailhead trim, soft upholstery, and memory foam fill, this Chesterfield inspired sofa will have your pup lounging in serious comfort and style. The fabric is even water-resistant in case of spills or accidents, and the sofa arrives fully assembled for added convenience.
Step up your level of canine overindulgence with this contemporary, innovative design that looks edgy yet elegant but is ripe with superior comfort. This isn't your grandma's designer dog bed: it looks like an area rug but is filled with cushy, pressure-relieving memory foam that's also waterproof. For dogs with joint or mobility issues, it's completely accessible, and you can just throw the removable cover in the wash as needed.
The only dilemma you'll have is deciding if you want the brown or black design!
Tech Talk
People work from home, and now dogs can go high-tech, too. Dogs have seen us through quarantine, so of course they need their own digital devices.
The PetCube Cam allows pet parents to monitor dogs any time of day or night through their phone. The HD live-streaming video promises a sharp, clear view both day and night, and thanks to the two-way audio, you can both hear and speak to your dog while away or in another room. There's even an accompanying app that has a 24/7 online veterinarian available for added convenience. Plus, for a little bit more money per month, you can subscribe to Pet Cube Care to get added perks like video history and smart alerts.
All good boys and girls deserve a treat, but what if you aren't around when they deserve one? Fill the Furbo Dog Camera with over 100 pieces of your dog's favorite treats and play a game of catch from another room or another city. Featuring livestream video to monitor your dog with a 160-degree angle and 4x zoom, you'll never miss a furry beat. Be alerted of emergencies in real time in the event your dog is in danger. Get to know your dog's patterns when separated from you and if your pooch is facing the camera (think perfect selfies). The Furbo is also compatible with Alexa.
Some dogs are escape artists and others like to explore. Never worry again where your dog is with the SportDOG TEK 2.0 GPS Tracking and E-Collar System. We swoon for this collar that combines GPS tracking with e-collar training. The GPS is waterproof and submersible up to 25 feet, so have fun playing in the rain with your pooch. Rechargeable lithium-ion batteries enable the collar to stay charged for 24 hours and the handheld for 12. Comes with everything a dog parent needs to get started for peace of mind.
Luxury Dog Couture and Toys
Bark is the new black, and dogs are owning the catwalk. Dog parents who have a passion for fashion swoon for chic canine couture. These dog clothes can be fashionable and functional but sometimes it's all about the glam.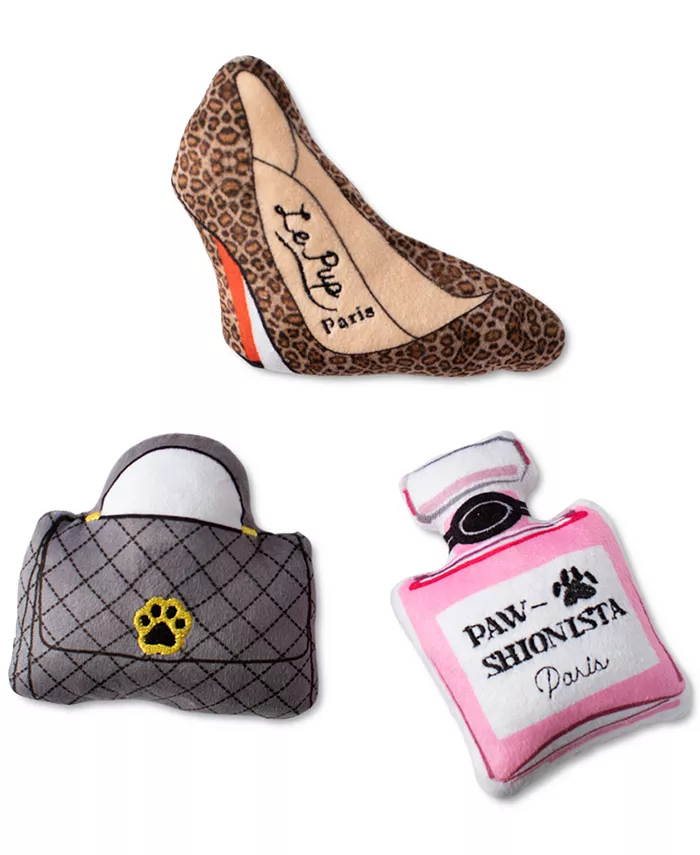 Imagine the look on your furry darling's face when you gift her this trio of designer squeaky toy essentials. Elegance meets refinement (or is that "ruff-inement"?) with the plush pump, handbag, and perfume bottle, all decked out in designer-inspired logos for high-fashion fun. You may even be tempted to toss one in your own bag! #NoJudgmentZone
Luxury dog clothes are completely on trend, and this dress will fit perfectly in your classy canine's closet. The fashionable frock features tiny satin bows at the back, pearls at the waist, and a double-ruffled skirt with striped accents. It's also incredibly functional, with its reinforced interior and D-ring for a leash. Trust us, this dress will take your darling diva from the holiday season and Valentine's Day to photo shoots, weddings, and more.
Polka dots never go out of style, and neither does your dog's fashion sense. Made of 100 percent polyester, this classic design is ideal for holidays, parties, formal occasions, and everyday social media fun. Cut higher in the belly for potty breaks, this pullover design is easy to put on your smaller pup. The turtle neck adds a final high-end touch that is sure to make heads turn at the dog park.
When it pours, your dog reigns in this lightweight rain jacket from The Worthy Dog. Don't let the wet weather define your pooch. She'll make a splash in this comfortable, functional, on-trend plaid design that's sure to turn heads at the dog park. Peek-a-boo pocket on the back of the raincoat allows dogs to carry their own waste bags, snacks, or business cards. The covered harness hole makes it easy to walk your dog in style on rainy days.
She works hard for the money, honey! Why not flaunt it with the Haute Diggity Dog plush dog toy that looks like a high-end Birkin bag? This toy really resembles the actual design, down to the signature buckle accents embroidered on the front. She may want to curl up and rest her shopping-weary head on this cozy design.