Cat Pheromone Diffusers: 6 to Calm Your Anxious Feline
Published on January 05, 2021
Like many people, you've likely experienced anxiety at one point or another. And you're probably aware that dogs can suffer from the condition, as well.
But did you know that cats get anxious, too?
It's true. Although they have a reputation for playing it cool, our feline friends can indeed experience the uncomfortable—and even debilitating—effects of anxiety. In fact, a recent study found that 13.5 percent of pet cats showed at least one symptom of anxiety.
"Changes like a new home, a new family member, or just that annoying cat next door can cause unwanted, anxiety-related behaviors," says Alexandra Rodriguez, a veterinary technician in South Carolina. "Some pet parents turn to pharmaceutical options, while others try pheromone diffusers."
Featured in this article
What Is a Cat Pheromone Diffuser?
Pheromone diffusers contain synthetic chemicals that mimic a variety of naturally occurring pheromones known to soothe cats. Like electronic air fresheners, they plug into standard electrical outlets and require periodic cartridge changes.
These plug-ins are odorless—humans and other pets can't detect the scent of cat pheromones.
There are two different types of pheromone blends used for cat stress relief: calming pheromones and multi-cat pheromones.
Calming pheromone blends imitate a cat's facial pheromone. These pheromones are helpful for homes with one cat.
"When your cat rubs their face on you or the furniture, they're claiming their territory by releasing pheromones," explains Rodriguez. "These pheromones help a cat feel safe and secure by giving them a sense of familiarity and belonging."
Multi-cat pheromone solutions replicate the pheromones that a mother cat releases to soothe her kittens.
"These pheromones help put cats at ease in the presence of other cats," says Rodriguez. "Multi-cat pheromone diffusers are best used in homes with multiple cats who are experiencing tension or conflict."
Cat Pheromone Diffusers: Our Top Picks
Although pheromone diffusers are not effective for all cats, we found six standout options that have offered relief to many pets. If you're dealing with a stressed-out cat, it may be worth giving one of these top-ranked picks a try:
All featured products are chosen at the discretion of the author. However, Vetstreet may make a small affiliate commission if you click through and make a purchase.
How We Ranked Our Top Cat Pheromone Diffusers
When researching the best pheromone cat diffusers, we considered a number of factors. The diffusers on our list:
Contain 100 percent pet-safe ingredients.
Have earned numerous positive reviews from pet parents.
Are available at major pet retailers.
Have readily available refill cartridges.
If you have any concerns when shopping for a pheromone diffuser, speak with your veterinarian or a certified cat behaviorist. These experts can answer any questions or direct you to a product that is the right fit for your feline.
The 6 Best Cat Pheromone Diffusers
Best Overall
Our Pick: Comfort Zone Calming Diffuser Kit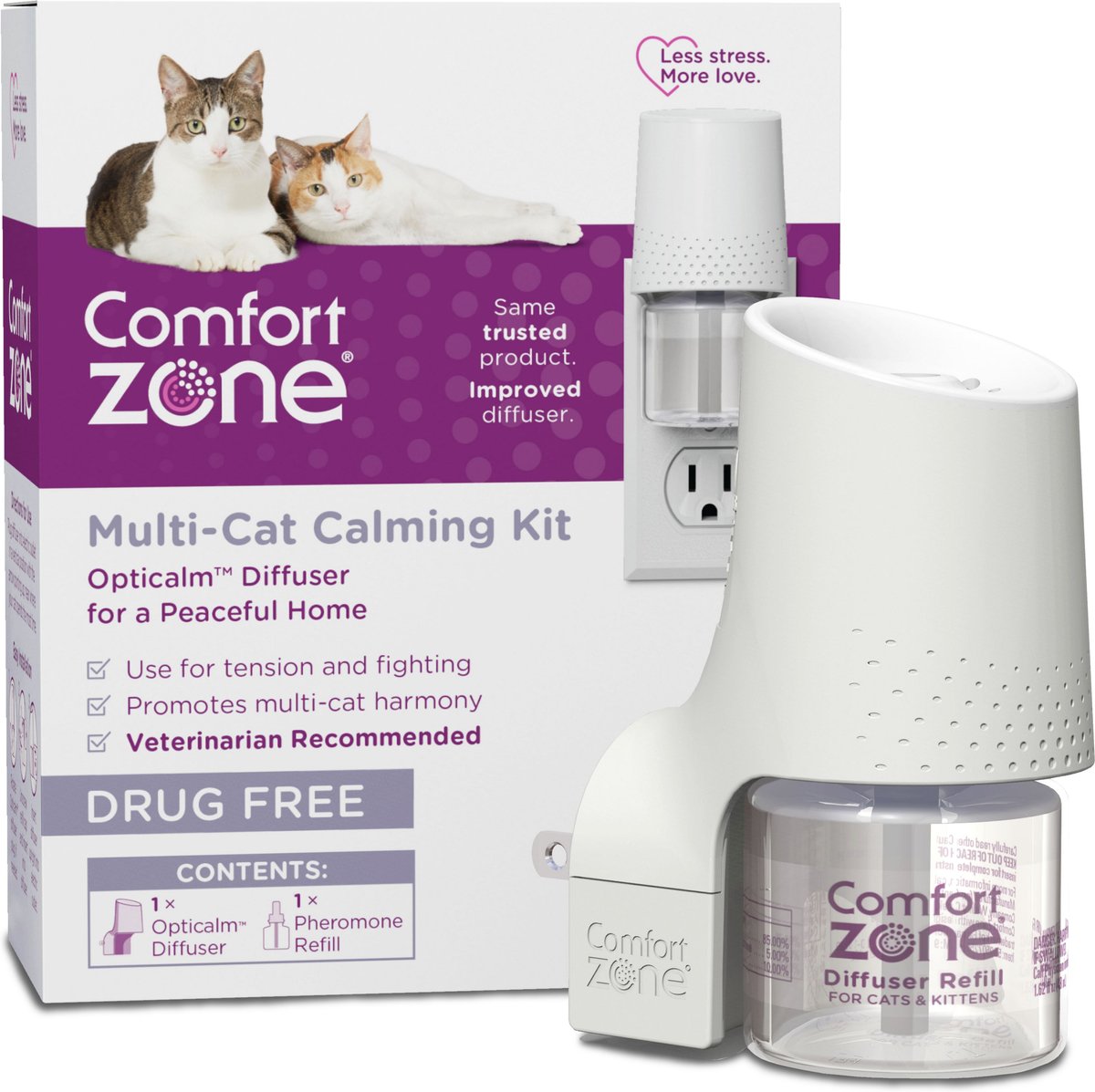 The Comfort Zone Calming Diffuser Kit features a double dose of pheromones, meaning your cat receives twice the amount of feel-good vibes. Designed specifically for single-cat households and appropriate for both cats and kittens, the pheromone blend is clinically proven to be over 90 percent effective at reducing two common anxiety behaviors: urine marking and unwanted scratching.
The Comfort Zone diffuser can also be helpful when settling in a new cat. To set your pet up for success, plug it in the room you intend to allow your new pet to acclimate in.
Many reviewers appreciated that the Comfort Zone vapor spray is visible, ensuring that the diffuser is functioning correctly and dispersing regularly.
Highlights
Unscented.
Refills last 30 days.
Automatic shut-off feature prevents the diffuser from overheating.
Things to Consider
This product covers one room. For household coverage, you will need to purchase additional diffusers.
Formulated for single-cat households.
Best Multi-Cat Pheromone Diffuser
Our Pick: Feliway Multicat Diffuser Starter Kit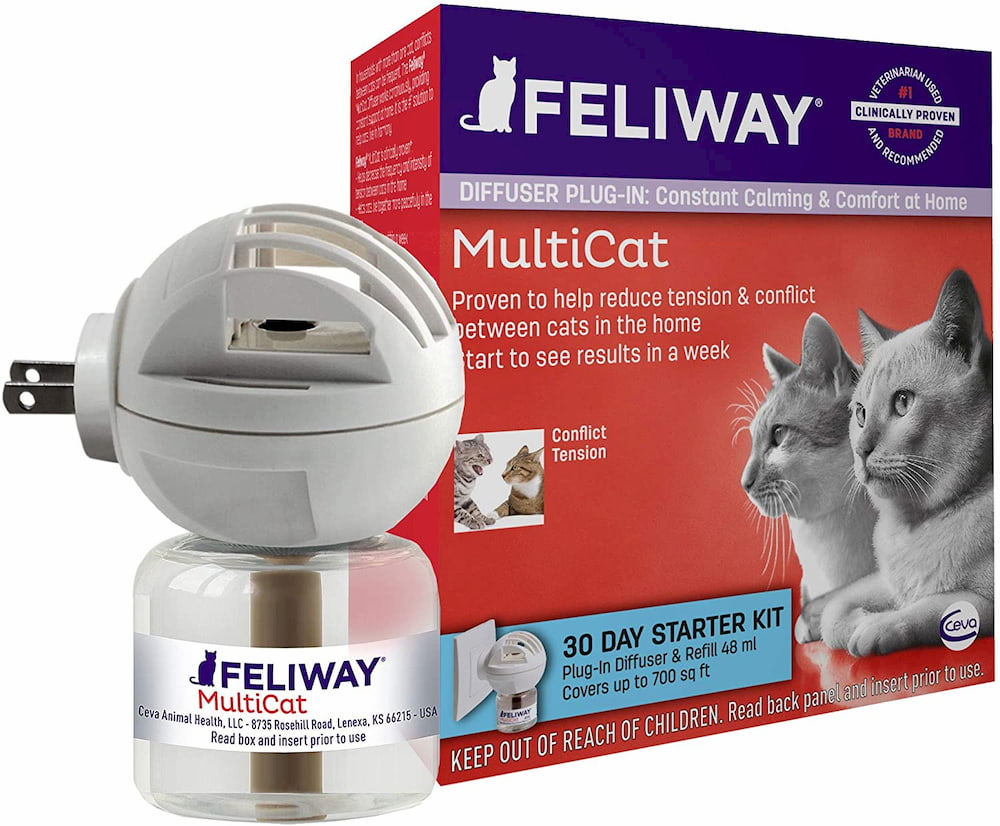 A mainstay in the pheromone game, Feliway was the first cat pheromone diffuser on the market. Woodnutt personally uses and recommends the brand. "I know they've done the research to show that the product is safe, and how and when it helps cats," says Woodnutt. "I've used them when fostering cats and in the clinic, and they've been excellent."
Feliway has a number of popular calming products on the market. Their Multicat Diffuser earns particularly good reviews among pet parents with feuding felines.
Formulated to reduce tension in homes with two or more cats, it disperses pheromones up to 700-square-feet. Within seven days, users should see a decline in aggressive behaviors including standoffs, stalking or chasing, biting, hissing, growling, and spitting. Plus refills are easy to buy and use.
The Feliway Multicat Diffuser may be especially effective when introducing a new kitty to your resident cat(s). When combined with other best practices—such as initially separating pets and slowly introducing the new cat—the pheromones can help make the getting-to-know-you phase less stressful.
Highlights
Unscented.
Refills last 30 days.
Covers up to 700-square-feet.
Things to Consider
Formulated for multi-cat households
Best-Smelling Cat Pheromone Diffuser
Our Pick: Sentry Behavior Diffuser
Like other products formulated for single anxious cats, Sentry's diffuser uses calming pheromones to help reduce stress behaviors including marking, excessive meowing, and scratching.
What differentiates Sentry's diffusers is the lavender-chamomile fragrance. Some reviewers enjoy the scent—especially in rooms with litter boxes—while others find it too strong. We personally don't find the scent overwhelming.
Highlights
Refills last 30 days.
Covers up to 215-square-feet.
Things to Consider
Lavender-chamomile scent.
This product covers one room. For household coverage, you will need to purchase additional diffusers.
Formulated for single-cat households.
Best-Smelling Multi-Cat Pheromone Diffuser
Our Pick: Relaxivet Cat Calming Pheromone Diffuser Kit
If you're looking for a way to keep the peace in your multi-pet home without the use of harsh chemical additives, Relaxivet uses a powerful combination of pheromones and plant components to help calm feuding or anxious felines.
The two-in-one formula blends soothing essential oils with the harmony pheromone marker that helps cats feel at ease with each other. The result not only freshens the room with the gentle scent of lavender, but it also combats a wide range of unwanted cat behaviors — including fighting, scratching, urine marking, and hiding.
Pet parents should note that some essential oils have been associated with harmful effects in cats. Be sure to monitor your cat closely and discontinue using the diffuser if you notice any adverse reactions.
Highlights
Contains both pheromones and essential oils for double the calming power.
Corrects stress-related behavior in 90% of cats.
Formulated for multi-cat households.
Tested and trusted by veterinarians.
Covers up to 700 square feet.
Refills last 30 days.
Things to Consider
Monitor your cat closely to watch for any reaction to the essential oils.
Some pet parents said scent was too strong.
Most Calming Cat Pheromone Diffuser
Our Pick: ThunderEase Calming Diffuser Kit
ThunderEase is a collection of pheromone products from the makers of the ThunderShirt, a popular compression garment used to help calm anxious dogs.
ThunderEase cat diffusers use pheromone solutions created by Feliway, which have been extensively tested and reviewed over the years. The single-cat formula is designed to deter spraying and scratching, as well as help soothe cats in the event of a move or environmental change (for example, a stressful home renovation).
Highlights
Unscented.
Refills last 30 days.
Covers up to 700-square-feet.
More than 90 percent effective during testing.
Things to Consider
Formulated for single-cat households.
If your cat hasn't previously responded to Feliway pheromones, this product may not work for your feline.
Best Natural Multi-Pet Pheromone-Free Diffuser
Our Pick: Pet Remedy Natural De-Stress Diffuser
Searching for a chemical-free calming diffuser? Pet Remedy uses a blend of essential oils and herb extracts instead of synthetic pheromones. The solution is designed to soothe both dogs and cats, and is also recommended for birds, rodents, and horses.
Users note that Pet Remedy's diffuser works particularly well for pets experiencing mild to moderate stress due to loud noises (such as thunder and fireworks) and environment changes. Those with aggressive cats and pets with more severe anxiety report having less success.
Highlights
100% natural blend of valerian, vetiver, sweet basil and Spanish sage essential oils.
Formulated for all mammals and birds.
Refills last 30 days.
Covers up to 650-square-feet.
Things to Consider
Does not contain pheromones.
Emits a strong herbal scent.
Cat Pheromone Diffuser FAQ
Do you have questions about cat pheromone diffusers? You're not alone. Here are some helpful answers to the questions pet parents tend to ask most frequently.
Do pheromone diffusers work for cats?
Yes, studies have shown that cat calming diffusers can help reduce common anxiety-related behaviors in cats, including:
Withdrawal and hiding
Destructive or aggressive behavior
For cats with mild symptoms of anxiety, a pheromone diffuser may offer significant relief.
"In cases of mild anxiety, they may be sufficient to calm the cat alone," says veterinarian Dr. Joanna Woodnutt.
However, like people, cats experience anxiety differently. Pets with more severe symptoms may need additional intervention.
"Pheromone diffusers may not be enough for some very anxious cats," says Woodnutt. "For these animals, extra calming tools and changes to the environment may be needed."
Additionally, it's important to note that anxiety symptoms can point to a wide range of underlying health issues in cats.
"Be sure to get your cat checked out by a vet to rule out any potential health problems," says Rodriguez. "Once your kitty is deemed healthy, you can try using a pheromone diffuser to help put them at ease."
Are cat pheromone diffusers safe?
Yes, pheromone diffusers are generally considered safe for cats when used according to the manufacturer's directions.
"The nice thing about pheromone diffusers is that they're natural, and unlikely to do any harm. They can therefore be used for non-anxious cats, and for cats with on-and-off anxiety, without any risk at all," says Dr. Woodnutt.
Though diffusers use synthetic pheromones, these "copycat" markers work the same way naturally-occurring pheromones do — by sending chemical signals that trigger changes in cat brains and behavior.
Unlike calming medicines or sedatives, pheromones — natural and synthetic — don't have to be ingested or metabolized. So you don't have to worry about any interactions or dosing recommendations. Pheromone diffusers are also safe to use around kittens. In fact, many use the same markers released by mother cats to soothe newborn kittens.
It's still a good idea to keep a close watch on your cat when using a pheromone diffuser for the first time. Every cat is different, and some additives, like scent, may bother sensitive cats. If you notice any adverse reaction, discontinue using the diffuser and contact your veterinarian for guidance.
Do cat pheromone diffusers affect humans?
No, in addition to being odorless and colorless, pheromones are species-specific. So using them will not affect pet parents at all. (Unless you count feeling better and less stressed because your cat is calmer!)
Some diffuser formulas incorporate copies of pheromones from multiple species of animals, so they can be used to create harmony in multi-pet households. So be sure to read the packaging to determine the right pheromone diffuser to fit your needs.
Cat Pheromone Diffuser Buying Guide
There are a number of things to consider when selecting pheromones for cats.
The most important factor is the pheromone blend. If you have a single cat, select a diffuser that uses calming pheromones. If you have more than one cat, purchase a multi-cat pheromone diffuser.
Other considerations when shopping for cat pheromone diffusers should include:
Research
There are a number of cat pheromone products on the market, some of which have been tested more rigorously than others. "Look for a brand that is clinically proven," says Woodnutt. "Any brand that claims this should be able to back it up with actual scientific papers. If you aren't sure whether to believe them, call and ask for them to send you some information. If they can't, well, you have your answer!"
Range
Pheromone diffusers have a wide variety of ranges. While some disperse pheromones throughout the entire house, others only cover one room. Consider your home and your cat's symptoms when selecting a product. If your cat is only marking one room, for example, a single small diffuser might be appropriate. If you have a larger home or issues in more than one room, you will likely need a more powerful diffuser or several devices.
Scent
Although cat pheromones aren't detectable by humans, some diffusers contain added scents, such as lavender. While some may consider this a bonus, make sure you enjoy the particular product's scent.
Longevity
Check to see how long the diffuser lasts. If you forget to change the cartridge, your cat may relapse into past behaviors, so choose a product that can go at least 30 days between replacements.
Species
Ensure that the product you purchase is designed specifically for cats. Dog pheromone diffusers are also available, but will have no effect on cats.