15 Best Dog Water Toys for the Pool or Beach
Published on February 11, 2021
All featured products are chosen at the discretion of the author. However, Vetstreet may make a small affiliate commission if you click through and make a purchase.
When the weather is warm, there's nothing that beats taking your dog for a dip in the pool, ocean, lake, or stream. And dog water toys can help make your outdoor activities more enjoyable and fun for the whole family.
Whether you've taught your dog how to swim or he simply wants to frolic on the beach, these interactive, water-friendly pet toys will keep your canine busy and active while soaking up the sun and surf.
What Are Dog Water Toys?
Dog water toys are dog toys made specifically to use in the water. That means they can be taken to the pool, lake, ocean, or be used for bathtime fun.
Most are made of waterproof materials like plastic or rubber and are designed to float and bob so that dogs can retrieve them during play.
Some dog water toys will offer interactive features like ropes for tug-of-war and tossing, holes where water shoots out, or full-on sprinkler or hose attachments that can be used in your yard.
Shopping for Dog Water Toys: What to Look For
Buying dog water toys is similar to shopping for other pet toys. Looking for toys that are safe, durable, and easy to clean are important parts of picking the right option for your canine family member.
But when considering water-specific toys, you may also want to think about the following aspects before purchasing:
Floatability
A water toy designed for dogs should float without any issue. Otherwise, it will be difficult—and even unsafe—for a dog to retrieve it and for you or your dog to find it in the water.
Grip
Toys that get wet and are used in the water have a tendency to become slippery. Look for ones that offer some sort of gripping mechanism to help dogs grab the toys with their mouths. This might be in the form of a textured surface, nubs, or ropes so that a dog can easily grasp the toy with their teeth.
Color
If you are throwing a dog toy out into the ocean or a lake, make sure it's a bright color that will make it easy for both you and your dog to spot it. If the shade is muted or blends into the water too much, it could be difficult to find and you may wind up losing it in the waves.
Versatility
The best dog water toys can be enjoyed on land as much as in the water. Look for toys that are versatile and can be used at home or in your yard in addition to the pool or beach.
Our Picks:
Best Floating Dog Toys
Floating dog toys can be used in the pool or in calmer waters like lakes and streams—somewhere it will be easy for your pup to track it down and retrieve it. These are a few of our favorite floating dog toys.
Durability is such a key factor when choosing dog water toys, and this floating fetch toy from Bull Fit is made to be indestructible. The exterior is made of extremely strong and sturdy, non-toxic firehose material that is difficult to puncture or tear. It floats in water and the bright color makes it visible. The ergonomic design allows for dogs to breathe easily when retrieving and helps cut back on water intake. This toy has some weight to it, which makes it easy to throw, but it's not heavy enough to sink or make your arm tired.
Highlights
Made from durable and non-toxic firehose material.
Floats easily, but is weighted enough to throw.
Bright color makes it visible and easy to see.
Each one is handmade in Europe.
Can be used in water or on land for fetch and games of tug.
100% money-back guarantee.
Things to Consider
Not a dog chew toy. It's really only meant for interactive play.
There is no rope or handle, but it's easy to throw without one.
A few reviewers say this toy takes a bit longer to dry than other dog water toys.
What canine doesn't love a floating toy shaped like an adorable turtle? We adore this dog water toy from Outward Hound because it is fun and easy to use in the water. It's made out of durable nylon, foam, and a tennis ball. Unlike some other floating toys, this one stands upright, making it easy for dogs to see and retrieve. For dogs that go crazy for squeakers, this toy has an interior one that squeaks when your dog bites it or shakes it, which just adds to the fun.
Highlights
Cute, sea-inspired shapes. If your dog isn't a fan of turtles, you can choose from other options.
Floats upright, making it easy to find.
Bright colors make these toys easy to see.
Includes a squeaker for added fun.
Doubles as a great snow toy in the winter.
Things to Consider
Not a chew toy. Dogs should be supervised when playing with this in water and on land.
Made in China.
If your dog is an aggressive chewer, this toy may not hold up for long.
If you and your dog are crazy about Shark Week, then this is the toy for you! We love the simplicity of this fin-shaped dog water toy. It floats and the top part is very visible in the water due to its shape and bright, neon color. Not matter how you throw it or how this floating dog toy lands, it pops upright so it's easy to track and find. If you happen to have the Chuckit Launcher, this water toy is compatible, making it simple to launch and throw to your dog in the pool or a lake.
Highlights
Made from soft, but durable material.
Floats great and stands upright so it's easy to see.
Bright color helps dogs (and humans) spot it.
Compatible with the Chuckit Launcher.
Things to Consider
Some reviewers said this was smaller than expected. Be sure to pay attention to the measurements.
Some dogs may find this wobbly and harder to grab than some other toys.
Not meant as a chew toy. Dogs will destroy it if allowed to gnaw on it.
Sometimes, you just have to go with a classic. The KONG Wet Wubba is beloved by pet parents for water-time fun. It is made up of two balls and covered with neoprene material with four flowing tails. It floats nicely and the colors are bright enough for dogs and humans to see and retrieve in the water. The fabric dries quickly, so it's a good option for traveling or packing in the car. It's also a fun tug toy to use on land!
Highlights
Neoprene fabric makes it easy to spot.
Two different ball sizes make it easy to grib for most dogs.
Dries quickly after use.
Available in two size options.
Fun for fetch and tugging on land.
Things to Consider
You cannot choose the color. You pick the size, but the color you receive is random.
Only available in large and extra large sizes, so smaller dogs may have a difficult time with this.
Strong chewers may destroy this water toy quickly.
Best Dog Beach Toys
Soaking up the sun and waves on a beach day with your dog is one of the best ways to pass the time in the summer. And while all of the floating toys mentioned above will work in the ocean, there are some other dog water toys that work perfectly for the beach.
These are some of our favorite items to pack in our dog's beach bag.
There's nothing quite like playing frisbee on the beach with your dog, and this floppy, waterproof frisbee is the ultimate dog beach toy. It's made of durable, multilayer nylon that floats if tossed into the waves. It comes in a variety of bright colors that make it easy to spot and it's easy to pack in a beach bag. We love that this frisbee is equally fun in the water and on land.
Highlights
Made of durable, multilayer nylon.
Floats in the water.
Bright colors make it easy to see.
Fun in the water and on land.
Things to Consider
Not meant for tug of war. Supervise your dog when playing.
Only available in one size (9-inch diameter).
If you're planning on spending a full day at the beach or taking a beach vacation with your dog, then bringing multiple toys for the trip makes sense. That's why we love this toy set from CoubonTail—it offers dogs a choice. This value set comes with four different toys and all of them float in the water and are made from non-toxic TPR material so they are safe for our canine companions. Plus, all of these toys offer textured surfaces, which make them easy to grip and retrieve.
Highlights
Four different dog beach toys in one pack.
Ability to play with these toys in and out of water.
Textured surface makes them easy to grip.
Come with squeakers to keep pups entertained.
Things to Consider
Dogs shouldn't be unsupervised when playing with these. Not meant as chew toys.
They do have squeakers and make noise.
While they do have bright orange accents, the toys are blue and could be tricky to see in the waves.
Who doesn't love playing a quick game of soccer on the beach? And getting your dog involved is even better. This fun soccer ball comes with nylon tabs, which makes it easy for dogs to grab if they are retrieving it on land or in the water. It's buoyant and floats easily, so if your kids kick it into the waves, there's no problem! It's made of natural rubber and TPU material, making it easy to wipe down and clean if it gets coated with sand. All around, it's a fun toy for the whole family to enjoy!
Highlights
Easy to inflate and deflate for traveling.
Comes with a pump and needle for inflating.
Natural rubber makes it easy to clean.
Nylon tabs are durable and make it easy for dogs to grip.
Floats easily in the water for beach and pool fun.
Things to Consider
Recommended for dogs 5-25 pounds.
It is 6 inches when inflated.
Play the ultimate game of fetch with this high-flying dog beach toy from Nerf. The aerodynamic design allows this sucker to fly far and makes it challenging for your dog to chase it down. It has bright colors, which can help your dog locate it when it lands on the sand and it floats, so you don't have to worry if you throw it in the water. This toy comes with a squeaker, which will entertain pups and it's easy to wipe down and clean. This is a great toy for both the beach and the backyard, making it a winner in our eyes.
Highlights
Aerodynamic design helps it fly far.
Comes with a squeaker.
Floats in water.
Easy to clean.
Things to Consider
May be too large for small dogs.
Not for heavy chewers. Dogs should be supervised when using this toy.
Best Dog Sprinkler Toys
Even if you don't have a pool or aren't planning a trip to the beach, you can still enjoy dog water toys in your backyard. Sprinkler toys for dogs are a great way to cool down your canines and kids, and they provide hours of at-home fun.
While there isn't a ton of variety when it comes to dog sprinkler toys, here are a few of our favorites.
No pool, no problem. This extra large, inflatable sprinkler pad is an ideal way to cool off for all dog breeds and little humans. It's made from thickened PVC material with an anti-slip surface and spand 67 inches, which gives dogs plenty of space to romp around. This mat offers an adjustable spray height that can be controlled by simply turning the water pressure up and down. It connects to your garden hose and is easy to set up and store when not in use.
Highlights
Large surface area for all dogs (and kids).
Anti-slip surface.
Eco-friendly, BPA free, and non toxic.
Adjustable spray height.
One-year full replacement warranty.
Things to Consider
You should trim your dog's nails before allowing them on the mat.
You should place the mat on an even surface.
Not only is this outdoor fountain for dogs fun to play with, but it serves a purpose too. It also allows dogs to get a drink of water on a hot day. And it's completely controlled by your pup's paws simply by stepping on the pad. It's designed with steel for strength, and it's heavy enough that it won't move around if your dog jumps or steps on it. This also comes with a hose splitter, so that you don't have to give up hose access to use this dog sprinkler.
Highlights
Easy to hook up and connect to your hose.
Sturdy steel design, rubber friction pads, and a leak-proof copper valve.
Encourages play and drinking.
No batteries or electricity needed.
Comes with split adapter for hose.
Things to Consider
It may take some training to get dogs to use it.
Smaller, lightweight dogs may have difficulty pushing down the valve.
Should be installed in a shady location.
Should be disconnected in freezing temperatures.
Additional Dog Water Toys and Products
In addition to the fun water toys mentioned above, there are a few other toys, safety items, and water fun products to consider for your dog.
Always keep safety in mind, even if your dog is simply playing in a sprinkler or drinking from a hose. Accidents can happen in the blink of an eye, so keep safety at the forefront of any water sports or activity.
Every good doggo deserves a life jacket to keep him safe and to prevent drowning accidents. Although dogs should always be supervised in or around water, consider the Kurgo Surf n' Turf Dog Life Jacket to keep him safe in water or on a boat. The two transverse handles mean pet parents can extract their dog quickly when needed. The reflective trim means your water lover is visible. As a bonus, the life jacket can be used as a raincoat on land by removing the floatation layer.
Highlights
Available in multiple sizes with three points of adjustment for a secure fit
Two handles so pet parents can easily lift and extract their dog from the water
Reflective trim and high contrast color for visibility even from a distance
Constructed with 400D and Ripstop material with inside flotation material
Easily spot cleans
D-ring for easy leash attachment
Available in two color choices
Things to Consider
May not be suitable for beginner swimmers who require extra buoyancy
Make sure you properly measure your dog for fit accuracy
Some dogs love the water but prefer to chill on top of it rather than splash through it. For in-between swim sessions or just to relax, consider the SwimWays Spring Float for your dog. The heavy-duty fabric is claw-friendly and puncture-resistant. The reinforced construction means you have greater peace of mind as your dog floats around the pool. The patented inner springs around the outside edge give dogs more stability and comfort while floating.
Highlights
Available in a variety of sizes to accommodate dogs of all weights
Folds flat into three compact circles for easy travel and storage
Inner spring design ensures comfort and safety
Aesthetically pleasing pawprint-themed pattern
Ideal for dogs who love water but not swimming
Things to Consider
Be sure the valve is properly closed so the float remains inflated
Choose the correct size according to your dog's weight
Dogs should still be supervised when in or around water
Whether your dog loves or loathes a b-a-t-h (yes, we spelled it), this durably crafted foldable swimming pool is sure to please. On hot days, it's a fun pool to splash around it, and it can also double as an outdoor bathtub. The built-in high-density fiberboards prevent it from collapsing. No need to inflate or worry about confusing instructions for setup. The drain cover is properly sealed so it won't leak. In just a few seconds, your dog can enjoy the cool water on a hot day or use it as a bathtub to get squeaky clean.
Highlights
Lightweight and foldable so it can be easily stored
Three sizes depending on the weight and width of your dog
Construction will not be affected by heat or sunlight outdoors
Made of durable and tough PVC with a thick bottom for longevity
Dogs can swim, soak, or bathe in it
Drain valve easily empties so you can store the pool when not in use
Things to Consider
The manufacturer recommends trimming your dog's nails before using this pool tub.
Tub should be placed on a level surface without rocks or other sharp objects underneath.
Bonus: If you'd like to examine other choices, check out our article, Best Dog Swimming Pools.
Stand-up paddleboarding (SUP) has taken a stronghold with dog parents who want to bond with their pup on water. Get closer to nature and strengthen your relationship with your dog by trying stand-up paddleboarding. It'll take a period of adjustment for your dog to understand and acclimate to the board, but the memories you'll make will be treasured. SUP involves you, the rider, standing up on a large board and using a paddle to maneuver through the water. Your dog joins the fun by riding along with you on the paddleboard.
Highlights
Ultralight at 17 pounds but extra rigid for durability
Inflatable widened design improves stability
EVA foam deck prevents dog claws from puncturing it
The inflatable paddle board can hold 330 pounds
Paddleboard can be directly stuffed in the included backpack
Quick and easy set up so you can get right to having fun with your dog
Things to Consider
Dogs should be comfortable and secure about water before attempting SUP
A canine lifejacket should be used when in or on water
Takes about 10 minutes to inflate and comes with a double-action pump, fin, and leash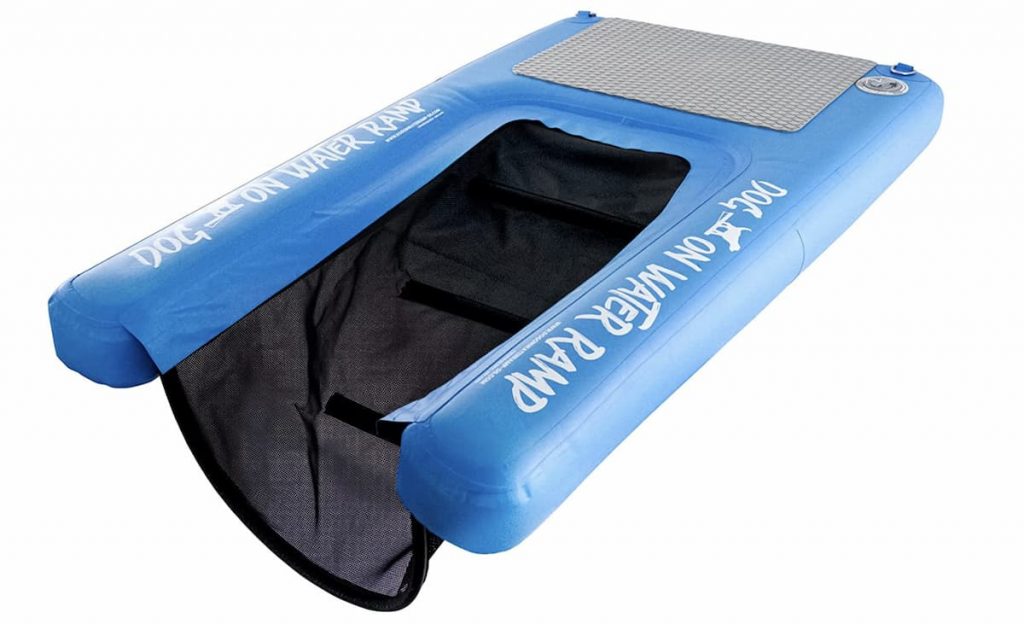 Help your dog easily climb out of any lake, pool, or body of water with the Dog On Water Ramp. Made of heavy-duty PVC coated mesh, simply submerge the unit underwater. When your pup is ready to exit the pool or lake, he simply climbs out using the paw grips. The 25-degree incline supports dogs up to 200 pounds. It comes with a handy backpack for easy transport.
Highlights
Submerged FlexRamp allows dogs to get easily in and out of the water
Ideal for use in pools, on docks, or on boats
Holds pets up to 200 pounds
Comes with a speed pump which inflates in one minute
Drop stitch technology creates a rigid form so dogs can easily climb out
Four stainless steel D-rings allow it to easily secure to a boat or ramp
Things to Consider
Comes with a repair kit in case of unforeseen punctures
Higher price point than most pet water ladders
Dog Water Toy Safety
Using dog water toys is a lot of fun, but it's important to be safe when using them. Whether you plan to take these toys in the pool, to the lake, or to the beach, here are some general safety tips to follow.
Make sure your dog knows how to swim. If you are going to be throwing these toys into the water and asking your dog to retrieve them, make sure your dog knows how to swim. Start off with swimming lessons and make sure your dog has a dog life vest when learning how to swim.
Practice in shallow water. Before throwing toys out into deeper water where your dog can't stand, practice retrieving in shallow water. This will help your dog get used to the toy and the action of fetching it. You can gradually increase the distance.
Make sure your dog gets plenty of rest. Dogs that are swimming are already expending quite a bit of energy, which may be exacerbated by the sun and heat. Make sure your dog takes plenty of time to rest, recharge, and get water breaks while playing.
Don't let your dog use toys unsupervised. Many of these toys are not designed for tough chewers. If your dog is unsupervised, he could break off pieces that could result in a choking hazard or an intestinal blockage. Always remove water toys when your dog is done playing with them.
Related Articles to Help Prepare for Summer Fun
Summer doesn't last long, so be sure to use every opportunity to enjoy wet, fun, outdoor activities while you can. We want your dog to stay safe as the temperatures rise, so check out our summer safety, outdoor, and wet and wild tips below.
7 Summer Safety Reminders for Dog Owners
Preparing for Outdoor Activities with Your Pet
7 Cooling Dog Beds to Beat the Heat