The Best Dog Food of 2023
Published on June 03, 2020
All featured products are chosen at the discretion of the author. However, Vetstreet may make a small affiliate commission if you click through and make a purchase.
Making sure your pet is happy and healthy throughout their life is a top priority here at Great Pet Care. That's why our review team has curated a list of the best dog food of 2023, based on a combination of customer reviews, quality ingredients, and price.
High-quality dog food helps your dog stay playful, active, and healthy for years to come. All the brands we recommend offer the nutrition and protein your dog needs to be as healthy as possible. Read on to find the option that fits your dog and your lifestyle best.
OUR WINNERS
Best Overall Dog Food
Our pick: The Farmer's Dog Fresh Dog Food
Get 50% off your first box of fresh dog food (valid for new customers only).
When you're looking for the best-of-the-best in dog food, it's hard to surpass The Farmer's Dog. As top dog in the fresh food category, the brand scores off the charts on quality and nutrition, offering exceptional, vet-developed recipes, freshly prepared using human-grade ingredients. Plus, The Farmer's Dog subscription and delivery services make eating fresh super easy, rivaling the convenience of traditional dry and canned dog food.
What's most appealing about The Farmer's Dog are the recipes, which are carefully crafted from nourishing whole ingredients to meet all safety and quality standards of human food, but made for the health and nutritional needs of your dog. Unlike other "made with beef" formulas (which could contain as little as 3 % beef), The Farmer's Dog Beef Recipe is packed with real USDA beef and beef liver, as well as nutrient-packed sweet potatoes, lentils, carrots, kale, and sunflower seeds. It's fresh dog food so good, you may consider digging in alongside your dog!
Highlights
Simple, protein-packed recipes feature human-grade ingredients held to higher safety standards
Freshly prepared in USDA-inspected kitchens and quickly frozen to preserve nutrients; never deep-frozen
Plans and portions customized to fit your dog's unique nutritional, health, and wellness needs
Vet-developed recipes are 100% complete and balanced according to AAFCO standards
You can stick with one recipe or choose up to three in each shipment
Plans start at $2/day and include free shipping
Pause, cancel, or reactivate your subscription at any time
Things to Consider
Pricey, but the trial period is a great opportunity to test it out and see if the benefits justify the cost
Requires plenty of space in your fridge and freezer for proper storage; can be hard to travel with
Requires a subscription
Best Grain-Free Dog Food
Our pick: Redbarn Grain-Free Dry Dog Food
Get $10 off any 22-lb bag of Redbarn Dry Dog Food with code FOODTENOFF (One purchase per person)
A family-owned business for more than 20 years, Redbarn has developed a reputation for crafting foods, treats, and chews with clean ingredients to support our pets' overall health and wellness. Their grain-free dry dog food selection is packed with functional ingredients like sunflower oil, flaxseed, pumpkin, probiotics, and prebiotic fiber to help support your pup's heart, immune, skin and coat, and digestive health. We love that the first five ingredients are always fish, meat, or poultry protein sources. For example, the Ocean recipe puts salmon, trout, salmon meal, ocean fish meal, and menhaden fish meal up front. If your dog isn't a fan of fish, they also offer Land (beef, lamb, pork) and Sky (turkey, chicken, duck) recipes to please different palates.
Highlights
First five ingredients are animal protein sources
Omega-3 and -6 fatty acids from ingredients like sunflower oil and flaxseed support skin and coat health
Contains pumpkin, probiotics, miscanthus grass, and prebiotic fiber to help support digestive health
Ocean and Sky recipes are formulated for all life stages; Land is for maintenance
Available in 4-lb or 22-lb bags
Subscribe and save and get 15% off your first order
Things to Consider
Their products are only available directly through Redbarn.com or at select pet specialty stores. Use their store locator to find retailers near you.
Most Innovative Dog Food
Our pick: Spot & Tango UnKibble
Use this link to save 50% off your two-week trial with code VETSTREET50
Want to serve up delicious dog food that has all the taste and nutritional benefits of fresh food, with the ease of dry dog food? Spot & Tango's yummy, innovative UnKibble delivers exactly that.
Just like the brand's Original Fresh recipes, Spot & Tango UnKibble is made with nutritious, whole ingredients like real meats and healthy fruits and vegetables. But to make things even easier on pet parents, these ingredients are then gently dried at a low temperature to offer the crunch and convenience of dry food, without unwanted fillers and preservatives. The result is a shelf-stable, nutrient-dense, palate-pleasing meal that costs about 40% less than fresh-frozen options, on average.
UnKibble comes in three yummy recipe options (Cod & Salmon, Beef & Barley, and Chicken & Brown Rice) that can be delivered right to your door. Simply register and enter your dog's details and Spot & Tango calculates the perfect meal plan for your pup's needs. All Spot & Tango food is made with 100% fresh, whole, locally sourced ingredients that are GMO- and hormone-free. Their recipes are cooked in small batches at lower temperatures in a USDA-inspected kitchen and contain no artificial preservatives, fillers, or additives. All recipe information, including the ingredients and nutritional analysis, is available on the Spot & Tango website.
Highlights
Ready-to-serve, shelf-stable recipes made with human-grade ingredients
GMO- and hormone-free; no artificial additives, preservatives, or fillers
Recipes are formulated for all life stages by a team of veterinary nutritionists
Get a feeding plan customized to your dog's specific needs to take the guesswork out of feeding time
100% money-back Happy Pup Guarantee
Things to Consider
Only three UnKibble recipes to choose from
Must sign up for a subscription
While Spot & Tango recommends a feeding plan personalized to your pet, the recipes themselves can't be customized
Best Budget-Friendly Fresh Dog Food Delivery
Our pick: Ollie
Subscribe today and get 60% off your first box!
When you're looking for the best-of-the-best in dog food, it's hard to surpass Ollie. Known for human-grade fresh dog food recipes, Ollie formulas are vet-approved and nutritionally-balanced, with real chicken, beef, turkey, or lamb as the first ingredient. Other wholesome ingredients include leafy greens, root veggies, and plant-based proteins like chickpeas, peas, or lentils. Plus, you can customize your meal plan based on your dog's age, weight, breed, activity level, and allergies or sensitivities. Their food starts at less than $4/day for small dogs who exclusively eat Ollie and averages $8/day, depending on the size of your pup and desired portions. Yes, it costs more than commercial dog food, but for many loyal customers, the cost is worth it for the quality and convenience Ollie provides.
Highlights
Fresh meals made from high-quality, human-grade ingredients. No fillers, by-products, artificial flavors, or preservatives
Choose from beef, chicken, lamb, or turkey recipes
Food is minimally processed and gently cooked in U.S. facilities at low temperatures to preserve nutrients
Vet-approved recipes are portioned for your dog and delivered right to your door on a flexible schedule
Starter box includes a guide to help you safely transition your dog over to Ollie, plus a free serving spoon and a "puptainer" to keep food fresh
Also available: a gently baked formula that packs real meat and veggies into a crunchy and nutritious kibble alternative
Single-ingredient treats—sweet potato slices, chicken strips, turkey strips, or beef strips—can be added to subscription boxes.
Meets AAFCO nutrient profiles for all life stages
Ships free anywhere in the contiguous United States
Things to Consider
Starter box contains about two weeks' worth of meals. Subsequent deliveries are regular, full-sized boxes that contain enough food for four weeks.
They have a money-back guarantee, but it only applies to your starter box
Turkey recipe is currently unavailable due to a national turkey shortage and supply chain disruption
Food will stay fresh for up to 4 days in the refrigerator, opened or unopened. The resealable lid of the puptainer will help preserve freshness.
Any food you won't be using right away can be stored in the freezer for up to 6 months unopened. When you're ready to feed it to your dog, move it to the fridge and let it defrost for 24 hours.
Best Custom Fresh Dog Food
Our Pick: JustFoodForDogs Chicken & White Rice
We're big fans of the fresh and natural dog food movement, and this popular chicken and rice formula from JustFoodForDogs is a winner when it comes to flavor and optimal nutrition. The ingredient label is clean, easy-to-read, and chocked full of deliciousness for your four-legged companion.
Chicken thighs are the main ingredient. Chicken is a lean protein and a great source of vitamins for dogs.
Certified by AAFCO. This food underwent feeding trials and received AAFCO certification which means it offers a complete and balanced diet for dogs.
Good for long-term feeding. This formula is designed for both puppies and adult dogs, meaning it can stay with your pup as they grow.
It looks like real food. What you see is what you get. Right out of the bag, you'll recognize the chicken, rice, carrots, and other ingredients. Nothing is hidden—and we love that.
Available in several different variety packs. Let your dog's palate be the judge of which JFFD formulas they like best. Save 50 percent on your first variety pack order.
Best Dry Dog Food
Our Pick: Taste of The Wild Grain Free Premium High Protein Dry Dog Food Pacific Stream Puppy – Smoked Salmon
If you're looking for an all-around great dry food that is packed with superfoods and pure ingredients, consider Taste of the Wild's Pacific Stream Recipe.
Great First Ingredient. Salmon is the #1 ingredient in this kibble, which delivers an optimal amino acid profile and is protein-rich so your dog can build lean, strong muscles.
Boosts Immune System. The formula helps boost your dog's immune system and overall health through the power of antioxidants from ingredients such as tomatoes, blueberries, and raspberries.
Excellent for Sensitive Stomachs. If your pup has any food sensitivities, this formula is free of grain, corn, wheat, fillers, artificial flavors and colors, and preservatives.
Best Wet Dog Food
Our Pick: Diamond Naturals Beef Dinner For Adult Dogs & Puppies
Wet food is always a helpful option for dogs who are picky eaters or who have limited appetites. Compared to dry dog foods, wet foods also often have more protein, fewer carbohydrates, and fewer synthetic preservatives. At Great Pet Media, we believe Diamond Naturals Beef Dinner is the best choice when it comes to choosing wet food to feed your dog.
Nutrient Rich. Packed with nutrient-rich ingredients such as pumpkin, cranberries, quinoa, and blueberries.
Real Food. Contains zero corn, wheat, fillers, artificial flavors, colors, and preservatives.
Great First Ingredient. Beef is the first ingredient, allowing your pooch to build lean strong muscles.
Easy to Digest. Includes prebiotic fiber allowing for smooth and easy digestion.
Best Personalized Dry Dog Food
Our pick: Just Right Pet Food
Ever wonder whether your dog's food provides too much or not enough of what they need to thrive? Just Right dry dog food takes the guesswork out of mealtime with custom kibble crafted to meet your dog's specific needs. Take a simple 5-minute quiz and Just Right will build a personalized high-quality blend and feeding plan based on your pup's breed, size, age, health, and ingredient preferences, then deliver it right to your door. Never question your kibble again!
Made just right for your dog. From the premium ingredients used in the blend to the packaging (which features your dog's name and photo), everything is customized just for your dog…right down to the personalized measuring scoop.
Made in the USA. Just Right blends are proudly manufactured in company-owned facilities in Clinton, Iowa under strict quality control practices.
60-day money-back guarantee. If you or your pet aren't completely satisfied, Just Right will give you your money back – no questions asked!
Custom kibble, competitively priced. Though every plan is different, the average monthly subscription cost ranges from $24 (for toy breeds) to $80 (for extra large dogs).
Convenient home delivery. Easily adjust or cancel your subscription at any time.
Best Vegetarian Dog Food
Our pick: Natural Balance Vegetarian Dry Dog Formula
If you are considering a vegetarian or vegan dog food, Natural Balance Vegetarian Dry Dog Formula is a premium option. It's designed to provide all breeds of adult dogs a complete and balanced alternative to a meat-based diet. This formula offers dogs the same essential nutrients found in diets with meat as the primary protein source, but it is made with no animal or dairy products.
Vegan formula. Complete and balanced alternative to a meat-based diet.
Premium energy sources. Features brown rice, oatmeal, barley, peas, and potatoes.
Skin and coat support. Omega fatty acids help support healthy skin and a shiny coat.
Best Dog Food for Sensitive Stomach
Our Pick: Wellness CORE Digestive Health Chicken & Brown Rice Recipe
Good digestive health is so important for a dog's overall health and well-being. That's why we think Wellness CORE Digestive Health is a great choice for dogs with sensitive stomachs. Their probiotic-coated kibble recipes are crafted with wholesome grains, digestive enzymes, and natural sources of prebiotic fiber to support your dog's gut health.
Guaranteed levels of probiotics support a healthy microbiome. There are 100 million CFUs of beneficial microorganisms in every pound of kibble to support gut health.
Features chicken as the first ingredient. Wellness CORE recipes provide an ideal balance of protein, fats, carbs, and dietary fibers to nourish your pet and promote vitality.
No added wheat, corn, soy or artificial colors, flavors or preservatives. We love what this highly digestible kibble does contain: Fiber-rich superfoods like papaya and pumpkin to promote digestive health and omega-3 fatty acids from flaxseed to help nourish your dog's skin and coat.
Best Puppy Food
Our Pick: Halo Holistic Chicken and Chicken Liver Recipe for Puppies
It's important to give your dog the best nutrition possible from the very beginning of their lives. This is why we suggest Halo Holistic Chicken and Chicken Liver Recipe for Puppies to nourish your puppy to grow strong and live a healthy balanced life.
Made with Real Meat. Made with real whole meat, poultry, and fish and never uses unhealthy "meat meal," making it easy for puppies to digest.
Supports Energy and Vitality. Formulated with proteins to help aid in muscle development and contains healthy fat to give your puppy energy and vitality while also allowing for skin and coat support.
Contains Antioxidants. Includes important antioxidants that aid in immune support.
Best Dog Food for Seniors
Our Pick: Blue Buffalo Life Protection Formula Senior Dog Food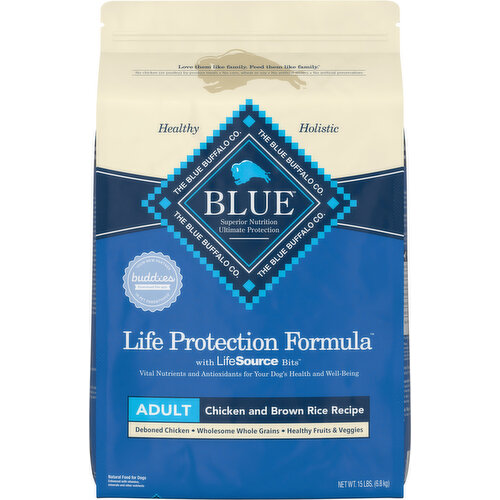 Older dogs have different needs when it comes to the nutrients they require to stay healthy. With that in mind, it's important to find targeted formulas for your aging furry friends, and Blue Buffalo BLUE Life Protection Formula is our top choice of senior formulas. You will want to switch your dog over to a senior formula around the ages of 10 to 12 for small breeds, and the ages of 7 to 8 for larger breeds.
Real Pure Ingredients. Made with no-filler chicken and is free of wheat, corn, and soy.
Made For Seniors. Many senior dogs also require less protein as they age, and this formula accounts for that by having just 18 percent.
Nutrient-Packed. Provides specific nutrients such as omega fatty acids and antioxidants to help with bone and teeth health.
Supports Mobility. Includes Glucosamine and Chondroitin to help promote joint and hip health to support overall mobility.
There are many options available when it comes to finding healthy and nutritious dog food. We hope that this thoughtfully curated list helps you on your journey to discovering the perfect one for your dog.