7 Best Dog Foods for Pit Bulls in 2023
Published on January 12, 2023
Pit Bulls have become some of the most beloved dogs in America, accounting for approximately 20 percent of the U.S. dog population. These "bully" breeds—which include the American Bully, American Pit Bull Terrier, American Staffordshire Terrier, and Staffordshire Bull Terrier—are muscular, athletic, and high energy. Ensuring they receive proper nutrition is key to giving them the best lives possible.
We take a closer look at the nutritional needs of bully breeds and share some of our top picks for the best dog foods for Pit Bulls.
Our Top Pit Bull Food Picks
All featured products are chosen at the discretion of the author. However, Vetstreet may make a small affiliate commission if you click through and make a purchase.
Pit Bull Dog Food: Understanding the Nutritional Needs of Bully Breeds
Pit Bulls have unique nutritional needs, and it's important to understand those needs when seeking out the best food options for bully breeds.
"Pit Bulls are known for having a higher risk of several diseases that can be more easily managed and often at least partially treated with targeted nutrition," says Dr. Natalie Marks, DVM, CVJ at VCA Blum Animal Hospital. "Many of these dogs are predisposed to allergies, both environmental and food, and demodicosis, a disease where a microscopic mite buries into hair follicles and causes generalized hair loss across the body."
For these cases, Dr. Marks suggests dog foods rich in omega-3 and omega-6 fatty acids and exploring limited-ingredient diets.
Dr. Marks also notes that younger Pit Bulls can be at risk of developing gastrointestinal (GI) diseases. To help combat potential GI issues, Dr. Marks recommends a diet rich in probiotics. "I like diets that include probiotics, are lower in fat to help prevent diarrhea and malabsorption, as well as those that have an easily digestible fiber like beet pulp," she says.
While many pet parents may assume by default that Pit Bulls require a diet high in protein due to their muscular build, the reality is that the protein needs of Pit Bulls will vary greatly from dog to dog. "This really depends on the individual dog and any underlying diseases, sensitivities or allergies, as well as daily exercise and other behaviors," says Dr. Marks. "In general, a diet with moderate quantity and high quality of protein is recommended."
Other potential issues to be on the lookout for with Pit Bulls include potential heart disease (in some rare cases) and joint issues, which can be mitigated with proper nutrition and avoiding overfeeding.
7 Best Pit Bull Dog Foods of 2022
When choosing the best Pit Bull dog food, remember to take your dog's breed size, age, and overall health status into account. Here are some of our favorite options to consider for Pitties:
Best Overall Pit Bull Dog Food
Our Pick: Bully Max 30/20 Dry Dog Food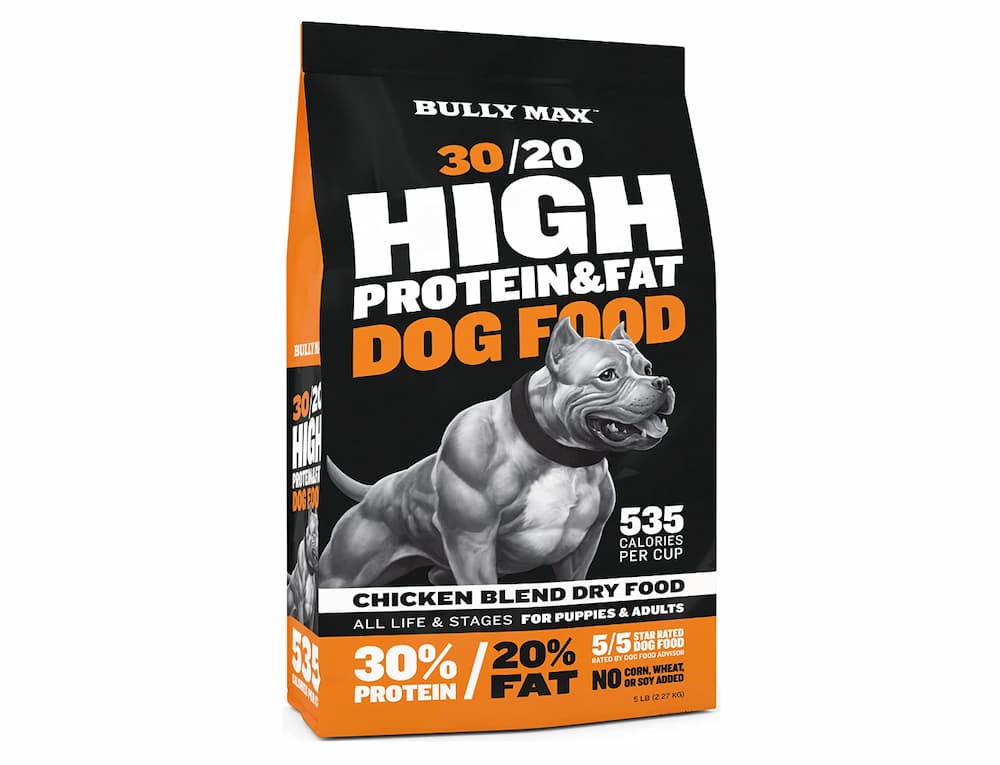 Bully Max's mission is to provide specialized nutrition for performance-oriented dogs. Their 30/20 dry blend is high in protein and calories, making this an ideal choice for active dogs. It features high-quality ingredients, including chicken meal, dried plain beet pulp, whole ground flaxseed, menhaden fish oil, and probiotics. Potential perks reported by pet parents include improved digestion, higher energy levels, and shinier fur.
Highlights
Contains 30 percent protein and 20 percent fat
Formulated to boost energy and build muscle
Designed for all breeds and ages (dogs 4 weeks and older), but works exceptionally well for working breeds like Bully breeds
Contains high-quality ingredients that are clearly stated on the label
No corn, wheat, soy or artificial flavors, colors, or preservatives
Made in the USA
Things to Consider
Be careful of overfeeding. Your dog will eat less food per meal since it is calorically dense at 535 calories per cup. The brand website says that many dog owners find that a 15-pound bag of Bully Max lasts just as long as a 30-pound bag of their previous food.
Bull Max site sells a wide range of quantities, from 5 to 80 pounds of food, but Amazon only offers 5-, 15- or 40-pound options
Best Dry Pit Bull Dog Food
Our Pick: Taste of the Wild Ancient Prairie Dry Dog Food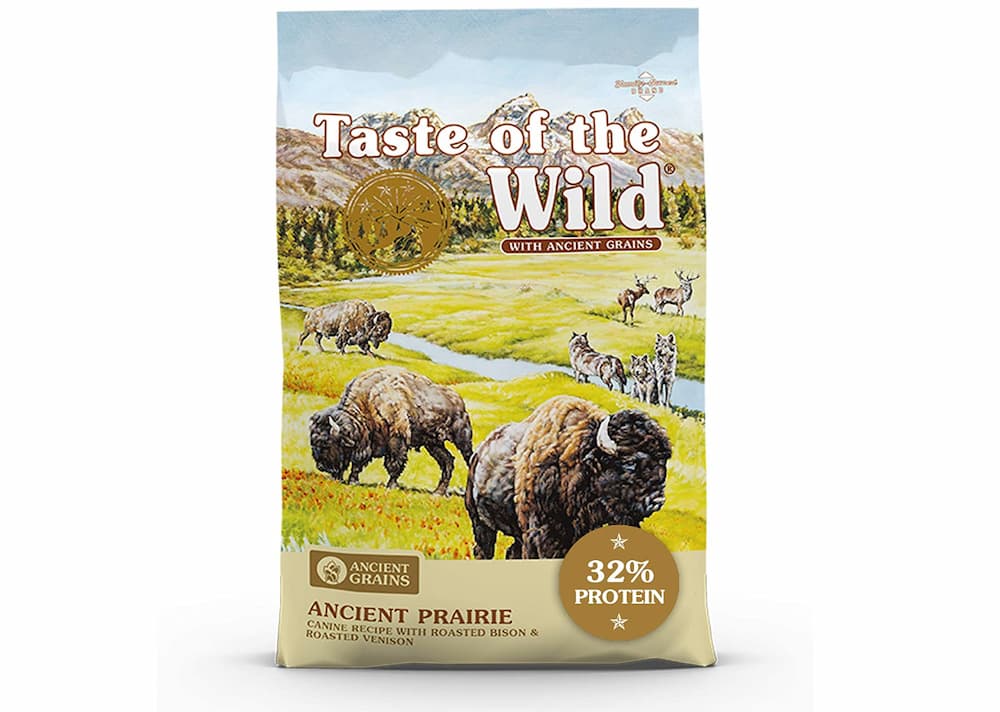 Taste of the Wild purports to help "nourish your pet's wild side," and is anchored in recipes featuring real meat. Their Ancient Prairie dry dog food could be a good option for Pit Bulls who would benefit from a novel protein diet. The recipe features roasted bison and roasted venison, plus protein- and fiber-rich ancient grains, such as grain sorghum, millet, quinoa, and chia seeds. It also contains probiotics for dogs to support healthy digestive and immune systems, plus omega fatty acids to support skin and coat health.
Highlights
Real meat as the first ingredient
Available in variety of other proteins, including smoked salmon, roasted fowl, and roasted lamb
Recipe contains 32 percent protein, 18 percent fat, and 445 calories per cup
Rich in probiotics and omega fatty acids
Suitable for all life stages
Available in 5-, 14-, or 28-pound bags
Family-owned brand, made in the USA
Things to Consider
Price point is a little higher for a dry dog food
They also sell grain-free adult and puppy options, so be mindful when making a selection
Best Wet Pit Bull Dog Food
Our Pick: Blue Buffalo Wilderness High Protein, Natural Adult Wet Dog Food Plus Wholesome Grains
Blue Buffalo's BLUE Wilderness line of wet dog food aims to satisfy a dog's natural craving for meaty goodness. If your Pittie prefers wet dog food, these protein-rich recipes are tasty options to consider. They feature real meats like chicken and turkey as the first ingredients, carbohydrates that are easy to digest, and flaxseed as a rich source of omega-3s and fiber.
Highlights
Real meats as the first ingredients
Available in a variety of flavors, such as turkey & chicken, beef & chicken, and salmon & chicken
High-protein wet formulas (10 percent minimum crude protein)
Can be fed as a complete and balanced meal or as a complementary topper to dry foods
Relatively lower cost wet dog food option
No poultry by-product meals, corn, wheat, soy, or artificial flavors or preservatives
Come in 12.5-ounce cans
Things to Consider
These formulas include wholesome grains, but they offer grain-free versions also
Not ideal for dogs with sensitivities to chicken, since all recipes contain this protein
Calories per can vary depending on the flavor you choose
Refrigerate unused portion
Best Dog Food for Pit Bulls with Skin Allergies
Our Pick: Hill's Science Diet Dry Dog Food, Adult Sensitive Stomach & Skin Recipes
If your beloved Pit Bull is suffering from skin issues or a sensitive stomach, Hill's Science Diet recipes are a tasty solution. Their dry food features highly digestible ingredients, nourishing prebiotic fiber (beet pulp), and vitamin E and omega-6 fatty acids for skin and coat support.
Highlights
Specifically formulated for pets with sensitive stomachs and skin issues
Veterinarian recommended
Choose from chicken & barley (25 percent protein, 394 calories per cup) or grain-free chicken & potatoes (24.9 percent protein, 405 calories per cup)
Made in the USA
No synthetic colors, artificial preservatives, or artificial flavors
Comes in 4-, 15, or 30-pound bags
Things to Consider
For dogs with higher protein needs, pet parents may want to supplement with protein-rich toppers or treats
Depending on the size of your Pit Bull, you might want to consider the Large Breed version of this formula
Not recommended for puppies and pregnant or nursing dogs; Hill's offers puppy formulas that would be more suitable
Best Affordable Pit Bull Dog Food
Our Pick: Natural Balance Limited-Ingredient Lamb & Brown Rice Recipe
If you're seeking a limited-ingredient dog food that won't hurt your wallet, Natural Balance Limited Ingredient Lamb & Brown Rice recipe is a popular option. Lamb is the only protein source used in the recipe, making this ideal for Pit Bulls with sensitive stomachs or skin problems. It also contains fiber-rich whole grain brown rice and brewers rice for digestive health and omega fatty acids to support healthy skin and coat. If your Pit Bull is on the larger side, Natural Balance offers a version crafted specifically for large breeds, with kibble shaped to fit larger jaws and teeth.
Highlights
Lamb is the first ingredient
Single-animal protein source
Added taurine for heart health
Contains 22 percent protein and 370 calories per cup
Available in other proteins, such as beef, chicken, duck, lamb, or salmon
Available in 4-, 12-, and 24-pound bags
Things to Consider
If your dog prefers wet food, Natural Balance offers this recipe in a canned format
If your dog has a food allergy, your vet will likely recommend a prescription limited-ingredient diet instead of over-the-counter options
Best Pit Bull Dog Food for Puppies
Our Pick: Diamond Puppy Complete Formula
Rapidly growing puppies have specific nutritional needs. Feeding your puppy too much food or the wrong diet can increase your puppy's risk of joint issues, like hip or elbow dysplasia. You'll need to choose a food with the right balance of protein, fat, and other essential nutrients to help your Pit Bull puppy thrive and grow at a healthy, steady rate. This puppy formula from Diamond features probiotics to support your pup's digestive and immune systems, plus omega fatty acids for healthy skin and shiny coat. In addition, salmon oil provides DHA, which is essential for brain and vision development in puppies.
Highlights:
Ingredients include chicken by-product meal, chicken fat, dried beet pulp, flaxseed, fish meal, and salmon oil
Features probiotics, which help aid digestion and prevent potential GI issues
Contains 31 percent protein, 20 percent fat, and 441 calories per cup
Suitable for puppies and pregnant or nursing adult dogs
Complete and balanced for all life stages, including growth of large size dogs
Made in the USA
Things to Consider:
If you have a large breed Pit Bull, your vet may recommend a puppy food that is specifically formulated for large breeds
Best Pit Bull Dog Food for Seniors
Our pick: Royal Canin Large Aging 8+ Dry Dog Food
If you have a large breed Pit Bull who is entering their golden years, you may be hunting for a quality option that caters to big senior dogs. Royal Canin's Large Aging 8+ Dry Dog Food is specifically geared toward dogs 8 years and older who weigh 56 to 100 pounds. It features proteins that are easy to digest, ample fiber to promote digestive health, and glucosamine and chondroitin sulfate for bone and joint health support. Knowing senior dogs may be picky eaters, Royal Canin took a variety of factors into account when crafting this kibble, including smell, taste, size, shape, and texture.
Highlights
Ingredients include chicken by-product meal, brewers rice, chicken fat, brown rice, dried plain beet pulp, and fish oil
Contains 25 percent protein, 15 percent fat, and 308 calories per cup
Kibble is rehydratable and easy to chew for senior dogs with sensitive teeth and jaws
Comes in 30-pound bag
Things to Consider
How much you feed will depend on your dog's weight and activity level
If your dog needs to be enticed to eat, you may want to consider rehydrating the food with a liquid topper like chicken broth
There is also a version for large adult dogs ages 5 and up
Pit Bull Dog Food: Buyer's Guide
With so many options to choose from, finding the right dog food for Pit Bulls can seem like a daunting task. But there are some tips that can ease the shopping process.
First, it's helpful to select a food based on your dog's breed size, life stage, and overall health instead of seeking foods marketed toward a specific breed. Pit Bulls generally fall into the medium to large range. "There are some brands that target breeds, but in general [Pit Bulls] should be fed medium to large breed diets," says Dr. Marks. Your dog's age will also play a role in the decision making process. For instance, a growing Pit Bull puppy will require a different balance of essential nutrients than a less active, aging Pit Bull.
If your Pit Bull has allergies or a sensitive stomach, take a closer look at what is included on the ingredient list. Your veterinarian may recommend a limited-ingredient dog food with a single source of animal protein as opposed to an option with multiple sources of animal protein. You can also look for sources of fiber that are easy to digest, like beet pulp, flaxseed, and brown rice.
Since Pit Bulls fall on the list of dog breeds with higher rates of cardiac disease, Dr. Marks recommends avoiding grain-free diets. This is due to the possible connection between grain-free diets and dilated cardiomyopathy (DCM) in dogs.
Lastly, as you would for any dog breed, Pit Bull parents should keep in mind factors like daily caloric needs, cost, food storage requirements, and individual preferences.