Frozen Dog Food: 8 Great Options to Consider
Today's modern pet parents demand the very best for their dogs. Extruded cereal bits in the form of kibble is out and frozen pet food is on trend with no signs of slowing down. The market for refrigerated and frozen dog food is in high demand—and for good reason.
Today, we read labels, ask questions, and want value but without sacrificing quality for our dogs' diets. Frozen, premade dog food made with fresh quality ingredients serves two purposes. Dogs receive a nutritious meal that pet parents feel good serving and frozen dog food contains wholesome ingredients available in fresh or raw varieties.
Frozen pet food makes dollars and sense, with PetFoodProcessing.com reporting a major increase in sales of $389 million over a 52-week-period in 2020. As pet parents warm up to the idea of serving frozen food, we're taking a closer look at the origins of frozen dog food to help you figure out if it makes sense for your dog.
What Is Frozen Dog Food?
Frozen dog food is usually fresh or raw food made for canines that is frozen in order to preserve freshness. It must stay frozen until it's ready to be served to your four-legged friend.
You can find this type of dog food at pet food retailers in freezer sections, online at major retailers, and shipped directly from brands via home delivery services. Home delivery is a popular option for this type of food for busy pet parents who want a healthy option without needing to go to the store.
Freezing food tends to keep it fresher and healthier for longer periods of time. A bag of frozen carrots that's been sitting in the freezer for two months is ready at a moment's notice for a human side dish. The same holds true for frozen dog food: it's healthy but without all of the preservatives and processing.
As the pet food market evolved and more choices became available, options other than kibble and canned started to take off. Frozen dog food is a viable option for those who want fresh whole food for their dogs without the hassle of preparing it themselves.
"Many of my clients choose one of these options," according to veterinarian, Dr. Laurie S. Coger. "They offer a great option for the person who wants to feed a fresh food diet, but is not interested or able to do a DIY plan."
Benefits of Frozen Dog Food
There are several benefits that pet parents can get from frozen dog food, outlined below:
It's Balanced For a Dog's Nutritional Needs
Frozen dog food is available in fresh or raw varieties. Because dogs require more than raw meat in their diets, frozen dog foods include vitamins, minerals, and nutrients to keep dogs healthy. Frozen food made by a credible brand and backed by veterinarians or pet nutritionists is a great option because it's close to a homemade diet, but it takes the guesswork out of preparation and balancing what your dog needs.
It Lasts Longer Than Fresh or Canned Food
Frozen dog food lasts longer in the freezer than an opened can of dog food sitting in the refrigerator. All you have to do is thaw it and serve it.
It's Usually Free of Preservatives
Because frozen dog food is often fresh or raw, it doesn't have the preservatives that many kibble products have. Many recipes are also free of grains, corn, and soy products.
Many Brands Are Available for Home Delivery
If you want to give your dog a wholesome diet without sacrificing convenience, many brands will deliver frozen dog food straight to your door. It often comes in chilled boxes or containers and should be put in the freezer once you receive the package.
Frozen Vs. Freeze-Dried Dog Food
A simple stroll down the pet food aisle at a pet supply superstore can be dizzying with so many options, promises, and labels. And it could be confusing for pet parents who are trying to differentiate between frozen dog food and freeze dried dog food.
"Frozen is just that, frozen," says Dr. Coger. "Freeze drying is a method of extracting all moisture under cold conditions. Freeze-dried foods are shelf stable, and may be fed as is or reconstituted with water. Freeze drying does a better job of preserving nutrients, compared to kibble or canned products."
Fresh frozen dog food is cooked fresh and served fresh. As it implies, fresh frozen dog food uses fresh meat. These products are cooked at varying temperatures using different cooking techniques and then frozen. This is a good option for pet parents who aren't interested in feeding raw diets.
Raw frozen dog food is exactly what it sounds like: raw food that has been frozen. The benefits of frozen raw include ease of serving without the hassle of preparation, specific dietary needs of the pet, and transparency of ingredients.
Freeze-dried dog food is raw and nutrient-dense, but it is dehydrated instead of put in a freezer. Freeze-dried dog food is prepared with a low temperature dehydration process that removes moisture from the food. It eliminates the hassle of defrosting, so pet parents can travel with it and serve at a moment's notice. Often, all you have to do is add water.
Frozen Dog Food: What to Look For
Dr. Coger advises pet parents to know what is inside the package and whether it is intended as a complete diet or for supplemental or intermittent feedings.
Handling and serving instructions on the label should be clear and easy to understand. These instructions must be followed to prevent bacteria or unsafe pathogens from affecting the dog or the person serving the food.
Coger also recommends avoiding frozen products with mineral premixes, which are often found in kibble dog food. She advises staying clear of flavoring additives, carrageenan, and other preservatives.
It's also beneficial to look for recipes that are formulated or recommended by a veterinarian or a certified pet nutritionist to ensure that your dog is getting the optimal nutrition they need.
Our Frozen Dog Food Picks
Best Overall Frozen Dog Food
Other Frozen Dog Food Favorites
Best Frozen Dog Food Recipes To Try
All featured products are chosen at the discretion of the author. However, Vetstreet may make a small affiliate commission if you click through and make a purchase.
Choosing the best frozen dog food might seem daunting, but we've rounded up a list of our favorites with some insight from Dr. Coger. The food picks on this list are sure to feed your dog's spirit and overall health.
Best Overall Frozen Dog Food
Our Pick: JustFoodForDogs
JustFoodForDogs offers whole food, frozen diets for dogs in a variety of delicious, nutritious options. Their Fresh Frozen diets are vacuum sealed and frozen immediately after chilling, which helps keep the nutritional integrity of the food intact. This method allows the food to store for one year without the use of preservatives.
Dr. Coger ranks JustFoodForDogs as one of her top recommendations of frozen foods for dogs. The veterinary team at JustFoodForDogs actually teaches nutritional rotation for vet students at Western University of Health Sciences College of Veterinary Medicine.
Highlights
Available in multiple varieties including chicken and white rice, beef and russet potato, turkey and whole wheat macaroni, fish and sweet potato, venison and squash, and lamb and brown rice.
Vet-trained consultants are available to help build your dog's nutritional plan.
Preservative-free.
Meats are inspected and approved by the USDA for human consumption.
JustFoodForDogs uses the same premium suppliers as the restaurant industry.
JustFoodForDogs recipes are crafted by hand in open-to-the-public kitchens as well as in their own kitchens in Irvine, California, and New Castle, Delaware.
May be frozen for up to a year.
Available in a variety packs for dogs of all sizes, ages, and needs.
Save 50 percent off your first variety pack order.
Things to Consider
Dogs who are currently eating processed kibble or canned food require between 5 and 10 days to transition to JustFoodForDogs in general.
Requires frozen storage in transport.
Available for home delivery packed on dry ice, so ensure it is not left in the sun or for days on end on a front porch.
Is pricier than kibble or canned food, but worth it in the long run.
Sample buyer review: Our rescue was on JustFoodForDogs at eight weeks when we got her and made the decision not to change her diet so soon. Best decision ever. She has been one thriving little gal while sticking to this diet and her coat is amazing."
Our Other Frozen Dog Food Favorites
Made with real meat and organs, non-GMO fruits and vegetables, Instinct Frozen Raw Dog Food is never cooked and contains no grain, corn, wheat, artificial colors or preservatives. Their raw recipes are formulated in-house by a team of food scientists and quality control experts.
Made in the USA and available in several formulas, Instinct sources ingredients like cage-free chicken, wild-caught salmon, and grass-fed lamb. They formed their own Nutrition Council in 2009 which meets twice a year to ensure their pet foods unlock a dog's potential.
Highlights
Available in raw bites, medallions, and patties.
Options include beef, chicken, and lamb.
Raw and freeze-dried selections.
Instinct Raw Freeze-Dried meals have three times more real meat and organs than their kibble.
Raw boosters for a nutrient-rich food to mix in with kibble if desired.
Things to Consider
Grain-free.
Instinct also manufactures kibble dog food.
Keep frozen until mealtime, bites thaw in minutes.
Raw Bites 6-pound bag does not contain individual bags inside the packaging but the bag itself is resealable.
Sample buyer review: Our French Bulldog is extremely fussy when it comes to eating. We've tried 4-5 foods over the last few years, and then we found Instinct Raw. Our dog took to it immediately. With the amazing ingredient list, I am definitely a fan and we will reorder.
Get 20% off your first 16 bag box with code PETS20
Raised Right is a family-owned dog food company that formulates human-grade, limited ingredient recipes with the help of veterinarian Dr. Karen Becker and pet food formulation expert Steve Brown. The company is known for dog food that is high in protein and low in carbs…so low, in fact, that most recipes have less than 2 percent carbs because Raised Right recipes don't contain typical high-carb fillers like potato, rice, oats, yam, pasta, barley, parsnips, corn, or wheat.
The brand's fresh dog food is lightly cooked in a USDA-inspected human-grade facility and ships frozen straight to your door. And to ensure your dog's health and safety, every batch of food is laboratory tested to ensure it's free of pathogens. The company uses a hold release program to make sure they don't ever ship their food unless it passes the lab safety test.
Raised Right was able to formulate its adult dog recipes to meet AAFCO's requirements for a complete & balanced diet by using only whole foods and without any added synthetic vitamins and minerals. All of their adult dog recipes have 10 ingredients or less, with some having as few as just 7 or 8 ingredients.
Highlights
Offers veterinarian-formulated limited ingredient recipes that are high in protein and low in carbs
Adult dog recipes meet AAFCO's requirements for a completed and balanced diet exclusively by using only whole foods and without any synthetic vitamins & minerals
The company doesn't use any high-carb filler ingredients like potato, rice, oats, yam, pasta, barley, parsnips, corn, or wheat, so most of their recipes have less than 2 percent carbs
Each recipe is made with human-grade ingredients in a USDA-inspected facility
Strict laboratory testing with every batch cooked
Choose from custom meal plans or sample boxes to try first
Things to Consider
Food must be stored in the freezer and then defrosted in the refrigerator before serving
Once the pet food is defrosted, it remains fresh in your refrigerator for six days
Be sure to follow the packaging and feeding instructions carefully, as each dog's caloric requirement is unique
Sample Buyer Review: "I cannot speak more highly of this food. I have a female boxer who has struggled with both allergies and digestive issues and this is the only food I have been able to feed her without her itching or needing a Pepcid to calm her stomach."
Rudy Green's Doggy Cuisine Frozen Dog Food Variety Pack
If you're just dipping your dog's toe into frozen food, starting out with a variety pack could be a good option to see what flavors your pup enjoys. We like this pack from Rudy Green's because it features five different flavors and it's made entirely from human-grade ingredients. These recipes—made with real meats and veggies—are cooked at a low temperature and then frozen to preserve all the nutrients. They're made in a USDA/FDA human food facility to ensure top safety and quality standards.
Highlights
Made with human-grade ingredients.
Variety pack lets your dog try different flavors.
Cooked fresh and then frozen to preserve nutrients.
No preservatives or additives.
Small, independently owned company.
Portion of the proceeds goes to animal welfare organizations.
Things to Consider
Can be used as a balanced diet or as a topper for picky eaters.
Should thaw in the refrigerator overnight or in warm water for a few minutes.
Can be kept in the fridge for a week once thawed.
From puppies to adult dogs, Bil-Jac's frozen dog food provides 100 percent of the essential nutrients dogs need for vitality and good health. The natural ingredients are preserved in freezing, and it is available as a fresh frozen dog food.
Most often found in the frozen food sections, not the pet food aisle, of stores, Bil-Jac promotes small, firm stools without the use of fillers. It is formulated to meet AAFCO (Association of American Feed Control Official) nutritional levels for all canine life stages.
Highlights
Available in two sizes: 2-pound and 5-pound bags.
Can be complemented with Bil-Jac's frozen dog treats.
Naturally preserved by freezing.
Helps maintain strong muscles and a shiny coat.
Keep refrigerated after thawing.
Things to Consider
Once thawed, must be served within 7 to 10 days and cannot be refrozen.
One formula with chicken as its main ingredient.
Not available for auto delivery.
Not a raw food, as it contains a dried bakery product.
Sample buyer review: I've been using Bil-Jac for about eight years. I don't know for sure but when we rescued our little white dog he had terrible tear stains. After a couple weeks with us on Bil-Jac, we've never had an issue with tear stains.
Simply Nourish Fresh Market Adult Frozen Dog Food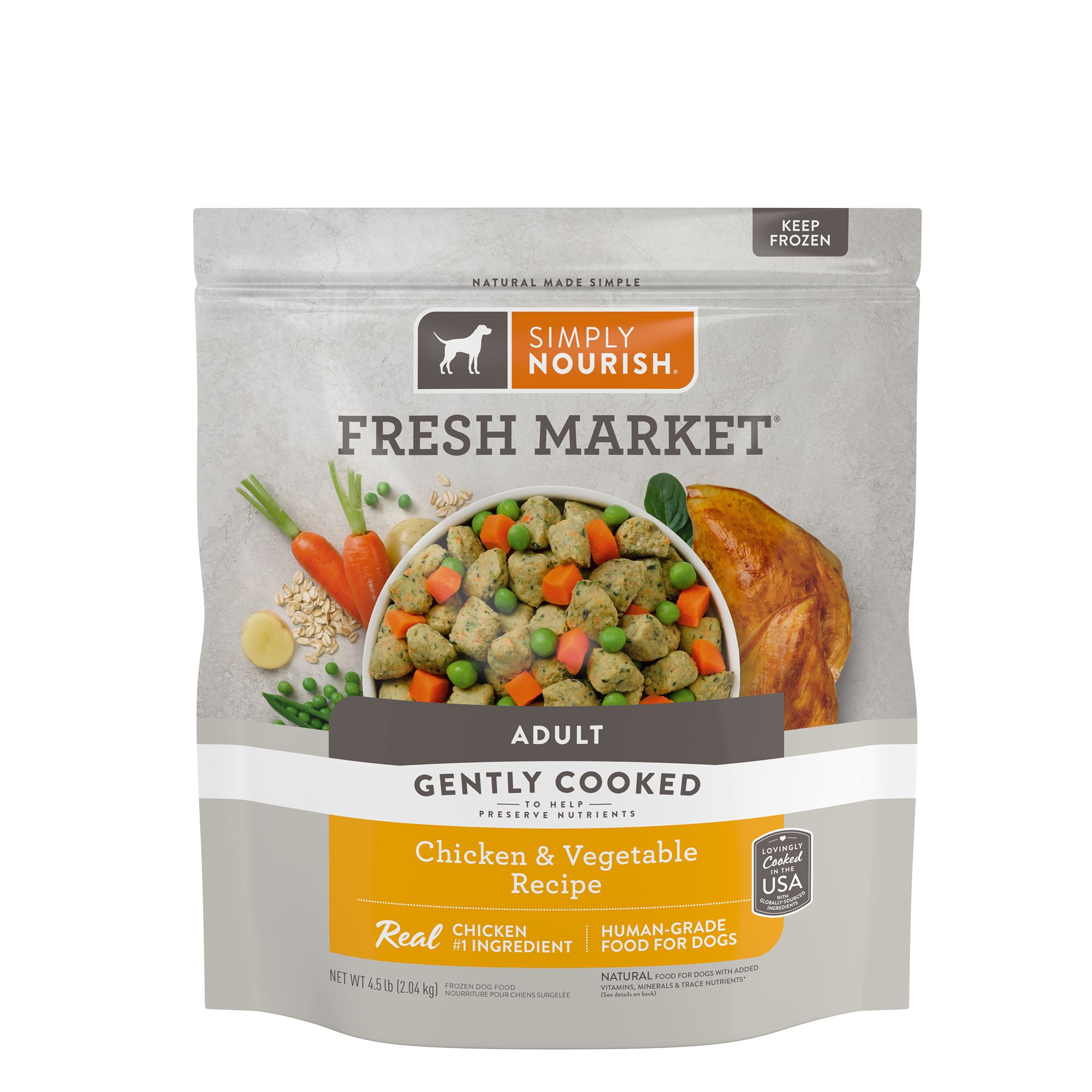 This human-grade frozen dog food from Simply Nourish is an excellent choice if you're looking for an option brimming with selectively sourced proteins, superfoods and other whole ingredients. Chicken is listed as the first ingredient for this particular recipe, which also contains vitamins, minerals, and trace nutrients. Dogs will love the taste, and pet parents will love how nutritious it is!
Highlights
Contains whole ingredients and superfoods like spinach
Chicken is the first ingredient
Added vitamins, minerals, and trace nutrients
Human grade
Available in additional flavors
Things to Consider
For adult dogs only
Must be kept refrigerated and used within five days once thawed
Sample buyer review: We have tried many different kinds of dog food over the years and I have to say our dogs absolutely loved this food. The ingredients are excellent and healthy and don't have the fillers that most dog foods have. Love this.
Stella and Chewy's Frozen Raw Dog Food
Premade and frozen for maximum freshness, Stella & Chewy's is made in the USA with probiotics and antioxidants. They offer a wide variety of options for pet parents and dogs of all ages. Contains no grains, gluten, peas, lentils, or potatoes.
All formulas contain 90 to 95 percent meat, organs, and bone to help reflect a dog's ancestral diet. Small and large patties are available for the most economical way to feed a frozen raw diet to dogs.
Highlights
Available in dinner patties and raw dinner morsels.
Variety of proteins for finicky dogs and rotation dieting.
Responsibly sourced without any added hormones or antibiotics.
Stella & Chewy's "Marie's Kitchen" option for small batch frozen dog food.
Nutrient-rich.
Things to Consider
Stella & Chewy's adds raw ground bone to all dinners.
Fruits and vegetables are sourced from North and South America based on seasonal availability.
Company recommends rotating proteins every two to six weeks to help keep protein-based allergies at bay; however, doing so doesn't actually work to prevent allergies
Sample buyer review: My girls love Stella & Chewy's! The are so excited at meal times that they bark at me to hurry up and prance around like crazy. They have been eating it for almost 2 years now and we rotate the proteins. Dazy who is prone to allergies has shown great improvement since leaving special vet prescribed kibble behind.
A complete and balanced dog food raw diet without having to chop, grind, measure, or mix ingredients. Made with certified organic produce and high quality proteins, Primal's raw dog food is available in several forms and proteins.
Primal suggests using pre-portioned containers to thaw food in the fridge. After portioning, the food can be returned to the freezer for safe storage.
Highlights
Manufactured in the United States.
Grass-fed cattle that are ethically raised.
Contains no synthetic vitamins.
Varieties include beef, chicken, duck, lamb, pork, quail, rabbit, turkey and sardine, and venison.
Things to Consider
Must be purchased in a pet supply store, store locator on site
Frozen dog food line is available at over 6,000 pet specialty stores across North America.
Sample buyer review: Not sure where to begin but this made my high energy dog even more energetic, lol. I exclusively feed him Primal and rotate the proteins regularly so he isn't bored and so that he will eat another flavor in case his favorites are out of stock.
Frozen Dog Food Safety Tips
Whether they are frozen or fresh, raw diets require special handling. Treat any frozen raw dog food the same as raw meat. Wash your hands after handling, thoroughly clean your dog's bowl and eating area afterwards, and keep the kitchen counters clean and free of bacteria. Children should not handle raw meat.
Ensure the food is securely stored in the freezer to deter bacteria and spoilage. It should remain in the freezer until it is ready to use or thaw, depending on the product's label. Some pet parents prefer vacuum-seal bags to prevent freezer burn. Plastic zip-seal bags work good in a pinch for short-term storage, but freezer-safe containers are also a viable option
During travel, portable fridge-freezers or high-end coolers should be used to ensure safety of frozen dog food in transport.
Following label instructions in terms of thawing time and method, and remember that raw diets may not always be the best option for puppies. Safety is paramount, so read labels, talk to your dog's traditional or holistic veterinarian, or enlist the services of a canine nutritionist.