Redbarn Dog Food Review: Get the Scoop on This Well-Balanced Brand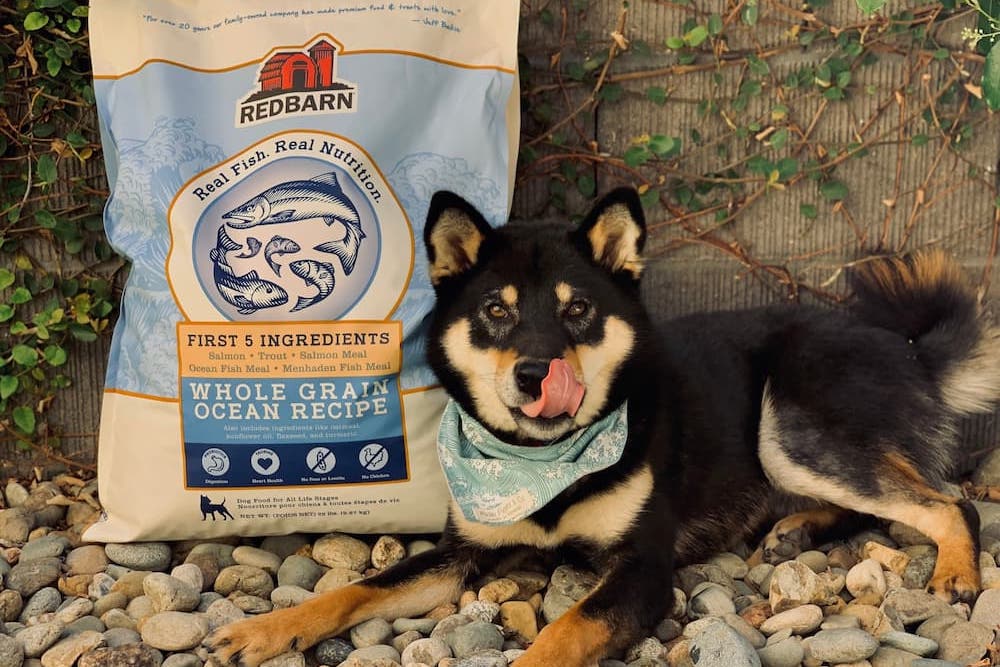 All featured products are chosen at the discretion of the author. However, Vetstreet may make a small affiliate commission if you click through and make a purchase.
As pet owners, we want to choose the best food for our pets. A high-quality pet food will contain a well-balanced blend of protein (meat, fish or poultry), veggies, fruits, wholesome grains or other carbs, plus vitamins and minerals. Animal protein should be listed in the first two to three ingredients and, as a general rule, it's best to avoid foods with fillers like corn and soy. Some pets do better with more or less of certain ingredients (such as grains), depending on their breed, allergies, and digestive system.
Finding the right pet food can be a process of trial and error. No matter what brand you choose, you'll want to speak to your veterinarian to get their official sign off on the food. Next, you'll want to test it out on your pup to make sure that he enjoys it. But that doesn't mean changing the menu cold turkey. Make sure to switch your dog's food gradually and follow your vet's guidelines.
We recently put Redbarn dry dog food to the test in our household. Here's everything you need to know about this respected pet products brand, plus we'll reveal how our two dogs reacted to this tasty experiment.
Get $10 off any 22-lb bag of Redbarn dry dog food with code FOODTENOFF (one purchase per person)
What is Redbarn?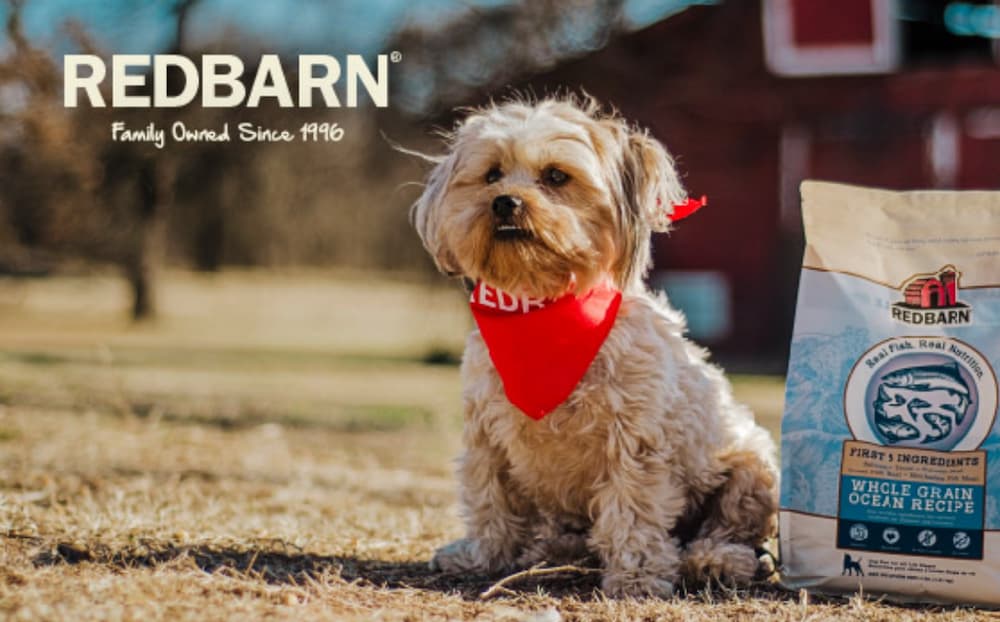 Redbarn is a 25-year-old family-owned business, established by two childhood friends who noticed a need for high-quality dog food with simple, clean ingredients. The duo started out cooking recipes in their kitchens in 1996 before eventually purchasing their first production facility in Southern California.
Today, Redbarn Pet Products has several facilities around the globe and makes over 200 pet foods, treats, and chews for dogs and cats. And while their business has expanded, Redbarn claims to continue its grassroots, family business-style approach to formulating great products, keeping your pet's health as the number one priority. Customers seem to appreciate this, as Redbarn dog food has many positive user reviews.
Redbarn strives to use only the cleanest, top-choice ingredients from sustainable sources. Their kibble and air-dried products are made in the USA using globally sourced ingredients. In 2004, Redbarn purchased a manufacturing plant in Paraguay where all of their bully sticks and many of their treats and chews are sourced.
Redbarn prioritizes quality, performing more than 3,500 tests per month, including daily physical, chemical, and microbiological tests. They recently became SQF Food Safety Code for Manufacturing Certified by the Safe Quality Food (SQF) Initiative, which is not a requirement, but shows Redbarn's dedication to the quality and safety of all their products.
Redbarn has relationships with farmers, ranchers, and fisherman, which they rely on to source their wholesome and sustainable ingredients. The Redbarn website lists all the ingredients they use, including the added vitamins and minerals, with brief descriptions of the health benefits of each. Redbarn pet food is free of artificial chemicals and preservatives and relies on all-natural protein sources.
Redbarn Pet Products: Types and Recipes
Choosing the right food for your pet is easy on the Redbarn website. With their Product Picker feature, you can select the ideal food and treats for your pet by answering a few questions about their age, size, favorite flavors, etc. Each recipe lists specific benefits, such as skin and coat health, digestive health, and heart health. This can be helpful for pets who need to avoid specific allergens, like chicken.
Redbarn Dog Food
Redbarn dog food recipes focus on three main flavors: chicken, beef, or fish. They are available in whole-grain and grain-free kibble recipes as well as air-dried recipes. If you opt for rolled dog food, you can choose from lamb, beef, or chicken recipes (the latter two are available with or without grains).
Redbarn dog food prioritizes protein, listing fish, poultry, or meat as the first three to five ingredients. Depending on the recipe, other healthy additions may include vegetables, oatmeal, brown rice, flaxseed, turmeric, ground miscanthus grass, and added vitamins, minerals, and probiotics.
Redbarn Dog Treats
Redbarn offers a wide selection of delicious treats for your pup, including bully sticks, bones, chews, collagen chews, and dental treats. They make treats and chews for dogs of all sizes, chew levels (light, moderate or power chewer), and flavor preferences. Redbarn dog treats are high protein, low fat, low calorie, and free of fillers and artificial colors and flavors.
Redbarn Cat Treats
Rebarn offers the same quality treats for our feline friends, but with fewer options. Redbarn cat treats, called "Protein Puffs," come in salmon or chicken flavors. While Redbarn no longer carries cat food, they hope to add a new line in the future.
Putting Redbarn Dog Food to the Test
To put Redbarn dog food to the test, we let our dogs be the ultimate judge of how well the brand worked for them. Our 8-year-old Doberman and 12-year-old Rat Terrier sampled smaller-sized kibbles that came in a 4-lb. resealable bag. Redbarn has several different recipes to choose from, including grain-free options, but we tried their Whole Grain Ocean and Whole Grain Land recipes. Our Doberman, Lyla, will eat practically anything we give her, but our Rat Terrier, Rocky, has become a bit more finicky in his older age and often doesn't finish his meals.
We started off by mixing some of the Redbarn dog food with their usual Wellness Complete Health dog food. Our pups seemed quite a bit more excited than usual for their dinner once we opened the Redbarn dog food bag and they smelled the new aroma. They both devoured the new blend immediately, even Rocky.
After several days of mixing their foods (which was a success), we decided to test which flavor they preferred. We put the fish and meat flavors in two different bowls and let them decide. Rocky immediately went to the fish but after a few bites got a whiff of the meat and jumped to the other bowl. After a few bites of the meat, Rocky went back to the fish bowl and moved it with his nose next to the meat bowl (he's way too smart) and proceeded to go back and forth between the two until both bowls were empty. Then, he licked both bowls clean!
Our Doberman, Lyla, also beelined straight to the fish, took one bite, switched to the meat, took one bite, then switched back to the fish. She got so confused going back and forth so quickly and looked up at us for help! It was hilarious. She loved both so much she couldn't handle having to choose between the two! So, we dumped both flavors on the floor and just let her feast.
Things We Like
After learning the grassroots history of the Redbarn company, the healthy ingredients they use, and the pride they have in their products, we became fans of the brand. Redbarn definitely seems to support their claims of having the wellbeing of our pets in mind by making healthy pet products.
Our pups quickly became fans as well. After a few weeks of eating Redbarn dog food, Rocky and Lyla had noticeably shinier coats and a bit more energy and enthusiasm for their meals. Rocky never left even one kibble of the Redbarn dog food behind!
We also like how Redbarn is open and transparent about their ingredients and where they are sourced. They also stand behind their products. If you or your pet aren't 100 percent satisfied with Redbarn treats, chews, or food, you can return them for a full refund.
Things to Consider
Good quality comes with a price. As with any high-quality pet food, you can expect to pay a little more for Redbarn than other popular dry dog food brands, and that may not fit into everyone's budget. However, you can save 15 percent on your first order and 5 percent on all subsequent orders with a monthly pet food subscription on the Redbarn website. There is also free shipping on orders over $49. Buying direct will allow you to take advantage of special perks like this, but you can use the store locator to see if any pet specialty stores near you carry the brand.
Some Redbarn reviewers pointed out that the dry dog food has a stronger odor than other brands. The Ocean blend, for instance, smells pretty fishy. And because of the high protein content, the Land blend has a distinct meaty smell.
Get $10 off any 22-lb bag of Redbarn dry dog food with code FOODTENOFF (one purchase per person)
Redbarn Dog Food: Our Verdict
Overall, we were very impressed with Redbarn dog food. In our opinion, it's worth paying a little more for higher quality food for our beloved pets, especially if it means we might have them around for longer or it may help to keep them out of the vet. We also like supporting companies who strive to use sustainable and clean ingredients. Next, we are excited to try some of Redbarn's dog treats!