Anxiety Supplements for Dogs: 9 to Consider
Humans aren't the only ones that feel anxious—our dogs do too. In fact, it's pretty common for them to feel that way. One 2020 study found that 72.5 percent of dogs display anxiety symptoms. So, many pet parents turn to anxiety supplements for dogs to provide some relief.
"Anxiety is an under-diagnosed condition of our pets and a large number of dogs suffer with nervous disorders," explains Dr. Linda Simon, a veterinary surgeon. This is because while some owners might recognize the signs, many won't—or they'll mistake the symptoms for something else.
"Part of the confusion lies in the fact that signs can vary from mild to severe and dogs show anxiety in different ways," Simon continues. For example, behaviors that are considered 'bad,' such as furniture chewing and yard digging, are commonly a sign of anxiety — but we humans don't necessarily know that. There are also different types of anxiety in our furry friends.
Types of Anxiety in Dogs: Understanding Different Scenarios
Anxiety isn't a one-size-fits-all mental health condition for humans and the same is true for dogs. The different types of dog anxiety include:
General Anxiety Disorder
This is when pups are nervous most of the time. "Dogs who have general anxiety tend to be scared of anything and everything," explains Dr. Sara Ochoa, a veterinarian from Texas. "These dogs will usually run and hide when someone new comes over to their house [but] they may also lash out at new people if they feel threatened."
Situational Anxiety
Unlike general anxiety disorder, a dog with situational anxiety is not anxious all the time—only in certain situations or by a cause that's easily explained. In other words, it's triggered by a certain event. Think: fireworks, hearing certain noises, moving, other dogs, thunderstorms, knocks on the door, yelling, etc.
"When the dog is removed from the situation, their stress levels plummet and they are a 'normal,' content dog once again," Simon explains. Even if the stress doesn't go away immediately, you'll see improvement within a few days. Situational anxiety is often caused by a noise phobia.
Separation Anxiety
"Dogs with separation anxiety fear being left alone and spend every moment of their time pining for their owner to come back," explains Simon. "While separated from the human they love, their stress levels are sky high and they are unable to relax."
Of course, all dogs dislike their humans leaving, but a dog without separation anxiety will eventually be able to do other things like sleep, eat, or play while they're alone. This is not true for a dog with separation anxiety.
"Most dogs who suffer from separation anxiety are destructive," explains Ochoa. "They will paw at the doors or carpet."
Separation anxiety can occur in any dog, but humans can make it less likely if they teach their puppy how to be alone safely from a young age. "Some breeds are naturally more prone to developing this condition though, so there is likely a genetic component," explains Simon.
Dog Anxiety Symptoms to Watch For
Part of the reason why so many humans miss our dog's anxiety is because the symptoms aren't similar to the way anxiety shows up in people. Anxiety symptoms can also vary from dog to dog, and they can vary depending on what type of anxiety your dog has.
Anxiety symptoms in dogs can also be mistaken for different things too, such as hyperactivity, boredom, puppyhood, or a medical condition. For example, a dog may chew the legs of your chair because they're stressed, or simply because they're bored and under-exercised. Similarly, they might tremble or be restless because of nerves, or because they're in pain, old age, or arthritis.
That said, here are some anxiety symptoms to look for in dogs:
Trembling
A reduced appetite
Whining
Barking
Subdued behavior
Depression
Panting or drooling
Urinating indoors
Snapping
Restlessness
Destructive behavior, such as chewing, clawing at the walls and carpet, digging in the yard
Growling
Compulsive behaviors, like constant licking
Nausea and vomiting
"We often find the behaviors escalate with time if the anxiety goes untreated," says Simon. "If the dog is punished for their behavior, this will soon worsen things too."
That's why, if you notice symptoms that might be anxiety, it's best to chat with your vet. They will be able to help you diagnose anxiety (or whatever else is causing your pup these symptoms), and come up with a treatment plan.
Simon says that helping your dog could involve special gear or toys, behavior modification, desensitization, training, avoiding known triggers, medication, and—especially in the first few months—calming supplements.
How Can Anxiety Supplements for Dogs Help?
Anxiety supplements for dogs come in various forms and each one will work a little differently. However, they all contain at least one ingredient that is known to promote relaxation.
For example, some of them will help your pup sleep, like melatonin, others will lessen symptoms because they'll reduce your dog's stress levels over time.
Some, though, might just take the edge off by lessening a dog's sensitivity to certain things, like noise or stressful situations.
Key Ingredients in Anxiety Supplements for Dogs
There are a variety of ingredients you can look for in anxiety supplements for your dog that are safe and have been shown to be relatively effective, including:
CBD Oil/Hemp Oil
CBD or cannabidiol is known to calm humans, and early research suggests that it is well-tolerated and effective in dogs. If dosed appropriately, hemp-derived CBD oil will not make your pet "high" and only contains a very small amount of THC (less than 0.3 percent). For anxiety, start with a lower dosage, and if your pet is on any medications, make sure to ask your veterinarian if it's ok to use CBD since CBD and certain medications can have interactions.
Melatonin
Melatonin is a natural hormone that helps your dog (and humans) relax and sleep, but you can also find it in treats or oils. When given to your dog, it has a sedative effect which could be helpful for separation and situational anxiety. It's generally considered safe for dogs, but there haven't been many studies into it or its side effects in dogs, so be sure to chat with your vet if you're concerned.
Chamomile
Chamomile is the same flower humans make tea with, and just like in humans, it's thought to have some sedative, relaxing, and anti-inflammatory properties because it has the active ingredient apigenin in it. It's often an added ingredient in anxiety supplements for dogs. If your dog tends to get GI upset when they are anxious, chamomile can be a great, safe option for them since it's a wonderful antispasmodic (calms muscle spasms) and helps reduce gas and pain. There haven't been many studies of chamomile in animals, though, so the evidence that it works is mostly anecdotal.
L-theanine
L-theanine is an amino acid that is believed to increase the amount of the neurotransmitter dopamine in the brain. Dopamine plays a role in making humans feel pleasure and satisfaction, so when the level increases, it can ease nervousness. And in dogs, a 2015 study suggests it works the same way—at least when it comes to storm-related anxiety.
L-tryptophan
L-tryptophan is another amino acid and scientists think that it increases serotonin levels in the brain, a hormone that plays a role in mood regulation. A small study involving 33 dogs found that it seemed to ease two anxiety-related symptoms: hyperactivity and aggression.
Valerian Root
Valerian root is a root that appears to be a powerful anti-anxiety ingredient for dogs. For example, one 2018 study found that just smelling it led to less barking and anxious activity in dogs in a kennel. However, the herb can also interact with certain pet medications, so be sure to check with your vet if your pup is taking something regularly to make sure it's safe for them.
Thiamine
Thiamine is also known as Vitamin B1 and it's often used by humans to reduce anxiety. It's an important vitamin for your dog's overall health because it plays an important role in the functioning of their nervous system, but there are also anecdotal accounts that it can ease stress.
Best Anxiety Supplements for Dogs
Our Picks
Best Stress and Behavior Supplement
Our pick: Life Extension DOG Stress & Behavior Soft Chews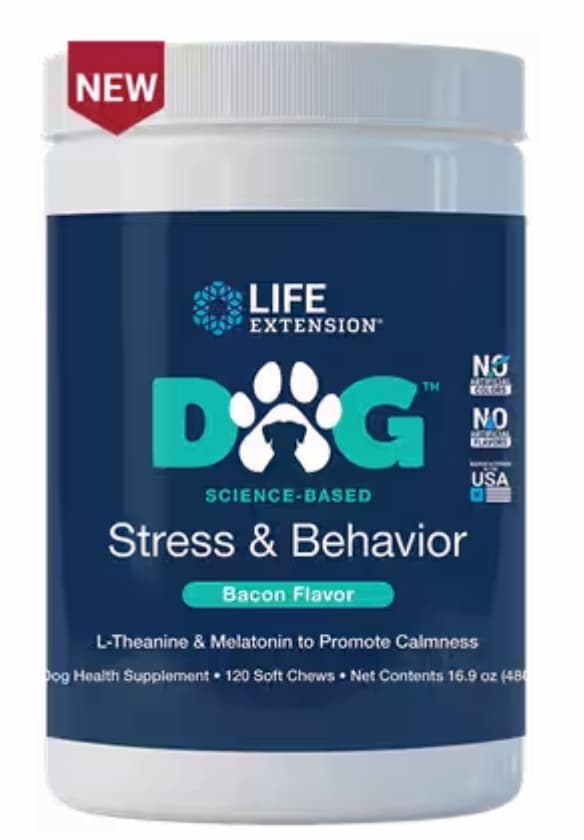 Whether it's an anxiety-inducing situation like car rides or veterinary visits, Life Extension has a solution for your dog. Their bacon-flavored stress and behavior supplement promotes both calmness and behavior modification. Because each soft chew is infused with L-theanine and melatonin, you can count on the product as a healthy response to stress. Life Extension reports that scientific literature showed effects on dogs' behavior and stress levels within 30 minutes. Best effects were seen in over four weeks, with each dog's unique biochemistry affecting this time frame.
Highlights
Contains melatonin and L-theanine, which is the amino acid in green tea that promotes calmness
Tasty bacon flavor dogs enjoy
Generous 120 soft chew container
Made in the USA without artificial colors or flavors
Can be given with or without food
Free shipping and discount on auto-shipment orders
Things to Consider
Not intended for dogs under one year of age.
While Stress & Behavior can also be taken long-term, Life Extension suggest using each of their products consistently without the need for breaks
Best Natural Dog Anxiety Supplement
Our pick: Finn Calming Aid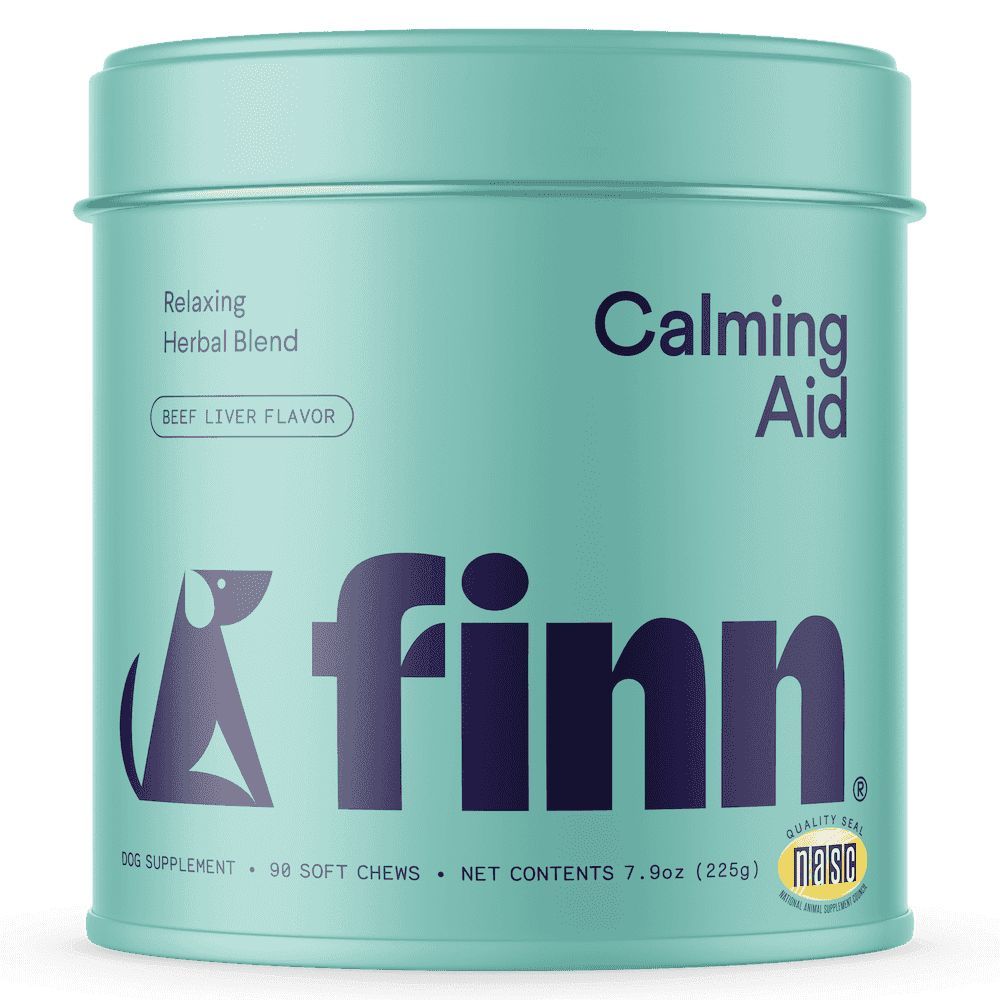 We love this calming aid from Finn for a few reasons. Number one, it contains lots of natural and organic herbs and ingredients to help promote relaxation. Packed with valerian root, chamomile, passionflower, L-theanine, and melatonin, it's great for pups suffering from separation anxiety, stress, or even hyperactivity. Plus, its packaging is 100% plastic-free and completely recyclable.
Highlights
Ideal for all sorts of stress, anxiety, and hyperactivity in dogs.
Made with lots of natural and organic ingredients to promote soothing relaxation.
100% recycled/recyclable steel packaging.
Ideal for all life stages.
Finn maintains high quality and safety standards for every single batch.
Things to Consider
Some customers noted a strong smell.
Best with Melatonin
Our Pick: Pet Wellbeing Pet Melatonin Bacon Flavor
With a delicious bacon flavor, this liquid supplement shouldn't be hard to give your dog and it can help them calm down before you leave or when it gets scary outside (aka during fireworks or thunderstorms) and help them sleep. This bottle comes with a dropper to help you get the dose right too.
Highlights:
Helps your dog sleep.
Good for separation or situational anxiety.
Might also help appetite, urination, and fur growth.
Easy to administer thanks to bacon flavor.
Things to Consider:
Shouldn't be taken if your dog is pregnant or lactating.
You'll need to be careful with the dose because it is possible to overdose.
Best to give in the evening since it can make your dog sleepy.
Pricey.
Best Anti-Anxiety Treats
Our Pick: Zesty Paws Calming Bites for Dogs
Available in three flavors—turkey, bison and peanut butter—these calming treats make it easier to get your dog to actually take the supplement, especially if your pup is treat motivated. You also don't have to worry about measuring out the dose—just follow the instructions based on your dog's weight and size. Plus, the treats contain multiple ingredients known for calming and de-stressing your dog, including chamomile, thiamine, L-Tryptophan and valerian root, to help your dog with their situational or separation anxiety.
Highlights:
Multiple dog-friendly flavors.
Contains several natural ingredients known to soothe.
Comes in a resealable container.
Things to Consider:
Pricier than most dog treats.
Larger dogs will need multiple chews.
Causes upset stomach in some dogs.
Best Dog Anxiety Supplement for Situational Anxiety
Our Pick: VetriScience Composure Chicken Liver Flavored Soft Chews Calming Supplement for Dogs
With L-theanine and thiamine as active ingredients, these treats are designed to help calm your dog during storms, fireworks, and other stressful events without affecting your dog's personality or energy level. It's also safe-enough to give them every day—and has a seal of approval from the National Animal Supplement Council (NASC).
Highlights:
Safe enough to give up to two times every day.
Works within 30 minutes and lasts four hours.
Works well for situational or noise-related anxiety.
More affordably priced than many of the other products on this list.
NASC seal of approval.
Things to Consider:
Not for pregnant dogs.
Some dogs dislike the flavor.
Best Powder Dog Anxiety Supplement
Our Pick: Purina Pro Plan Veterinary Diets Calming Care Liver Flavored Powder
Formulated by the same company that makes dog food, this power supplement contains a probiotic that's said to help your dog stay calm and it's designed to help dogs with situational and separation anxiety by lessening anxious symptoms, like pacing and barking, and lowering their heart-rate. It's sold in six-week supplies (or more) so that you can give your dog one packet a day.
Highlights:
Easy to administer.
Can be given daily.
Doesn't affect your pup's personality.
Things to Consider:
Pricey.
Sold in large 45-day batches only.
Best Anxiety Supplement for Large Dogs
Our Pick: Pet Naturals Calming XL Behavior Support Supplement
With L-Theanine and thiamine as active ingredients, these treats are formulated specifically for large dogs over 75 pounds that struggle with separation or situational anxiety.
Highlights:
Delicious chicken flavor that appeals to dogs.
Safe to double or triple dose if needed.
All natural, USA-sourced ingredients.
NASC seal of approval.
Things to Consider:
Not for little dogs.
May not work as well for high-energy breeds.
Best Anxiety Supplement with CBD Oil
Our Pick: Pet Releaf Stress Releaf CBD Oil
Sometimes a dose of organic full-spectrum hemp oil can really be beneficial for anxious dogs. Pet Releaf products are made in the USA with organic ashwagandha for calming effects.
Highlights
Available in various dosages according to your dog's size and weight
Easily administered
NASC certified
Promotes a sense of calmness without drowsiness
Things to Consider
A bit on the pricey side
Proper dosing may take time until your dog adjusts
How to Give Your Dog Anxiety Supplements
When giving your dog any new supplement, it's a good idea to run the ingredients by your veterinarian to make sure they'd recommend it for your dog given their individual medical history. Some ingredients in anxiety supplements for dogs might not interact well with your dog's medications or be appropriate for your dog's weight or age.
Your veterinarian can also confirm the correct dosage. All supplements will have clear instructions on dosage, which is usually based on weight, but your veterinarian can let you know if it's safe to give your dog less or if you should ease into regular usage.
Also, many of these anti-anxiety supplements can be used together for better results, but make sure to discuss what's best for your dog with your veterinarian.