The Best CBD Oil for Dogs of 2023
All dog parents want their pets to be happy and healthy. But the reality is, dogs can suffer from anxiety, stress, pain, and other ailments, just like humans. As more people turn to CBD products to find relief from their own symptoms, the demand for CBD for pets continues to grow. In fact, the global CBD pet products market is forecast to increase at a compound annual growth rate of 12 percent during 2022-2027, a recent report shows.
From separation anxiety and noise phobias to joint pain and stiffness due to arthritis, there are a number of potential reasons pet parents have tried CBD oil for dogs. But with so many different brands and types of products to choose from, finding the best CBD for dogs isn't always easy. To help simplify the process, we've curated a list of the best CBD oils for dogs, plus tips on what to look for in a quality pet CBD product.
Our Winners
What Is CBD Oil for Dogs?
Cannabidiol, or CBD for short, is a non-psychoactive compound found in hemp and marijuana plants. In other words, CBD does not get users "high." Hemp and marijuana are varieties of the same plant (cannabis sativa) but contain different amounts of THC, the psychoactive component. Hemp has less than 0.3 percent THC (on a dry weight basis), a low level that is not intoxicating when dosed appropriately.
CBD oil for dogs is essentially hemp extract mixed with a carrier oil like MCT, coconut, or hemp seed. It may also have added flavors like bacon or peanut butter for palatability. You may see CBD oil for dogs labeled as tinctures or drops, but they are considered to be one in the same.
Some brands also refer to CBD oil as hemp oil for dogs, even though this is a bit misleading. When shopping for CBD oil for dogs, read the label closely to confirm whether it contains CBD or is simply hemp seed oil. Hemp seed oil comes from the seeds of the cannabis sativa plant, as opposed to the stalks, leaves, and flowers like CBD oil, and does not contain CBD, terpenes, or THC.
Is CBD Oil Good for Dogs?
Similar to the way it works in humans, CBD interacts with a dog's endocannabinoid system—a communication network in the brain and body that influences emotion, behavior, and other functions.
While more scientific research is needed to demonstrate the therapeutic benefits of CBD for dogs, many pet parents have found cannabis products helpful for managing their pets' pain, inflammation, anxiety, seizures, and other ailments (1). In fact, some studies suggest that CBD oil can help decrease pain and improve comfort and mobility in dogs with arthritis (2, 3). Even at higher doses, CBD appears to be well tolerated in dogs with no major adverse effects (4) and a study by Mars Petcare demonstrated safety of long-term administration in dogs (5).
Best CBD Oil for Dogs of 2023
All featured products are chosen at the discretion of the author. However, Vetstreet may make a small affiliate commission if you click through and make a purchase.
Best Dog CBD Drops
Our pick: FOCL Premium CBD Pet Drops
Get 20% off your order with code VETSREET20
FOCL is well-known for producing CBD that's safe, high-quality, and great for humans. So the company's Premium CBD Pet Drops are definitely something to wag about! Every single ingredient in a bottle of FOCL drops is organic, human-grade, and held to the highest purity standards. Their Premium Pet Drops are broad spectrum and contain no trace amount of THC, which is very important when considering what is appropriate and safe for your dog. You can safely dispense this product each day, multiple times a day, or as needed with your veterinarian's direction. FOCL believes pets, like humans, should enjoy how CBD tastes, as much as how well it works. So the brand offers pups three delicious flavor options. Some dogs may prefer peanut butter while others gravitate toward wild salmon or chicken. Whatever your dog prefers, you can rest easy knowing every dose is safe and effective.
Highlights
Certificate of analysis with breakdown of organic ingredients listed on the FOCL website
May help calm a hyperactive dog
Promotes healthy skin and coat
Designed to fight off free radicals, which contribute to aging
Available in 300 mg or 600 mg strength
Free of GMOs and made in the United States
Things to Consider
Discuss CBD drops with your veterinarian before using them if your dog is on any medications
You may need to titrate the dosing upward to achieve desired results
Only available in a 1-ounce bottle
Best Organic Dog CBD Oil
Our pick: Batch Pet CBD Oil Tincture
Get 20% off your entire order with code GREATPETS
There are plenty of organic CBD products on the market. But what many pet parents may not know is that the quality and purity of the CBD derived from organically grown hemp can vary widely. That's why we chose Batch CBD as a top pick for pet parents. Batch Pet CBD Oil starts with 100% organic hemp that's locally grown on small family farms. But the company's commitment to quality doesn't stop there. They maintain the same high standards at every step along the way, extracting the CBD from hand-harvested hemp crops in small batches before blending and testing the finished product to make sure it's up to snuff. The result is 750 mg of truly premium and potent CBD oil that's chock full of relaxing, mood- and pain-regulating benefits for your furry friend.
Quality and purity you can trust. Unlike most other CBD brands, Batch controls every step of the journey from the hemp farm to your doorstep. It's not just "Made in the USA." Batch is grown, harvested, processed, tested, and packaged all in one small Wisconsin town to ensure your pet gets the best of the best.
Fast-acting tincture that tastes like a treat. Batch blends full-spectrum CBD oil with all-natural, great-tasting ingredients like wild Alaskan salmon oil and bacon oil to help every dose go down easy.
Risk-free guarantee. Batch offers free shipping on orders over $25 and a 30-day guarantee. Start with the minimum dose for your pet's weight and gradually increase as needed. If your pet doesn't feel better, return the product within 30 days of your order for a full refund.
Best Extra Strength Dog CBD Oil
Our pick: HempMy Pet 1,000 mg
Get 20% off HempMy Pet with code VETSTREET20
If your dog is in need of a higher concentration of CBD, HempMy Pet offers a 1,000 mg full-spectrum, Colorado-grown hemp oil extract. It's also infused with certified organic hemp seed oil, which is rich in omega fatty acids, vitamins, minerals, and antioxidants. Many happy customers have reported using HempMy Pet's products to help ease their pet's pain and inflammation, improve mobility, provide anxiety relief, for neurological support, and more. In fact, a clinical trial study supported by HempMy Pet, in collaboration with Colorado State University, found that hemp-derived CBD oil appears to decrease pain and improve mobility in dogs with chronic pain. Slowly add the oil to your dog's food (or directly in the mouth) over the first week until he is acclimated to it. You should notice a difference within a few days!
Highlights
For use as therapeutic complement for pets in need of a higher concentration
Full-spectrum hemp extract derived from organically grown Colorado hemp
Also contains certified organic hemp seed oil
Third-party tested; Certificate of Analysis is available
Veterinarian recommended
Made in Colorado
Autoship and save 5% at checkout
Things to Consider
Best kept refrigerated
The suggested therapeutic serving is listed on the side of the box and varies depending on your dog's weight. However, these are general guidelines, so consult your veterinarian for dosing specific to your pet
Can be taken orally (direct into mouth or adding to food) or applied topically to areas in need
High price point, but there are 30-120 servings per container, depending on the size of your dog
If you have a giant dog breed or more than one dog, HempMy Pet recommends trying their 5,000 mg Equine product, which offers the same full-spectrum CBD oil but at a lower price per CBD milligram
Consult your vet before using if your dog is currently on other pet medications
Best Veterinary-Formulated Dog CBD Oil
Our pick: Aspen Green Organic Full Spectrum CBD Oil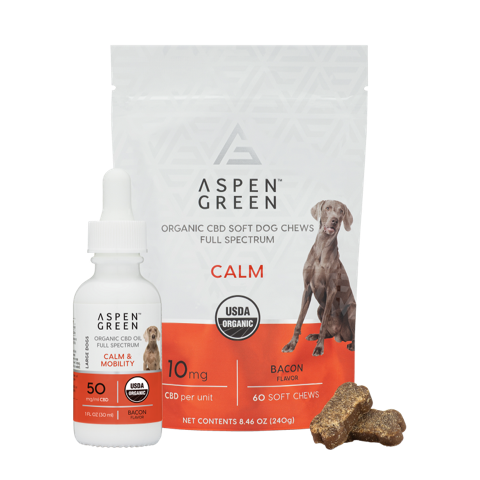 20% off with code VETSTREET
Known for its pure, organic full-spectrum CBD products for humans, Aspen Green has recently added a pet line featuring CBD oil for large, medium, and small dogs. Formulated with veterinarians and designed to help with both mobility and calmness, this oil features other active phytocannabinoids in addition to CBD. Unflavored might be your best bet for pickier pups, but for those that like a meaty punch, the bacon-flavored option adds a little something extra. For best results, apply to the gumline twice a day – preferably when your dog has a full stomach.
Highlights
Full-spectrum, vegan, certified organic CBD oil
Formulated with veterinarians
Separate oils for large, medium, and small dogs (each with a different concentration of active ingredients)
Also contains active phytocannabinoids: CBN, CBG, CBC, CBDA, and hemp-derived THC
Utilizes supercritical CO2 extraction for high-quality, pure CBD oil
Comes in both bacon-flavored or unflavored options
Sustainable and non-GMO
Things to Consider
Higher price point than most options on our list
Only for dogs 12 weeks and older; check website for usage instructions for dogs over 8 years
Needs to be stored at room temp, under a covered area
We linked to the large dog CBD oil here, but be sure to select the correct oil for your size dog on the Aspen Green site
Best Joint Support CBD Oil
Our pick: Hip & Joint Releaf by Pet Releaf
Pet Releaf offers a veterinarian-formulated, USDA organic hemp oil product for dogs who need extra support for their hips and joints. Simply place the dropper into your dog's mouth with the recommended dosage and get on with your day. The formula is designed to support healthy joints and flexibility, relieve occasional joint stiffness, and provide connective tissue support. A bonus feature of Pet Releaf's Hip and Joint formula is its ability to promote calmness in dogs.
Highlights
May help ease discomfort from daily exercise and activities
Eases joint stiffness
Made with devil's claw for occasional stiffness and soreness
Easy to dispense
NASC-certified and third-party lab tested, made in the USA
Things to Consider
Dosing should be split between morning and evening
A bit expensive
CBD Oil for Dogs Buyer's Guide
Not all CBD for dogs is created equal. In fact, an analysis of several over-the-counter veterinary CBD products found considerable variability among the products, and only 18 out of 29 were properly labeled (6). Here are some factors to consider when shopping for the best CBD oil for dogs:
Form: Some pet CBD products use full-spectrum hemp extract, which means they contain all of the compounds found naturally in the hemp plant, including CBD, beneficial terpenes, and less than 0.3 percent THC. Therapeutic synergies may exist between these active compounds to create what's known as the "entourage effect." Broad-spectrum CBD products contain all of the active compounds as well, except for THC, which is removed after extraction. A third option you may see is CBD isolate, which only features CBD and no other compounds. This is the purest form of CBD but does not provide the entourage effect.
Strength: CBD oil for dogs typically comes in 1-ounce bottles that are available in a wide range of strengths. Some brands may offer multiple strengths to choose from. We've seen as low as 250 milligrams all the way up to 1,000 milligrams, and everything in between. The suggested dose will depend on your pet's weight and the strength of oil you choose. This could range anywhere from a few drops for a small dog to two droppers full for a large dog. If you have a large dog or your pet requires a higher concentration to see therapeutic benefits, you might opt for a higher strength bottle.
Safety: Confirm that the product is third-party lab tested to assess its quality, potency, and purity. A certificate of analysis should be readily available so you can verify that that product contains less than 0.3 percent THC and is free of pesticides, microbials, heavy metals, residual solvents, and other toxic substances.
Flavor: Your dog's flavor preferences may also affect the brand of CBD oil you choose. We've seen a wide range of flavors available on the market, including bacon, peanut butter, chicken, and salmon. There are also unflavored options.
Research: Does the brand work directly with veterinary professionals to develop their formulas? Have their products been proven to work in clinical trials? The answers to these questions may also impact your buying decision. To learn more about specific brands, check out some of the Best CBD Brands to Know About.
Where to Buy CBD Oil for Dogs
CBD oil for dogs is typically purchased directly from a brand's website, as not all of the major online pet retailers sell it. Petco does appear to carry one brand of CBD oil for dogs online (labeled as hemp extract drops) and PetSmart stores in select areas carry hemp-based CBD pet products. You can look for CBD oil for dogs in local boutique pet stores, and some stores that carry CBD for humans may also carry pet CBD products.
Hemp-derived CBD products are legal in the U.S., so long as they have less than 0.3 percent THC, says Dr. Trina Hazzah, a veterinary specialist of medical oncology and integrative oncology at VCA West Los Angeles Animal Hospital. The problem is there is little oversight or regulation over the sale of CBD products for both people and pets, which means label claims may be inaccurate and products could contain more THC than allowed. In a 2020 analysis, only 10 out of 27 CBD pet products came within 10 percent of the total CBD concentration claimed on the label (6). All products in the study did fall below the federal limit of 0.3 percent THC.
This murkiness is why Amazon and some major pet retailers choose not to sell CBD products—at least for now.
How to Give a Dog CBD Oil
CBD oil for dogs comes in a small bottle with a measured dropper. This gives you more control over how much CBD you are giving your dog and flexibility on how you administer it. For fast absorption, you can squeeze the CBD oil directly into your dog's mouth—under the tongue or inside the cheek—if he is agreeable to it. Another option is to add the drops to your dog's regular food. If you've tried various methods and your pet doesn't seem into CBD oil for dogs, CBD dog treats are another option to consider.
Your pet's weight, age, and overall health status can affect how much CBD oil to give a dog, so talk to your veterinarian about the appropriate dose. You can also use the dosage chart provided by the product manufacturer as a guideline.
CBD Oil for Dogs FAQ
What does CBD oil do for dogs?
Many pet parents use CBD oil to help reduce their dogs' stress and anxiety, control pain and inflammation, reduce seizures, or as a sleep aid, among other potential benefits. "I have had some clients give their dogs correct dosages of high-quality CBD oil that helped control seizures and reduce pain associated with osteoarthritis," says Dr. Sarah Wooten, a Colorado-based small animal veterinarian. "In some instances, administration of CBD oil allowed owners to reduce the amount of prescription medication necessary to control pain or seizures."
Can CBD oil cause diarrhea in dogs?
More research is required to determine a direct correlation between CBD use in dogs and diarrhea. In one study on the adverse side effects associated with CBD use in healthy dogs, all of the study dogs experienced mild diarrhea (4). However, the diarrhea couldn't be tied directly to the formulation or dose of CBD given to the dog—other factors like stress from being housed in a new facility and variation in diet could have played a role.
How much CBD oil can you give a dog?
Many products suggest starting with 1-2 milligrams of CBD per 10 pounds of body weight. Other brands also take age into account. How much oil you give will also depend on the strength of the product you choose. You can consult the dosage chart provided by the brand, but it's best to work with your veterinarian to determine the optimal dose for your pet. For a deeper dive, check out our CBD Dosing 101 guide.
How often can I give my dog CBD oil?
Many brands recommend starting with a lower dose once a day and adjusting the amount as needed. Once a pet is acclimated to CBD oil, some pet parents may choose to give the desired amount up to twice daily. However, it depends on the individual dog. Your veterinarian is in the best position to help you determine the appropriate frequency and dosage.
Can you give human CBD oil to dogs?
No, you should not give a dog CBD oil intended for humans. Dogs should only consume CBD oil specifically designed for pets.
How soon does CBD work on dogs?
How CBD will affect your dog is based on individual factors, and it is different in every dog, Dr. Wooten says. Oils tend to work more quickly than edible products because they are absorbed more quickly. "CBD's therapeutic effects for anxiety usually kick in around 30-60 minutes after ingestion, but it may be sooner in small dogs," she says. "For chronic conditions like osteoarthritis and epilepsy, it make take several weeks to see benefits, and in some cases you may see benefits sooner."
Will CBD oil help dogs with allergies?
Possibly. Dr. Wooten points to a double blind placebo controlled study by CannPal Animal Therapeutics Limited that showed improved symptoms in dogs with atopic dermatitis (seasonal allergies) that were dosed twice daily with CBD oil (7). Peer reviewed studies are still needed.