10 Funny Dog Tags for Your Furry Friend
Only 15% of lost dogs without pet ID tags or who are not microchipped are returned to their owners. Therefore, a dog ID tag is one of the most important ways to keep your pet safe.
This little collar ornament contains important contact information, like your phone number, which a person can call if they find your lost dog. But your pet ID tag doesn't have to be boring. Funny dog tags are a great way to outfit your pup with a little flair. Plus, it gives you the chance to showcase your own sense of humor—and we all know you're hilarious.
Ready to find the perfect silly dog tag for your pup? Here are 10 creative and funny dog tag ideas that offer some personality and humor to your pet's collar!
10 Best Funny Dog Tags
All featured products are chosen at the discretion of the author. However, Vetstreet may make a small affiliate commission if you click through and make a purchase.
If your dog is a big fan of people food, this pet ID tag is perfect because it's shaped like a pizza! And who doesn't love pizza? The front reads "Pupperoni" and all the info is engraved on the back. It's about the size of a quarter, which makes it a good choice for a small or mid-sized dog—especially one who loves a slice, of course.
Highlights
It's pizza shaped—need we say more?
Laser-engraved so the writing will never wear off
Made in the USA
Things to Consider
Three lines, 14 characters max per line
Only one color and style option
This isn't a silent dog ID tag
Trill Paws makes creative and funny dog tags for pets. They have clever sayings and are inspired by pop culture. Trill Paws pet ID tags are made of durable metal with laser engraving and come with a steel split ring to attach to your pet's collar. We love this funny dog tag featuring a bowl of guacamole. We all know that guac is extra—kind of like your fur friend!
Highlights
Laser-engraved so the writing will never wear off
Made in the USA
They donate 25 pet ID tags a month to rescue organizations across the country
Things to Consider
Three lines, 16 characters max per line.
Slightly bigger than a quarter, good for smaller or mid-sized dogs
More expensive than most other pet ID tags
Made of 100% silicone, you'll never hear the constant clinging of your dog's ID tag with this model! Besties has a variety of eye-catching pet ID designs with funny dog tag sayings, like "Pet Me." Silicone pet ID tags are strong, waterproof, fade-proof, and easy to clean.
Highlights
Jingle-free
Waterproof and fade proof
Lower cost than metal tags
Things to Consider
Up to 4 lines of text, 14 characters per line
Approximately 1.4" x 2.4" (with key ring)
Some pet owners prefer a metallic pet tag so they can hear where their pet is
Go Tags has a variety of pet ID tags with funny sayings, like "Have your people call my people." These durable dog tags are made of anodized aluminum and can include up to four lines of laser-engraved text on the back. These pet ID tags even come with a glow in the dark/silencer ring that will protect the tag, eliminate tag noise, and keep your pet safe at night.
Highlights
Lower cost than most other dog ID tags
Glow in the dark/silencer ring
Eight different color options
Great customer reviews
Things to Consider
Approximate size: 1.4 x 1.2 inches
Ugly crying is not…well…pretty. But that's exactly what all dog moms will begin doing if their precious pooch is not returned quickly and safely! This funny dog tag lays it all out on the table and reiterates the importance of a speedy return. Made out of metal and aluminum, this tag is durable and it's double sided. Better yet—you can choose the tag and text color and customize it to your preferences.
Highlights
Durable and lightweight
Customizable colors
Choice between dog mom and dog dad tags
Things to Consider
Up to 4 lines of text on the back with 20 characters
Not a silent dog tag
If mom is single, this is a really funny dog tag! Get ready for a lot of attention with "My mom is single" inscribed on the front and all the pet's (and mom's) info engraved on the back. Hey, there's no reason your dog's ID tag can't pull double duty as a dating tool!
Highlights
Sturdy stainless steel
About the size of a quarter, so not too bulky
Things to Consider
Only one color option
3 lines on the back—2 phone numbers and a name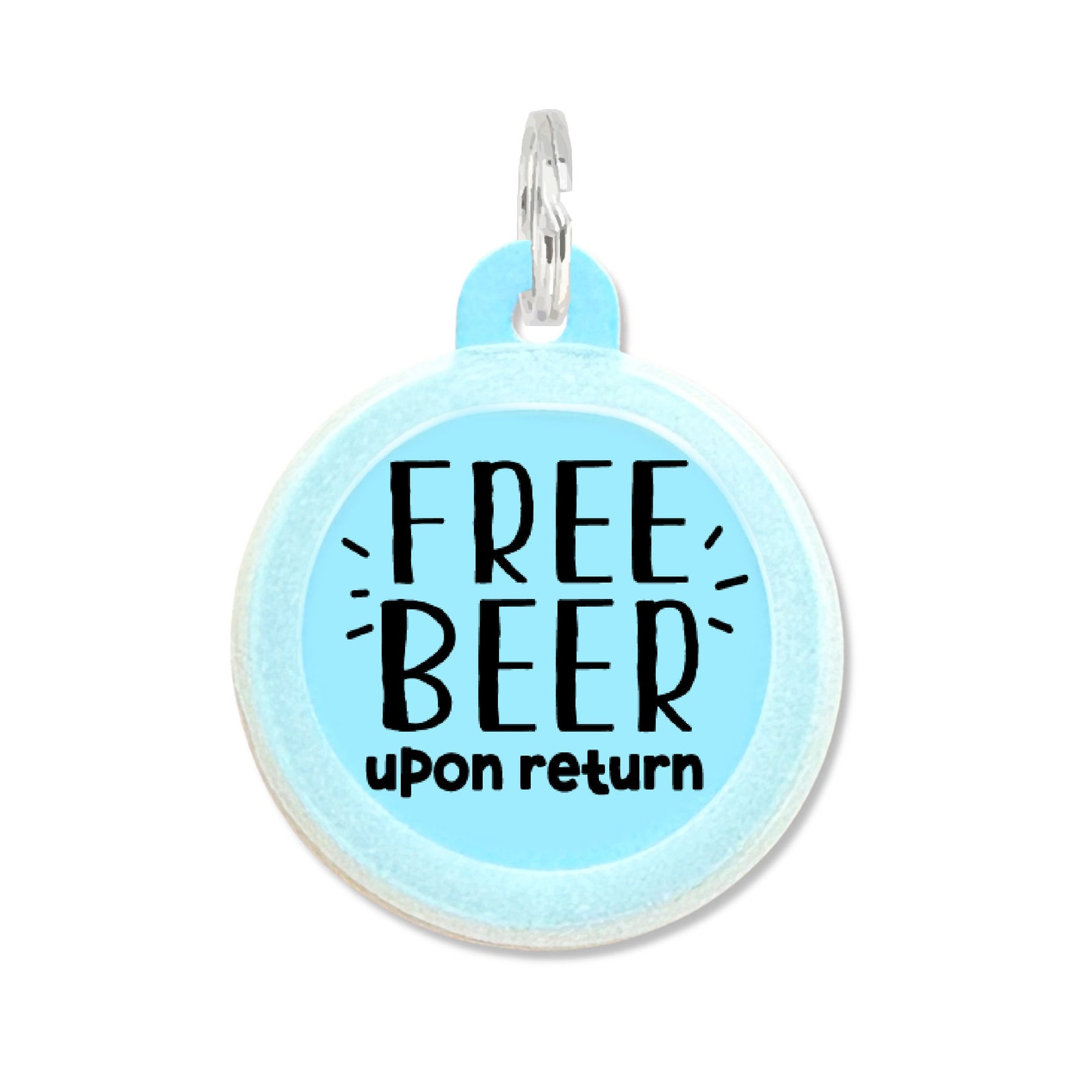 For a beer drinker (not the dog, obviously), this is a fun pet ID tag option. It's made of lightweight, waterproof aluminum and features a silent design to avoid lots of noise when your pup moves. "Free beer upon return" is displayed on the front, with the pet's info on the back. Be sure to stock an extra six-pack of beer in the case of an emergency!
Highlights
Tons of color options
Up to five lines of personalized ID text on the back, with up to 15 characters per line
Mini options for smaller dogs or cats
Waterproof
BadTags donates a percentage of every sale to the Colorado Pet Pantry
Things to Consider
Not as durable/chew proof as some of the brand's other tags
If you have your own funny dog tag saying, go with a personalized dog tag option. This one is made of stainless steel with the pet's name on the front and the funny phrase and pet info engraved on the back. There are four design and color options and they come in small or large sizes.
Highlights
Customizable with your own funny saying
Multiple color and design options
Things to Consider
The text size will adjust to the number of characters. The more characters, the smaller the text
Be sure to order the right size tag for your dog
For more of a stylish dog tag option that's also customizable, this one is a great choice – and it's handmade! These come in a variety of metals to choose from: brass, copper and aluminum with a custom engraving on the front and back. This is a very cute and unique ID tag for your pet!
Highlights
Can customize with your own funny dog saying
Multiple color and design options
Excellent reviews
Things to Consider
The text size will adjust to the number of characters
Ships from the UK
More expensive than other dog tags
Is your pup a beggar for people food? EmandMeStudio has a "Cook Out" series of really funny dog collar tags, perfect for your food-motivated furry friend. This one is shaped like a steak and includes a "seasonal mini" of your choice for a little extra flair. Customizable engraved lettering on back allows for a name and two phone numbers.
Highlights
Multiple food options – fun for a dog tag collection!
Excellent reviews
Things to Consider
Text includes your pet's name and phone numbers, not address.
Tag Size: 1.5 x 1.5 x .125 in
Dog Tag Buying Guide
When choosing a funny dog tag for your canine companion, the design and the saying are important. But there are a couple other things to keep in mind before you make a purchase.
Consider the size. Many dog tags are only available in one size, but others have a few sizing options, which may work better for especially small dogs or large breeds. Make sure to select a size that is appropriate for your pet.
Make sure it's durable. Your dog's ID tag should be made from a strong, durable material like metal, aluminum, or silicon. If your pup gets lost, the tag should hold up and be able to resist fading, scratches, or tearing.
Think about the sound. Metal dog tags tend to jingle and clink when a dog runs or walks. They also make noise if your dog bumps the tag on the floor or they are itching. Some pet parents don't mind the noise, but it drives other people crazy. There are plenty of "noiseless" tags available for those who prefer silence.
Pick engraved tags over printed ones. Make sure your funny dog tag is laser engraved, not printed. If the info wears off, that defeats the purpose of your pet ID tag.
What to Put on a Dog ID Tag
When it comes to writing the text on your pet's ID tag, it's important to consider what information to include.
Be sure to have your dog's name, your phone number, and your address if there is room. A secondary phone number is a good idea as well.
You can also include any medical needs or add the phrase, "Needs Meds" to add a sense of urgency if applicable. Other options you can add are microchip information, a personalized message or a reward if found.
Be sure to choose a pet ID tag with enough characters to add all the info you need.
Funny Dog ID Tag Sayings
While there are lots of hilarious pre-made dog tags available, you can also customize your pet's ID tag with your own funny saying if you choose. It can be an inside household joke, nickname, your pet's favorite food or activity, or any other cute phrase you come up with.
Here are a few fun ideas:
Watch out. I'm a licker.
Can you call my parents? I think they are lost.
I woof you
I like sniffing butts and I cannot lie
It's past my curfew. Can you point me the way home?
Feed me
I know I'm cute, but you can't have me.
Bow chicka bow wow
Name: [Pet's Name] Job Title: Escape Artist