Best Dog GPS Trackers: 6 to Try
Published on February 02, 2021
While it's easy to think that your dog won't get lost or go missing, the statistics are pretty alarming. Each year, approximately 10 million pets are lost in the U.S., according to American Humane. That's a whole lot of pets who may never be reunited with their loving pet parents.
And while pet ID tags and microchips can go a long way in helping to return lost pets to their homes, dog GPS trackers are one more way that pet owners can stay aware of their canine's whereabouts.
What Are Dog GPS Trackers?
"GPS trackers work in conjunction with other pet safety products like microchipping," says Jen Jones, a dog trainer and founder of Your Dog Advisor. "They can greatly increase your chances of reuniting with your dog if he is lost or gets out of your home."
A GPS-based dog tracker allows pet parents to know the location of their dog through the use of GPS technology, WiFi, cellular networks, and Bluetooth—similar to services used in maps and smartphones today. These are often available as a dog tracking collar or collar clip that your canine wears.
"GPS trackers are not a substitute for recall training but can offer peace of mind for off-leash activities like hiking or swimming, or for fearful dogs who may be a flight risk," says Kate LaSala, a certified, professional dog trainer and behavior consultant who runs Rescued By Training.
Many of these trackers are designed to be clipped onto any dog collar, but other tracking systems come with a collar included. Some even have LED lights or glow-in-the-dark technology to keep pets visible at nighttime.
These pet trackers tend to be small in size and won't interfere with your dog's range of motion or comfort level.
Our Top Picks
All featured products are chosen at the discretion of the author. However, Vetstreet may make a small affiliate commission if you click through and make a purchase.
How Do Dog GPS Trackers Work?
"There are three types of GPS trackers for dogs—those that use cell networks, satellites, and Bluetooth," says LaScala. "Bluetooth ones are not terribly helpful if your dog goes out of range of your phone. The most common ones I recommend are cell service ones. These are subscription based trackers that can be used in any area that has good cell service coverage."
All dog GPS trackers only work within a certain range. If your dog travels outside of the tracker's range, it will no longer pick up your dog's location. However, most will alert you if your dog goes out of range.
Most dog trackers available today connect to Android or iOS smartphones and you can see your dog's location through available apps. Some pet GPS trackers have built-in WiFi or work with cell service, while others require bases that connect the trackers to your at-home wireless network.
Dog GPS collars and devices may come with some additional features besides just location tracking. Some track your dog's activity levels, sleep patterns, eating and drinking habits, and even how often your dog is scratching or licking which may signal discomfort.
Shopping for Dog GPS Trackers: What to Consider
There are a few things you should keep in mind before you choose a dog GPS tracker:
Consider the Features
Think about your dog's lifestyle and the type of tracker that you're looking for. Do you simply want a GPS tracker that can locate your dog? Or do you want a device that can also offer you health and behavior data about your pet? Your needs and the information you're looking to get from your tracker will help narrow down your choices.
Research the Technology
Most pet trackers use GPS location technology via cellular data or WiFi, but others come equipped with bluetooth or radio frequency (RF) technology instead. Deciding on the type of technology you want in a tracking device will depend on where you live, your cell and wifi service, and the range at which you want to track your dog. You'll also want to confirm that the tracker of your choice is compatible with your smartphone.
Compare Battery Life
Battery life is very important when it comes to these devices. If a tracker loses power, it won't send a signal and you'll no longer be able to see your dog's location. Explore and compare the batter and charging capabilities and make sure they'll meet your needs and lifestyle before purchasing.
Look for Durability
If your dog gets out or gets lost, the GPS tracker will only work if it remains intact and attached to your dog's collar. That's why it's important to look for a device that is durable and will hold up with mud, dirt, water, and varying weather conditions.
Weigh Additional Fees and Services
Once you buy a dog tracking collar or device, you may need to pay a subscription fee in order to use the app or service to track your dog. These fees vary by device. Research each option and look at what the monthly or yearly fee covers to see whether it's worth it for you and your dog.
Best Dog GPS Trackers
Picking the best dog GPS tracker for your canine companion depends on personal preference and what you will use it for. But the following options come highly rated and recommended and offer stand-out service and exceptional durability. These are our favorite picks.
Save $10 on a Tractive GPS device with the code VETSTREET10
This GPS dog collar is adaptable and offers live tracking and location history—a really important feature if you're trying to find your dog in real time. This is a simple, durable device that attaches to most dog collars and integrates with the Tractive GPS app, which is free to download. Besides GPS location tracking, this device also offers activity tracking so you can keep an eye on how much your pup is moving. One thing we really love about this dog tracker is that you can share your dog's location with friends and family, and it offers worldwide coverage if you sign up for the Premium subscription plan—a huge bonus if you plan to travel with your pet or you live outside of North America.
Highlights
Lightweight, waterproof, and durable.
Uses LTE coverage from major cellular carriers including T-Mobile, Verizon, AT&T and more.
Can create virtual fences in the app, which will alert you if your dog travels outside the boundaries.
This tracker works worldwide if you are signed up with the premium plan.
Things to Consider
Offers 2 different subscription models (basic starting at $8.99 per month; premium $83 paid annually, which works out to $4.99 per month).
Collar not included, but works with a variety of collars.
Battery life is lower than other trackers on the market. Marketed as 5 days, but some reviewers say they only get 2-3 days before needing a charge.
Whistle has become a household name for pet owners looking for a dog GPS tracker. This device connects via AT&T 4G LTE cell service and offers location tracking via Google Maps. In the box, you'll find the GPS tracker, two different collar attachments, and a USB cable for charging. Additionally, this dog tracker comes with built-in health and fitness monitoring, so you can keep tabs on your dog's activity.
Highlights
Offers both location tracking and health tracking.
Connects via 4G LTE cell service.
Easy to attach to any collar—no additional collar purchase necessary.
Connects with the Whistle app.
Battery life lasts up to 20 days.
Available in three different colors.
Also works for cats.
Things to Consider
There is a subscription fee ($9.99 per month; $95.40 per year; $166.80 for two years)
You won't need AT&T cell service or an account to use this tracker, but you will need a good AT&T signal in your area for it to work properly.
You can only track one dog at a time. If you have two dogs, each will need their own tracker.
Only available in the U.S. and Canada at this time.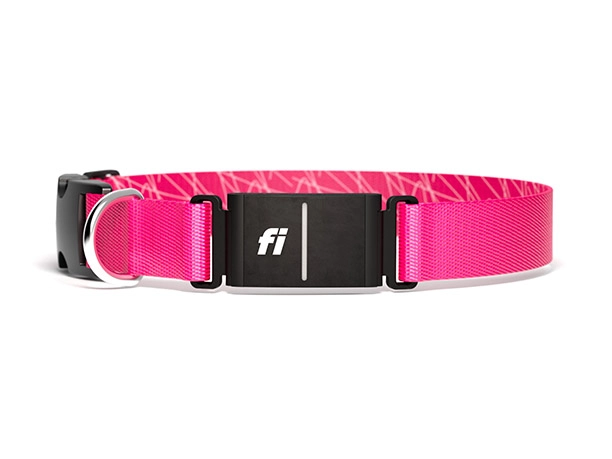 If you're looking for a high-tech dog tracking collar, the latest Fi Series 3 is a great choice. Unlike some other trackers, the Fi already comes with a specific collar that is waterproof, highly durable, and surprisingly stylish. The tracker itself is made from ultra-light yet incredibly strong stainless steel, and we love that it comes with a battery that can last up to 3 months between charges. It's also the first dog tracking collar that uses an LTE-M network, which reaches 30 percent farther than 4G and 5G LTE networks; this newest version even delivers instant live tracking when in lost dog mode. Plus, if you want to keep track of your dog's activity, the Fi tracker has you covered. It allows you to see your dog's steps and activity level and even compare it with other dogs using the Fi app.
Highlights
Lightweight, durable, stainless steel tracker is highly waterproof (tested to the IP68 and IP66K standard under water).
Uses an LTE-M network for longer range, as well as three satellite positioning systems (GPS, GLONASS, and Galileo).
Instant live tracking in live dog mode.
Battery life can last up to 3 months
Built-in activity tracker.
Option to buy additional collar bands for $29 to switch up the design.
Things to Consider
There is a base system included with the Fi collar, which allows for connectivity and tracking.
For alerts and monitoring, you will need a paid subscription (monthly, 6 months, 1 year, 2 year).
If you have more than one dog, each would need their own subscription and collar.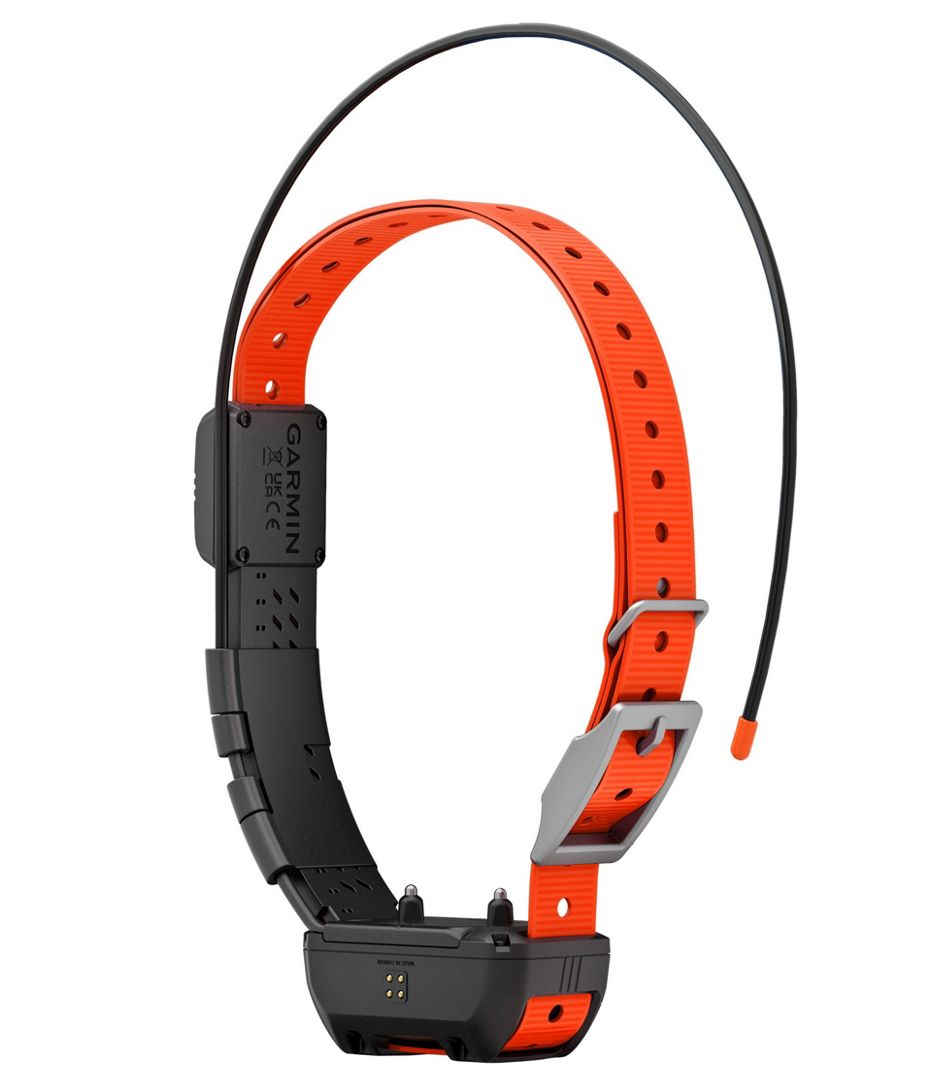 A mainstay in the GPS business, Garmin creates quality tracking devices for everything from cars to planes to — you guessed it — dogs. When used with the compatible Garmin handheld, this durable dog-tracking device utilizes GPS/GLONASS systems to track up to 9 miles away, as well as LED beacon lights with visibility up to 100 yards. It's water-resistant up to 10 meters and even has audio tones and vibration that can help with training.
Highlights
No monthly fee or subscription required.
Uses GPS/GLONASS.
LED lights visible up to 100 yards away; tracks position up to 9 miles away.
Can be used for training.
Up to 68 hours of battery life when in default dynamic tracking mode.
Software updates automatically.
Things to Consider
This innovative pet tracker (which also doubles as a way to track children, too!) leverages a combination of cellular, GPS, Wi-Fi and Bluetooth technologies to update the location of your pet in real time. It says it offers "unlimited range," but as with most trackers, you'll need to be able to connect to one of the tracking mechanisms for it to work properly. We like that you can have multiple users in the app, which is great for dog walkers or family and friends who keep an eye on your pup. Like many other trackers, you can set up geofences that alert you if your dog strays from the boundary.
Note: This is not an activity tracker and doesn't offer some of the health features available in some other dog GPS trackers.
Highlights
Unlimited range as long as you can connect to cell service, GPS, Wi-Fi or Bluetooth.
Ability to add multiple users to the app.
Can create boundaries with alerts.
Attaches easily to most collars.
Works in over 140 countries.
Doubles as a child tracker.
U.S.-based customer support.
Things to Consider
Does require a subscription plan ($8.99 per month with a 2-year commitment; $12.99 month-to-month plan where you can cancel at any time).
A bit larger than some other pet GPS trackers, but it is lightweight.
No activity or health tracking features.
Some reviewers did complain about the battery life. Expect to get 1-4 days depending on the mode you are using it in.
For a far less expensive dog tracking device, you can consider purchasing the Tile Pro or the Tile Mate and attaching it to your dog's collar with a ring clip. Tile works with Bluetooth—which does have its downfalls when it comes to range and accuracy. But if your pet goes missing, you can engage the Tile Network by clicking "Notify When Found" in the app. This will allow other devices with the Tile app to scan for your pet's device and notify you of the location if your pet is found. If your pet is nearby (within 200-400 feet), you can set off an alarm to help you locate your pet.
While Tile is not as sophisticated as other trackers on this list, it is much more affordable. At just $29.99 to $34.99 for the device, location tracking works without a subscription. And if you update to a premium subscription, you'll only pay $2.99 per month or $29 per year. Plus, the battery lasts up to a year and can then be easily replaced.
Highlights
Uses Bluetooth technology to locate your pet.
Can attach to your dog's collar like any ID tag.
Can leverage the "Notify When Found" feature to expand range.
Sound alarm available for nearby searching.
Battery lasts up to a year and can be replaced (for a small cost).
Works without a subscription and the premium subscription is affordable.
Things to Consider
Can only attach to a pet's collar with a ring clip, making it less secure than other dog tracking devices.
Bluetooth range is limited.
Water resistant, but not completely waterproof.
No activity tracking capabilities.
Safety When Using Dog GPS Trackers
It's important to keep in mind that dog GPS trackers shouldn't be thought of as a replacement for proper training, microchipping, or using a pet ID tag.
All of these things can and should be used in conjunction with each other to give you more peace of mind and a better chance of locating your dog if he or she goes missing.
And these dog GPS systems aren't without their flaws. "Like most technology, dog GPS trackers do have the potential to glitch, give false readings, or even have the batteries die if they are not adequately charged," says Jones. "Some dogs can wriggle out of their collars, the GPS trackers can fall off or even be removed by someone with sinister intentions."
Before choosing a pet GPS tracker, make sure you have a plan for finding your dog should he or she go missing. Work on recall training, keep microchips up-to-date, and make sure your pup's pet ID tag is easy to read and current. GPS trackers are great tools, but they shouldn't be your only method of protecting your pet.