7 Best Dog Crate Covers for Bedtime Bliss
Published on November 19, 2022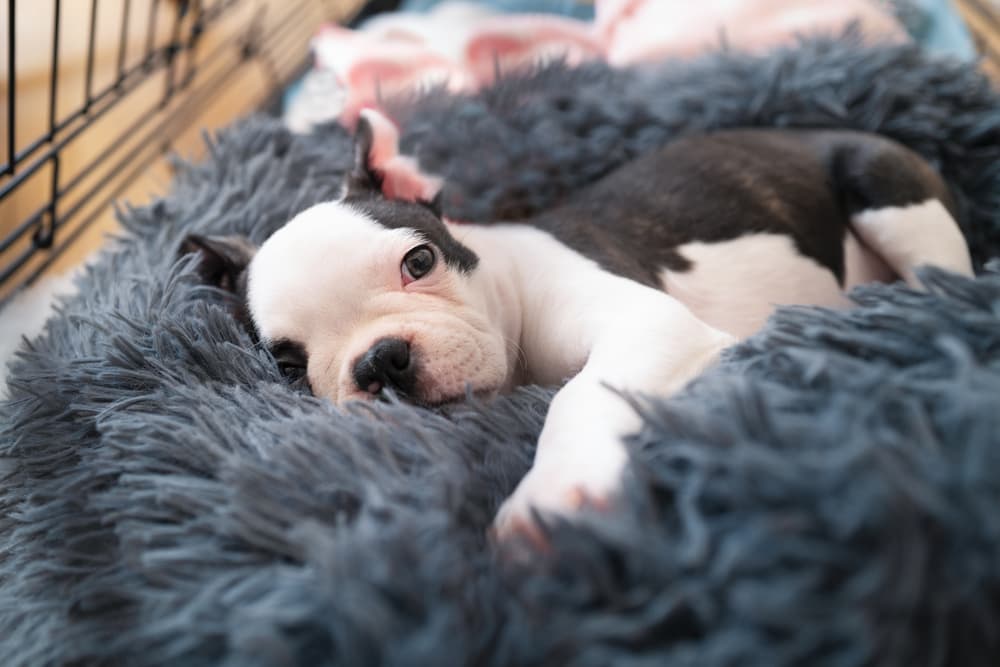 Training your dog to use a crate helps create a sense of safety, calm, and familiarity for both him and you. From relaxing during the day to sleeping at night, a dog crate provides pups of all ages with a quiet, secure, comfortable spot to call their own – and adding a dog crate cover can make it even cozier for your canine companion.
However, choosing the best crate cover is not always as simple as it sounds. That's why we've rounded up our picks for the best dog crate covers to help you make the right decision for yourself and your dog.
Our Top Dog Crate Covers
All featured products are chosen at the discretion of the author. However, Vetstreet may make a small affiliate commission if you click through and make a purchase.
What is a Dog Crate Cover?
A dog crate cover is a cover designed to fit securely over your dog's crate. Crate covers help to block out light and stimulating environments and calm dogs down so that they can relax and rest.
You might be wondering why it's worth purchasing a dog crate cover when you could just use a blanket. High-quality covers for dog crates are designed to be durable, so they're typically harder for your pet to destroy. They also offer a snug fit for privacy, and even though they block out light to help your pet sleep, they're breathable for adequate ventilation.
Fabric dog crate covers are made of materials like cotton and nylon canvas. They're generally easy to clean, especially if they're machine washable. Plus, unlike a blanket, crate covers that have roll-up sides give your pet the right amount of privacy or visibility.
If your pup likes being in a covered dog crate, it might be worth buying a few covers for different situations, like outdoor use or travel. You might even use soundproof dog crate covers if your pooch gets frazzled by noisy environments.
Not All Dogs Like Covered Crates
Some dogs, such as those that are anxious, may benefit from being in a covered crate if it helps reduce stress. Or, if your dog doesn't like his wire crate, covering it might make it more appealing. Other dogs, however, never grow to like crates, regardless of how much they're covered.
If your dog gets upset when the crate is totally covered, experiment with leaving one or two sides uncovered to see if you can find a happy medium. If he still doesn't like it, he might prefer being in an uncovered crate. Don't force him to be in a covered crate if it makes him feel uncomfortable or unhappy.
How We Ranked Our Top Dog Crate Covers
When analyzing the many crate covers for dogs on the market, we considered several factors.
Materials: We zeroed in on the quality of the material, along with any special cleaning requirements.
Ease of Use: One thing that will deter pet parents from using crate covers is if they're a pain to maneuver, so we kept that in mind as we compiled our list.
Versatility: From indoor/outdoor use to adjustability, we made sure to check out any extra features that increased the functionality of each dog crate cover.
Price and Customer Ratings: Finally we took into consideration various budgets, as well as customer needs and feedback, to round out our choices.
7 Best Dog Crate Covers of 2023
Here's a list of our top picks to help you find the right crate cover for your pup.
Overall Best Dog Crate Cover
Our Pick: Precision Pet Indoor/Outdoor Crate Cover
Available in multiple sizes, this crate cover has all the essential features that you need. It's designed to easily fit a variety of wire crates, and it's machine washable for simple cleaning.
Because this cover is made of durable, water-resistant canvas, you can use it indoors or out. Plus, the roll-up panels and mesh windows provide your dog with easy entry, a view, and plenty of ventilation.
Pros
Features reinforced double-stitching on nylon canvas fabric
Water-resistant fabric is machine washable
Top panel makes it easy to access your crate's handle
Available in multiple sizes and designed to fit most wire crates
Great price point
Cons
This crate cover doesn't have openings for side doors
Best Dog Crate Cover for Large Crates
Our Pick: MidWest Homes for Pets QuietTime Defender Crate Cover
Large dog crate covers are sometimes harder to find, but this one is available in multiple sizes, including a 48" option. It features an attractive design, and you can lift each side, so it's pretty versatile.
The Teflon fabric protector makes it easier to keep this crate cover clean. It repels liquids and blocks dirt, so if messes occur, you should be able to wipe them away. For a more thorough cleaning, just throw it in the washer and dryer.
Pros
Compatible with a variety of dog crates with up to three doors
Machine washable and dryer safe
Lightweight and allows for proper ventilation
Cons
This cover is designed to be compatible with MidWest Crates. If you're using a dog crate made by a different manufacturer, take measurements to be sure you select the right size
Best Dog Crate Cover for Small Crates
Our Pick: Jax & Bones Crate Cover Up Set
If you want to give your little dog the perfect den-like experience, a small crate cover can help. This set from Jax & Bones is a good option to consider because you get more than one product to help create a cozy space for your pup.
It comes with an outer cover, along with a crate pad and bumper that go inside the crate. Each durable piece is designed to feel luxurious, and they're machine washable for easy cleaning.
Pros
Available in multiple sizes, including 24" for small dogs
Handmade in the United States with ethically sourced material
Multi-piece set
Cons
The manufacturer states that these items shouldn't be washed in a machine with an agitator
Not as versatile as other dog crate covers that have multiple openings
Very high price point in comparison to other covers
Best Waterproof Dog Crate Cover
Our Pick: K9 Ballistics Tough Rip-Stop Dog Crate Cover
When you need a cover that can hold up to doggy teeth and paws, it's wise to narrow your options down to heavy-duty dog crate covers like this one. It's built to be tough, easy to secure, and compatible with most standard size crates.
As an added bonus, every panel is adjustable. The side panels roll up, making this cover perfect for crates that have one or two doors. Plus, the waterproof, insulating fabric can block wind, so it's a good choice for outside use.
Pros
Designed with durable materials
Waterproof and windproof
Available in multiple sizes
Machine washable and easy to spot clean
Compatible with crates that have two doors
Cons
Although it's designed to be tougher than other options, some dogs might still be able to tear this crate cover
Higher price point
Best Insulated Dog Crate Cover
Our Pick: Mud River Dixie Insulated Kennel Cover
If you plan on taking your dog camping or on other adventures when the temperature drops, consider insulated dog crate covers that could provide extra protection from the elements. This cover is specifically built for use in the great outdoors.
Its outside-friendly features include a heavy-duty exterior shell, MicroLite3 insulation, rubber mesh windows, and removable window flaps. For added convenience, this crate cover also boasts a non-skid bottom, storage pockets, and handles.
Pros
Durable and insulated for outdoor use
Two comfortable handles on top for simple carrying
Flap above the window on the side panel helps keep rain out
Available in multiple sizes
Cons
This dog crate cover is not machine washable. It needs to be sprayed or hosed down, then laid flat to dry
Not treated to prevent fading if exposed to extended sunlight
Higher price point
Best Decorative Dog Crate Cover
Our Pick: Molly Mutt Crate Cover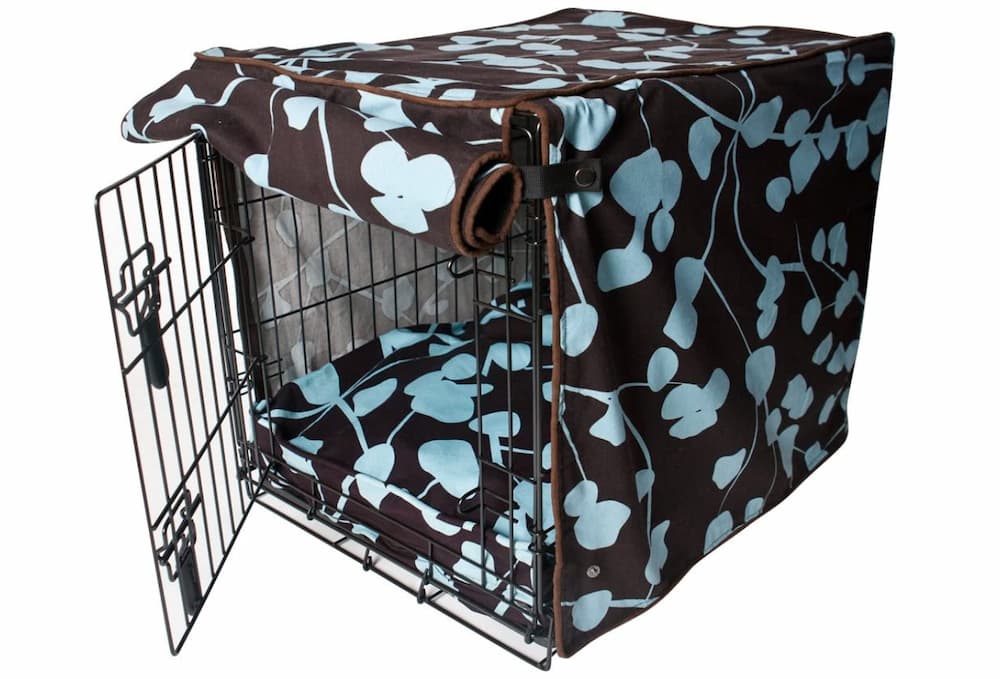 When you want something more stylish, look for brands that create cute dog crate covers, like Molly Mutt. This cover comes in a wide variety of fun colors and patterns, so you can choose the one that matches your decor – or your dog's personality!
The 100% cotton cover is also available in various sizes and features roll-up front and side panels, so you can use it on crates with multiple doors. Handy snaps help keep the panels closed.
Pros
Produced without toxic chemicals like flame retardants, phthalates, pesticides, and PBDEs
Wide selection of colors and patterns that coordinate with other Molly Mutt accessories
Machine washable and pre-shrunk
Compatible with crates with more than one door
Cons
Be sure to follow the manufacturer's instructions closely to ensure this crate cover won't fade, discolor, or shrink when washing it
Best Washable Dog Crate Cover
Our Pick: Downtown Pet Supply My Doggy Place Ultra Absorbent Microfiber Chenille Dog Crate Padded Cover
What makes this dog crate cover a little different from others is its soft chenille microfiber fabric, which is incredibly absorbent to not only add coziness to your dog's space, but also keep it clean by trapping water and dirt. It's super simple to throw right in your washing machine and dries really quickly.
Available in multiple sizes, this durable, easy-to-use dog crate cover can fit most standard crates. The zippers allow you to easily open and close the panels and give your pet the amount of light or darkness he prefers.
Pros
Soft chenille microfiber fabric creates a cozy environment for your dog
Machine washable and quick drying for easy cleaning
Equipped with four zippers for versatility
Cons
Because the absorbent material soaks up water and dirt, it's probably not the best choice for outside
Dog Crate Cover Buyer's Guide
No matter what type of dog crate cover you're looking for, there are a few things to consider while shopping.
Fabric, Durability, and Breathability
A crate cover should be durable enough that your dog won't be able to tear it apart and accidentally ingest it. Also, the material should be breathable to promote airflow and prevent overheating.
Size
Don't forget to measure your crate to be sure you select the size that will fit securely and provide enough coverage. Some manufacturers recommend using their covers with certain crate brands, so keep an eye out for that as well.
Convenience
No need to make more work for yourself. Your dog's crate cover should be simple to put on and take off. And since you'll want to wash it regularly to remove any messes or odors, consider a cover that's easy to clean.
Added Bonuses
If you're looking for a cover to suit yours or your dog's specific needs, keep an eye on the details. Some covers have extra features, such as windows for improved ventilation, or access to the crate's handle for carrying. Products with multiple roll-up panels can work with crates that have more than one door. And if you want a cover for outdoor use, there are waterproof and windproof options.
Tips for Using Dog Crate Covers
When introducing a covered crate to your dog, be patient and work at his pace. Remember, he might be reluctant to go in at first. If possible, try leaving most of the sides uncovered and gradually cover more sides as he gets used to it.
Also, you might find that keeping the cover on only at night is what your pet prefers, or he might like going into his covered crate during the day, too.
The crate should be a happy and reassuring spot, so don't use it to punish your pet. And most importantly, there's no rule that says you have to use a cover. Some dogs don't enjoy being in covered crates, no matter how much you try to train them or how many rewards you use, so don't force it if it's just not working.