Modern Dog Crates: 7 Stylish Safe Havens Pups (and Parents) Will Love
Updated on September 02, 2022
Dog crates aren't just a place where some pets go to sleep. Just like your own bedroom, crates can be a safe, relaxing space where your dog can cozy up, recharge, or simply get some time alone. That's why finding the right crate for your dog is so important; it can mean the difference between a reassuring space your dog is eager to use and a cage they refuse to enter.
According to London-area small animal surgeon Dr. Linda Simon, the right dog crate can work well both as a training tool and a handy place to put your dog if you need them out of the way for whatever reason. However, some pet parents have a hard time embracing the idea of a large plastic container or wired cage that could cramp their style or clash with their existing home decor.
There's nothing wrong with taking pride in your home. Thankfully, now pets and parents who want to enjoy the benefits of dog crates don't have to settle for the clunky, utilitarian models of the past. Today, you have a broad array of modern, comfortable, stylish crates to choose from.
Our List
How Modern Crates Have Changed
Dog crates have come a long way since the days of plastic pans and uncomfortable wire cages. From modern dog crates made from advanced materials to wooden, furniture-style dog crates, there are plenty of options designed to suit both your dog's needs and your own personal style preferences.
Contemporary crates are often made with super-light yet durable materials that are easy to clean, collapse, and transport. Modern crates can feature premium materials like hardwood or laminate to complement your decor. And the lines are typically more visually appealing on the outside, yet more curved and comfortable for your pet on the inside.
Many pet parents start shopping for crates when they're trying to house train a puppy. But crates are also a great option for adult dogs who may prefer the comfort and privacy of a crate over a simple dog bed. That's why contemporary crates are designed for style as well as function. They're no longer just a temporary solution, like a puppy gate. The right crate could potentially become an enduring part of your dog's life and your home.
Modern Dog Crates: What to Look For
Choosing the right dog crate for your pup is no small feat — especially if you want something that will fit your decor as well as your dog's comfort and safety needs. The decision often comes down to a handful of factors based on the lifestyle of both pup and pet parent. Here are a few things to keep in mind:
Consider the size: When selecting a crate, size matters. "A crate should be used as a den and not necessarily a dog run," explains Dr. Stacy Choczynski Johnson. When using a crate for potty training, for example, it should be just large enough to allow your dog to stand up and turn around. For a large breed dog, this may mean that you start with a smaller puppy crate and transition to a larger crate.
Or look for a more versatile modern crate, some of which are designed to accommodate various stages of a dog's life. "Some crate designs will be equipped with a divider and can 'grow' with your dog," says Choczynski Johnson. "This will be ideal if you are potty training and your dog will grow to a larger size."
Look for windows: Steer clear of crates that don't allow your dog to see clearly out of them, says Simon. "Keep in mind, as well as your dog wanting to know what is going on around them, you will want to keep an eye on them, to ensure they are safe," she explains. "Shy dogs do well with crates that allow for partial visibility, with some sections blocked off. This creates a sense of security, that they are not being watched."
Travel features: If you plan on traveling a lot and want a crate you can take with you, you may wish to purchase a collapsible one. However, always test collapsible crates to make sure they're sturdy enough to keep your dog safe and protected, says Simon. While most collapsible crates don't pose an issue for smaller dogs, very large or strong dogs need robust and well-made crates that cannot be broken out of.
Crash protection: If the crate will be going along with you in your car, van, or RV, select one that offers good protection in case of a crash. "Some crates have been safety tested, and there are sources online which list the safest crates out there," says Simon. But it's always a good idea to do your own research with the manufacturer to find out just how rigorous the crash tests were. For an example of what to look for, review this 2015 Center for Pet Safety report, which is still considered an industry standard.
Ease of transport: "For smaller dogs, you might consider a crate that has a handle on the top, so you can carry your dog around — for example, when you're taking them to the groomer or vet," explains Simon. "Many dogs like having the 'home comforts' of their crate while out of the house. Of course, this only works for smaller breeds such as Chihuahuas and Yorkshire Terriers."
How We Ranked Our Favorite Dog Crates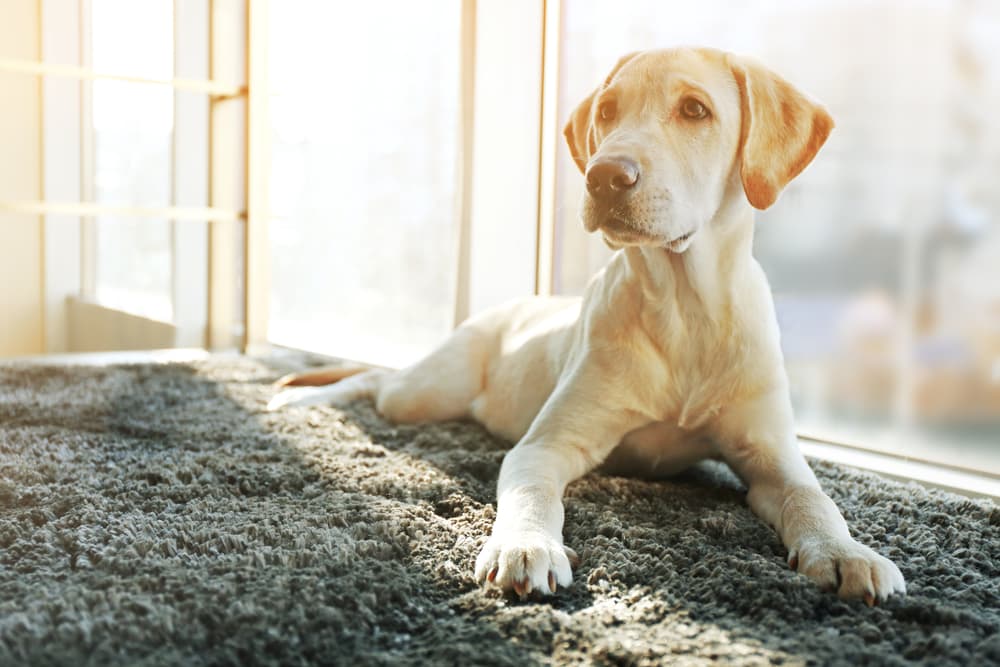 There are plenty of modern dog crates on the market right now — but not all of them are created equal. For this article, we've ranked our favorite dog crates based on three factors: safety, comfort, and style.
Our top picks were based on a combination of personal (pet and parent!) experience, recommendations from veterinarians and dog behavior specialists, and reviews from existing customers.
After plenty of consideration, sleep testing, and thorough research, here are some standout modern dog crates every pet parent should know about.
Best Modern Dog Crates: 7 Options to Consider
Looking for a modern dog crate to suit your unique needs? Here are some of the best options on the market right now — for every budget and lifestyle.
All featured products are chosen at the discretion of the author. However, Vetstreet may make a small affiliate commission if you click through and make a purchase.
Best Modern Dog Crate: Overall Winner
Our pick: Diggs Revol Dog Crate
15% Off Sitewide Automatically Applied at Checkout at Diggs
Looking for an aesthetically-pleasing dog crate that doesn't skimp on convenience or safety features? The Diggs Revol Dog Crate is our pick for your best bet. This sleek and streamlined modern dog crate puts your dog's wellbeing first and foremost. It was designed to meet the highest standards of the baby product industry, so you can be sure it's plenty safe for canine kids, too. The collapsible crate is built to withstand even the greatest escape artists. And it features a convenient built-in handle and wheels, which make it a smart option for travel. Diggs Revol Collapsible Dog Crates even accommodate large breeds up to 70 pounds with their Intermediate size.
Highlights
Crafted from FDA-approved food-grade plastic and durable, super-light aluminum.
Features stylish and strong diamond-shaped, high-strength steel mesh.
Very easy to fold, store, and transport as needed.
Designed using baby industry standards for exceptional safety.
Available in four sizes: small, medium, intermediate, and large
Colors include grey, ash, charcoal, and pine
Things to Consider
Some reviewers mentioned that this crate is quite heavy.
Best Modern Dog Crate for Large Dogs
Our pick: Merry Products Double Door Dog Crate
Shopping for a crate large enough to suit your adult or oversized pup can be a challenge — especially if you're looking for something that won't be an eyesore in your space! Thankfully the Merry Products Double Door Dog Crate ticks off all the right boxes and then some. It's large enough to comfortably fit a 100-pound dog, offers a stylish wooden finish, and can even be used as an end table in homes where space is at a premium.
Highlights
Crafted from high-quality mahogany wood.
Includes two different doors for added convenience.
Features a removable plastic tray for easy cleaning.
Things to Consider
Some reviewers found this crate difficult to put together, while others said it was simple.
Best Modern Dog Crate for Small Dogs
Our pick: Casual Home Wooden Pet Crate
Smaller dog crates are somewhat easier to hide or minimize because they don't take up as much space as standard-sized crates. But this modern, design-savvy dog crate that's scaled for smaller dogs is one you'll want to show off. The Casual Home Wooden Pet Crate is a great option — especially if you're looking for something that fits seamlessly in with the rest of your stylish decor. The espresso-hued wooden crate was designed to double as a side table and looks gorgeous with both contemporary and classic home furnishing.
Highlights
Crafted from very sturdy and high-quality wood.
Can easily be used as an end table.
Great price point compared to similar crates.
Things to Consider
Some reviewers mentioned that this crate scratches easily.
Best Modern Dog Crate on a Budget
Our pick: ecoFLEX Dog Crate
The ecoFLEX Dog Crate is a great option if you want style and safety without spending hundreds of dollars. This elevated crate is available for pets of all sizes and also comes in four different colorways to best suit your personal style. We also love that the ecoFLEX crate is made from recycled materials that won't warp or split — even with daily use.
Highlights
Crafted from non-toxic, eco-friendly reclaimed wood and plastic.
The tabletop is removable and easy to clean.
Comes in a variety of stylish colorways.
Things to Consider
Some reviewers mentioned that this crate could be more sturdy.
Best Modern Dog Crate for Anxious Dogs
Our pick: PetSo Dog Crate
Crate training can be a great option for dogs that suffer from separation anxiety — especially when you use a crate that is a bit more enclosed than typical wire or plastic options. It can be tough to straddle the line between ultra-secure and ulta-stylish, but the ultra-modern PetSo dog crate does it all. The well-ventilated wooden walls and peaked roof provide plenty of reassuring, cozy cover, while the see-through acrylic door allows your dog to observe their surroundings (which may include a comforting view of you).
This modern house-shaped crate comes with a washable cotton cushion and is available in three sizes (as well as special-order custom sizes) and three wood-stain options (as well as a variety of special-order custom wood stain options colors). You can even get your crate personalized with your dog's name or a custom color pillow for an additional fee.
Highlights
Anxious dogs feel protected, while still being able to monitor surroundings.
Handmade of sturdy wood and clear acrylic.
Well ventilated but still quite dark and cozy.
Custom options available for a fee.
Things to Consider
Ships from the Ukraine, so may take several weeks.
Best Modern Dog Crate for Eclectic Homes
Our pick: WLO Lakota Modern Wooden Dog Crate
While some modern dog crates are meant to blend it with the decor, this architectural wooden dog house from WLO is a unique statement piece that's sure to elevate the style of any room. The unique A-frame shape is designed for cozy comfort and crafted of wood with an elevated base and sturdy legs for extra stability. It's available in four sizes, accommodating dogs up to 149 pounds, and it comes in three colorways.
Highlights
Powder-coated wooden frame.
Unique A-frame design.
Easy to assemble.
Things to Consider
Some reviewers suggest ordering a larger size for dogs who like to stretch.
Best Modern Dog Crate to Take Anywhere
Our pick: KindTail Pawd Collapsible Dog Crate
Not only does this crate's stylish geometric lattice and choice of three decor-friendly colors make it a great addition to any room, it's also the perfect collapsible crate when you're on the go. The Pawd dog crate is made of durable, lightweight ABS plastic and collapses to the size of a slim briefcase, complete with a convenient carrying handle. However, it's not for large dogs. The small option is appropriate for dogs between 5 and 15 pounds; medium fits dogs from 10 to 25 pounds.
Highlights
Available in stylish grey, pink, spruce green, and white colorways.
Comes with a chew-proof dog bed made of zipper-free polar fleece.
Lightweight and easy to collapse and transport.
Things to Consider
Only available in small and medium sizes for dogs 25 pounds or less.
This is a collapsible crate, not an FAA-approved carrier.