7 Best Dog-Proof Trash Cans to Prevent Messes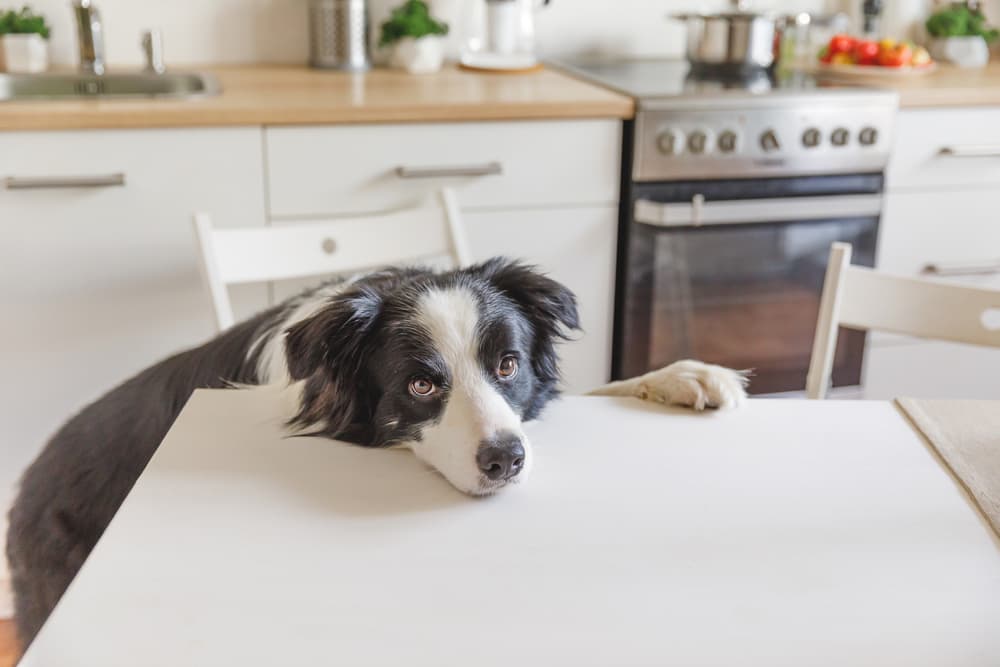 Whether your dog has developed a taste for trash, or your playful pup is just plain curious, a dog-proof trash can is a great way to keep a lid on messy canine mischief. But keeping pet-loving homes neat isn't the only benefit of dog-proof trash cans…or even the most important one.
The contents of your trash can could be hazardous to both your dog and your family. So dog-proof trash cans play a critical role in keeping your entire household safe and healthy. That's why we're taking a deep dive into receptacles designed to keep Rover out of the rubbish, so you can find the best dog-proof trash can to fit your needs.
Do You Need a Dog-Proof Trash Can?
Sturdy dog-proof trash cans often cost a bit more than the standard trash bin. If you're questioning whether you really need to invest in a specialized trash can to keep your dog out, here are some things to consider.
"Dogs are historically related to wolves and have the genetic tendency to scavenge and live on scraps," says Arman Ghosh, founder of vet platform GreatVet and parent of two adopted canine companions. "That tendency is the primary driver that draws your canine to the trash."
Even if you have a very good pup who has never attempted a garbage raid, Ghosh warns that the temptation is ever-present. Since dogs rely heavily on their sense of smell, the contents of your trash can may seem like an alluring snack. Trash can also contain unsafe objects that could seem like appealing "chew toys" to your dog. Some dogs might get into the trash to get your attention, as well.
Regardless of the cause, an unguarded trash can could endanger your dog, especially if your dumpster diver is known to eat things they shouldn't. Not only that, but when dogs drag trash to other areas of your home, they can spread germs and bacteria that put humans at risk, too.
Compared to a regular trash can, a dog-proofed design offers a variety of benefits, which may make the investment worth every penny:
Contains messes
Helps reduce the risk of choking hazards
Helps reduce the risk of digestive issues from unsafe foods
Helps protect your family from the spread of germs and bacteria
Our Top Picks and How We Ranked Them
To help pet parents find the best dog-proof trash can to meet their needs, we explored a variety of options, including standard trash cans and those specifically designed to be pet-proof. Here are the factors we considered:
Material: Was the trash can made of something durable that a dog can't chew? If yes, it was a plus.
Sealed Shut: We included trash cans to the list that are sealed shut so dogs can't smell, and dogs can't open on their own, using a paw or snout.
Accessibility: A good dog-proof trash can should be secure enough to foil dogs, yet easy enough for pet parents to open without frustration.
Reviews and Ratings: We scoured ratings and reviews at retailers to ensure the options we chose had plenty of satisfied pet parents behind them.
Expert Advice: Lastly, we asked experts what to look for in a dog-proofed trash can. They know best, after all.
7 Best Dog-Proof Trash Cans to Consider
After an exhaustive search, here's everything you need to know about the best trash cans that humans will love but dogs can't break into.
Our Picks
All featured products are chosen at the discretion of the author. However, Vetstreet may make a small affiliate commission if you click through and make a purchase.
Here's a quick roundup of the best dog-proof trash cans that made our list:
Best Dog-Proof Trash Can Overall
Our pick: simplehuman Hands-Free Dual Compartment Recycling Kitchen Trash Can
No question, simplehuman has innovated trash cans across the globe. Beautifully designed, durable, and sleek, their trash cans are made of stainless steel, so there's no need to worry about even the most determined chewers getting through. Plus, it's easy to clean. Designers have also thought long and hard about how to keep these cans stable. The wide, solid rectangular base makes this very stable trash can nearly impossible to tip over. This model features a wide step pedal to open it and a patented lid to keep trash sealed and secure when not in use. Most reviewers are singing this can's praises, saying they can't even believe they splurged on a trash can like this one, but have zero regrets and are happy with their spend.
Highlights
Sturdy, strong, and extra roomy, so you don't have to empty it as often
Patented silent-close lid and step pedal make this trash can super-secure
Comes with an all-natural odorsorb pod to combat strong smells
Surface coated with antimicrobial agent to inhibit bacteria, fungi, mold, and mildew
Convenient liner pocket stores trash bags
Inside compartments, made of plastic, make it easy to sort recycling from regular trash
Comes in a variety of sizes (45, 55, and 58 liters)
Things to Consider
It's definitely pricy, but simplehuman trash cans are designed to last
Some dogs — if they're heavy enough and clever enough — may be able to use the step pedal to open the trash can
Requires special simplehuman garbage liners for a perfect fit (though it can be used with standard, appropriately sized trash bags)
Best Dog-Proof Kitchen Trash Can
Our pick: iTouchless Pet-Proof Sensor Trash Can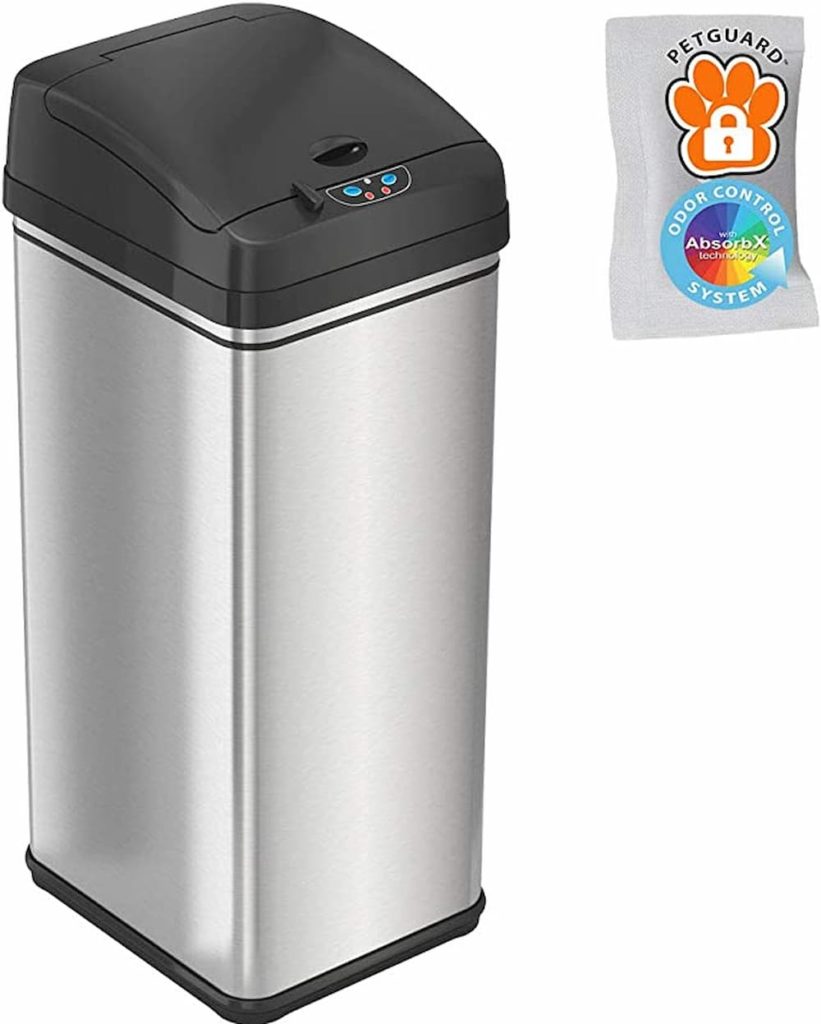 This pick shot to the top of our list because it's one of the few dog-proof trashcans we saw that was specifically designed to solve the problem of pet trash raids. And it shows! The thoughtful design really addresses the needs of pet parents. It features a touchless lid you can activate with a wave of your hand, as well as a lock so that you can prevent your pup from accidentally (or intentionally) activating this feature. We also love that this trash can is equipped with a special odor filter, so your dog won't be tempted by eau d'garbage.
Highlights
Many of the same features as our top pick, but more affordable
Motion sensor makes it easy-open for pet parents; PetGuard lock prevents dogs from getting in
Sleek, finger-print resistant stainless steel exterior
Comes with AbsorbX Natural Activated Carbon Odor Filter to neutralize trash odors
Reflx safety feature prevents lid from closing on your hand
Space-saving design
100% satisfaction guaranteed
Things to Consider
Requires batteries (not included) or AC adapter (sold separately)
Some reviewers cautioned that larger, stronger dogs could tip this can over
Best Dog-Proof Bathroom Trash Can
Our pick: HANAMYA Slim Trash Can with Press Top Lid
Most of the trash cans we evaluated were designed for larger spaces. But this compact, streamlined design is ideal for smaller rooms that still require a dog-proof trash solution, like bathrooms. Not only will its sleek, modern design complement any decor, but it's also slim and small enough to fit just about anywhere. The sturdy lid opens with a simple push, keeping bathroom refuse off-limits and out of sight. Plus, it's designed to hide away the trash can liner, so your bathroom stays neat and serene. You can even use it as an under-desk pet-proof trash can and add the optional divider that lets you sort trash and recyclables.
Highlights
Opens with a simple press of the lid
Made from durable, BPA-free plastic
Optional dual-compartment feature allows you to separate trash
Available in white or black
Available in two sizes (10 liters/2.7 gallons or 8 liters/2.1 gallons)
Things to Consider
This trash can is small, so larger households may need to empty it more often
Some users mentioned issues with the latch engaging, though the manufacturer has addressed the issue
Best Small Dog-Proof Trash Can
Our pick: simplehuman Compact Plastic Round Trash Can
If you're looking for a durable dog-proof trash can that won't take over the entire room, this smaller-scale design from simplehuman is a great fit. It features the best of simplehuman engineering, boasting a sturdy steel step pedal to open the lid and a stable footprint to resist tipping. Plus, it features a removable inner cricket that makes taking out the trash a breeze. Overall, a great choice for offices, bedrooms, and other small spaces.
Highlights
Has a strong steel step pedal and smooth opening mechanism
Removable inner bucket makes it easy to clean and dispose of trash
5-Year Warranty
Holds 6 liters/1.6 Gallon
Things to Consider
Made from plastic, not stainless steel, like other simplehuman designs
Though it's small, may not fit easily into some bathrooms due to rounded design
Requires special simplehuman garbage liners for a perfect fit (though it can be used with standard, appropriately sized trash bags)
Best Large Dog-Proof Trash Can
Our pick: Glad Stainless Steel Step Trash Can with Clorox Odor Protection
Got a giant-sized dog (or just a lot of trash)? This sturdy super-sized garbage bin can stand up to both! It features a lot of the bells and whistles of our favorite dog-proof trash can contenders plus it's built to hold a whopping 20 gallons of garbage. This stainless steel trash can has a sturdy step-on pedal that activates the lid, a soft-close feature to minimize noise, and Clorox odor protection to trap stinky smells inside the can.
Highlights
Oversized capacity is great for large households
Soft-close lid minimizes noise — great for pups attuned to the sound of noisy trash cans
Works with any standard 20-gallon trash bag
Available in standard stainless steel or darker pewter finish
For an added fee, you can get it with a motion-sensor lid for automatic open and close
Features a convenient rear holder to store extra bags
Available in two sizes (50 liters/13 gallons or 75 liters/20 gallons)
Things to Consider
To use the stay-open feature, push the lid back once open to prevent it from closing automatically (but not if your dog is around)
Motion-sensor option requires six AA batteries (not included)
Most Stylish Dog-Proof Trash Can
Our pick: KIGOTY Tilt-Out, Pet-Proof Trash Can Cabinet
If you're in the market for a pet-proofed trash solution that blends in seamlessly with your decor, this hidden wonder is for you. Unlike the other options on our list, this is more of a furniture piece than a trash can. The cabinet features a solid wood countertop and an innovative tilt-out design that can accommodate any standard, plastic, 10-gallon trash can. So, not only are you getting a dog-proof solution that hides trash away from prying pups, but you're also getting additional counter space and a lovely addition to any room.
Highlights
Wooden cabinet features solid wood countertop, tilt-out panel to hold trash can, and bonus storage drawer
Comes in single- and double-cabinet options
Available in four colors (white, black, gray, and mist blue)
Use to extend existing counter or standalone cabinet
Could also be used to store bins of dry dog food
Things to Consider
The trash can itself is not included, but most standard 10-gallon trash cans would fit
Assembly is required
BONUS: Best Outdoor Dog-Proof Garbage Can Solution
Our pick: Wiosi Universal Fit Outdoor Trash Can Strap Lock
Outdoor garbage bins are subject to a host of marauders, from dogs to raccoons and even skunks. These incredibly durable lid locks can help keep prying paws, claws, and snouts out of your garbage. They're made of heavy-duty, nylon-coated wire rope and steel locks that secure to any surface for a universal fit.
Highlights
Universal design works with outdoor bins of various sizes, materials, and shapes
Snap carabiner makes it easy to lock and unlock straps
Protects against dogs, as well as other small animals, like raccoons, opossums, skunks, and squirrels
Nylon coating comes in your choice of three colors (black, blue, or transparent)
Things to Consider
Trash can not included
Comes in a pack of two
Some assembly required
How to Choose the Best Dog-Proof Garbage Can
So how should pet parents decide which dog-proof trash can design is right for their household? Ghosh recommends paying close attention to these features:
Size – Consider how much trash your household generates and how often the trash can will need to be emptied. A larger can would be better suited to a high-traffic kitchen, while a smaller one would be ideal for bathrooms or offices. You may also want to consider the size of your dog. Heavy-duty dog-proof trash cans may be a better choice for larger breeds.
Materials – Pet parents should also consider the materials used to manufacture the trash can. Never underestimate your dog's ability to use their teeth and claws to get at what they want. "Since canines have strong jaws and paws, flimsy trash cans can easily be torn, as they have weak spots that the pet can easily target," says Ghosh. Get a trash can made of a durable material that can't be chewed, with quality parts (like hinges) that will stand the test of time.
Security: At a minimum, Ghosh recommends choosing a trash can equipped with a sturdy, tight-fitting lid to keep dogs out. But today's trash cans come with a range of bells and whistles to keep pups safe and make life easier for you. If you're looking for a hands-free experience, look for models activated with a step pedal or motion-sensor lid. There are also locking options, if your dog is super-motivated to get at your garbage. Some models even come equipped to seal odors inside, which can make trash cans extra secure from prying sniffers.
Stability: Another consideration is whether your pet-proof trash will remain pet-proof under less-than-ideal conditions. For example, if you're gone all day and your dog decides to tip over the trash can, are you confident the dog-proof closure will hold? If not, look for options that have a locking mechanism you can turn off and on as needed for extra peace of mind. A wide base can also make it harder to tip over a dog-proof trash can in the first place.
How Do You Keep a Dog Out of the Trash?
Whether or not you decide to invest in a dog-proof trash can for your home, it's always important to take extra precautions to keep curious dogs from getting into the garbage. To minimize mess and keep dogs safe, Ghosh recommends some more simple steps:
Install a grate on the top of your trash can so dogs can't get to your garbage.
Keep food-related garbage secured under the sink or in a room your pet cannot reach easily.
Feed your dog an appropriate diet for their age and size. Some dogs may try to get into the trash simply because they are hungry.
The same goes for exercise. Provide ample opportunity for your dog to run and walk, so they burn off extra energy. Some dogs may try to get into the trash simply because they are bored or anxious.
If your determined dog continues to raid the trash, consider signing your dog up for behavioral training or consulting a pet behaviorist for additional advice.