7 Best Flower Cat Trees for Springtime Play
There's nothing like a hint of springtime in the air to dispel the winter doldrums. While you may be looking forward to more time outside — planting, gardening, enjoying the sunshine — the great outdoors isn't for everyone. But that's no reason for cats (and indoor cats, in particular) to miss out on the season. Now is the perfect time to bring those springtime vibes inside and delight your cat with a fun flower cat tree.
If you're not familiar with flower cat trees, they're like your standard cat tree or cat house, but built in the shape of (or adorned with) something floral. Flower cat trees come in many colors and styles — from lotus flower cat trees, to tropical flower cat trees, to trees adorned with other garden motifs, such as mushrooms.
Like other cat trees on the market, flower cat trees also vary in size and configuration. Some have one level, while others have several. Some have one area in which to lounge (usually a bed in the shape of a flower), while others have little enclosures for cats who love to hide.
To help you narrow down your options, we rounded up some fun and unique flower-themed cat trees and towers. These cat climbing structures will not only provide enrichment and fun for your favorite feline, but they will also add a whimsical decor element to your home.
Top Flower Cat Trees: Our Picks
7 Best Flower Cat Trees
All featured products are chosen at the discretion of the author. However, Vetstreet may make a small affiliate commission if you click through and make a purchase.
Best Overall Flower Cat Tree
Our Pick: Prevue Pet Products Flower Garden
This sturdy, stunning flower cat tower is crowned by a pair of cushy, soft-petalled blossoms at varying heights — perfect for sleeping, lounging, or playing! Two leaf-shaped platforms offer plenty of opportunity for leaping and pouncing, as well as access to dangling plush swat toys and three jute-wrapped scratching posts that support the structure. The base even features a cozy hideaway cat house for kitties who prefer a little more privacy. There's truly something for every cat in this thoughtfully designed floral feline wonderland!
Highlights
Features four levels and five different lounging and playing areas
Enclosed cat house offers security
Sturdy structure enhanced with velvety plush and natural jute materials
Good for multi-cat households
Vibrant fuchsia and green colors
Measures 48 7/8″ L x 21 1/4″ W x 44 1/2″ H
Things to Consider
Some assembly required, though it's simple to put together
Though more affordable than comparable cat trees, it's still an investment at around $165
Best Flower Cat Tree for Kittens
Our Pick: SENNAUX Cat Climbing Activity Flower
Part garden playground, part scratching post, this pint-sized floral cat tree offers all the appeal of more complex flower cat trees, but at a smaller scale with kitten-friendly materials. The simple four-level design features two flower-shaped platforms and a cozy bed at the top, complete with a rim to keep your kitty safe. The resting surfaces are covered in soft, artificial lambswool, while the poles are tightly wrapped in natural, durable jute for safe scratching. The layout is designed to allow cats to easily jump from one layer to the next. And there's a dangling ball to entertain your kitty, too.
Highlights
Provides four levels for lounging and play
Three durable sisal scratching posts
Easy assembly; no tools required
Pleasing colors complement any decor
Measures 19″ L x 15" W x 28″ H
Comes in additional sizes and configurations
Things to Consider
Designed to accommodate 2-3 kittens at a time; not appropriate for multiple adult cats
Most Engaging Flower Cat Tree
Our Pick: Sunflower Cat Tree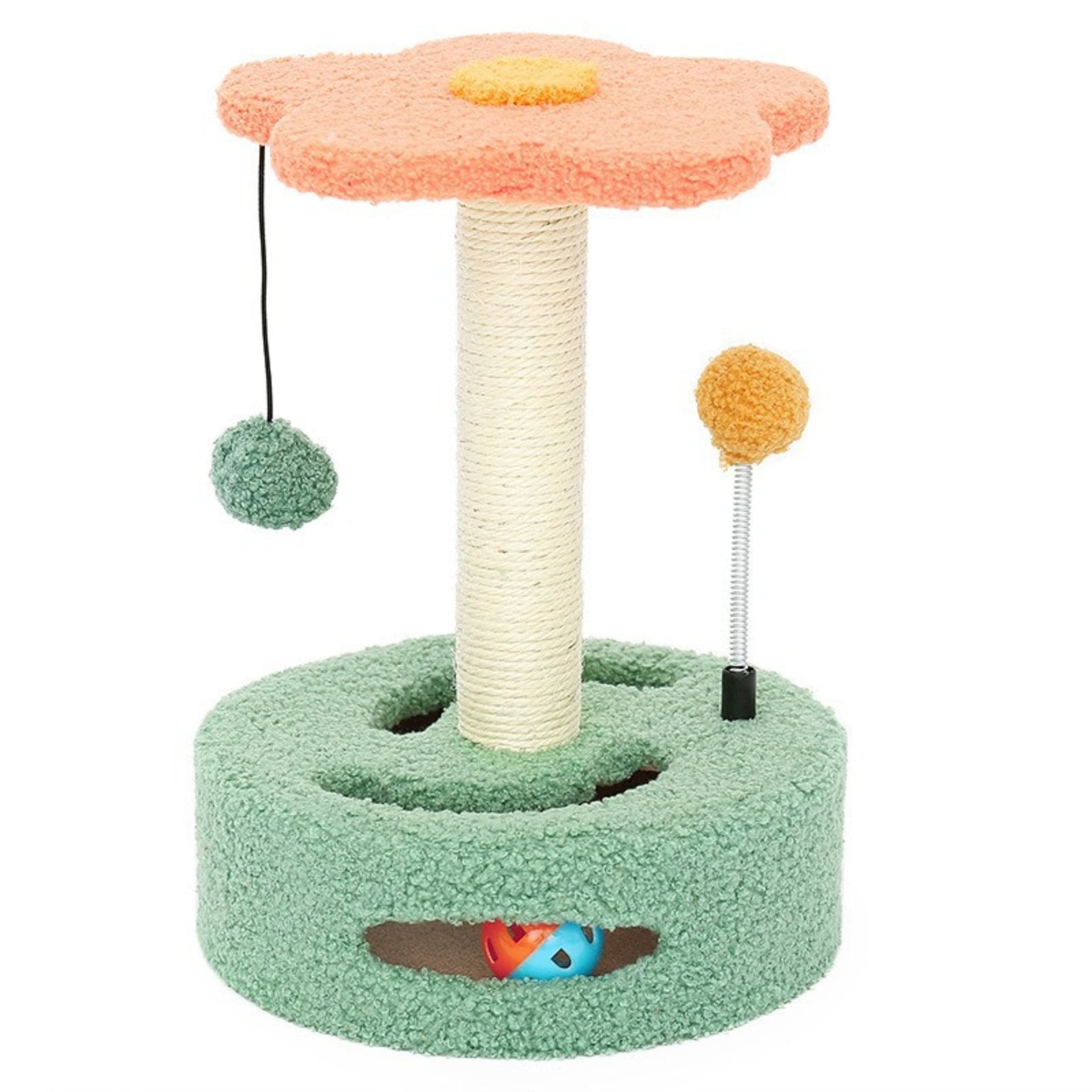 This small-but-mightily-engaging flower cat tree packs a lot of appeal into a thoughtfully crafted tower with a space-saving footprint! The base features a peek-a-boo design that allows your cat to "hunt" for toys or treats hidden inside. There are two plush balls for swatting — one that dangles and one that bounces on a spring — a scratching post to climb, and a soft sunflower platform where your cat can perch and survey their realm. Best of all, this flower tree comes in a few tasteful, subdued colorways that you can easily incorporate into any room.
Highlights
Handmade
Choose from two beautiful color combinations
Compact enough to fit in any space
Design is simple yet modern
Things to Consider
Definitely a smaller cat tree, but packed with cool features
Not good for multiples
Flower Cat Tree with the Cutest Vibe
Our Pick: Catry Wonderland Mushroom Cat Tree
Hands down, this is the most adorable flower cat tree of them all! The cottagecore-inspired, multi-level design features an adorable mushroom-shaped cat condo, a plush flower cat bed, and a butterfly-shaped cat hammock to cradle your pampered pussycat. Dangling plush bees and bugs abound, providing plenty of targets to swat or pounce upon. Finally, curved, sisal-wrapped scratching posts give this unique design a playful, whimsical feel, while offering scratch-happy cats a better alternative than your furniture!
Highlights
Features four levels for lounging and play
Enclosed cat condo, plush cat flower bed, and curved cat hammock
Bright, colorful, unique design
Two scratching posts, a scratching board, and a scratching ball with bell
Measures 19.6" L x 19.6" W x 31.1" H
Larger, five-level Garden Cat Tree also available
Things to Consider
Shorter than other cat trees, so less opportunity to climb
Customers say this is geared toward smaller cats
Best Flower Cat Tree for Small Spaces
Our Pick: Sasapet Small Mushroom Cat Tree
Sure, sprawling cat towers may keep your cat busy. But if you don't have a lot of room, this smaller-scale flower cat tree is ideal for engaging your cat. While the sturdy, simple structure doesn't have as many bells and whistles as other options on the market, with a price tag under $30, it's hard to beat in terms of value. The super-cute cat tree features a mushroom scratching post and a flower pedestal. And the scaled-down design makes it ideal for small spaces and apartment dwellers. Best of all, it's built to last, easy to install, and easy to move.
Highlights
Three levels for lounging and playing
Sisal-wrapped scratching post with velvet mushroom perch
Cute flower blossom perch
Easy to assemble
Measures 8.5" L x 14" W x 15" H
Larger version available
Things to Consider
May be too small for some cats
Most Bang for Your Buck
Our Pick: Catry Sunflower Cat Tree
If you're looking for a springtime flower tree your cat will love AND one that won't break the bank, this is it! We love the deceptively simple design of this affordable sunflower cat tree. At first glance, it looks like an oversized sunflower perch that would be the ideal place for your cat to lounge in a sunbeam. But thanks to an innovative design element, that platform pivots to turn this elevated bed into an engaging scratching board. The sunflower stem is also wrapped in sisal for more scratching fun. And the generously sized sunflower features a stuffed bug teaser toy, too. This simple sunflower has a lot going on!
Highlights
Great price point
Compact enough to fit in any space
The pivoting sunflower bed/scratching board is genius
The design is simple yet so adorable
Measures 13.2″ L x 13.2″ W x 23.2″ H
Things to Consider
Some customers suggest weighing down the base so the tree doesn't tip over
Trendiest Flower Cat Tree
Our Pick: Cactus Cat Tree
If pink posies are not your thing, but you love the vibe of modern desert decor, this trendy cactus cat tree is right up your alley! (Hey, if baby nurseries can be cactus-themed, why not a desert playground for your cool cat?) This cat tree has three levels of play with two scratching posts, a tall cactus climbing tree, a cozy lounging hammock, and a fluffy pom dangling toy to entice your little hunter. Textured plush fabric gives it an extra-snuggly feel your kitty is sure to love.
Highlights
We love the trendy cactus design
Compact enough to fit in most spaces
Easy to assemble
The subdued color scheme is ideal for minimalist decor
Measures 15.8″ L x 15.8″ in" W x 36.9″ H
Things to Consider
May not be ideal for multiples or bigger cats
Flower Cat Tree Buyer's Guide
Before buying any cat tree or tower, it's important to consider your specific size, use, durability, and installation requirements. The same considerations apply when you're in the market for a flower cat tree…plus design and aesthetic appeal.
If you want to add some spring vibes to your home by way of a cat tree with a floral design, here's what to think about before you buy:
Size: How many cats do you have in your household? And how big are they? If you have multiple cats and adult ones at that, you'll want to pick a cat tree that has at least three levels so there are additional platforms for jumping and lounging. However, multi-platform flower cat trees come at a premium. Be prepared to spend upward of $100 if you do need something sturdy enough to accommodate adult cats. While more affordable, smaller and simpler flower cat trees are typically more appropriate for kittens or households with just one cat.
Style and Design: Most flower cat trees have a little extra going on in the style and appeal departments. And there's a lot of variety, too. Some flower cat trees look like they're straight out of a fairytale or enchanted forest, while others have more of a playful, whimsical feel. Be sure to look for a design that fits your own style aesthetic, but don't forget about your existing decor. If you want a flower cat tree that will blend in with any room, look for colors that are more neutral and subdued. If you want a vibrant conversation piece, there are plenty of brightly colored flower cat tree options that will fit the bill.
Function: What do cats love to do? Most love to nap, lounge, play, climb, and scratch. A primo flower cat tree will engage all of those natural instincts. But if you're limited on space or budget, look for options that have at least one place to lounge and one place to scratch, at a minimum. Varying levels will add more fun, especially if you have multiple cats in your household. If you want even more active play, consider dangling items for cats to swat at.
Materials: To ensure your cat has plenty of opportunities to scratch things other than your furniture, flower cat trees should feature plenty of sisal or jute — a natural and durable material that stands up to even the sharpest claws. To encourage cozy lounging, many flower cat trees feature plush materials, as well. Just ensure the softer materials are sturdy enough to withstand all the playing, chewing, and scratching your cat will dish out.
Assembly: Always check the assembly instructions before you purchase a cat tree to avoid overly-complex builds that require multiple tools or people to complete. Most of the flower cat trees that made our list require a single screwdriver, at best, or no tools at all to assemble. Some simply twist together, with the hardware hidden inside. Whatever assembly is required, be sure to check your flower cat tree periodically to ensure it remains a safe, sturdy structure for your kitty to enjoy!