Pet-Safe Weed Killer: 5 Options to Protect Your Lawn
Dogs enjoy frolicking in yards and rolling around in grass. It's what they do. But if you're a homeowner who likes to keep their lawn in tip-top shape, then a pet-safe weed killer is incredibly important.
Traditional chemical weed killers and lawn treatments can cause problems for our pets—something I unfortunately have first-hand experience with.
When my spouse and I took a pet-friendly vacation to Maine several years ago, our Cocker Spaniel developed a reaction after romping around the lush, green lawn of our bed and breakfast. Our dog Brady began vomiting and developed a prickly red rash across her stomach. I called a pet poison helpline and was told she likely suffered from chemical exposure and to seek veterinary care. She received IV fluids, a bath, a blood panel, and ointment for her chemical burns. It turns out, the property had used a chemical weed killer a few days before our arrival.
Since that time, I've been on a mission to inform other pet parents about the toxicity of certain weed killers and why pet-friendly products should be used in their place.
How Weed Killers Could Harm Pets
Integrative veterinarian Dr. Laurie Coger worries about glyphosate (a common herbicide) in weed killers. She says glyphosate is implicated in many cancers in both dogs and humans.
"Exposure to weed killers, specifically glyphosate, is one of the most overlooked toxins by most dog parents," she advises. "The chemical is linked to lymphoma and other cancers in humans, and many suspect it could have similar effects in pets."
In fact, a 6-year study conducted by Tufts University School of Veterinary Medicine found that the use of lawn chemicals increased a dog's chance of developing cancer by up to 70 percent.
While homeowners may want to keep their lawns looking weed-free during the spring and summer months, using the wrong products to kill weeds could cause harm to four-legged family members.
"Common sense dictates that we minimize chemical exposure for ourselves and our pets," Coger says. "Chemical weed killers are a potential danger to our dogs and outdoor cats."
Roundup and Pets: Is it Safe?
Roundup is a popular weed killer and lawn treatment, but its main ingredient is isopropylamine salt of glyphosate. Monsanto, the manufacturer of Roundup began selling the product in 1974. In 2015, the World Health Organization determined that glyphosate is "probably carcinogenic to humans."
In 2019, a California couple won a $2 billion dollar lawsuit after they developed cancer linked to the use of Roundup weed killer. Although the judge cut the lawsuit to $86.7 million, the settlement was upheld.
Dogs like to roll on grass, many cats go for walks on a leash and their paws encounter grassy lawns, and pets often lick their feet or fur while they are lounging around the house. Any non-pet-friendly weed killers they encounter outside can be ingested into their bloodstream.
According to the National Pesticide Information Center, pets that come in contact with wet glyphosate products may drool, have gastric upset, lose their appetites, or become sleepy—none of which are noted on the Roundup labeling or website.
If you do choose to use Roundup as your weed-killer of choice, it's important to keep your dog away from the treated area and talk to your veterinarian if you have concerns.
What to Look For in a Pet-Safe Weed Killer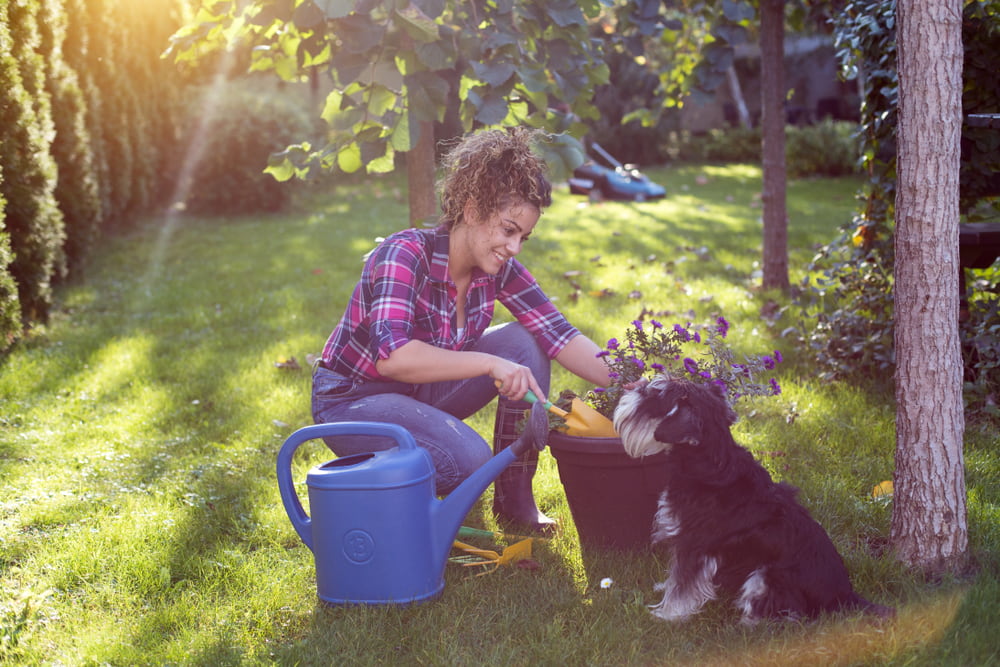 There are a few very important aspects to look for when selecting a pet-safe weed killer for your lawn. Here are a few points to consider:
Ingredients
Despite the label that touts a product as pet-safe and pet-friendly or perhaps natural or organic, pet parents should carefully read the ingredient list. Though chemicals can be effective at killing weeds, they can cause issues when pets are exposed to them. Corn gluten meal and vinegar are all-natural products that are generally safe for dogs and cats.
Things like 2,4-D (trimec), sethoxydim, carbon tetrachloride, and chloroform are all ingredients to avoid in a weed killer for pet households.
Certifications
Look at labels and do some research to verify any governing bodies or organizations that certify weed killers safe for dogs and cats. For example, the Organic Materials Review Institute (OMRI) is a private, nonprofit organization that certifies products as organic.
Prevention or Killer
Some products kill weeds while others prevent them. If your lawn is in good shape, look for a pet-friendly weed prevention product. If your lawn has a weed problem, a pet-friendly weed killer is the way to go.
Efficacy
Read a broad sample of reviews on the pet-safe weed killer or pet-friendly weed prevention product you're interested in. How long do people say it took to work? Does it take hours, days, or weeks to see a difference? What weeds does it target? Not all weeds are created equal, as some products target dandelions, mosses, chickweed, and dollar weed, while others are explicitly designed to eliminate crabgrass.
How We Ranked Our Top Pet-Safe Weed Killers
In assembling this list, I've considered products I've used with success over the past decade. I looked at reviews, talked to an integrative veterinarian, talked to one of my best friends who has a green thumb to match her green pet-friendly lawn, and looked for a wide array of purported pet-friendly lawn products to kill weeds while keeping dogs and cats safe.
We also wanted to make sure that the pet-friendly weed killers on this list were easy to buy online and were effective without the need for a professional lawn-care service.
Our Favorite Pet-Friendly Weed Killers
All featured products are chosen at the discretion of the author. However, Vetstreet may make a small affiliate commission if you click through and make a purchase.
If you plan to allow your dog or cat to roam around the yard and enjoy the great outdoors, one of these pet-safe weed killer products should be part of our lawn-care regimen.
Green Gobbler is OMRI certified for organic use and designed to use where grasses and weeds are not desired. I've personally used this product for years. The Green Gobbler formula is 30 percent stronger than traditional table vinegar and is safe to use right out of the container.
I love the removable trigger spray and the fact that it works almost immediately without bothering my dog's paws or causing irritation. The fact that it is environmentally and pet safe and works like a charm without toxic chemicals puts Green Gobbler high atop our list.
Highlights
Derived from USA-grown corn.
No dyes or chemicals.
OMRI certified.
Weeds start to wither within 24 hours.
Nicely priced.
Can be used for regular cleaning when diluted with water.
Things To Consider
Use caution with surrounding plants, as it will affect them if contact is made.
There is a strong vinegar smell, but it dissipates quickly.
It is unclear what is used to dilute the vinegar in the actual product. Although it may be water, the information is not readily available.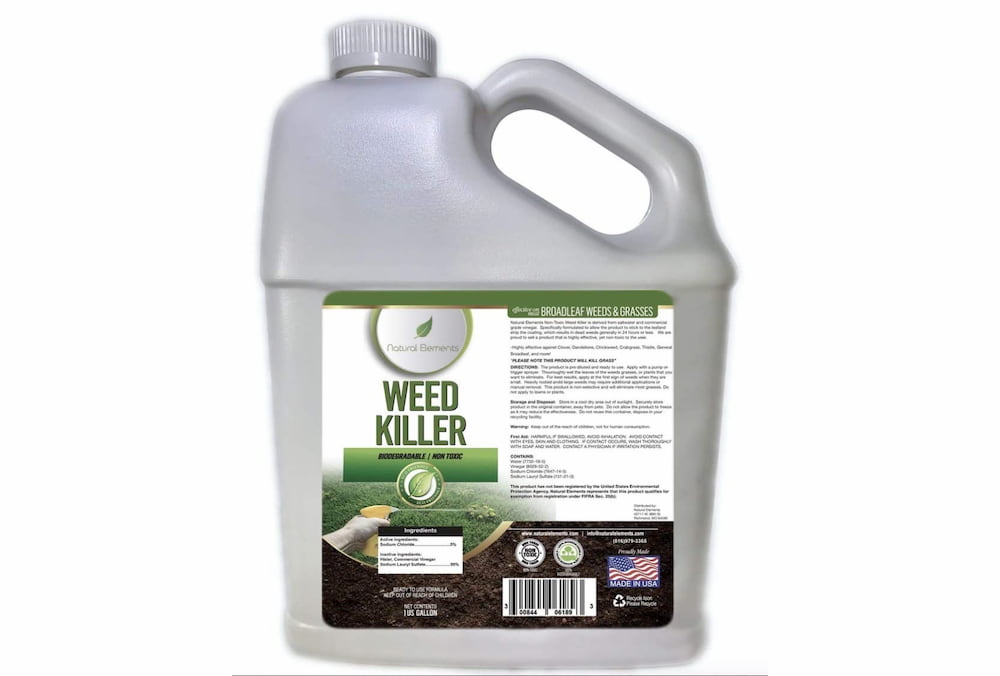 I have a small yard and patio area with a deck and wanted to get rid of some weeds earlier this summer. Formulated with salt water and concentrated commercial grade vinegars, this product actually sticks to the weed and strips the coating so weeds are gone in about a day. Many other so-called pet-friendly weed killers take days to work, but Natural Elements really delivered on its fast-acting promise.
There is no mixing, no drifting (don't spray on a windy day), and it's best to use in warmer weather so the weeds are gone quicker. In cooler temperatures, it may take at least five days to see the weeds disappear. It is glyphosate-free and the label is very transparent about ingredients and safety.
Highlights
Effective on most broadleaf weeds and grasses.
Easy to spray one-quart bottle.
Some reviews claim it worked to kill poison ivy, but we didn't try that.
Great value for the price.
Not as pungent in vinegar smell compared to some other products.
Made in the USA.
Things To Consider
Will kill grass so do not apply directly to lawns unless that is your intent.
Not many reviews online but this product may just be "falling under the radar."
For larger areas or more frequent use, consider upgrading to the larger size.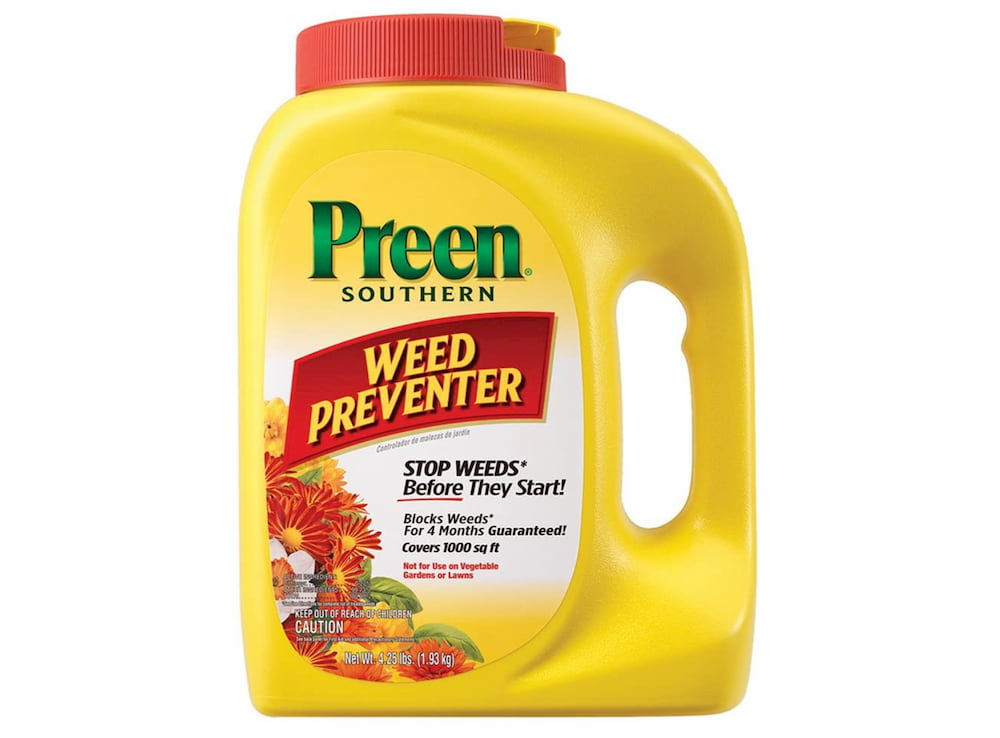 One of my closest friends, who is also a dog mom, has been using this on her lawn and garden for years. It is safe to use around over 200 different types of established flowers, trees, shrubs, and even vegetables. This made our list because it actually prevents weeds and can be safely used around pets. It stops weeds before they start, and who doesn't want to save some time and effort these days?!
Preen Weed Preventer is not washed out of the soil by rain and using it early means the need to hand weed is eliminated. Because it is made from corn gluten meal and does not contain glyphosate, it's a win-win. My neighbor says she's noticed her lawn to be a lot greener and that could be because the corn gluten meal works as a fertilizer, too.
Highlights
Stops weeds before they become problematic.
Contains 60 percent protein compared to other weed preventers that contain significantly less. More protein = more effective.
Safe around plants that are two to three inches tall.
Prevents weeds from sprouting on the lawn if used multiple times per year.
Things To Consider
It is on the pricier side.
Some complain corn gluten-based weed killers are less effective, but remember that this is a weed preventer, designed to be used to prevent and not kill weeds.
Do not confuse this product with Preen's Grass and Weed Killer, which does contain glyphosate and is not safe for pets.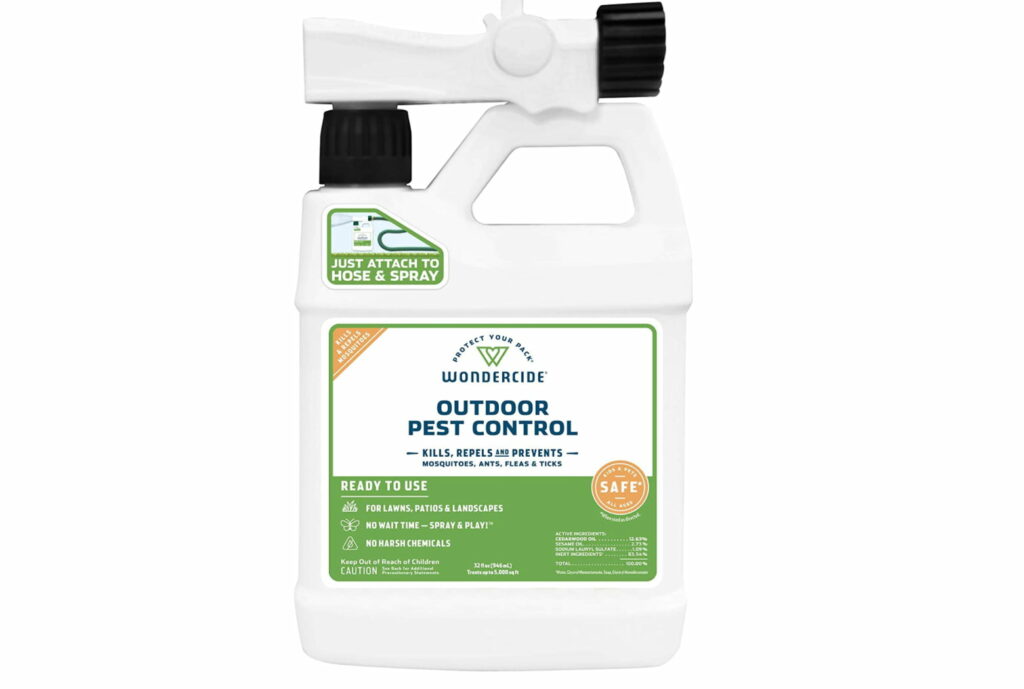 I am a huge fan of Wondercide products and use their flea and tick preventative on my dog. In addition to their spray-on-the-dog treatments, Wondercide also makes an outdoor pest control to kill and repel pests from a lawn. However, after reading that it stopped weeds in their tracks on another customer's lawn, I decided to give it a try.
Because we recently added a patio to our backyard, I was able to test these products on a large area of grass before the contractors got to work. Oddly enough, when I sprayed Wondercide Outdoor Pest Control on weeds in the yard, they were gone a few weeks later. Granted, it didn't work as fast as some products, but this was my own personal test. I love that this product is safe on grass for my dog to lay on, roll on, and walk on but effective in killing and repelling ticks and fleas while eliminating weeds!
Highlights
Enjoy a bug-free yard and possibly eliminate weeds.
Safe around butterflies and bees.
Great for lawns, patios, and landscapes.
No harsh chemicals.
Spray and play, as there is zero wait time after application.
Made with cedar oil, sesame oil, seeds, and fruit in the USA.
Things to Consider
Not touted as a weed controller, but it worked for me.
Must be diluted and requires a separate applicator.
Available in a variety of sizes, be certain to get the sprayer version for complete spraying application.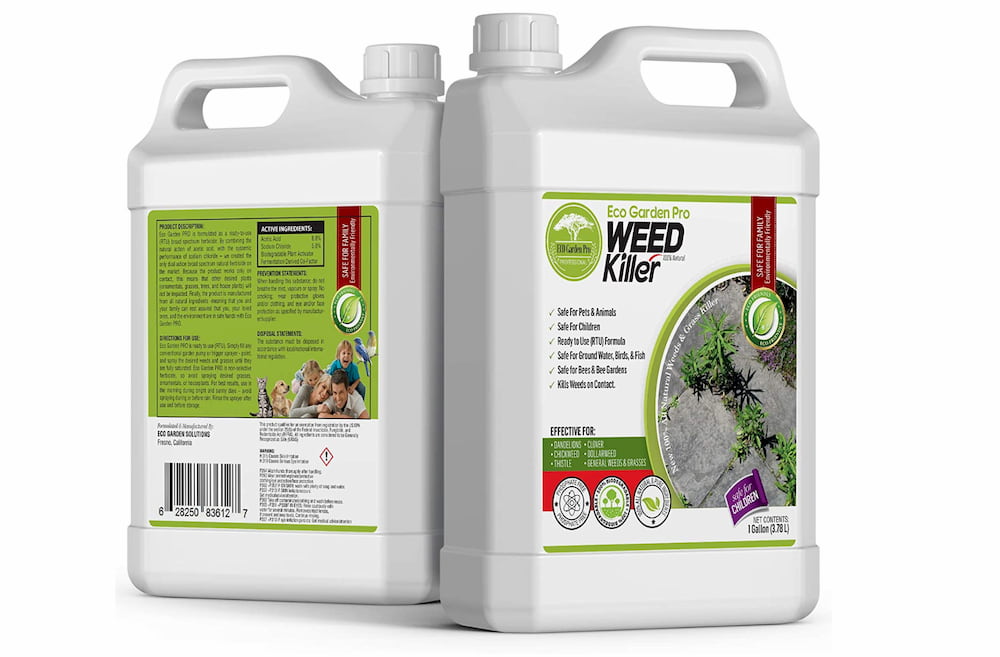 This is the first pet-friendly weed killing product I encountered that combines organic white vinegar with Himalayan rock salt. The two ingredients work so well together that they kill weeds and prevent immediate regrowth. In addition to being safe around dogs and cats, the company touts it as safe for bees, fish, and other live stock.
In addition to weeds, it can kill moss, clover, and poison ivy and is 100 percent biodegradable and environmentally friendly. Since it contains no phosphates, it's also safe for groundwater. If I could hug this bottle, I would because it is slowly becoming my new favorite.
Highlights
In addition to being safe around pets, the products on this list are touted as safe around kids, and Eco Garden is no exception.
They only use pharmaceutical-grade ingredients that are sustainably sourced whenever possible.
100 percent satisfaction guarantee or your money back.
Perfect for residential areas as well as commercial, industrial, and agricultural areas along with driveways, sidewalks, concrete, mulch beds, pavement, flowers beds, parking lots, and farm lands.
Things To Consider
Some complain it takes too long to kill clover and dandelions.
Some reviewers say weeds came back too fast.
Complaints of strong smell but others say it goes away soon.
Which Pet-Safe Weed Killer Is Best?
I like each of the above pet-friendly weed killer products equally—but for different reasons. Never use all of them at one time and give each product enough time to dry and test before moving to another formula.
Despite the pet-safe and pet-friendly labeling, I never apply any product in the presence of my dog. Canine noses are sensitive and I wait until the products dry before allowing my pup to traipse, roll, walk, and play on the lawn.
When walking your dog, be careful about letting your dog walk in other people's lawns, since you never know if chemical products were used.