7 Best Dog Talking Buttons (And Tips for Using Them)
Published on June 12, 2023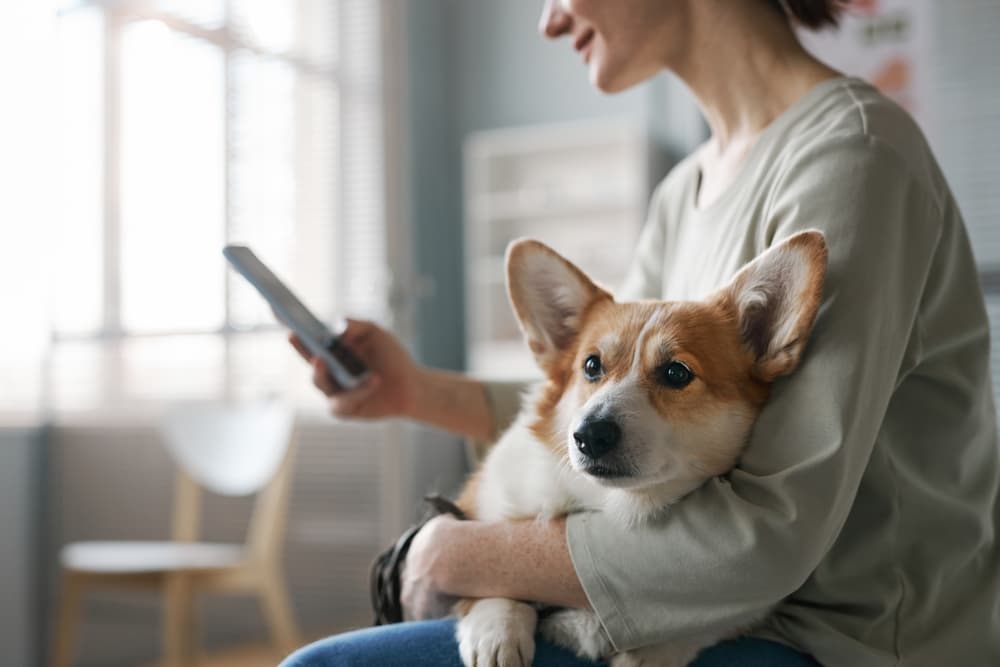 If you've ever wished that your pup could talk, you're going to love trying out dog talking buttons (also called dog training buttons). All the rage lately thanks to social media, this fun training tool makes it easier than ever to communicate with your furry friends.
Here's everything you need to know about the benefits of talking buttons for dogs, the best models to buy, and how to train your pup to use them.
Best Dog Talking Buttons
What Are Dog Talking Buttons?
Also called communication buttons or training buttons, dog talking buttons have been gaining popularity in recent years. The buttons allow you to record a specific word – such as "outside," "hungry," or "play" – on a push button, and your dog learns to press the button to communicate their needs to you.
These buttons have become beloved by pet parents in large part thanks to Bunny the Talking Dog, an adorable Sheepadoodle who went viral on social media for her use of talking buttons; she knows more than 100 words and can even string together phrases!
Besides being super cute, there are several benefits to training your dog to use communication buttons. "Talking buttons help dogs express themselves in a quick way that we readily understand so that you can address their needs or respond," explains Erin Askeland, Camp Bow Wow's animal health and behavior expert. "Because this is a training tool, it's also a fun way to incorporate positive training into you and your dog's daily life, which is beneficial for mental stimulation, the human-dog relationship, and long-term cognitive health."
Just keep in mind that dog talking buttons should always be used alongside other training methods. "While these buttons can be a fun learning tool, it is essential that pet parents don't use them in place of proper training," says Askeland. "Getting to know your dog's body language and subtle quirks is an essential part of communication that helps establish a healthy relationship between pet parents and their pets."
How We Made Our Selections
In addition to speaking with Askeland to gain her insight, we considered several factors when compiling our list:
Design. In order to provide a well-rounded look at each pick, we looked at things such as button shape and size, color options, as well as ease of recording.
Included accessories. Because accessories like floor mats and labels definitely can definitely be beneficial for you and your dog, we made note of which buttons come with which extras (if any).
Ratings and reviews. We also read through dozens of reviews for each product to get a sense of how well they work for real pet parents.
Price. Depending on included accessories, number of buttons, etc., the cost of dog talking button sets can vary. With that in mind, we tried to include a variety of options to suit all budget sizes.
7 Best Dog Talking Buttons of 2023
All featured products are chosen at the discretion of the author. However, Vetstreet may make a small affiliate commission if you click through and make a purchase.
Best Overall Dog Talking Buttons
Our pick: FluentPet Cat & Dog Buttons
FluentPet Dog Buttons is the brand that "Bunny the Talking Dog" uses, and these buttons are some of the best available today. The basic kit includes 12 talking buttons with pre-installed batteries, as well as six non-slip floor tiles and 56 label stickers. Each of the interlocking floor tiles is able to hold up to six buttons, so this set gives you plenty of room to expand as your dog learns new words. It's easy to record words on each button, and the playback is loud and clear. One thing to note is that the actual buttons themselves are fairly small, which may make them a bit harder for large dogs to use.
Pros
Trusted brand
High-quality audio
Expandable system
Includes floor tiles, stickers, and training guide
Cons
Smaller button size
Higher price point
Best Dog Talking Buttons for Beginners
Our pick: Hunger for Words Talking Pet Starter Set
If you want to try out talking buttons without investing too much, this starter set is both simple and affordable. It includes four recordable buttons, each in a different color. All you have to do is hold the small red button on the side to record your desired word. Because the buttons are on the larger side, they're easy for big dogs to operate, but keep in mind that they don't come with a floor mat, which means they'll slip around on hard surfaces. However, you can put them on a rug or silicone mat to keep them in place for your pooch.
Pros
Large buttons
Each button is a different color
Includes training guide
Good price point
Cons
Floor mat and labels sold separately
May need to upgrade once your pet is ready to move beyond this simple set
Best Talking Buttons Mat
Our pick: Acools Dog Talking Buttons with Waterproof Anti-Slip Button Mat
If you're planning to teach your dog several different words, it's beneficial to have a floor mat to go with your communication buttons – this will help keep them in the same location and prevent them from shifting when pressed. This set of Acools Training Buttons is a high-quality option that comes with a matching mat, as well as cute button labels to make them relevant to your pet's needs. It's simple to record words on each button, and the buttons are designed for small, medium, and large dogs.
Pros
Easy to record
Rubber mat is super durable and anti-slip, waterproof
Mat contains 3.1″ diameter printed circles for up to eight dog buttons
Cons
Does not come with batteries
Buttons may not be as sturdier for larger dogs
Best Designed Dog Talking Buttons
Our pick: MEWOOFUN Dog Buttons
Some talking buttons have a fairly bland design, but the MEWOOFUN Dog Buttons are sleeker with a square shape and matte finish. The buttons are available in packs of two, four, or nine, and they come with a non-slip floor mat as well as both pre-marked and customizable labels. There are four different button colors to help your dog differentiate between them, but they're a bit harder to press than others, so they may not be the best option for smaller dogs.
Pros
Stylish design
Come in four different colors
Non-slip floor mat adheres to buttons via Velcro
Include both pre-made and customizable labels
Cons
Small dogs may have trouble pressing
Best Budget-Friendly Dog Talking Buttons
Our pick: Goplemo Dog Buttons
This pack of Goplemo Dog Buttons is an affordable option for anyone who wants to try out communication buttons with their dog. Each button is a different color and has a 30-second limit, allowing you to record longer phrases, if desired. The buttons have small non-slip grips on the bottom to keep them from moving around on the floor, but they don't come with labels or a floor mat. Additionally, each one requires two AAA batteries, which aren't included.
Pros
Great price point
Includes four buttons
30-second record time
Come in four different colors
Non-slip bottom
Cons
Batteries, floor mat, and labels not included
Best Pre-Recorded Dog Talking Buttons
Our pick: VocalPups Dog Buttons
Most talking buttons for dogs allow you to record the words you want to use, but the VocalPups Dog Buttons come pre-recorded with words like "out," "play," "food," "water," "mom," and "dad." You can buy the buttons individually or in a set of four, and because they're already recorded, the audio tends to be clearer and louder than other buttons. Anti-slip rubber feet on the bottoms help prevent them from moving around, and the brand also sells floor mats separately.
Pros
Sold individually or in a set
Easy to hear
Anti-slip rubber feet
Video training guide
Cons
Batteries not included
Floor mat sold separately
No option to customize words
Best Potty Button
Our pick: Hunger For Words Talking Pet Doorbell
If you're looking for a single dog talking button that's designed to help potty train your pup, the Hunger for Words Talking Pet Doorbell is a top pick. Unlike other buttons, which are meant to be placed on the floor, this button comes with an adhesive strip that lets you mount it to the wall next to the door. This lets your pup press it with their nose or paw. You can either use its pre-recorded bell noise or record a custom word, such as "outside," and the audio is loud enough to hear if your dog presses the button in another room.
Pros
Two sound options
Loud audio
Mounts to the wall
Good price point
Cons
Loud volume may startle some dogs
Dog Talking Buttons Buyer's Guide
To help you select the best option for your pet, there are several factors you'll want to take into account when shopping for dog talking buttons.
Size. Talking buttons for dogs vary in size—some are as small as 1.5" in diameter, while others are 3" or more. In general, small buttons are best suited for smaller dogs and cats, while large buttons will work better for bigger dogs.
Accessories. Be sure to take a look at what accessories are included with the buttons you're checking out. Some buttons come with floor mats to help prevent sliding, while others simply have non-slip grips on the back. Other useful accessories include labels for the buttons, as well as training guides that will help you make the most of the tool.
Recording options. You can find communication buttons that allow you to record your own commands, while others come pre-recorded with popular words. The former option allows for more customization in your training, but pre-recorded buttons often have clearer audio.
Durability. Because your dog will be stepping on their buttons, it's important to select a product that can stand up to being bumped and scratched.
Dog Talking Buttons Training Tips
Training your pup to learn new things can be hit or miss, but when it comes to teaching dogs to talk with buttons, Askeland has a few tips.
Practice patience. While Bunny makes it look easy, it does take quite a bit of training and patience to teach your dog to use talking buttons. "This learning experience requires a lot of time and effort in order to get a solid communication flow, so don't become too frustrated if you are not seeing results right away," encourages Askeland.
Lead by example. "The simplest way to start is using the buttons yourself to let your dog hear the word before the action that follows," explains Askeland. "For example, hitting a button that says 'treat' before you offer your dog a treat." At this stage, you'll also need to teach your dog how to actually press the buttons using the "touch" command.
Take it slow. "When your dog is ready to use the buttons, start with just one button," Askeland recommends. "For example, just before you take your pup on a walk, you can encourage [them] to press the 'walk' button to build the association of that task of pressing the button, the word from the button, and the actual result of that word. To make the connection initially, this must be consistent." She recommends working with just one button at a time to make sure your dog understands what you're teaching them.