7 Best Dog Ball Pits for Parties and Playtime
Published on January 20, 2023
What furry, fun-loving goofball doesn't get excited about a ball pit? Much like kids, our canine family members just adore romping around in dog ball pits – which can provide lots of entertainment and enrichment.
Whether they decide to roll in the pit before settling in for a nap, or get the zoomies and scatter balls everywhere, it's pretty much guaranteed your dog will have a whole lot of fun playing in a ball pit.
What Are Dog Ball Pits?
Dog ball pits are enclosures with sides made from foam, mesh, plastic, or other materials. They're designed to be filled with the small, hollow plastic balls that you've probably seen at play centers for kids.
If you've never seen your dog in a ball pit, it's going to be a lot of fun watching them discover this new sensation. Many dogs adore playing in ball pits, which are often used as an enrichment activity at doggy daycares. There are plenty of videos online showing just how much fun your furry friend can have — simply Googling "dogs in ball pits" and watching any of them will probably convince you that a pit is exactly what your pup needs in their life!
But even if you love the idea of a ball pit for your dog, you might not be sure what features you should be looking for. To help you out, we've rounded up our favorites, plus included some advice for pet parents to help you choose the best ball pit option for your furry friend.
Our Top Ball Pit Picks
All featured products are chosen at the discretion of the author. However, Vetstreet may make a small affiliate commission if you click through and make a purchase.
How We Chose Our Top Dog Ball Pits
Don't tell the dogs, but most ball pits on the market are actually designed for kids. The good news is that means they're manufactured to strict quality control standards and use safe, non-toxic materials like BPA-free plastic.
When choosing which dog ball pits to feature, in addition to noting the general reputation of each brand in terms of manufacturing processes and quality construction, and relying on our own experience as parents of an enthusiastic dog who loves ball pits, we also considered the following:
Safety. Whether the construction or use of dog-friendly materials, ensuring the safety of the dog ball pits on our list was a top priority during the selection process.
Ease of assembly/storage. Let's be honest, you're buying something like this to entertain your pup and make your life easier, not harder, so we kept that in mind when looking at the assembly and storage processes for each pick.
Price. We included a range of ball pits at a range of price points to make sure we were covering a variety of budgets.
Ratings and reviews. Finally, we scoured the review section for you and only featured products with a high average rating and a good number of happy pet parents.
7 Best Dog Ball Pits for Playtime
Ready for pup playtime? We've looked at a huge selection of ball pits for dogs available online and picked 7 of the best. From sturdy foam ball pits to huge options for large dogs to a top-of-the-line model, we've got something for everyone!
Best Overall Dog Ball Pit
Our Pick: MEOWBABY Round Foam Ball Pit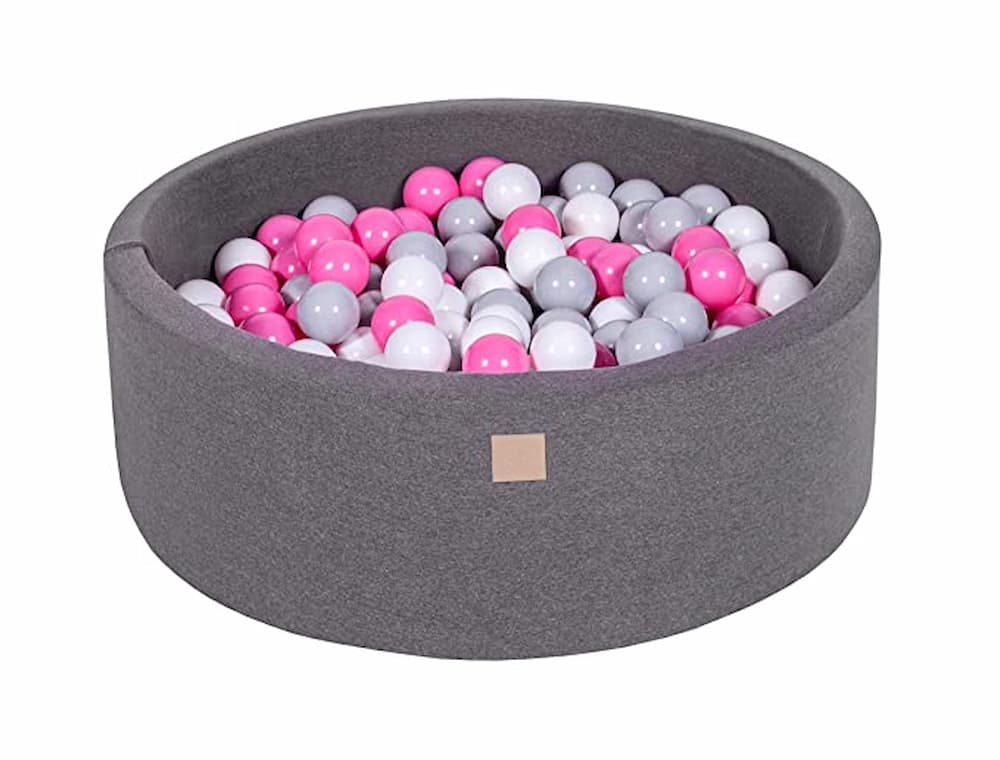 There are a few key reasons why this ball pit topped our list as the best overall. The soft foam sides are hard-wearing yet also soft — perfect for enthusiastic dogs who launch themselves into fun! And unlike some pits that don't include balls, this one comes complete with 200 color-coordinated balls to suit a wide range of home decor. Plus, the foam pit itself, washable cotton-blend cover, and balls are all made using non-toxic materials that are safe for your dog. It measures 35" in diameter and is 7" tall.
Pros
Includes 200 balls
Choose from over 10 different colorways to fit with your decor style
Crafted from non-toxic materials
Cover is machine washable
Cons
May be too small for larger dogs
Higher price point
Cover can be difficult to remove
Best Premium Dog Ball Pit
Our Pick: Milliard Professional Quality Ball Pit
Some ball pits aren't that well made and may rip or tear after only a few uses. If you know your dog loves ball pits and you want to invest in a sturdier option, this professional-grade ball pit is just right. Measuring 44" in diameter and 10" tall, it's made of heavy-duty foam and has an easy-clean cover that can be both wiped down or removed for a complete wash. One thing to bear in mind is that this doesn't come with balls; the manufacturer recommends using 400 balls to fill halfway, or 800 balls for a complete fill.
Pros
High-quality, sturdy foam construction
Two color options
Machine-washable vinyl cover can be also be wiped down
Cons
Balls not included
Higher price point
Best Value Dog Ball Pit
Our Pick: EocuSun Pop-Up Ball Pit
Coming in at under $20, this pop-up ball pit is the perfect pick for smaller pups, or if you want to test out the idea of a ball pit for your dog without the financial commitment. It's made of durable, non-toxic polyester material and folds up for simple storage when not in use. Plus, even though this ball pit doesn't come with balls, if you buy a few of these packs, it'll still work out to be cheaper than many of the options on our list.
Pros
Pops up for simple setup and break down
Non-toxic materials
Fabric wipes down for easy cleaning
Great price point
Cons
Doesn't come with balls
Probably not sturdy/durable enough for large dogs
Best Ball Pit for Large Dogs
Our Pick: Marlbside Baby Playpen
Yes, this is technically a playpen for babies; however, it also makes a great supersized ball pit for large dogs. Measuring 71" x 59" x 26", this large ball pit features strong alloy steel supports with oxford fabric and mesh sides, as well as anti-slip suction cups on the bottom to keep it in place on the floor. There are two zipped mesh gates that can be closed once your dog's inside, or some dogs may even just jump over the sides to let themselves in! Balls are sold separately— and you're going to need a lot of them – so just keep that in mind.
Pros
Large size is perfect for multiple dogs and large breeds
Sturdy steel construction with oxford and mesh fabric
Two zippered gates for simple entry and exit
Easy to assemble
Cons
Mesh sides may get ripped over time
Doesn't include balls
Higher price point
Best Ball Pit for Small Dogs
Our Pick: Kiddey Pop Up Ball Tent
If you're looking for an option for your petite pup, this small ball pit for dogs is a great choice. Measuring 39" x 39" x 39", the pop-up tent is double-stitched for durability and quick and easy to assemble. Because it's a tent style, it has a fabric top and also features a roll-down doorway. Plus, it includes 100 balls. When not in use, the tent can be folded down and kept in the included storage bag.
Pros
Includes 100 BPA-free balls
Very easy to assemble
Folds down for simple storage
Great for indoors or outdoors
Cons
Mesh sides may rip over time
May tip over during boisterous play
Some small dogs might find it difficult to get out of the door
Best Portable Dog Ball Pit
Our Pick: OMNISAFE Ball Pit
If you're looking for a dog ball pit to take along with you, whether on puppy playdates or maybe even a vacation rental, this one is an excellent choice. Its generous 51" diameter and 11.8" height makes it a great choice for dogs of varying sizes. Plus, it's covered with durable, eco-friendly oxford fabric and folds down easily and compactly for simple transport. Just don't forget to leave room in your car for the balls (which are not included).
Pros
Durable, waterproof oxford fabric
Folds down for easy storage and portability
Can be used indoors or out
Easy to wipe clean
Great price point
Cons
May not fit very large dogs
Balls are not included
Best Ball Pit Game For Dogs
Our Pick: Hide N Side 5-Piece Ball Pit, Tents, and Tunnels
Taking the fun of the standard ball pit for dogs even further, this pop-up obstacle course-type playset can provide tons of entertainment for your pup. The multi-piece set includes 2 tunnels that attach to triangular and cube-shaped tents, as well as an open-top ball pit. Dogs can run in and out of the tents and through the tunnels, landing in the ball pit at the end for loads of active play and excitement. And while this playset is a bit larger when it's all set up, it folds down incredibly compactly, making storage a breeze.
Pros
Provides additional activity for dogs beyond the ball pit
Made of durable polyester material
Folds for easy storage
Pieces can be used individually or together
Cons
Some of the features geared toward kids (basketball hoop, Velcro dart wall) may be wasted on dogs
May not work for small spaces or large dogs
Balls are not included
Dog Ball Pit Buyers Guide
You'll find a huge selection of ball pits to choose from online, and since a lot of them are actually designed for children, you'll need to choose something that can stand up to your pup's enthusiasm. Here's what to consider when buying a ball pit for dogs.
Materials. Doggy ball pits come in all shapes and sizes, but it's important to select one made from pup-safe materials. Choose balls made from non-toxic, BPA-free plastics in case your dog decides to chomp on one. If your pup is large and prone to over-excitement, then a foam ball pit may be more suitable than a mesh option that could get damaged while they play.
Design. From round ball pits that will fit just one small dog, to large rectangular options for multiple pups to play in together, there are a lot of different designs of ball pit to choose from. Before investing in one that might not work, consider the size of your dog(s) and be sure to choose a design to suit your situation.
Reviews. Even if most ball pits are geared toward kids, the reviews will still give you a good idea of durability, quality, and other practical considerations, like whether it has a washable cover that can be removed or wiped down. In addition to reading the good reviews, it's also worth looking at reviews with a lower number of stars to discover some more negative points you might want to bear in mind. If you can't find answers, check out the customer questions section — or add a question of your own!
Balls. You've probably noticed that we've called out which ball pits don't include balls in our reviews. Many ball pits are advertised using photos showing them filled to the brim with balls — but it's always worth checking to see if these are actually included! If not, you'll need to purchase them separately. It can take up to 1000 balls to fill a small ball pit, and while it's not always necessary to fill it to the very top, you do want to make sure to factor that into your budget.
Dog Ball Pit FAQ
Still got questions about how to choose — and use — a ball pit for your dog? Don't worry, we've got answers.
Are ball pits safe for dogs?
Ball pits are generally safe for dogs but should always be used under your, or another responsible adult's, supervision. If your dog is very ball-oriented (or chew-happy), watch them closely as they may try to take the balls into their mouth rather than simply playing with them within the pit. You know your dog best, so while you may be able to train your dog not to pick up the balls, you might also decide that a ball pit isn't the right type of entertainment for them.
Make sure you choose high-quality, dog-proof balls made from non-toxic materials. Check the balls regularly for signs of wear and tear. Remove any balls that have collapsed or been punctured by your dog's teeth. You might also want to wash both them and the ball pit down using a disinfectant rinse from time to time.
Can I make a DIY ball pit for dogs?
Absolutely! If you don't have a pit, you can stack some storage crates or cardboard boxes in an 'L' shape in the corner of a room to make your own DIY version. Fill the space between the boxes and the wall with balls. You also might need to fill the boxes with something heavy so they stay in place. If your dog seems to be having the time of their life, you may even decide investing in a ball pit that you can leave up permanently is the way to go.
Can I use a children's ball pit for my dog?
All of the ball pits you'll find that are suitable for dogs are designed for kids! You'll find plenty of great styles to choose from. Usually toys designed for kids are made to high quality-control standards and use non-toxic materials, which gives us pet parents peace of mind too!