The Best Chew-Proof Dog Bed: 7 Tough Favorites to Try
Updated on March 09, 2022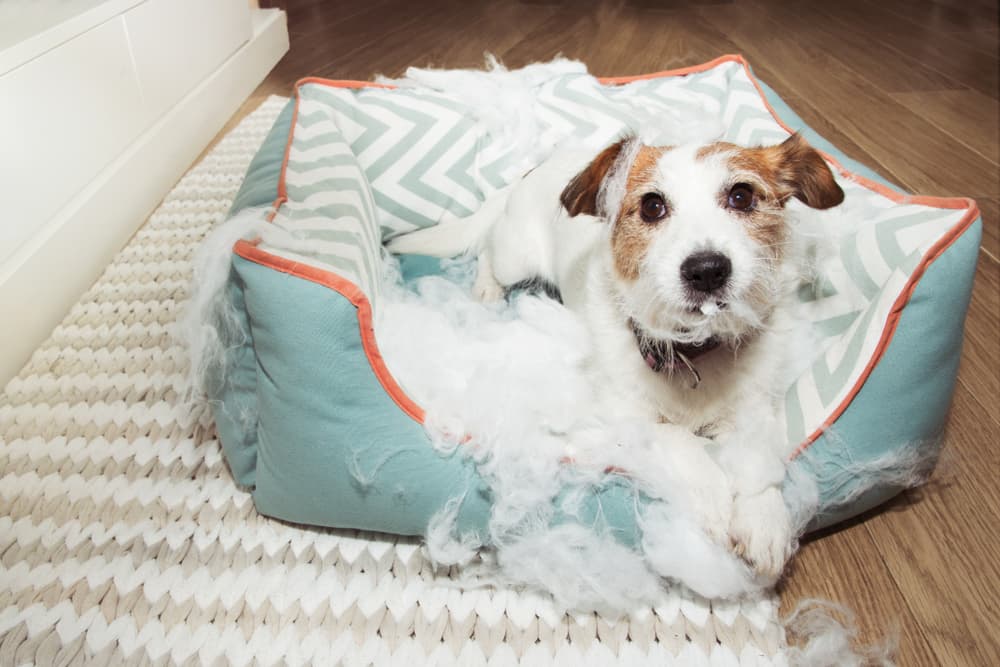 As a pet parent, you have plenty of dog beds to choose from. There are orthopedic beds, bolster beds, and even dog beds shaped like teepees. But if your dog is a heavy chewer, you're probably looking for a chew-proof dog bed that cannot be destroyed.
While no dog bed is truly indestructible, there are high-quality, durable options out there that will stand up to dogs who like to gnaw and destroy their belongings. We've rounded up our favorite tried and tested chew-proof dog beds that are long-lasting and undeniably tough.
Our Top Picks
How We Selected the Best Chew-Proof Dog Beds
When rounding up our list of the best chew-proof dog beds, we took into consideration safety, comfort, durability, ease of cleaning, and any warranties offered by the manufacturers.
We also took into account our personal experience using these beds with our own dogs and other customer reviews.
Lastly, we factored in price and availability—making sure that these beds were easy to find at online retailers or popular pet stores.
All featured products are chosen at the discretion of the author. However, Vetstreet may make a small affiliate commission if you click through and make a purchase.
Best Dog Bed for Heavy Chewers
Our Pick: K9 Ballistics Chew Proof Elevated Dog Bed
| | |
| --- | --- |
| Sizes and Dimensions (LxWxH) | Small (29 x 18 x 3.5 inches), Large (41 x 27 x 5 inches), X Large (47 x 29 x 5 inches), Giant (50 x 33 x 7) |
| Colors Available | Blue, Snow Camo, Tan Black |
| Bed Type | Elevated |
| Warranty | 120-day warranty |
For a dog bed that is actually indestructible, turn to this elevated option from K9 Ballistics. The frame is made from sturdy, chew-resistant aluminum with a ripstop ballistic fabric as the main sleeping area. The fabric comes with a 180-day chew-proof warranty and we love that the bed is slim enough and designed to easily fit in a crate. There is also a 120-day chew-proof armored warranty on the bed frame, so if your dog damages any part of the bed, the company will replace it free of charge.
Highlights
Made out of strong aluminum and ripstop ballistic fabric.
Designed to fit in standard-size dog crates.
Easy to wipe clean.
Comes in three colors and one pattern.
Available in five different sizes.
Offers two different replacement warranties.
Things to Consider
This is not a soft, padded bed, so some dogs may not like it.
The elevated bed may not be ideal for some dogs.
Some reviewers said the bed was a bit noisy when their dogs got in and out.
Most Comfortable Chew-Proof Dog Bed
Our Pick: Carhartt Durable Canvas Dog Bed
| | |
| --- | --- |
| Sizes and Dimensions (LxWxH) | Small (20 x 28 x 4.25 inches), Medium(27 x 35 x 4.25 inches), Large(33 x 41 x 4.25 inches) |
| Colors Available | Carhartt Brown, Dark Brown, Duck Camo, Mossy Oak. Available with or without Sherpa Top |
| Bed Type | Pillow |
| Warranty | None available |
Carhartt as a brand is known for its toughness and durability and they are bringing the same characteristics to their canvas dog bed. This bed is made from 12-ounce-firm cotton duck canvas with a non-toxic water-repellent coating. Even tough chewers will have a difficult time ripping apart this dense fabric. It's a nice, soft bed for pups, with a polyester fill. The canvas shell is washable, which makes cleaning nice and easy. This bed is available in different colors and patterns and you can get a couple options with a sherpa top for added softness.
Highlights
Durable, high-quality canvas material.
Water-repellent coating makes this bed suitable for outdoor use.
This is a soft bed, making it comfortable for most dogs.
Available in different colors and patterns.
Removable shell that is washable.
Things to Consider
The underside of this bed is also canvas, so it may slide a bit on hard floors.
Some reviewers did not like the density of the fill.
Some reviewers also said that this bed didn't stay fluffy for very long.
Best Memory Foam Chew-Resistant Dog Bed
Our Pick: Dogbed4less Premium Denim Memory Foam Dog Bed
| | |
| --- | --- |
| Sizes and Dimensions (LxWxH) | Medium (37 x 27 x 4 inches), Large (41 x 27 x 4 inches), Extra Large (47 x 29 x 4 inches OR 40 x 35 x 4 inches), Jumbo (55 x 47 x 4 inches) |
| Colors Available | Blue Denim |
| Bed Type | Orthopedic Memory Foam |
| Warranty | None available |
While denim isn't totally indestructible for very determined dogs, it is tougher than a lot of other dog-bed materials. That's why we like this denim-covered memory foam bed from DogBed4less. Not only does the denim look stylish in a lot of home decor settings, but the heavy weight of the fabric makes it hard for a dog to tear into it. This is a comfortable chew-resistant dog bed with a 4-inch therapeutic, gel-infused memory foam mattress. It comes in seven different sizes ranging from small to jumbo, and we love the waterproof internal cover. The denim exterior is removable and washable and the internal cover is easy to wipe down.
Highlights
Durable denim is chew-resistant.
Looks clean and stylish in most homes.
Memory foam mattress is comfortable and thick.
Available in seven different sizes.
Easy to clean.
Things to Consider
Not fully chew-proof. Best for moderate chewers.
Some dogs may not like the feel of the denim cover.
The internal cover can be a bit noisy. It makes a crinkle sound.
Most Versatile Chew-Proof Dog Bed
Our Pick: Kuranda Chew-Proof Dog Bed
| | |
| --- | --- |
| Sizes and Dimensions (LxWxH) | Mini (25 x 18 x 7 inches), Small (30 x 20 x 7 inches), Medium (35 x 23 x 7 inches), Large (40 x 25 x 7 inches), X Large (44 x 27 x 9 inches), XX Large (50 x 36 x 9 inches) |
| Colors Available | Burgundy, Forest Green, Khaki, Smoke |
| Bed Type | Elevated, Orthopedic |
| Warranty | 1-year warranty |
This was one of our favorite elevated dog beds, and it's making a showing here too because it stands up to tough chewers. The PVC frame is strong and sturdy and the Cordura nylon sleeping area is also pretty indestructible. This bed holds dogs up to 100 pounds and it is loved by shelters and rescues, so you know this bed has to hold up! You can choose from a couple different color options, too. It's a no-fuss, chew-proof dog bed that we can definitely get behind.
Highlights
Elevated off the ground for comfort..
Strong PVC frame and Cordura nylon makes this chew-proof.
Holds dogs up to 100 pounds.
Four different nylon colors to choose from.
Comes with a 1-year warranty.
Things to Consider
Does not come assembled and some said assembly was tricky.
It's not padded or cushioned.
It is on the pricey side given its minimal design.
Best Affordable Chew-Proof Dog Bed
Our Pick: Amazon Basics Cooling Elevated Dog Bed
| | |
| --- | --- |
| Sizes and Dimensions (LxWxH) | Extra Small (27.56 x 21 x 7.28 inches), Small (7.7 x 21.65 x 7.3 inches), Medium (7.7 x 25.59 x 7.7 inches), Large (59.8 x 37 x 8.9 inches), Extra Large (51.3 x 31.5 x 7.6 inches) |
| Colors Available | Green, Gray |
| Bed Type | Elevated, Cooling |
| Warranty | None Available |
There's a lot to love about this elevated dog bed from Amazon Basics. And at the top of our list is the price! This sturdy bed comes in under $40 for the largest size (XL) and costs under $20 for the smallest size (XS). But the price isn't the only thing this dog bed has going for it. The strong iron frame will hold up to gnawing and the PVC fabric is tough and durable. This bed also has the added benefit of cooling technology, which is perfect for warm days.
Highlights
Sturdy iron frame and strong PVC fabric can withstand chewing
Can accommodate all types of breeds—even Great Danes!
Easy to clean
The price point is really attractive
Things to Consider
Not advertised as chew resistant, but it is a good fit for moderate chewers
Elevated bed may be too high for some dogs with joint or mobility problems
Assembly can be a bit tricky
Best Chew-Proof Crate Pad
Our Pick: Big Barker Orthopedic Dog Crate Pad
| | |
| --- | --- |
| Sizes and Dimensions (LxWxH) | Small (27 x 18.25 x 4 inches), Medium (33.25 x 21.25 x 4 inches), Large (39 x 25.25 x 4 inches), XL (44.75 x 27 x 4 inches) |
| Colors Available | Tan |
| Bed Type | Crate Pad |
| Warranty | 10-year warranty |
While this specific crate pad is designed to fit into standard-size crates to add comfort, it's just as comfortable and durable outside of the crate as a chew-resistant dog bed. We wanted to add this to the list because plenty of dogs sleep in their crates—even when their pet parents are at home. We like this one because it's not flimsy at all. It is 4 inches thick and made out of high-grade memory foam that contours to your dog's body and supports their joints. The fabric is military-grade Cordura nylon, so it's meant to resist tough chewing, scratching, or gnawing. This is a big bonus for a crate pad, since many of them are thin and easy for bored pets to destroy! The cover is also easy to remove and machine washable—plus, it's completely waterproof to stand up to accidents. What's not to love?
Highlights
Exterior fabric is heavy duty Cordura nylon designed to be chew resistant.
Fits into most standard-size crates. Size accordingly.
4-inch thick memory foam for comfort.
Cover is machine washable and waterproof.
Made in the USA.
Big Barker is known for quality customer service and they offer a 10-year warranty on their products.
Things to Consider
If you plan on using it in a crate, make sure to take correct measurements to ensure fit.
It is not completely chew proof. The cover is chew resistant, but tough chewers may rip it.
If dogs do happen to chew through the cover or open the zipper, the foam inside doesn't stand a chance.
It's on the expensive side for a crate pad, but it is a high-quality, durable option.
Best Indoor-Outdoor Chew-Resistant Bed
Our Pick: Pet Craft Supply Super Snoozer Durable
| | |
| --- | --- |
| Sizes and Dimensions (LxWxH) | Large (40 x 30 x 4 inches) |
| Colors Available | Chocolate (brown), Cloud (light gray), Pewter (dark gray) |
| Bed Type | Pillow |
| Warranty | None Available |
If you're looking for a chew-resistant dog bed that can be used both indoors and outdoors, look no further. This soft-yet-strong option from Pet Craft Supply is ideal in both scenarios. It has UV protection to protect it from fading and it has a water-resistant finish to help moisture wick off easily. But, it's also comfortable, soft, and supportive—which isn't something you always find in a dog bed designed for the outdoors. This is a durable bed and features chew-resistant fabric, but it won't withstand chomping from heavy chewers or dogs that really know how to destroy their things! But if you're looking for a moderately priced, sturdy bed that can be used inside and outside, this is an ideal pick.
Highlights
Can be used both indoors and outdoors
UV protection keeps it from fading
Water resistant material
Soft and comfortable
Machine washable and easy to clean
Chew resistant fabric is ideal for moderate chewers
Things to Consider
Won't hold up against heavy chewers
Only available in one size, which may not be ideal for all dogs
Does not have a removable cover. Bed may be large for some washing machines.
Chew-Proof Dog Bed Buying Guide
When shopping or searching for a chew-proof dog bed, there are some important things to keep in mind. Here's what you should consider and research before purchasing a bed for your mouthy pup.
Safety
Tough dog beds should still be made from materials that are safe for dogs. And even though they are labeled as chew proof, pet parents should pay extra attention to things like zippers, buttons, or plastic that could wind up in your dog's mouth. Look for products that undergo safety testing for peace of mind.
Comfort
Even if you're buying a chew-proof dog bed, it needs to be comfortable for your dog. Or else, he's not going to sleep on it. Look for beds that have layers and padding to provide softness in addition to durability. You can also consider beds with bolsters for dogs that like to burrow or sleep against something.
Material and Construction Quality
Chew-proof dog beds should be made out of durable, high-quality material that is difficult for dogs to rip or tear apart. Look for beds that are made out of materials like ballistic nylon, thick denim, nylon or polyester ripstop fabric, or heavy canvas for the best results. Look at the bed's construction as well. Seams should be reinforced and strong.
Ability to Clean It
Dog beds get dirty and there's no way around it. A chew-proof dog bed needs to be easy to clean—whether you can put it in the washing machine or it's easy to wipe or hose down. Make sure to look into and read about the cleaning process before buying to make sure it will fit into your lifestyle.
A Replacement Policy or Guarantee
It's a huge bummer if you buy what is supposed to be an indestructible dog bed only to have your dog tear it to shreds a week after you bring it home. If a company claims their bed is indestructible or chew-proof, it should come with some sort of replacement policy or a warranty to ensure that you get what you're paying for. Make sure to review any sort of policies or warranties before buying.
Why Do Dogs Chew Their Beds?
Dogs display chewing behaviors for a variety of reasons. And while proper training and working with a dog behaviorist to try to curb your dog's chewing is important, it's helpful to know why your dog may be snacking on his sleep area.
Here are some common reasons dogs chew on their beds:
Boredom
If dogs do not get enough mental stimulation or physical activity their behaviors can turn destructive. They need somewhere to focus their energy and attention, and they may begin chewing items in your home—including their own bedding and toys. Making sure your dog is getting plenty of exercise or keeping busy with puzzle toys may help to cut down on chewing habits.
Teething
If puppies are teething, they try to soothe themselves by chewing on items. Puppies also explore the world with their mouths, so they may be inclined to gnaw on their beds or your favorite pair of shoes! If your puppy is constantly chewing on her dog bed, substitute with teething toys or redirect her attention to other activities.
Anxiety
Dogs may chew on their beds due to stress or anxiety—whether it's triggered by an event like guests in your home or a veterinary visit or it's something more chronic, like separation anxiety. If you believe anxiety is causing your dog's chewing, consider looking into anti-anxiety supplements for your dog or consult a behaviorist to help ease your dog's stress.
Lack of Training
Some dogs chew their beds simply because they weren't trained properly not to—and that's okay. It's never too late to start focusing on training your dog and redirecting his chewing behavior to something more productive like a tough chew toy or a dental treat. Training takes time, so don't get frustrated. Approach it with an upbeat attitude and use positive reinforcement to help your dog learn not to chew.