Sundays for Dogs Review: Healthy, Easy, Air-Dried Dog Food
Published on May 11, 2022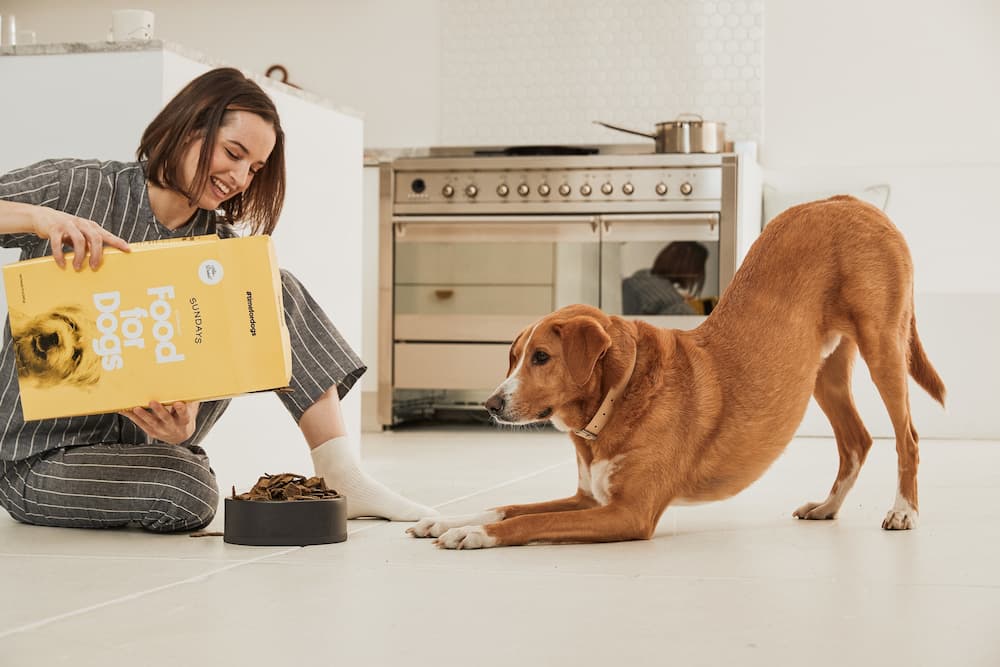 All featured products are chosen at the discretion of the author. However, Vetstreet may make a small affiliate commission if you click through and make a purchase.
Fresh and frozen dog foods have become popular in recent years thanks to their minimally processed and nutrient-rich formulas, but one of the major downsides to these foods is that they often require refrigeration and can be fairly messy to serve. If you're hoping to keep mealtime mess-free but want to upgrade your pup from standard kibble, an air-dried dog food like Sundays for Dogs might be just what you need.
Sundays for Dogs is one of just a few air-dried dog foods available today, and its appeal is that it's made from all-natural, nutritious ingredients yet can still be stored at room temperature and served easily. I love the idea of a low-maintenance food that's better for my dogs, so I tested out Sundays for Dogs over the course of a few weeks to see how it stacked up against regular kibble.
Use code VETSTREET35 and get 35% off your first purchase
What is Sundays for Dogs?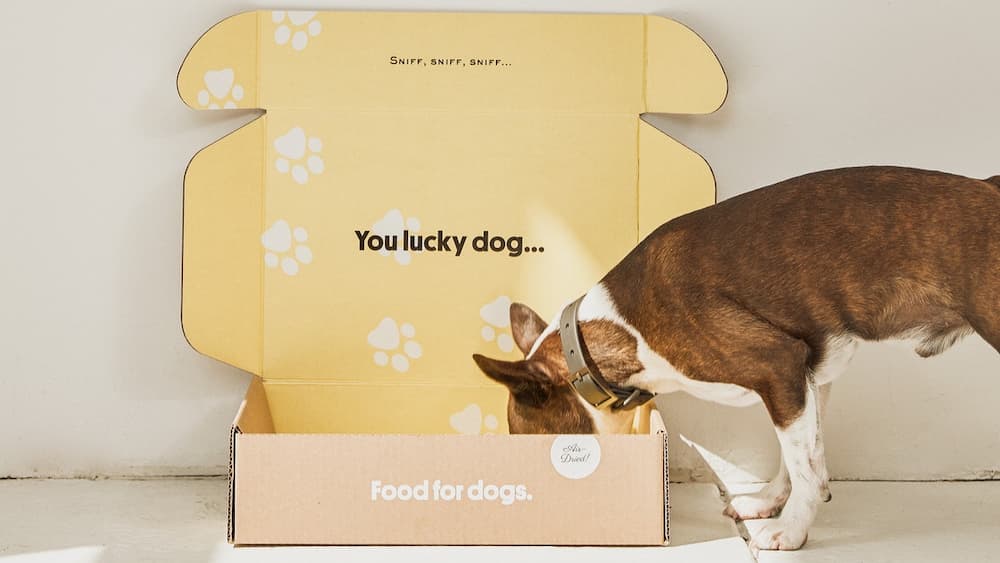 Founded by a veterinarian who was looking for better food for her own pup, Sundays for Dogs was designed as an alternative to regular kibble for owners who don't necessarily want to switch their dog to fresh or homemade food. The brand's tagline is "Fresh without the fridge," and its unique air-dried formulas are made from all-natural, human-grade ingredients. In fact, as you read through the ingredient list, you'll probably recognize every single item, as there are no chemicals, preservatives, or artificial ingredients. There are also no "anti-nutrients," such as wheat, soy, rice, corn, or potatoes, which the brand claims can interfere with the absorption of essential nutrients.
Sundays dog food is manufactured at a USDA-monitored human-grade food facility in the Midwest, and the brand takes a number of steps to ensure the quality of its food. Every batch of food is tested for foodborne diseases such as salmonella and E. coli, and it's tested at the beginning, middle, and end of the manufacturing process to ensure even mixing and nutrient distribution.
Sundays for Dogs: Recipes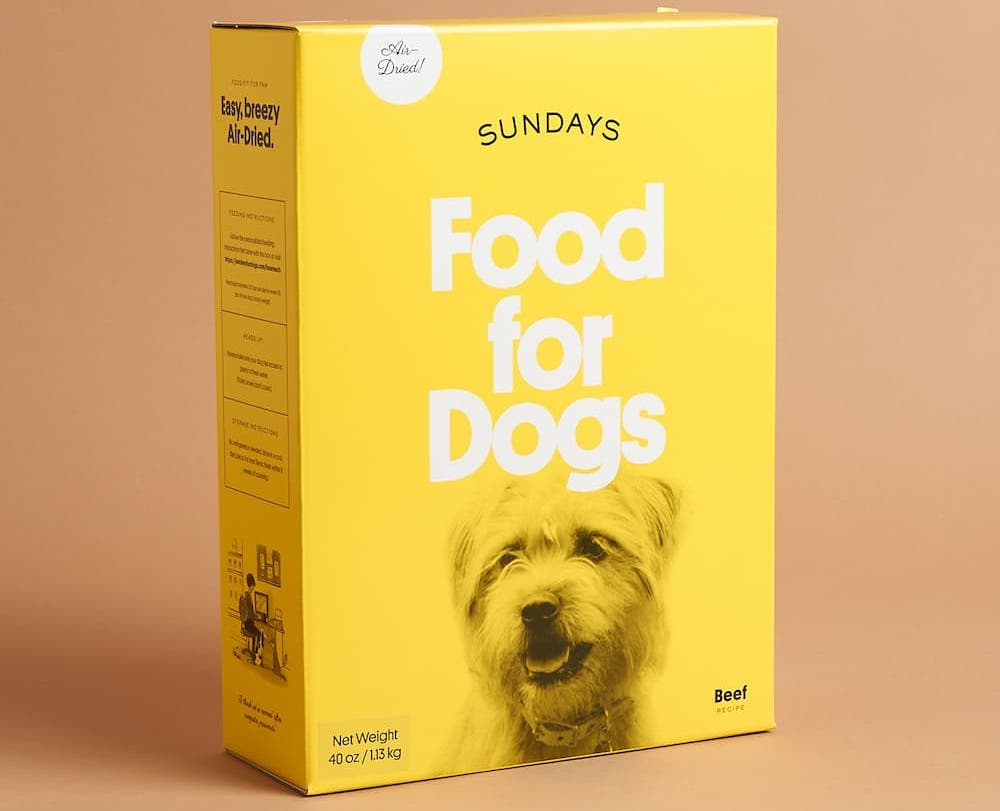 Sundays for Dogs currently offers two different recipes: chicken and beef. Both recipes are made from all-natural ingredients with no synthetic ingredients, and the food is air-dried to preserve the nutrients and flavor. The formulas were created with the help of animal nutritionists, food scientists, and veterinary nutritionists, and both meet the nutritional levels established by the Association of American Feed Control Officials (AAFCO) dog food nutrient profiles for all life stages.
In the chicken recipe, the first five ingredients are chicken, chicken liver, eggs, millet (a type of grain), and oats, and the first five ingredients in the beef recipe are USDA beef, beef heart, beef liver, beef bone, and quinoa. Both recipes also contain a lot of nutritious fruits and vegetables, including pumpkin, kale, blueberries, carrots, and apples, and they have ingredients like fish oil that provide omega-3 and -6 fatty acids for skin and coat health. They're also high in natural sources of glucosamine and chondroitin, which are beneficial for your dog's joint health.
Putting Sundays for Dogs Food to the Test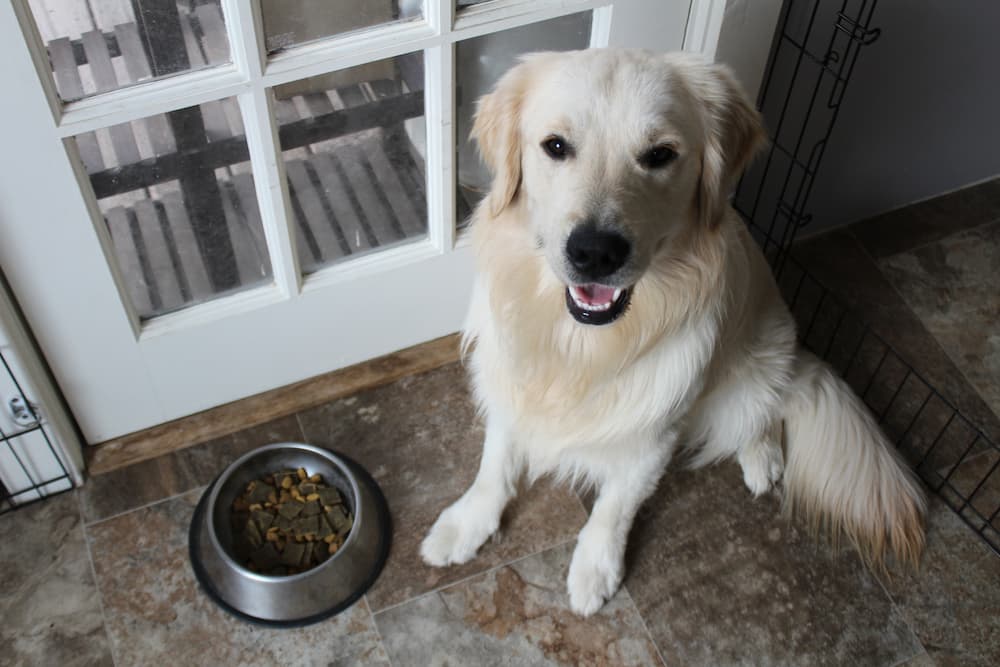 Though I have two dogs—Addy, a 3-year-old Golden Retriever, and Ace, a 1-year old Golden Retriever—I decided Ace would be a better candidate to try out this new food. Addy has a sensitive stomach and doesn't react well to food changes, but Ace has a stomach of steel. He can (and will) eat virtually anything, so he was the lucky pup who got to taste-test Sundays.
We received two 40-ounce boxes of the brand's dog food, one of each recipe. It comes in brightly colored boxes that are roughly the size of a large "family size" box of cereal. The package also included a "Sundays newspaper" with information about the brand, a sheet of cute stickers, and a guide for transitioning your dog to the new food. Inside each box, there was a resealable plastic bag. Again, much like cereal packaging, there's a good amount of space in the bag, so it feels a bit like you're not getting as much as you "should." Smaller boxes and bags could accommodate the same amount of food, which would help cut back on packaging waste.
As far as the food itself goes, it comes in long, flat pieces, the largest of which are around 2-3 inches long. The pieces break easily, which may be necessary for smaller dogs, and both my dogs were instantly drawn to the smell, which reminded me of jerky treats. What's great about this food is that it's truly mess-free to serve—the air-dried formula can be stored at room temperature, and I just used our regular kibble scoop to dole it out.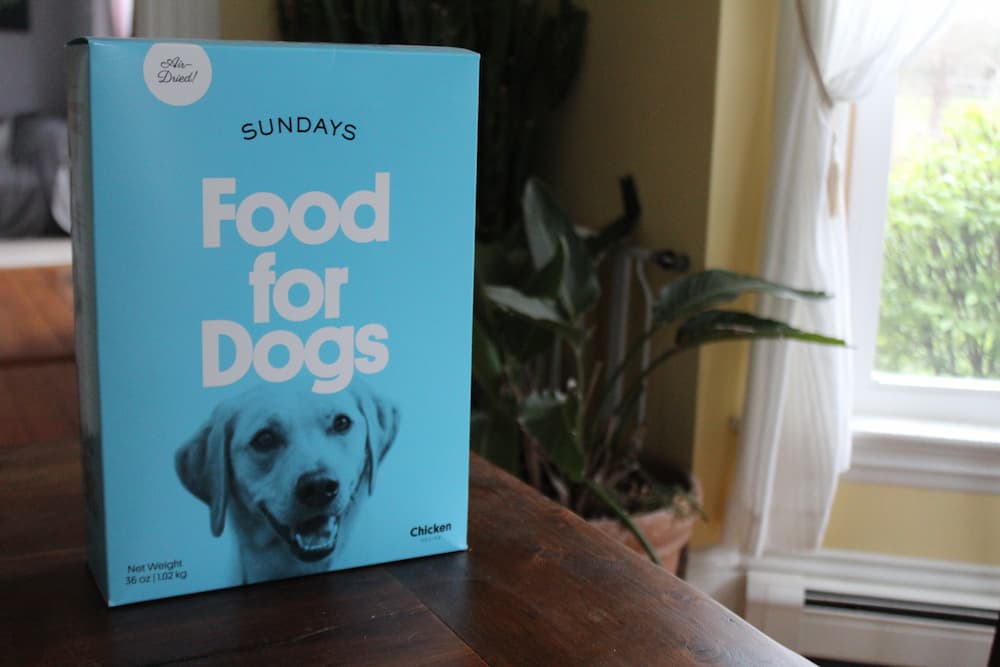 I used the brand's online calculator to figure out how much food to give Ace, and it recommended 1.5 cups twice per day. The calculator also noted that a 40-ounce box would likely last us four days, and after doing some quick mental math, I realized the two boxes weren't enough food to fully transition Ace all the way over to Sundays and then back to his regular food. (The brand recommends gradually switching to Sundays over the course of 10 days.) So instead, I followed the transition guide, adding Sundays to his usual kibble every day for a week, until he was eating 50% Sundays and 50% his regular food. With this method, we were able to stretch the food out for a few weeks. I noticed that Ace ate the pieces of Sundays before touching his regular kibble, so I think it's safe to assume he liked the taste of it! He did have loose poops for the first few days of the transition, but that's to be expected any time you change your dog's food.
While Ace happily ate the food (no real surprise there), I didn't notice any changes in his behavior or well-being during the short trial run that he ate Sundays. His energy levels were the same—high—and he was still shedding horribly, if only because it's spring. I did like that Sundays offers a food comparison tool that allowed me to see the exact differences between Ace's usual dry dog food and Sundays for Dogs, listing out what additives are in the kibble. However, Sundays' high price tag can be hard to justify for pet parents like me who have larger dogs. For this reason, I'd be more likely to serve this food as a topper or treat rather than an everyday meal.
Things We Like
Both recipes have easy-to-read ingredient lists with lots of fruits and vegetables.
The food is shelf stable and extremely easy to serve.
My dogs loved the taste of both recipes, but they got extra excited for the chicken formula.
Sundays for Dogs is formulated to meet the AAFCO nutrient profiles for all life stages, including growth of large breed puppies.
The brand employs a veterinarian nutritionist and an animal nutritionist Ph.D. to formulate and review their dog food recipes.
The food is manufactured at a USDA-monitored human-grade food facility in the U.S.
Every batch of food is tested for foodborne diseases such as salmonella and E. coli.
Things to Consider
I had serious sticker shock when I saw how much Sundays for Dogs costs. A 40-ounce bag (roughly 2.5 pounds) is $75, or if you sign up for a four-month subscription, it drops to $59 per bag. Keep in mind that Sundays is roughly twice as dense as kibble, so you feed less of it. And, given its wholesome, air-dried ingredients, it's more like a premium jerky, which some pet parents may consider worth the expense. However, I can get about 10x the amount of our fairly expensive, quality kibble for roughly the same price as a box of Sundays for Dogs. When it comes to feeding a large dog like mine, that's a pretty drastic difference.
With a large breed dog, a 40-ounce box of Sundays only lasts a few days.
If your dog is finicky about food texture, be aware that the food in the bottom of the bag tends to get crushed. This may vary by formula, as I noticed it more in the beef recipe.
Use code VETSTREET35 and get 35% off your first purchase
Sundays for Dogs: Our Verdict
If you're looking for a more nutritious dog food than kibble but don't want to deal with the hassle of fresh food, Sundays for Dogs is a great option for your pup. This company does everything right—meeting AAFCO nutrient profiles, working with a veterinarian nutritionist, manufacturing in the U.S.—and their air-dried foods are made from natural ingredients and have a great taste that dogs love. The one big caveat is that this dog food is extremely pricey, especially if you have a large breed dog, but for many pet owners, this expense may be worthwhile to ensure your dog is getting the best nutrition possible.