6 Best Dehydrated Dog Treats
Published on September 28, 2021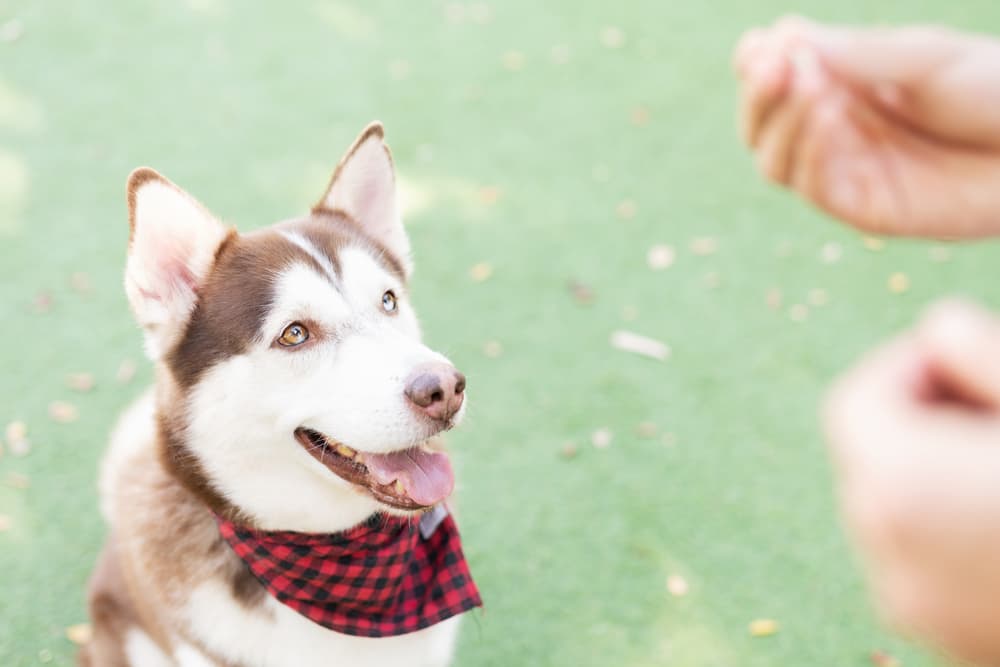 The nationwide push toward healthier lifestyles through less processed ingredients in our foods has permeated the pet industry. In 2020, emerging pet food formats—including dehydrated pet foods, freeze-dried pet foods, frozen pet foods, refrigerated and fresh pet foods, and meal enhancers—have contributed greatly to market growth, driven mainly by natural ingredient claims. Of the emerging formats, dehydrated foods represent the largest share of revenue, with sales growing roughly 10.7 percent in 2020 to the tune of $304.3 million (1).
With the popularity of dehydrated pet treats continuing to surge, and an influx of new commercially available options on the marketplace, we took a moment to break down the world of dehydrated treats and share a few of our personal favorites out there.
What are Dehydrated Dog Treats?
Dehydrated dog treats are treats—usually meat, fruit, or vegetable based—that have had the moisture (water) mostly removed from them through a light, gentle cooking process. Ingredients are softly dried at a low temperature that removes pathogens, and creates a product with a longer shelf-life. With the applied heat, dehydrated treats aren't technically raw.
Dehydrated treats started to become popular in the mid 2010s, when pet parents became fascinated with their own DIY recipes for making these treats at home. It wouldn't take long for the trend to take hold with pet treat makers, who followed suit and began stocking shelves with their own variations of dehydrated items.
Pet parents seek dehydrated dog treats for their health benefits, ease of handling (compared to raw products), and for the longer shelf life they provide.
Benefits of Dehydrated Dog Treats
Pet treats and foods are generally available in three formats, which differ based on their preparation and level of processing.
More Processed: Kibble-based foods and treats, prepared through cooking at an extremely high heat.
Less Processed: Dehydrated treats, where moisture is removed through a gentle cooking process to the point that they're not considered raw
Minimally Processed: Raw, or freeze-dried treats, which have moisture removed via dehydration at an extremely low temperature.
Dehydrated pet treats offer pet parents the option to serve their pet a slightly more natural and less-processed treat, without worrying about the handling issues sometimes associated with raw diets. Dehydration also preserves much of the original nutrition of the ingredient, providing key health benefits.
Dehydrated Dog Treats: What to Look For
When seeking out dehydrated pet treats for their own families, pet parents should first start by seeking companies/brands that are transparent in their ingredient sourcing. Currently, there are no requirements for FDA approval on pet foods before they go to market, but the FDA does ensure that pet food makers clearly label what's in their food and that they use safe ingredients (2). In turn, consumers should look to use companies that source ingredients from countries like the U.S. known for their high safety standards.
As they shop around, consumers should also be looking for products with easy-to-read labels. Products with single-word ingredients like chicken, beef, and fish, and that avoid using any additives known to be toxic to dogs (like onions, garlic, artificial colorings, or other preservatives) are preferable.
Pet parents can also look for company affiliations with organizations that advocate for humane, ethical, and clean sourcing. Some companies also tout veterinary recommendations, though pet parents should consult with their own veterinarian or nutritionist before making any decisions.
6 Best Dehydrated Dog Treats to Try
Navigating the world of dehydrated dog treats can be challenging. To make it easier for pet parents, we've rounded up some of our personal favorites on the market.
All featured products are chosen at the discretion of the author. However, Vetstreet may make a small affiliate commission if you click through and make a purchase.
Best Dehydrated Chicken Dog Treats
Our pick: Open Farm Dehydrated Chicken Treats
20% off first auto-ship order with code VETSTREET20
Open Farm is renowned for its transparency in ingredient sourcing, and for using ethically raised proteins in its treats and food products. Open Farm dehydrated chicken dog treats provide a flavorful option for pets, and in their bite-sized form double as the perfect training treat. At an affordable price point, Open Farm's treats provide pet parents peace of mind in knowing they are giving their family a higher quality item.
Highlights
Open Farm's ingredients are all ethically sourced and traceable to farms both in the U.S. and from countries known for their high food standards
At a little less than $10 a bag (before shipping), Open Farm is an affordable option for a higher quality treat
Things to Consider
Like all dehydrated treats, consider the quantity you think you'll realistically use before you over purchase, since you'll likely want to use the products within several weeks of purchase before they expire.
Best Dehydrated Sweet Potato Dog Treats
Our pick: Brutus & Barnaby Dehydrated Sweet Potato Slices
Brutus & Barnaby is a family-owned business that sources its ingredients only from areas with high food standards. (They source cattle from South America, and chicken right here in the U.S.). But perhaps the brand's most underrated offering comes in the form of its dehydrated sweet potato dog treats. These treats are easy to use (just open the bag) and offer a simple, clean vegetable-based snack option for dogs.
Highlights
The dehydration process preserves the natural antioxidants found in the sweet potato, and is a great source of vitamins and minerals that help complete your dog's nutrient needs without supplements.
The treats contain no fat, and no added sugar, and are also gluten free and grain free.
Things to Consider
The skins are thick cut, which may make it a more difficult treat for senior animals or animals with small mouths.
The price point is a little high (but worth it for a chance of pace) with a 14-oz bag costing approximately $19.99.
Best Dehydrated Fish Dog Treats
Our pick: The Honest Kitchen Ocean Chews Hearty Wolffish Skins
The Honest Kitchen stands on its reputation for using human-grade ingredients. In addition to its quality standards, The Honest Kitchen loves that its foods and treats have been vet recommended. The brand's hearty wolffish skins are "a one-ingredient, high-protein, keep-them-occupied chew that's a natural alternative to rawhide." It makes this list a slower-burn, longer lasting treat thanks to its extended chew time.
Highlights
The product is a single-ingredient…no additives, and no unnecessary fillers.
The product lasts longer than softer chews or treats.
The high-protein product is loaded with valuable omega-3s.
Things to Consider
As with most fish-based treats, the price point is a little higher at $19.99.
Best Dehydrated Fish Dog Treats: Runner Up
Our pick: Polkadog Bakery Cod Skin Sticks
Polkadog Bakery is a pet bakery founded in Boston, but delivering treats all across the country. Polkadog's single-ingredient, dehydrated cod skin sticks are wild caught and sourced at home in the U.S. They offer a simple dehydrated fish dog treat option, presenting a potential solution for dogs with meat-related sensitivities.
Highlights
The single-ingredient product contains no additional preservatives or additives, and is straightforward for purchase and consumption by pets
The product is earth-friendly, as it is a sustainable co-product.
Things to Consider
The price point is slightly high at $9.99 for a smaller 2-ounce bag.
Since it is single-ingredient, this treat is not a treat for pets who've put their nose up at seafood.
Best Dehydrated Peanut Butter Dog Treats
Our pick: Blue Ridge Naturals Peanut Butter Coated Sweet Potato Fries
Blue Ridge Naturals is a family-owned business hailing from North Carolina. They have a commitment to sourcing only 100 percent natural ingredients from the U.S., and provide access to treats at a price point that won't break the bank. Their easy-to-deliver dehydrated dog treat makes this list for its unique flavor profile, a distinct combination of peanut butter and sweet potato in a fun fry format.
Highlights
These unique treats are on the more inexpensive side at $5.29 a pack before shipping.
The unique flavor combination of peanut butter and sweet potato is a winner!
Things to Consider
Don't let the "fry shape" fool you—these treats are harder than a straight soft chew and take longer to consume than traditional training bites.
Best Dehydrated Pork Dog Treats
Our pick: PRIMAL Dry Roasted Pork or Buffalo Liver Snap Treats
PRIMAL provides pet parents all that they need to transition their pet to a more natural diet. The dehydrated liver dog treats they offer (the snap treats with pork liver or buffalo liver) provide a bite-size option that's great for training and on the move snacking.
Highlights
Single-source, high-protein snack.
No grain, gluten, or preservatives
No added salt or sugar.
Palatable price point—at roughly $10-$13 a bag (variable for pork or buffalo)
Things to Consider
Consumer reviews note the snaps are relatively hard, so you might need to break them up before feeding to your pet.
Smaller breeds with a smaller mouth may have a harder time with this type of treat.
How to Store Dehydrated Dog Treats
Pet parents who order dehydrated treats should take care to properly store treats, both to ensure quality and safety. Dehydrated pet treats should be stored in airtight containers at a cooler room temperature, rather than in warm locations. Even if human grade, these treats should also be kept away from other foods designed for human consumption. And pet parents should always take care to wash hands and remain sanitary after handling any dehydrated treats. Lastly, pet parents should remain mindful of potential expiration dates before serving.