The Best Dog Treats of 2023
Published on June 03, 2020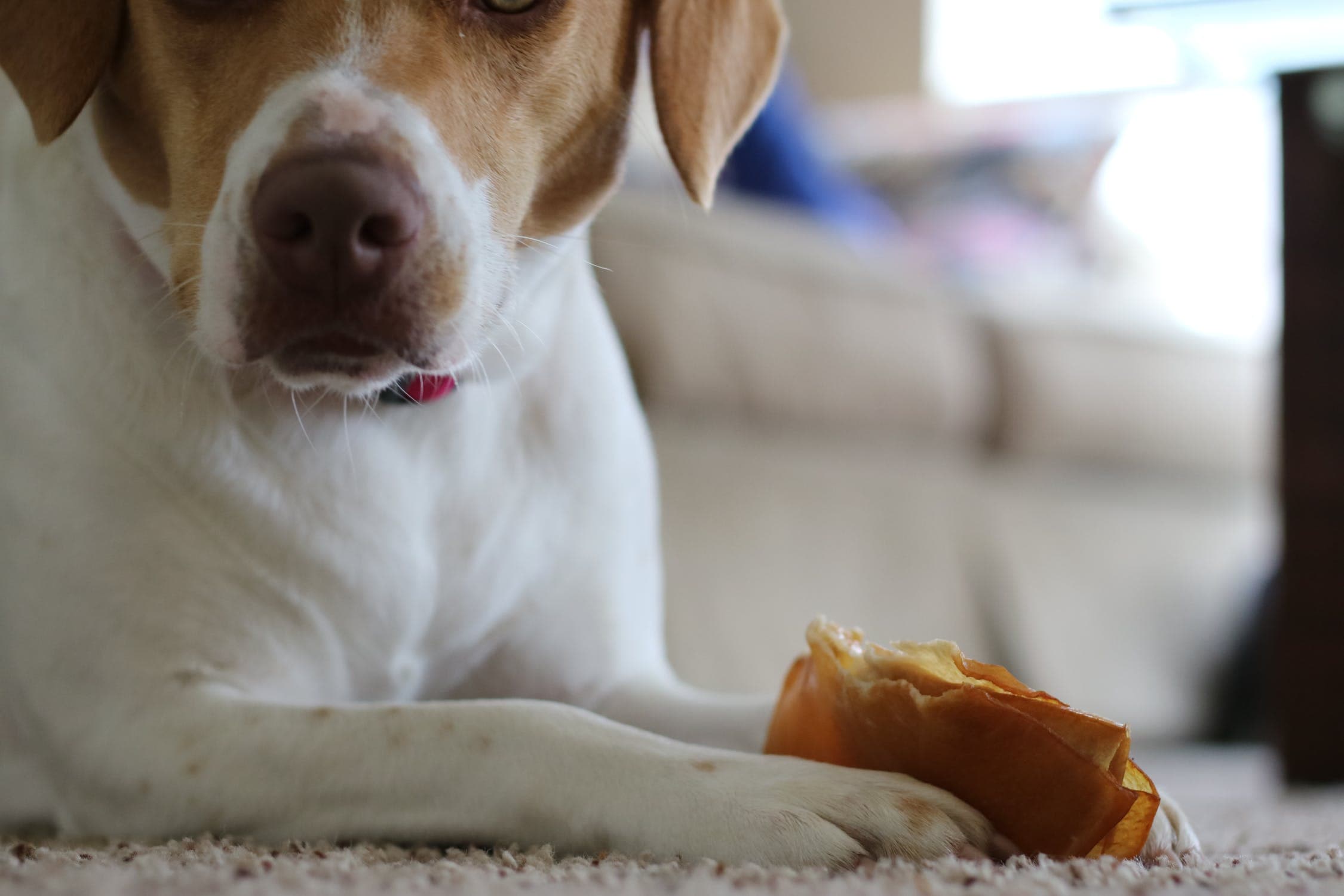 Dog treats are a win-win for both dog parents and their furry friends. Not only does almost every dog love a good treat, but they actually help pet parents train, use positive reinforcement, and create deeper relationships with their dogs.
We've narrowed down the best dog treats based on the specific needs of your pup so you can take out the guess-work and spend more time bonding with your buddy. Each of the following was selected based on a combination of customer reviews, quality ingredients, and price.
OUR WINNERS
All featured products are chosen at the discretion of the author. However, Vetstreet may make a small affiliate commission if you click through and make a purchase.
Best Dog Treats for Chewers
Our pick: Icelandic+ Wolffish Stick Chews Fish Dog Treat
Chewing is an ancestral trait in all dogs and it's important to make sure your dog gets the opportunity to really chew or else they may go for your favorite pair of shoes or your new sofa. If you find your dog has been chomping on your personal items lately, we highly suggest giving them Icelandic+ Wolffish Stick Chews to help them satisfy their craving to chew.
100% Edible. Wolffish Stick Chews are an exceptional option because they are 100% edible and digestible.
Fresh Single Ingredient. These single-ingredient treats (Wolffish Skin) are caught fresh daily in Iceland.
Nutrient-Rich. Naturally occurring Omega-3 fatty acids promote a healthy skin and coat.
Dense and Tough. Each Chew Stick is 5.5″ long and is extremely dense to challenge even the strongest of chewers.
Best Treats for Sensitive Stomachs
Our pick: Better Belly Pork Hide Twists
Save 35% off your first Autoship order + 5% on all future Auto Ship orders with your Treats Membership at PetSmart.com!
Dog moms and dads who want an easily digestible and tasty dog chew can feel good about offering their pups Better Belly Pork Hide Twists. Some traditional rawhide treats can be tough for dogs to digest and may even pose a choking hazard if large chunks break off and dogs swallow them. However, Better Belly uses an innovative manufacturing process to break down tough rawhide fibers, so your pup can digest Pork Hide Twist Chews with ease. Better Belly pork hide digests in a dog's body two times faster than standard pork hide. And because Better Belly twists contain no grain or gluten, even dogs with sensitive stomachs can enjoy these flavorful chews in a twisty, fun shape.
Free of artificial colors and flavors. Better Belly chews contain no grain and no gluten for dogs who are sensitive.
Highly digestible. Thanks to a unique manufacturing process, your dog more easily digests the pork fibers.
Minimal ingredients. Contains pork fiber and natural smoke flavor so pet parents need not worry about ingredient overload.
Best Treats for Puppies
Our pick: Wellness Natural Grain-Free Lamb & Salmon Recipe Soft Puppy Bites
If you want to start training your puppy on the right foot, it is essential to find a treat that they will enjoy. It's also important that the treats you give your pup are formulated specifically for their age, as they will need treats that they are able to chew and digest. We recommend Wellness Natural Grain-Free Lamb & Salmon Recipe Soft Puppy Bites to do the trick.
Easy to Chew. Formulated to be small, soft, and gentle for your pup's little teeth.
Great for Allergies. These treats are completely grain-free, making them an excellent option for puppies with allergies.
Nutrient-Rich. This recipe includes powerful nutrients such as omega fatty acids and antioxidants that promote health and vitality.
Long-Lasting Energy. Made with flaxseed and blueberries to give your pup a sustainable energy boost.
Best Treat-Based Subscription Box for Dogs
Our pick: HotSpot Pet Box
If your dog loves to chew, the HotSpot Pets Box will keep them satisfied and happy. Each month, a new variety of natural, healthy chews arrives at your doorstep. With 15 to 18 chews in each box, your dogs will delight in the varied flavors and textures of beef jerky, bully sticks, meat bones, pig and cow ears, and much more. HotSpot Pet Box does not include chews a from China and boxes are scheduled to arrive on the same date each month.
Available In Two Options. Small and medium dogs would do best with the light and medium chewers option. Larger dogs and those who can handle larger/thicker chews would do best with the aggressive chewers option.
Safely Sourced. All chews are US-sourced or from South American farms.
Free From Preservatives. Each chew is 100 percent free from hormones, antibiotics, and preservatives and is low odor.
Time Saver for Busy Pet Parents. Never worry about running out of treats or rushing to the local pet supply store.
Ideal for Multi-Dog Households. There's something for every dog to enjoy in each monthly box.
Best Jerky Dog Treats
Our pick: Hill's Natural Jerky Strips with Real Beef Dog Treat
There's no getting around it: dogs love jerky! There are many different options for jerky treats on the market, but we found Hill's Natural Jerky Strips to be the best Jerky Treat when it comes to ingredients, flavor, and overall pup satisfaction.
High in Protein. Real beef is the first ingredient in these treats, promoting lean muscle growth and maintenance.
Clean Ingredients. This recipe is made with quality ingredients that are free of artificial flavors and preservatives.
Science-Backed. Formulated by veterinarians and animal nutritionists using predictive biology which allows this treat to serve your dog's health now and well into the future.
Best Vegan Dog Treats
Our pick: Chippin Spirulina Dailies
Chippin set out to create better dog treats for pets and the planet—and they delivered. Their oven-baked Spirulina Dailies are made with all-natural kale, flaxseed and carrot with human-grade spirulina protein. The result is a veggie-packed, nutrient-rich morsel that can be used as a training treat, meal topper, or tasty snack!
The company is devoted to environmental advocacy. Chippin's dog treats are made with science-backed sources of digestible protein that use 80 percent-plus fewer resources.
All Chippin products contain NO proteins or byproducts from mammals. In addition to the Spirulina Dailies, Chippin's dog treats come in three other flavors that feature humane-grade cricket protein: Antioxidant, Superfood, and Smokehouse BBQ. The crickets are humanely-harvested from small- to medium-sized local farms. Not sure which flavor to try first? They have a variety pack!
Good option for dogs with food sensitivities. The proteins in beef, chicken, lamb and dairy are common food allergens for dogs. Since Chippin dog treats use novel protein sources, they may work well for dogs with sensitive stomachs.
Best Dental Treats for Dogs
Our Pick: Greenies Original Teenie Dental Dog Treats
Did you know that good oral hygiene can add years to your dog's lifespan? In fact, having healthy teeth and gums is essential for your dog's overall health. We searched the market for a dental treat that not only does the job of cleaning your dog's pearly whites but is also something they actually enjoy chewing and eating. Greenies Original Teenie Dental Dog Treats stand alone as our favorite choice of dental treats.
Clinically Proven. These treats have been proven to help fight both plaque and tartar buildup, freshen your dog's breath, and maintain healthier teeth and gums.
Easy to Digest. Made with highly soluble ingredients, these treats are safe and easy to digest.
Veterinarian Approved. Greenies are accepted and approved by the Veterinary Oral Health Council (VOHC).
Loved by Pups. All ingredients are natural and loved by dogs.
Best Treats for Senior Dogs
Our pick: Dogswell Hip & Joint Soft Strips
Just because your best friend (yes, we mean your dog!) may be getting older, doesn't mean they can't benefit from treats. It's important to note though that senior dogs need to have treats that cater to their unique needs. We found that Dogswell Soft Strips are an excellent choice because they cater to the nutritional and specific needs of senior dogs.
Essential Nutrition. Formulated with Glucosamine & Chondroitin to help maintain hip and joint wellness.
Great First Ingredient. The first ingredient in these treats is cage-free, hormone-free chicken which helps your older dog maintain muscle mass.
Mineral Rich. This recipe includes New Zealand Green Mussels which are an excellent source of iron, selenium, iodine, calcium, and magnesium, all of which are important for your senior.
Best Treats for Dog Allergies
Our pick: Rocco & Roxie Supply Co. Gourmet Beef Jerky Dog Sticks
If your dog has allergies it can be hard to find a treat that sits well in their stomach and that they actually enjoy. We found Rocco & Roxie Jerky Sticks to be a great option for pups who want all the tastiness that comes with a treat, without the side effects of allergies and sensitivities.
Free of Allergens. These treats contain no wheat, soy, corn, or gluten, making them a perfect option for any dogs with allergies and sensitive stomachs.
Great First Ingredient. Fresh American beef is the first ingredient in these jerky sticks, allowing for optimal amounts of protein and a taste your pup won't be able to resist.
Excellent for Picky Eaters. Rocco & Roxie are so sure that even your fussiest eater will love their treats that they have a satisfaction guarantee. The treats are also tested by their resident taste-tester and labradoodle — Rocco.