High Value Dog Treats: What They Are and How to Use Them
Published on January 31, 2022
You might think that when it comes to giving your dog a goody, a treat is a treat. After all, most pups will eat almost anything you offer due to their bottomless pit tendencies. But believe it or not, there is a hierarchy of snacks in the canine world.
That said, figuring out which types of treats make your dog drool is about more than just exciting his palate every now and then. Using high value dog treats can help you and your dog excel at training, ease stressful situations, encourage new friendships, and help with your dog's focus in distracting environments.
High value treats aren't just delicious, they're a powerful tool in your training kit!
What Are High-Value Dog Treats?
Even though your dog probably happily eats every morsel you offer him, dog treats exist on a spectrum of palatability much like desserts do for humans. For example, graham crackers and double chocolate cake both qualify as an after-dinner snack. But—let's be honest—chocolate cake has more "mouthfeel" and flavor in each bite.
Consider high-value dog treats the chocolate cake of treat options. They're savory and full-bodied goodies that your dog will adore. These special goodies are a way to take your dog's treats to the next level, whether you're rewarding your pup for focusing during his basic training or trying to make a nervous dog feel more confident in a stressful situation.
Treats are the most powerful reinforcers we can offer dogs, and they're usually the easiest as well. A play-driven dog might happily work for the opportunity to chase a ball, but fetch isn't always an option. However, it's easy to pull a soft treat out of your pocket as a way to pay for a job well done.
High-Value Dog Treats Vs. Regular Treats
So how can you tell the difference between a high-value dog treat and a basic treat? Here are some tips.
Texture
Basic treats are usually oven-baked hard biscuits or cookies that crumble when you break them. Most dogs enjoy them and they're a great option when you want to give your dog a quick goodie, but they don't make the cut as a high-value treat because they're not especially savory.
High value treats for dogs typically have a moist, greasy, or crumbly texture. They're the kind of treats that you don't want to put in your pocket because they might leave a stain, odor, or they'll break into a million bits. Quick tip: if you can sink your nail into the treat your dog will probably love it!
Smell
The second consideration in determining a treat's value is the aroma. Take a sniff of your dog's dry biscuit—there's not much there. If you're brave enough to hold a moist treat to your nose and inhale you'll likely get a hit of something that might not smell appetizing to you, but your dog is sure to go crazy for it. However, there is one exception to the texture and scent test: freeze dried treats.
Freeze-Dried Options
Freeze-dried dog treats are the exception. They fail both parts of the high-value test because they're not moist and they don't have much of an odor. But these treats rank high on savory scale because they're single ingredient dehydrated foods that dogs love in their natural state, like cheese and liver. (That said, dehydrated salmon does retain its pungent aroma.) Most dogs love freeze dried treats as much if not more than moist and meaty goodies.
Test Different Options With Your Dog
The texture and smell test will help you make the distinction between basic and high-value dog treats, but that doesn't mean that every stinky, soft treat is going to drive your dog wild.
The best (and most fun) way to find the right fit is to buy a few different types of high-value goodies and put them to the test. Most dogs make it pretty obvious when they're crazy for a specific treat; the rapt attention when the bag opens, the drooling as they wait for it, and the happy dance after they eat it will help you determine which ones rank high. And remember, even if your dog has an absolute favorite, novelty is important to dogs. Once you've figured out which types of treats work, switch them up frequently.
Using High-Value Dog Treats for Training
High value treats are best saved for training scenarios like the following:
Training a dog who "doesn't like treats." It's rare that dogs don't like treats. What's more likely is that these seemingly picky dogs haven't tried high-value treats before.
Working with a new puppy that has a hard time focusing. Puppies have short attention spans and are curious about the world around them. High-value dog treats help them keep their head in the training game.
Encouraging a nervous or shy dog. Helping a scared dog learn to cope with scary stimuli is easier when you've got a pocket full of extra special treats to reward him.
Training amid distractions. Your dog might be less likely to pay attention to you at the park when all you have to offer is the same dry biscuit he gets every day, but you'll get speedier results with high-value goodies.
Work that involves desensitization and counterconditioning. Rewarding your dog with something special can help keep him motivated when the lesson gets challenging
While it's always a good idea to provide treats that your dog absolutely loves when training, it helps to understand your dog's personal hierarchy when it comes to using them effectively.
Use basic goodies when you want to give your dog a reward for a simple behavior, like an easy "sit" around the house. Save the super-charged goodies for when you're working on more taxing behaviors. For example, since coming when called can be a challenging behavior to maintain long term, always use a high value goody as a reward when your dog responds to it.
Best High-Value Dog Treats
Luckily, using a high-value dog treat is easy to do, with easy options at home mixed with store-bought treats from the store. Here are our favorite high-value dog treats to make training easier.
Human-Grade, High-Value Dog Treats
Not all high-value treats have to come from the pet store. In fact, your cupboard and refrigerator contain quite a few dog-safe savory goodies that are perfect for training!
Try the following options:
Small pieces of hot dog
Small pieces of cheese
Shredded, boiled chicken
Cut up anchovies
Cut up sardines
Just be sure to use the above items in moderation to avoid too many calories and excess weight gain.
Packaged High-Value Dog Treats
All featured products are chosen at the discretion of the author. However, Vetstreet may make a small affiliate commission if you click through and make a purchase.
The following packaged options are some universally beloved high-value dog treats:
We love this unique combo of a craveable dog treat that's also – get ready for it – low in fat, calories, AND sodium. Made with real chicken liver, the soft and palatable treats contain just 7 calories each. Plus, even though your dog will probably want to eat an entire bag in one sitting, the bite-size pieces promote healthy portion control.
These treats are soft, chewy, and breakable, so they're perfect for training. But what really has dogs licking their chops is the recipe. Chippin uses wild-caught silver carp and nutrient-dense sweet potato for a healthy treat that's packed with omega-3s and essential amino acids. Plus, silver carp is an overpopulated fish, so this eco-friendly treat helps restore biodiversity to US waterways and protect the Great Lakes…a win-win for your pup and the planet!
This premium treat packs a lot of flavor in a tiny morsel, so it's the perfect option for pet parents with small dogs who need a smaller treat size.
This premium treat packs a lot of flavor in a tiny morsel, so it's the perfect option for pet parents with small dogs who need a smaller treat size.
It's the rare dog that doesn't go crazy for freeze dried liver! These treats aren't uniformly sized so pet parents with smaller dogs will need to cut up the oversized chunks. (The dust created from chopping makes a great food topper for dogs!)
Most dogs can't resist the entire Plato line of treats, from the pencil-shaped "thinkers" to the strips. The Thinkers treats are difficult to break into training-sized pieces so use scissors to snip them into appropriate nuggets.
All of the Wellness soft treats are savory training options, plus they have the added benefit of being one of the less messy high value treats, which means they're pocket-friendly!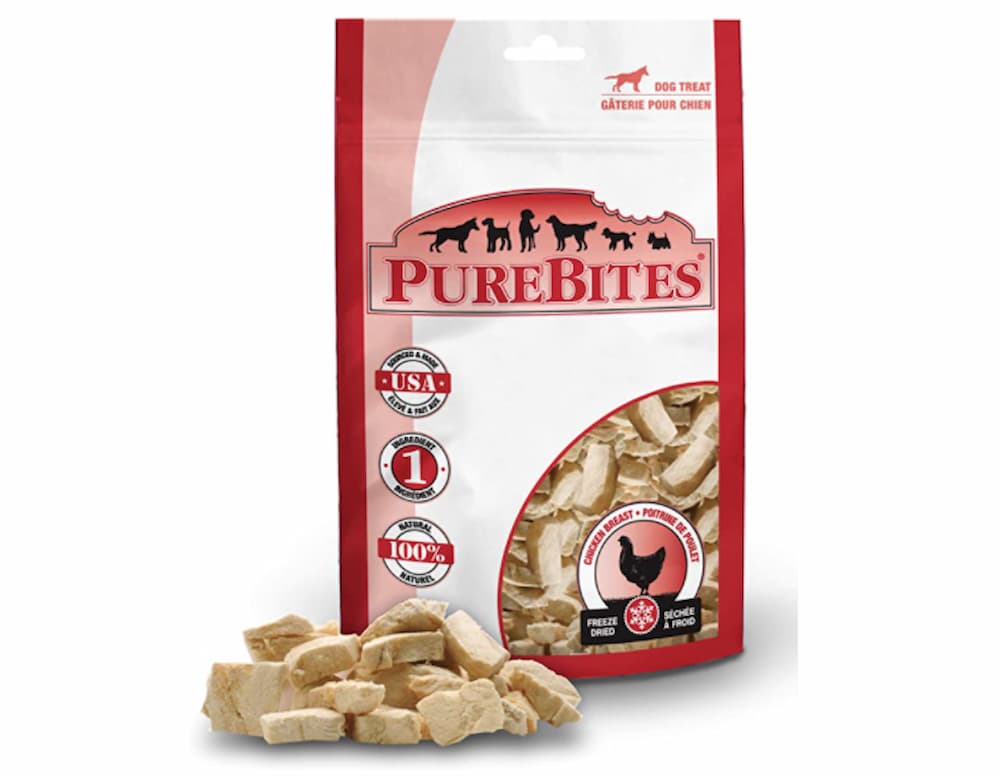 This single ingredient treat is perfect for dogs with dietary concerns. Dogs and cats enjoy this crumbly pure chicken goody.A final note about high value treats; remember that they're additions to your dog's complete and balanced diet. As tempting as it might be to shower your grateful pup with goodies, reserve these high-value treats for training scenarios and always use them in moderation.
This single-ingredient treat for dogs contains nothing but natural, thick-cut, dehydrated sweet potatoes. Ideal for all life stages, these high-value snacks contain no preservatives or additives but are a great source of fiber. Feel good giving your dog a rich source of vitamins without any of the fillers.