Best Cat Exercise Wheel: 6 Options for Fitness Fun
These days, it's pretty common for pet parents to keep cats indoors. After all, we want the best for our pets. And, often, domesticated felines just don't have the instincts and experience required to fend off other animals or survive harsh elements in the wild.
However, indoor cats aren't immune to all threats. If your furry friend sleeps all day and doesn't get enough exercise, cat obesity can become a real problem. Unfortunately, unhealthy weight often leads to a host of other health issues in cats, like diabetes, metabolic abnormalities, cardiovascular disease, joint problems, and even psychological issues causing cats to destroy furniture and not use their litter box.
According to a 2020 Veterinary Emerging Topics Report, 44 percent of domestic cats in the United States were obese. There's no doubt that physical and mental stimulation can play a big role in helping cats maintain or reach a healthy weight and sustain overall health. But how can pet parents encourage healthier behaviors…especially if your cat (like most) tends to have a mind of their own?
Here's one solution that has plenty of parents pumped — the cat exercise wheel, which is essentially a treadmill for cats.
What is a Cat Exercise Wheel?
Dogs are accustomed to — and often excited for — daily walks. But good luck finding a cat willing to endure the hassle of a leash and harness, much less a mandatory walking regimen. That's why a cat spinning wheel is a great way to help your fur baby get exercise indoors to stay mentally sharp and physically healthy.
Cat wheels are typically constructed of wood or PVC and may feature materials and enhancements cats love, like sisal for scratching and carpet for napping. At their most basic, cat wheels are relatively simple — a round structure that allows for cats to run inside like a hamster wheel (only bigger). However, some options are loaded with extras, like obstacle courses or secret nooks for cats to explore.
Cat Exercise Wheels: Pros and Cons
Many cat parents get interested in exercise wheels in the hopes that they'll help improve or maintain overall health and fitness for felines stuck indoors day in and day out. However, manufacturers claim cat exercise wheels provide a wide variety of full body and mind benefits, including:
Stress relief
Calm and relaxation
Weight control
Diversion
Fun
Sounds great, right? However, here are some other things to keep in mind if you're considering investing in an exercise wheel for your cat:
Some cats may never warm up to the idea of using a cat wheel. (We know they're fickle creatures, after all.
Cat wheels are pretty pricey. Be prepared to spend over $200 for a high-quality, well-built wheel.
They can also take up a lot of space. Do you have room in your home for a piece of equipment you hope your cat will use on a daily basis?
Best Cat Exercise Wheels
Before you take a look at our favorite cat wheels, remember to consider these factors when shopping for the ideal wheel for your furry friend:
Size: Before you shop, measure the area where you plan to keep your exercise wheel so you know how much room you have to work with.
Safety: If you have small children in your home, is there a place you can keep the wheel that's off-limits to kids?
Assembly: Cat wheels range in both size and complexity. And even the simplest models don't just pop out of the box, ready to use. Be sure to pick a cat wheel that you're confident you can put together, or be prepared to get help from someone with more know-how.
All featured products are chosen at the discretion of the author. However, Vetstreet may make a small affiliate commission if you click through and make a purchase.
Best Overall Cat Exercise Wheel
Our Pick: Shauna Running Wheel Cat Tree
Striking the perfect balance of a sleek, minimalist design and incredible functionality, this sturdy, streamlined cat exercise wheel takes the top spot as our best overall pick. Built to help provide an exercise option that looks great and doesn't get in the way or detract from your decor, this wooden cat exercise wheel forgoes the fuss so your cat can focus on staying active. A wheel brake provides added safety, while the open running area is covered with carpet for convenient clawing. The low-profile design also makes this cat wheel easy to fit in tight spaces or tuck away while not in use.
Highlights:
Simple yet sturdy wood design
Carpeted material for scratching
Integrated wheel brake
Low-profile silhouette
Fully assembled wheel measures 23.5″ L x 12.5" W x 26.25″ H
Things to Consider:
While they are all positive, this product has limited customer reviews
Best Cat Exercise Wheel For Runners
Our Pick: One Fast Cat Cat Exercise Wheel
Well constructed from durable materials, this large One Fast Cat Cat Exercise Wheel is sturdy enough to withstand whatever your run-happy cat can dish up. The lightweight wheel is easy to assemble, easy to clean, and designed to entertain your active pet while promoting good health. Whether your cat prefers to run on the wheel or simply play, it's equipped with a traction pad made from a closed-cell EVA foam to prevent claws from catching. Simply swap in a new EVA foam pad at the first sign of wear and tear.
Highlights:
Comes in a variety of colors and patterns: black, cheetah, snow leopard, and cool gray
Constructed from recycled plastics
Easy to clean — simply hose down outside or wipe clean with a wet towel
Comes with a free Roller Blade Wheel Cover
Fully assembled wheel measures 47″ L x 10.75" W x 48″ H
Things to Consider:
When it's time to replace the traction pad, it can be purchased from One Fast Cat for $20.
Best Wide-Based Cat Exercise Wheel
Our Pick: Homegroove Cat Running Wheel
While most cat exercise wheels we found measured less than 12 inches in width, the Homegroove Cat Running Wheel is designed with a wider base to prevent tipping. Not only does the wide footprint make this exercise wheel extra sturdy, but it also gives your cat plenty of room to play, promenade, and run. The updated design helps keep paws from being pinched, and the virtually silent roller has a lock for added safety. Plus, the scratch pad is removable for simple cleaning.
Highlights:
Wide base helps prevent tipping
Can accommodate up to 110 pounds of weight
Removable scratch pad for easy cleaning
Quiet roller wheel with safety lock
Easy assembly
Fully assembled wheel measures 35.43″ L x 13.58" W x 39.37″ H
Things to Consider:
Reviews are limited, but they are mostly positive
Some customers said assembly took longer than expected
Best Cat Wheel Built Into a Tree
Our Pick: Penn-Plax Wheeled 35-in Sisal Cat Tree
Whether you're in the market for a cat tree or an exercise wheel, you're in luck! This 2-in-1 Penn-Plax product contains the best of both worlds. Your cat can get plenty of steps in on the compact 20-inch wheel, then jump, leap, and climb to their heart's content on the three-level tree. The sturdy structure features sisal scratching posts and roomy platforms for perching or snoozing. It's the perfect spinning, scratching, and climbing playground, designed to keep your cat active and entertained.
Highlights
2-in-1 design will keep your cat mentally and physically entertained for hours
Features removable plush resting pads for comfort and easy cleaning
Wheel is lined with sisal and carpet providing a secure surface for running and scratching
Priced similar to many other wheels, providing more bang for your buck
Things to Consider:
Structure measures 31.5" L x 15.8" W x 35" H
Wheel is only 20" in diameter, which may be too small for some cats
Best Looking Cat Exercise Wheel
Our Pick: PawHut Round Hamster-Wheel Style Cat Tree
Of course, you want your cat's exercise wheel to function properly, first and foremost. But that doesn't mean it has to be an eyesore. The stylish design of this PawHut wheel is so appealing, it can elevate the aesthetic of any room. Constructed of natural materials, the sturdy base features a unique cut-out design. The 29.5-inch wheel is covered in sisal on the outside (for scratching) and soft carpet on the inside (for comfort and traction).
Highlights
Sturdily constructed from natural materials in neutral hues
Sleek, chic design complements any decor
Reviewers praised the construction, design, and silent operation.
Overall Dimensions are 29.5″ L x 13″ W x 36.5″ H
Things to Consider
Assembly required, though several reviewers said it took only a few minutes
This product is only recommended for cats up to 9 pounds
Luxury Splurge Cat Exercise Wheel
Our Pick: BuShopPets Cat Treadmill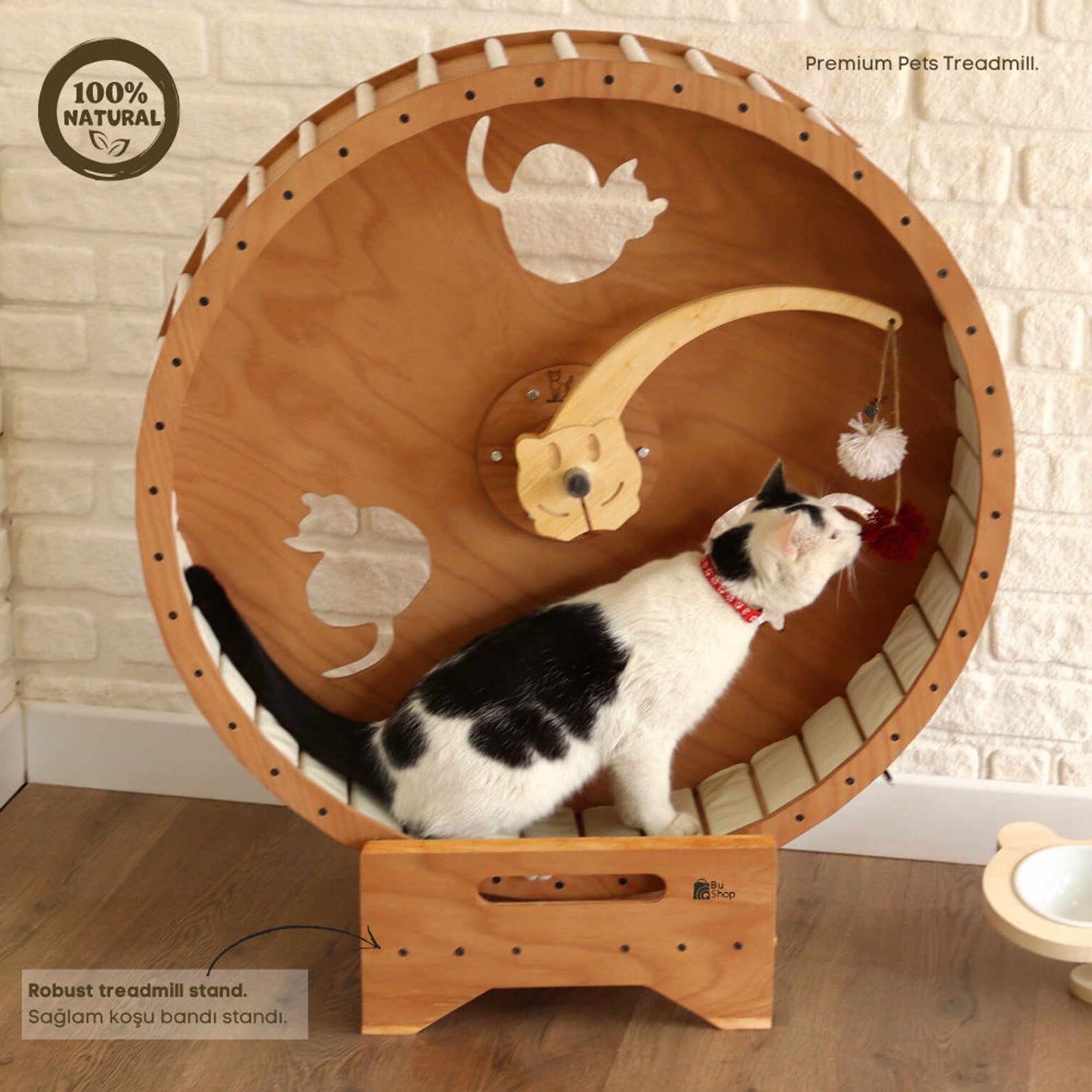 Most cat wheels are comparable to a piece of home exercise equipment. This premium, handmade exercise wheel is equivalent to installing a private home gym for your pampered kitty! If you can stomach the price tag, the design of this cat wheel is unlike any we've seen. It's skillfully constructed out of natural wood and designed to cater to your cat's needs. In addition to a wheel lined with non-slip, paw-friendly material, the structure features an adjustable arm with a hanging cat toy. Cat cutouts provide a decorative touch, and it moves oh-so-smoothly for incredible ease of use.
Highlights
Handmade from premium wood.
Non-slip wheel lining is easy on paws.
Adjustable arm with attached cat toy.
Decorative cat cutout designs.
No sharp corners.
Easy to assemble.
31″ diameter
Things to Consider
This is undoubtedly a splurge but if you have the budget and you (and your kitty) love luxury, this is the option for you.
Cat Exercise Wheel Training and Safety Tips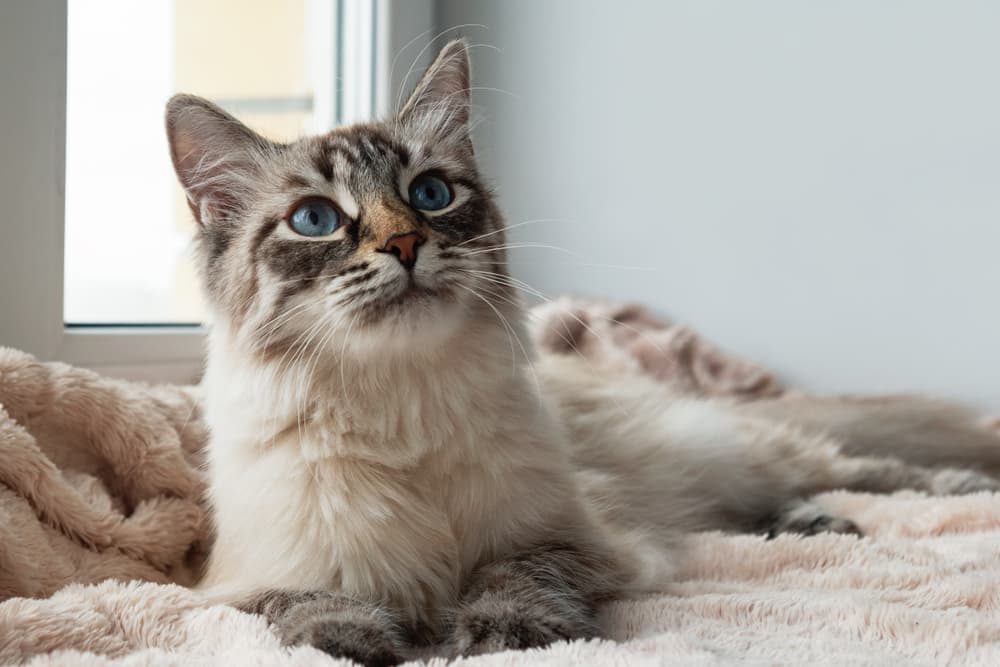 Let's be realistic. There's a good chance not all kitties will want to jump right onto an exercise wheel the minute you're done assembling it. You will probably have to train your feline to understand how the cat wheel works before they deign to use it regularly.
To get started, try placing your cat's favorite "chasing" toy in the wheel, or lure your cat to the wheel using that toy. Once they're "on board," you may have to gently, slowly move the wheel for your cat long enough for them to understand it spins.
It's also a good idea to give your cat a few treats — either when they finally climb inside the wheel, or after they use it — to provide stimulation and positive reinforcement. Just be mindful of how much snacking your cat is doing when you're providing these rewards. The wheel is supposed to help you create healthier habits, after all.
You should also keep in mind that while cat wheels are fairly safe for cats (and even some dogs), they may not be safe for small children.
Lastly, have some patience. Just because your cat doesn't take to the wheel quickly, doesn't mean they won't love it long-term. It may take a few tries before they accept it. But once they do, they're sure to love it!