When you're in the mood to spruce up your home, rugs are a great place to start. Not only can a gorgeous new rug change the overall look and mood of a room, rugs are also highly functional. Your choice can help protect hardwood floors, decrease noise, cozy up a space, and add value to your home.
Here's the tricky part: How do you pick a rug that can do all this with a dog (or dogs) in the house?
The answer may be easier than you think. More companies are recognizing that dogs are part of the family these days. And, as a result, pet parents have a growing number of pet-friendly rug options to choose from. Even if they're not designated for pets, many rugs for dogs are waterproof or washable, meaning that you may have an easier time dealing with shedding and messes.
To help guide you in your search for dog-friendly rugs, check out our eight favorite options below.
Our Top Rugs for Dogs Picks
Best Types of Rugs for Dogs
Rugs hold an obvious advantage over wall-to-wall carpeting in a house with dogs: They're typically much easier to clean. When searching for a dog-friendly rug, keep the following tips in mind.
Look for machine-washable rugs. These days, many rugs can be tossed in the washing machine for ultimate convenience. Not all pet-friendly rugs are washable, of course. But if you have a dog who makes frequent messes or you just hate to clean, it pays to keep this key feature at the top of your "must-have" list.
Patterns are your friend. Another pro-tip for pet parents? Look for rugs with designs on them. Even though most rugs you'll find are stain-resistant, there's still a chance that urine or vomit could leave a stain. Rugs featuring designs can be very forgiving of stains, camouflaging signs of accidents. The same goes for pet hair. Of course, even a patterned darker-colored rug will show light-colored hair and vice versa. So be sure to consider shedding when you make your choice.
Take the pile and materials into consideration. Some manufacturers recommend that individuals with dogs look for a low-pile rug because it's harder for dirt to cling to shorter rug fibers. Also, lean toward materials that can be easily cleaned—such as synthetics or even natural material like cotton—rather than a hard-to-clean flatweave rug made from sisal or jute.
Invest in a rug pad. And don't forget to put a pad under the rug. Not only will the pad prevent the rug from slipping, it can also protect the floor if your dog urinates on the rug and it seeps through.
Rugs to Avoid When Living With Dogs
Rugs are an investment and there are some types of rugs that are not ideal for homes with dogs. Let's face it—even the best-behaved dogs have accidents from time to time, and dog hair and dirt are common mess makers.
To keep your space looking and feeling clean, it's recommended to avoid the following rug types:
Shag Rugs – While these cozy, soft area rugs can warm up a space, the long fibers tend to collect dirt and dog hair, making them difficult to clean.
Rugs With Tassels and Fringe – We love a good tassel as an accent in home decor, but tassels or fringe tend to become chew toys for mouthy pups who like to chomp. Not only can this ruin the look of your fug, but it can also become a potential hazard for your dog.
Vintage Rugs – Vintage and antique rugs add a one-of-a-kind look to any room, but these delicate pieces aren't ideal for high-traffic areas with paws and pet accidents. Vintage rugs are often expensive and they often need professional cleaning to get rid of stains caused by pets. To save time (and money), it's best to avoid these rugs in dog-heavy areas.
All featured products are chosen at the discretion of the author. However, Vetstreet may make a small affiliate commission if you click through and make a purchase.
Best Rugs for Dogs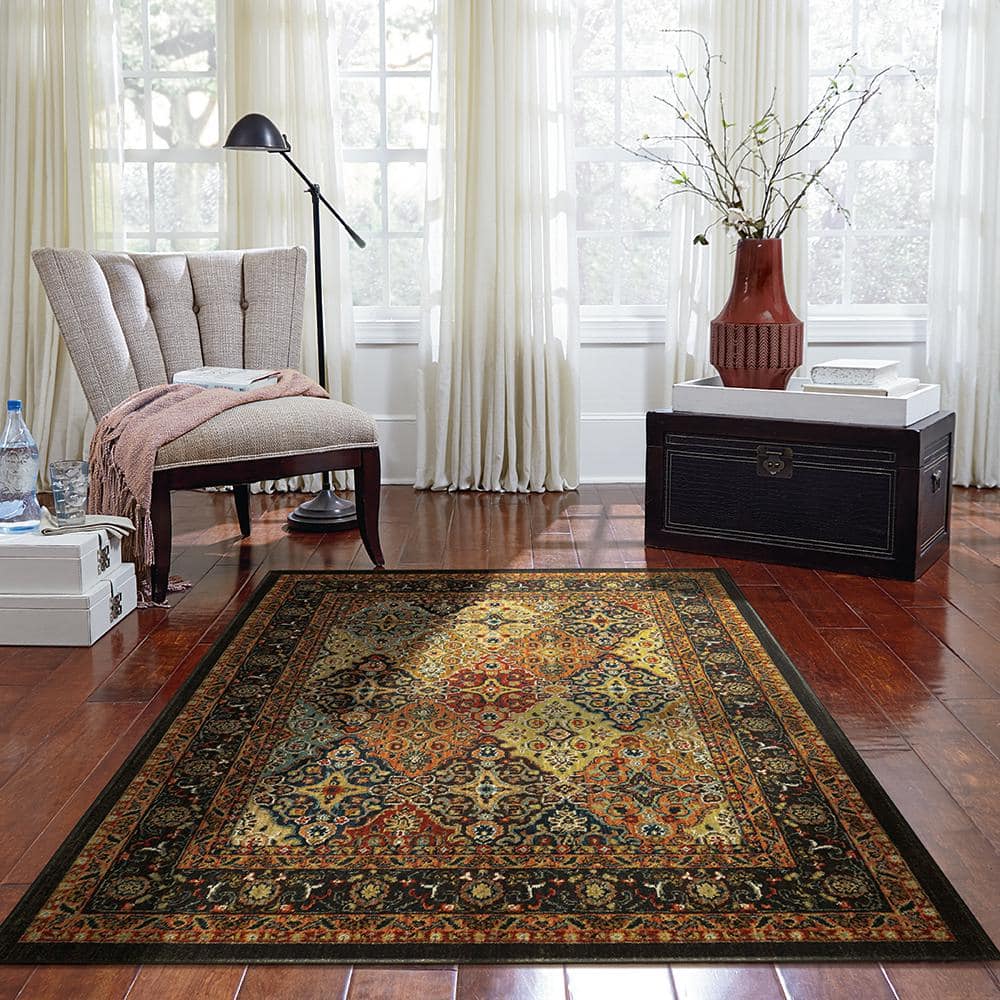 This pet-proof area rug features a rich Persian pattern that complements both modern and traditional decor. Crafted with stain-resistant fabric featuring recycled EverStrand fiber, it's designed to stand up to urine, vomit, and other pet messes with prompt spot cleaning. And even if residual marks remain, the design and color (hello, dark browns and tans!) should hide them beautifully.
Highlights
Available in two sizes — 5'3" x 7'8" and 8' x 11'
EverStrand fiber is crafted with up to 100% post-consumer content from plastic bottles
Latex backing on the rug prevents it from slipping
1 year limited warranty against manufacturing defects
Things to Consider
You can't machine wash it but you can spot clean it
It's pricier than most
This stylish, contemporary area rug is made by Ruggable, a well-reviewed brand known for creating the "Wonderful Washable Rug." The company's patented rug system includes two pieces: a non-slip rug pad and a detachable, lightweight rug cover that you can peel off the pad and toss into your washing machine…and even your dryer! This low-pile rug is stain-resistant, water-resistant, and features a bold, geometric design in black and white, making any potential stains tougher to spot. According to the reviews, dog parents give it high marks for its durable, no-marks performance.
Highlights
Available in three styles (area rug, runner, or round) and a variety of sizes
Choose from four colorways…including a festive holiday option
Can choose a cushioned rug pad to make it comfier for your dog
Things to Consider
Design is modern and bold, which may not work for all decor styles
Low pile doesn't have the feel of plush carpeting
Runners make a great addition to hallways and entryways, especially in high traffic zones. And with this pet-proof pick from Medina, there's no need to worry about muddy paws tracking the outdoors inside, because this runner can go right into the washing machine. As an added benefit, the intricate floral design can artfully camouflage any residual stains or wear and tear. The color selection is also varied, featuring an array of neutral and rich hues to match just about any home color scheme. And here's one more bonus you can feel good about: As part of a partnership with the Eden Reforestation Project, Rugs.com plants a tree for every purchase.
Highlights
Choose from 10 colors and four runner sizes
Area rugs are available if you want this design in other rooms
Attractively priced
Things to Consider
Some reviews say this rug sheds a bit at first
As a pet parent, Resolve stain cleaner is likely already in your cleaning supplies cabinet. And that's one of the things that makes this beautiful modern Moroccan style rug even more appealing. When stains occur, the manufacturer recommends spot cleaning with Resolve (and regular vacuuming) to keep your rug looking great. Numerous dog parents note in their reviews how easy this rug is to clean, which makes this a winner in any house with canine companions.
Highlights
Easy-to-clean, stain resistant, and does not shed
Available in a variety of shapes and sizes
Comes in 13 stylish hues
Low pile makes it easy to slide chairs and other furniture over it
Things to Consider
Reviewers note that corners can be tough to unfurl and sometimes curl up
If you've got a dog that's hard on rugs, this earth-friendly, pet-friendly area rug is an easy decision. Designed for indoor or outdoor use, Fab Habitat rugs are crafted with surprisingly plush polyester yarn made from recycled plastic soda bottles. They're not only durable, stain resistant, and machine washable (you can even hose them down outside!), they're eco-smart and conscientiously manufactured, too. Every rug is Goodweave Certified, meaning it's guaranteed to be child-labor-free.
Highlights
Affordable and eco-conscious
Every rug repurposes between 50-600+ plastic bottles
Available in seven colors and five sizes
Things to Consider
This design is available in neutral colors only
If you like a rug that makes a statement — and that statement is: "I'm stunning and easy to clean." — this patent-pending, pet-friendly rug from Tumble Living is the rug for you. In addition to an artful, hand-painted design, this rug features spill-proof technology that allows you to simply wipe away liquids and machine-washable construction. Plus, instead of a standard rug pad, Tumble rugs come with an interlocking foam mat for effortless cleanup. Reviewers raved about how easy this rug is to clean, even after pets have urinated or gotten sick on it. Besides, the whimsical design — accented in blue, yellow, orange, green, pink, and gray — is too fun to pass up.
Highlights
Machine washable and spill proof — liquids bead up for easy clean-up
Treated with a non-toxic protectant that prevents liquids from being absorbed
Four sizes available
Things to Consider
This design comes in only one colorway
When you choose a company founded by pet parents, you know you're in good hands. All the rugs featured at Pet Friendly Rugs are — you guessed it — pet-friendly and selected by a team of rug professionals who are also pet owners. This plush shag rug in tones of charcoal, gray, and ivory is made from synthetic fibers that prevent stains from penetrating beneath the rug's surface. Translation: If your pet has an accident, the rug won't be ruined. This one in particular features a soft shag with a subtle geometric pattern and extra deep pile that's perfect for hiding pet hair.
Highlights
Custom sizing is available
More affordable than other rugs
Comes with a waterproof rug pad which can be hosed off
Things to Consider
This design is only available in grey and charcoal
There's nothing not to love about this modern pattern with different shapes and muted colors. Even better, this is part of the Washable by Rugs USA line, which means that you can toss it in the washing machine whenever your pet has an accident or walks over it with muddy paws. It's made from recycled synthetic fibers, and multiple pet parent reviewers said they love how soft it feels.
Highlights
Choose from three sizes
Low-pile rug measures ¼ inch
Comes with a non-slip backing already on the rug
Things to Consider
There's no other color in this design
Dark pet hair may show up on this light-colored rug
Rug Cleaning Tips for Dog Hair and Pet Stains
Whichever pet-friendly rug you choose to help you fight against stains, be sure to keep these three tips in mind when caring for your rugs:
Clean pet messes immediately. As soon as you see urine, vomit, muddy paw prints, or anything else on your rug, tend to it immediately to reduce the likelihood of stains and smells becoming permanent. Recommended cleaning methods will vary by rug style and materials. Most manufacturers list care instructions on their website, so check there first. A pet odor eliminator can help keep foul smells at bay.
Vacuum frequently. The experts at AmeriClean Cleaning Specialists recommend vacuuming carpets and rugs at least once a week to control pet hair. If you're not able to pick up the hair with your vacuum, try using a rubber broom that's specially designed for pet hair removal before vacuuming or as a spot cleaning option between vacuums. Just don't forget to move the vacuum in different directions to loosen tough-to-get pet hair.

Call in the professionals. If you've got some serious messes and marks on your rug, you may need to have a professional rug cleaner tackle it. Ask friends and neighbors for recommendations or look at online reviews for local businesses near you.