8 Best Covered Cat Litter Boxes of 2023
Published on December 24, 2022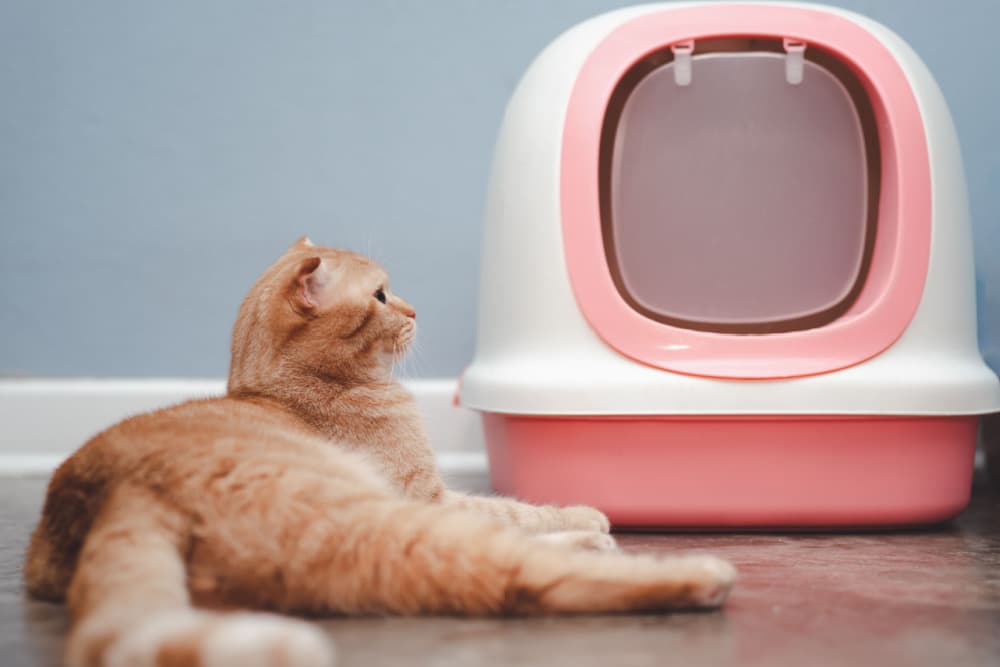 Sometimes cohabitating with cats means finding a happy balance between meeting their needs and ours. When it comes to choosing a litter box for your cat, you'll likely want one that's easy to scoop and stops the stink. Your cat wants a non-stinky box too, plus room to do their business in an environment that feels secure.
A covered cat litter box could be the right bathroom solution for you and your favorite feline. But what are some good options that are both pet parent- and cat-approved?
We've rounded up 8 of the best covered cat litter boxes, plus provided some guidance for pet parents on what to look for when making your choice.
What Is a Covered Cat Litter Box?
If you're a cat parent, you're likely familiar with a traditional four-sided litter box that doesn't come with a cover. A covered litter box for cats has a cover or dome that tightly fits to the base. Typically, a covered litter box will have a swinging door or an opening for your cat to easily enter and exit.
Covered cat litter boxes are designed with the human caretaker in mind—keeping smells from wafting through the house, unsightly waste out of view, and litter in the box where it belongs. Choosing a covered litter box that is appropriately sized (and scooping it at least once a day) will make your cat happy, too.
"Cats are at their most vulnerable when using the litter box," explains Dr. Elizabeth Bales, veterinarian at Tably. That makes the selection of a litter box a top priority for you and your cat. If your cat feels stressed about her bathroom options, she might choose to do her business in places other than her box.
"In a multi-pet household, using the litter box puts a cat at increased risk of becoming a target," Dr. Bales says. Some cats in a multi-cat household might prefer an open box that allows them to survey their surroundings and exit quickly when needed. Other cats in multi-cat households may prefer the privacy of a covered box.
In general, cat-friendly homes should have one litter box per cat, plus one more. It's thoughtful to have different litter box types for your cat to choose their preferred bathroom type.
Our Top Covered Litter Box Picks
All featured products are chosen at the discretion of the author. However, Vetstreet may make a small affiliate commission if you click through and make a purchase.
Our Selection Process
We considered several different factors when selecting our top covered cat litter box picks, including:
Functionality. Covered litter boxes are supposed to make cats' and pet parents' lives less complicated, so we made sure to focus on each box's functionality and ease of use.
Design. Since certain design features can make or break a covered cat litter box, we noted anything that stood out as a highlight, safety benefit, or potential annoyance for you and your cat.
Reviews. There's nothing like a recommendation from another pet parent to make you feel more confident in your choice of litter box, so we took customer reviews into consideration as well.
Price. No matter your budget, we've got you covered with a selection of covered cat litter boxes at all different price points.
8 Best Covered Cat Litter Boxes of 2023
Let's go over our picks for the best covered cat litter boxes.
Best Overall Covered Cat Litter Box
Our Pick: Catit Jumbo Hooded Cat Litter Pan
The Catit Jumbo Hooded Litter box has everything you and your cat need without all the fancy bells and whistles. It checks all of our must-have boxes: a roomy interior, easy-open design for simple scooping, and replaceable carbon filter to keep yucky smells non-existent. Plus, you can use any litter you'd like, and the price won't break the bank.
Pros
Two-way door controls odors and adds privacy
Locking lid with handle for easy transport
Replaceable air filter
Durable, easy-to-clean, odor/stain-resistant material
Good for larger cats and multi-cat households
Great price point
Cons
If you're looking for a higher-tech litter box, or one that complements your décor, this no-frills box might not be for you
Best Self-Cleaning Covered Cat Litter Box
Our Pick: Litter Robot-4 by Whisker
Shop now and save $25 off your Litter-Robot purchase
Seeing, smelling, and scooping cat poop is a thing of the past thanks to Whisker's consistently innovative litter box designs. Recommended by Dr. Bales, the futuristic design of the Litter-Robot 4 senses when your cat enters the litter box and quietly sifts clean litter from the waste when your cat has safely exited. The waste drops into an odor-neutralizing tray as clean litter returns to the litter box globe. Depending on the number of cats in your household and how often they use the box, the savvy Whisker app notifies you when the litter tray needs emptying, or when the litter needs replenishing. As an added bonus, the Litter-Robot 4 has been upgraded from its previous version to monitor and record your cat's weight. This may be the most expensive covered cat litter box on our list, but it's also the coolest.
Pros
No-scoop design feature quiet, automatic sifting
Advanced sensors detect and deposit solid waste in an odor-neutralizing, dog-proof compartment
15.75″ diameter opening accommodates cats of all sizes; enclosed globe provides plenty of privacy
Multi-cat design suitable for up to 4 cats
Whisker app tracks usage, waste-drawer capacity, and litter levels
Included fence helps minimize litter tracking
90-day in-home trial; 1-year warranty
Cons
At nearly $650, this tech-forward litter box is an investment
Can only be used with clumping litter
Dr. Bales points out that the entry point can be a bit high for some cats, so you may need a small, sturdy box or steps
Best Covered Cat Litter Box for Multiple Cats
Our Pick: PetSafe ScoopFree Automatic Self Cleaning Litter Box
When multiple cats are sharing a litter box, they don't want to wait around for their humans to scoop at the end of the day. Luckily, with the automated PetSafe ScoopFree covered cat litter box, they don't have to. The box detects when your cat is inside and rakes solid waste into a disposable waste drawer 20 minutes after they leave. But don't be intimidated by the self-cleaning feature. If you're not a tech-savvy pet parent, you'll be glad to know that this scoop-free litter box doesn't require any apps or extra gadgets.
Pros
Scoop-free design for easy cleaning
Comes in three designs: uncovered, covered, and top entry
Safety sensor ensures no raking when your cat is in the box
Cons
Only compatible with crystal litter
You need to purchase tray refills to be replaced every 20 to 30 days for single-cat households
Not for cats under 6 months
Higher price point
Best Covered Cat Litter Box for Large Cats
Our Pick: ModKat XL Litter Box
Have an extra-large kitty? Then you need an extra-large litter box. Spacious with a hinged door and cover for your cat's comfort and privacy, the ModKat XL Litter Box offers both front and top entry. When it's time to scoop, simply fold the top lip up and open it for easy cleaning.
Pros
Comes with reusable litter liners
Extra-large design and multiple entry points for larger cats and multi-cat households
Cons
Some customers felt it was a little on the expensive side
Best Budget Covered Cat Litter Box
Our Pick: IRIS Large Hooded Litter Box
This covered litter box is under $30 and has over 6,000 five-star reviews on Amazon, which speaks to its popularity among other pet parents. The privacy hood keeps litter in while providing your cat with ample space to go to the bathroom. And when it comes to daily scooping, there's no need to fumble with the cat door or pesky clips — the hinge-hood design lifts easily for inside access.
Pros
Super-affordable price point
Comes in an extra-large size
Compatible with any type of litter (clumping or pellets)
Cons
Doesn't have a filter to control odor and dust
Best Designed Covered Cat Litter Box
Our Pick: CURIO Modern Litter Box Solution
If you're looking for a thoughtfully crafted covered litter box that doesn't actually resemble a litter box, the CURIO mid-century modern design might be the one for you. Handmade from real wood sourced from Ohio, the inconspicuous cat litter cabinet comes with a custom-made 10" high litter tray, as well as a removable lid for easy cleaning. Plus, it fits seamlessly into your decor! We promise not to tell your guests it's a litter box, but we can't promise that they won't ask where you got it (even your non-cat-loving friends!).
Pros
Seamlessly blends with your other (human) furniture
Comes in your choice of maple or walnut wood (with or without a design)
Pre-finished and water resistant
Handmade
Cons
May not fit everyone's design aesthetic
High price point
Best Covered Cat Litter Box for Senior Cats
Our Pick: Petmate Booda Clean Step Cat Litter Box Dome
Many covered litter boxes are elevated, making it difficult for senior cats to enter if they have achy joints or other mobility issues. But this domed model with stairs is an exception. It has over 21,000 reviews on Amazon with an average 4.3-star rating. Happy pet parents confirm that their senior cats use the box without issue. Plus, the makers of this covered litter box say the design is 50% larger than typical boxes, giving your kitty plenty of space to do their business.
Pros
Integrated stairs for easy entrance/exit
Made from 95% recycled materials
Built-in filter controls odor and dust
Available in three colors
Cons
Hood doesn't snap into place, which could make keeping it steady or moving the box a challenge, especially with other pets or children in the house
Best Travel Covered Litter Box
Our Pick: LOOBANI Enclosed and Covered Litter Box
Traveling with cats can be stressful, but using a travel-friendly litter box can help. This covered version is a great option for taking your cat on the go. It's not just the multiple exit and entry points located on the front and top of this litter box that make the design stand out from the rest: the carbon filter traps offending odors, the sliding litter drawer makes scooping a breeze, and the whole contraption folds flat for easy storage. The box even comes with a litter mat to help keep cat-friendly hotel rooms mess free.
Pros
Good choice for multi-feline households
Compact, collapsible design
Contains odors well
Cons
Might be too small for large cats
Covered Cat Litter Box Buying Guide
There are several factors you'll want to consider when purchasing a covered cat litter box. Follow these tips to ensure you create the perfect bathroom setup for your feline companion.
Types of Covered Cat Litter Boxes
You've decided a covered litter box is the right choice for you and your kitty, but there are still a few decisions to make. Here's what you should know about each covered litter box type.
Front-entry covered litter box. Most like a traditional litter box, this covered litter box features an opening or swinging door at the front.
Top-entry covered litter box. With tall walls and an entry point on top of the litter box, this covered litter box is most likely to put an end to litter tracking through the house. However, top-entry boxes can be difficult for overweight and older cats to enter.
Self-cleaning covered litter box. These tech-forward covered litter boxes are designed to simplify a cat parent's life by eliminating the need to scoop. They also might come with a higher price tag than more traditional boxes.
Hidden covered litter box. Tucked inside a decorative cabinet, hidden litter boxes are the perfect solution when you want to discreetly place a litter box in your main living area.
Benefits of Covered Litter Boxes
Covered litter boxes provide your cat with privacy, which they might appreciate in a busy household filled with humans or other pets. The walls of the box keep litter inside and prevent accidents, like mistakenly peeing up and over the wall. Covered cat litter boxes typically come with filters that help control odors and trap dust. Most of them are slightly elevated with a grooved stepping area to catch any rogue litter that might stick to your cat's paws.
Drawbacks of Covered Litter Boxes
Covered litter boxes should be cleaned at least once per day. Any accumulation of waste can cause an unpleasant experience for your cat since the cover of the litter box traps odors inside.
And while some cats living in a multi-pet household appreciate the privacy a covered litter box provides, others may feel more stressed by a confined litter box with only one entry and exit. "The lid prevents the user from being able to survey the area for danger," says Dr. Bales. "This leaves them unprepared for an attack by another household cat or dog upon their exit."
Things to Consider Before Purchasing
Your budget. The price of some covered cat litter boxes could come as a surprise — and there's no guarantee your cat will choose to use it. Before spending a lot of money on a covered litter box that might break the bank, purchase a few types of budget-friendly litter boxes. By doing this, you'll learn what your cat's preferences are and reduce the likelihood of bathroom accidents.
Return policies. Your cat might decide they prefer the old box over their new one. So, it's always a good idea to review return policies before you buy.
Ease of cleaning. Litter boxes need to be scooped daily and deep cleaned about every 30 days. If scooping daily isn't an option, consider a self-cleaning covered litter box.
Size. Your cat should be able to enter the litter box and comfortably turn around. That might mean purchasing larger litter boxes as your kitten grows into an adult.
Your cat's preferences. After all, your cat is the one going to the bathroom in the litter box. If your cat is showing signs of stress related to their bathroom options, it might be time to try a different type of litter box, change the cat litter type, or move the box to a new location.
Covered Cat Litter Box FAQs
Do cats like covered litter boxes?
Many cats like and use covered litter boxes. If covered litter boxes are not cleaned daily, the trapped odors could lead to your cat boycotting the box and eliminating elsewhere. While some cats in multi-pet households appreciate the extra privacy covered litter boxes afford, others may feel stressed if they cannot see their surroundings.
Are covered litter boxes bad for cats?
Nope! When scooped daily, covered litter boxes can be a great choice for cats. However, if your cat is showing signs of bathroom stress when using a covered litter box, it might be time to consider a different option.
How should I transition my cat to a covered litter box?
For a smooth transition when introducing a new covered litter box, Dr. Bales says not to remove your old litter box. Instead, place the new covered litter box near the old one, filling it with your cat's preferred litter.
How can I train my cat to use a covered litter box?
Give your cat a few weeks to adjust. If they continue to choose the old litter box over the new covered litter box, they're telling you that they prefer one over the other.