9 Best Cat Nail Clippers in 2023
Published on September 25, 2023
Your cat's claws grow continuously and can become ultra sharp. To prevent them from getting too long (or lethal), you need to trim your kitty's nails regularly. And the best way to do that quickly, safely, and correctly is by using a high-quality pair of cat nail clippers.
With the right nail clippers, you can keep your cat's nails short and blunt so they don't pierce your skin or furniture. But with so many styles to choose from, you might not know where to begin. We spoke with a professional cat groomer for tips on how to trim cat claws, and put together a list of product recommendations.
Our List
Do Cats Need Their Nails Trimmed?
If you're a cat parent, one of your tasks will be to ensure your kitty's nails are healthy and not overgrown.
"There are some cats that may never have an issue with untrimmed nails," says Lynn Paolillo, a Certified Feline Master Groomer and Certifier with the National Cat Groomers Institute. "However, long, sharp nails can easily get caught in fabric, furniture, carpets, etc., and that can cause a serious injury to your cat's paws. Not to mention, no one likes having sharp cat nails scratch their skin."
Checking your cat's nails is important, and starting early in your pet's life is best. "Nails grow throughout a cat's life, just like our own fingernails," Paolillo explains. "Checking, trimming, and removing any excess length and outer sheath help to maintain healthy nails and paws. Additionally, starting at a young age makes it much more likely for a cat to tolerate touching, handling, and the process of trimming their nails. The worst is waiting until there is a painful problem and hoping your cat will let you help them."
How to tell when it's time to clip a cat's claws
When it comes to how often to trim cat nails, it depends on the individual kitty and how quickly the nails grow. "Some cats use their nails more than others. Cats that use their nails for climbing or pushing off while jumping tend to keep a shorter nail length," says Paolillo.
If the nails are already short enough, there's no need to trim them. According to Paolillo, here are some of the common signs that they're too long and/or bothersome to your cat:
The nails are getting caught on fabrics and furnishings around the home
The nails are scratching family members
Your cat is biting or chewing on their nails
You can hear a clicking sound when your cat walks on hard floors
Do scratching posts eliminate the need for cat nail trims?
Scratching posts are necessary if you share your home with cats, but you shouldn't rely on them as a replacement for nail trimmings.
"Scratching posts are excellent for cat behavior but don't remove any excess length like a nail file," says Paolillo. "They can help to remove outer dead layers of nail, which is especially helpful as a cat gets older and their nail sheath doesn't shed as easily."
What to Look For in Cat Nail Clippers
There are many clippers designed to trim cat nails quickly, easily, and painlessly, so you can find the one that works best for you and your kitty. Here's a breakdown of not only the different types of cat nail clippers on the market, but also what you should consider when shopping for and using them.
Is a cat nail clipper the same as a cat nail trimmer?
First things first: yes, the terms can be used interchangeably, but it's important to read a product's features and look at its photos carefully to be sure you know what you're getting.
"Every brand will have their own version and terminology, but make sure to see a clear picture of the item or see it in person before purchasing, as tools used for shaving hair can also be called clippers or trimmers," says Paolillo.
Cat Nail Clipper Styles
Here's a breakdown of the main styles of cat nail trimmers:
Scissors. A lot of cat nail trimmers are in the scissor style. They're designed to be comfortable to hold and feature sharp, rounded blades that can cut through each nail with ease.
Guillotine. "A guillotine style nail trimmer has a hole the nail goes into, then one piece of sharp metal comes down to trim the nail," says Paolillo. You need to position the nail correctly and then squeeze the handles together to move the blade and cut the nail without damaging it.
Pliers. Many people find it easier to use plier style clippers. The grip is different than scissors, so it might be more comfortable. Some of these have extra features, such as safety guards that can help stop you from cutting the cat's quick (the pink part inside each claw), as well as small LED lights that can help you see the quick more easily.
Consider the size of your cat
Use cat nail clippers that are the appropriate size for your cat. Clippers that are too big and bulky or difficult to handle will make trimming your kitty's claws harder. Also, clippers that are too small for a larger cat's claws won't give you the fast, clean cut you want.
"Breed usually isn't a factor, but age and size can be," explains Paolillo. "Kittens and petite cats have smaller nails, so a smaller-size nail trimmer can be a good fit. But adults and larger cats may have nails that are too large for some nail trimmers."
Choose durable, high-quality materials
You'll need to trim your cat's nails often, and a durable nail clipper is likely to last longer. Look for blades that are made of high-quality materials, such as stainless steel.
It's also important to know when to replace your cat claw clippers. "Nail trimmers that are starting to dull can squeeze the nail instead of cleanly cutting, which can cause discomfort for the cat. As a professional cat groomer, I replace my nail trimmers every six months. A cat owner may only need to get a new pair every few years if they are still in good condition," says Paolillo.
Our Top Picks for Trimming Cats' Nails
We searched for cat nail clippers based on the following:
Design, quality, and safety. Our goal was to find products that are easy to use even with kitties who don't like having their nails trimmed. We also considered materials, safety features, and extras.
Manufacturer: We looked at brands within the pet industry that make a range of products, as well as brands that make grooming products in particular.
Customer reviews: To determine if a product's claims are accurate, we considered ratings and reviews from customers.
Price: Some cat nail clippers are pricier, especially if they're made of high-quality materials or boast an innovative design. However, there are plenty of low-cost options as well. Our list includes items to suit all budgets.
9 Best Cat Nail Clippers of 2023
All featured products are chosen at the discretion of the author. However, Vetstreet may make a small affiliate commission if you click through and make a purchase.
Buying cat nail trimmers may seem simple at first, but you might get overwhelmed by the multitude of options out there. To make your search easier, here are nine of the best clippers for cat nails.
Overall Best Cat Nail Clippers
Our pick: Necoichi Purrcision Feline Cat Nail Clippers
Highly rated by customers, these nail clippers have everything you'd want and need to safely trim sharp claws. Made in Seki City, Japan — a city known for its swordsmiths — they feature blades made of sharp stainless steel. Also, the blades are thinner than those on other clippers, so you might find it easier to see the quick and cut the right amount.
Pros
Thinner stainless steel blades for added precision
Non-slip handles are cushioned for comfort
Great customer reviews
Made in Japan
Cons
Best Nail Clippers for Large Cats
Our pick: Pet Product Innovations Zen Clipper
At first glance, these cat nail clippers may seem like your typical scissor style, but if you look closer, you'll notice the blade is different because of its shortened, rounded shape with a hole in the middle. After putting the tip of your cat's nail through the hole, simply press the handles together to cut. This design can help you avoid the quick more easily because only a certain amount of the nail will fit through the hole — just be sure to select the right size when purchasing.
Pros
Available in multiple sizes so you can choose the one that's right for your cat's claws
Features a patented conical stainless steel blade
Designed for right-hand or left-hand use
Handles are cushioned and non-slip
Cons
May be a bit challenging to figure out which size is right for your cat
This style might take some getting used to
Higher price point
Best Nail Clippers for Small Cats
Our pick: Pet Republique Pet Nail Clipper
This is a scissor style cat claw trimmer specifically designed for small cats and other small breed pets. The holes in the handles are larger, so it could be a good choice if your fingers don't fit other clippers. Also, because it's ergonomically designed, you might find that this product is more comfortable to use. The sharp stainless steel blades are designed to last a long time and trim your kitty's nails easily.
Pros
Larger, ergonomic, cushioned handles
Stainless steel blades
Affordably priced
With every purchase, Pet Republique donates a portion of the profits to local shelters
Cons
Some people may prefer thinner blades
According to some customer reviews, the blades aren't as sharp as others
Best Kitten Nail Clippers
Our pick: Li'l Pals Kitten Nail Trimmer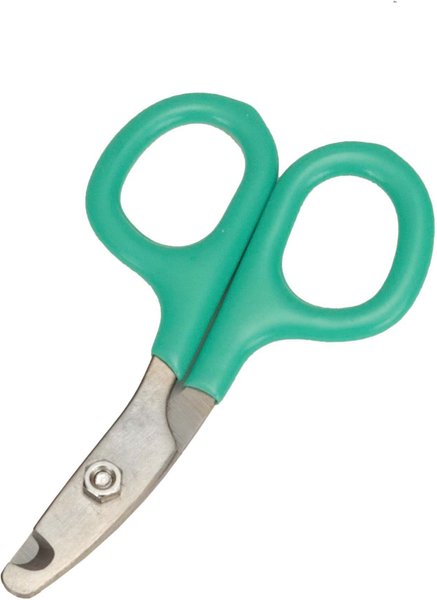 When clipping kitten nails, it's important to use a product that's the right size. You also want to be able to cut the nails with ease and without wasting time — after all, it may be hard to get an energetic kitten to sit still long enough. This nail trimmer is designed for the smallest fur babies. It has sharp blades to quickly cut nails, and the handles are comfortable and easy to control.
Pros
Smaller scissor style
Ideal for trimming a kitten's tiny claws
Comfortable, easy-grip handles
Good price point
Cons
Because of its smaller size (including the handles), this nail trimmer may be harder to use, especially for those with large hands
Best Cat Nail Clippers for Safety
Our pick: CONAIRPROPET Small Nail Clipper
Designed for dogs and cats, this plier style clipper has sharp stainless steel blades and ergonomic handles that are comfortable to hold — and you don't need to worry about your fingers fitting into any holes like you do with scissor handles. Plus, unlike other cat claw clippers, this one features a safety guard that can help you avoid cutting into the quick.
Pros
Non-slip, ergonomic, spring-loaded handles for a comfortable, secure grip
Stainless steel blades
Safety stop and safety lock
Two sizes available
Cons
Depending on the size of your cat and your hand, this nail clipper might be too big
Best Nail Clippers for Anxious Cats
Our pick: Boshel Cat Nail Clippers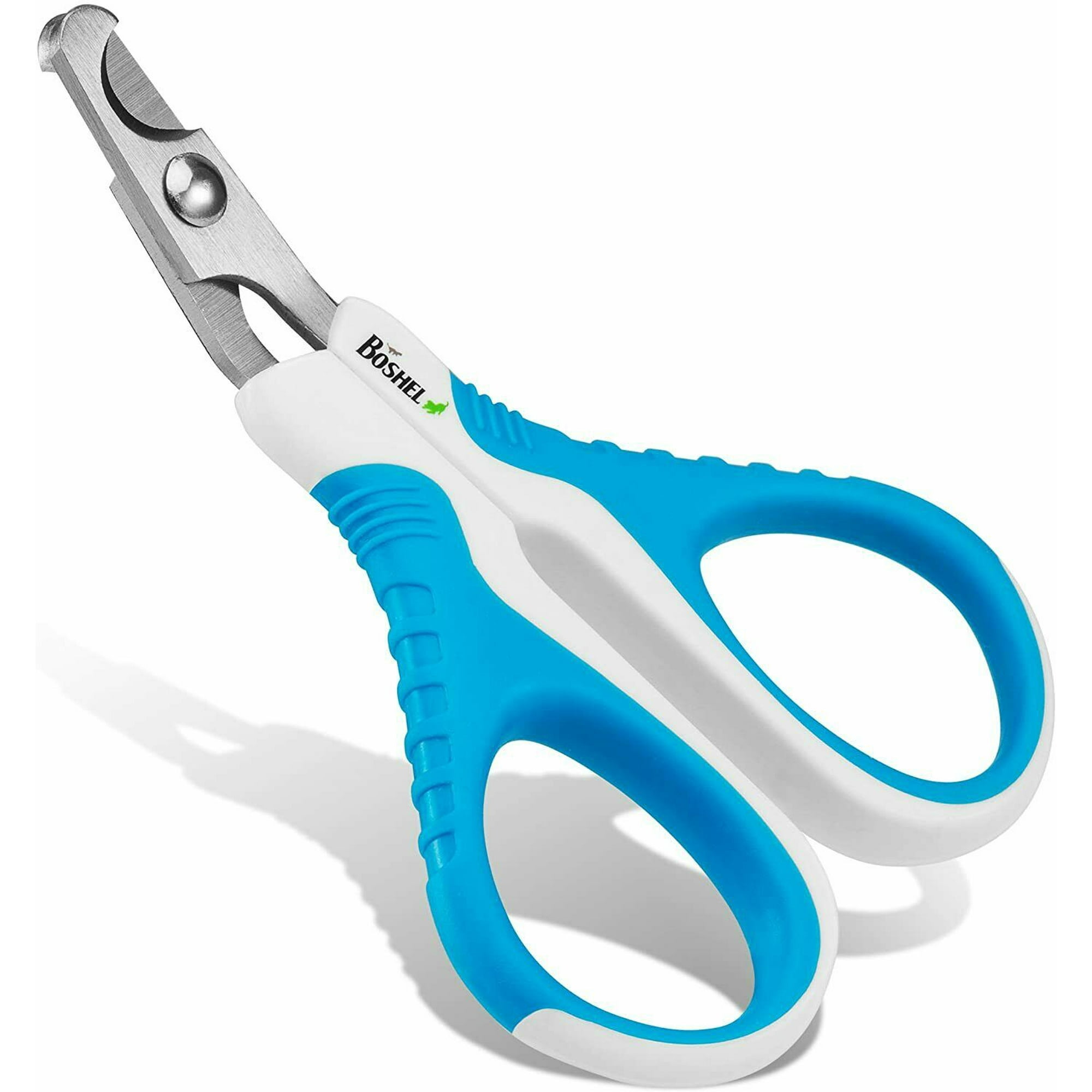 If you have an anxious kitty or one who just hates having her claws trimmed, you'll want to go with nail clippers that allow you to work fast. These scissors feature angled stainless steel blades that can make it easier to cut the nails without hitting the quick. Plus, the ergonomic handles are designed for comfort and ease of use.
Pros
Sharp, angled, semi-circular blades
Rubberized, ergonomic handles for non-slip control and comfort
Some customers said that these were a good choice for larger hands
Cons
Priced a bit higher than other options
Best Value Cat Nail Clippers
Our pick: Whisker City Cat Nail Scissors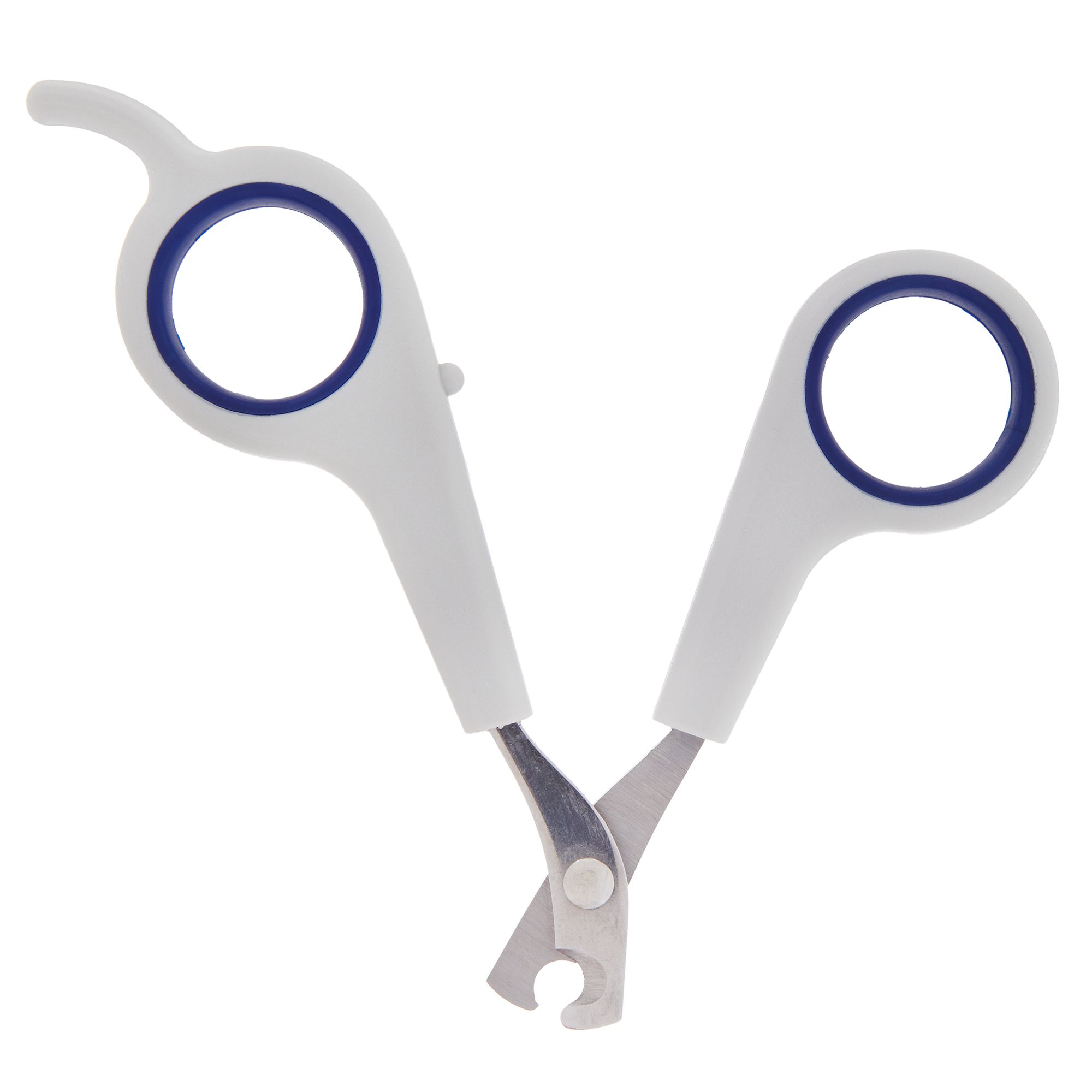 If you're looking for a good clipper that won't break the bank, these scissors are worth considering. They're compact, lightweight, and comfortable, and they come in at a reasonable price point. Once you get the hang of it, you'll find that this option makes trimming your cat's claws quick and simple.
Pros
Great price point
Scissor design is easy to use
Comfortable handles
Cons
This product is designed for cats with small claws, so if yours has bigger, thicker claws, it may not be the right choice
Best Guillotine Style Cat Nail Clippers
Our pick: Millers Forge Pet Nail Trimmer
This option from Millers Forge is great if you're thinking about cutting your cat's nails with a guillotine style trimmer. It features a high carbon steel blade that has been heat-treated so it's durable and sharp. And, when the blade gets dull, you can replace it with a new one. Plus, the handles are easy to grip to keep you in control while trimming.
Pros
Heat-treated high carbon steel blade
Comfortable, easy-to-grip handles
Replacement blade included
Cons
It might take some practice to learn how to cut cat nails with this type of trimmer
Best Cat Nail Clippers with LED Light
Our pick: BaBylissPRO™ PET Small LED Nail Clipper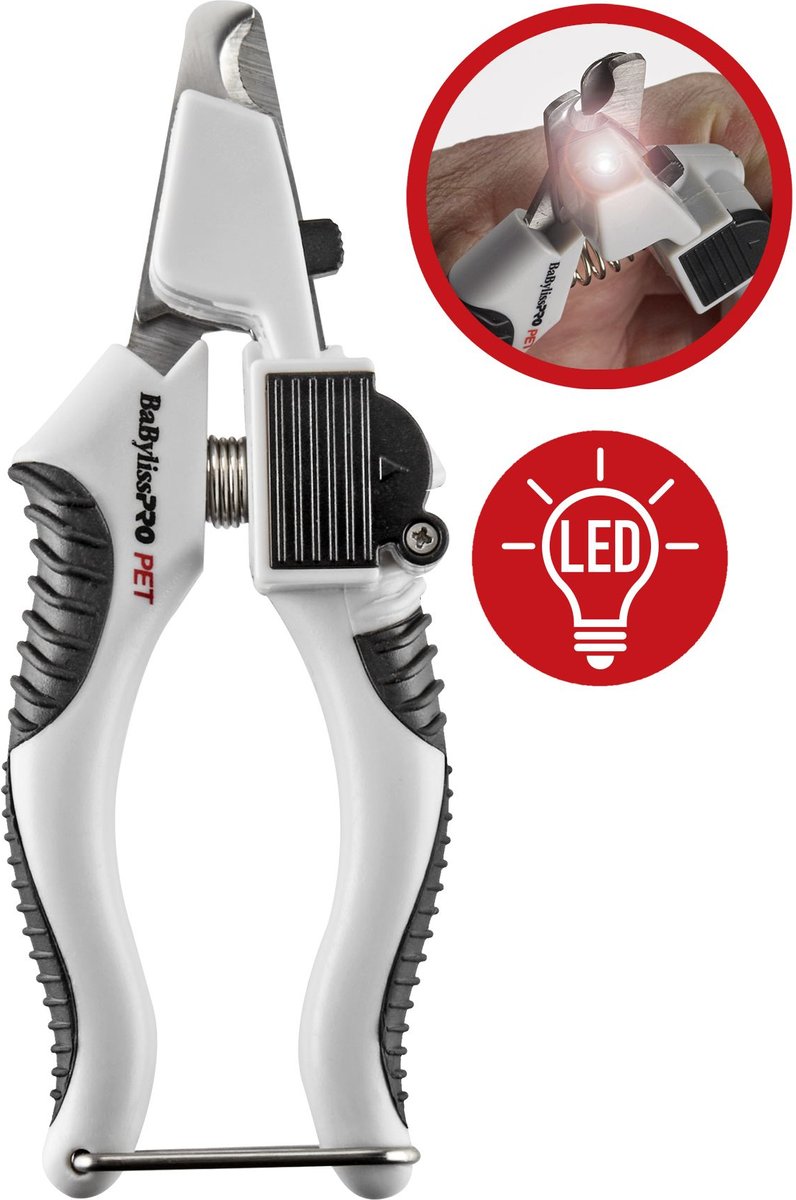 When you're learning how to cut a cat's nails, you might feel nervous about accidentally cutting into the quick. That's when a nail clipper like this one, which has an LED light and safety guard, might be ideal. Both of these features can help you see and avoid the quick, and the non-slip handles provide a steadier grip.
Pros
Plier style
Stainless steel blades
LED light for visibility
Safety guard
Comfortable, non-slip handles
Cons
How to Trim Cat Nails: Tips and Tricks
Whether you've never trimmed a cat's nails before or you just want to be sure you're doing it right, here are some tips:
Make sure your cat is comfortable
If your kitty is squirming and trying to get away, you run the risk of cutting too much of the nail or hurting yourself or your pet. To avoid this, try to find a position that ensures you'll have access to your kitty's paws while she feels at ease.
"The best way is to work with your cat so that they are comfortable. The less moving they do, the easier it will be to trim their nails safely and quickly," says Paolillo.
Patience is key. If you manage to trim a couple of claws but your pet needs a break, don't force her or get mad. Give your kitty plenty of praise and treats to reward her for letting you take care of her claws.
Also, if you need to restrain your cat, be gentle. "Every cat is different and will react to different levels and types of restraint," explains Paolillo. "Some cats are more patient and tolerant, while others may be too difficult, requiring a trip to a professional. Restraints like a wrapped towel [or] Elizabethan collar or cone, or having a second person, are good options for home nail trims. Start with the least restrictive position so as not to over-handle or cause undue stress to the cat."
Grinders may not be the best choice
If you've come across pet nail grinders, you might wonder if they're worth trying. Paolillo offers this advice: "Grinders can be harder to acclimate a cat to, as they're noisy and the vibration may cause a cat to try to jump away. And the whirring of the nail grinder can also pull hair or rub against skin, causing discomfort. If your cat is wriggly or is new to nail trimming, I would not recommend trying a nail grinder."
What about cat nail files? "A nail file is fine," says Paolillo, "but it may take much longer to file enough length off of the nail. And not all cats will be patient enough to sit for all their nails to be done."
Start them young
Getting your kitten accustomed to having her nails trimmed is wise, as it might be harder to train an adult cat to tolerate it.
Start slow and be consistent, using the same patient and gentle techniques that you'd use for any cat. If you try to trim your kitten's claws but she has too much energy and is hard to control, wait until she's calm and relaxed.
Cat Nail Clippers FAQ
How often should you trim a cat's nails?
On average, you might need to trim your kitty's claws every two weeks. Establish a routine based on how quickly the nails grow. If you notice they're long and sharp, it's time to trim them, but you can also clip them before they even get to that point.
Remember, if the claws continue to grow without being trimmed, there's a risk of them curving into the paw pad — ouch! This is more likely to occur in senior cats, so maintaining a claw trimming routine throughout your pet's life is crucial.
What's the best way to trim cat nails?
Start by getting into a position that maintains your cat's comfort and makes it easy for you to work. For example, you might place your cat on a table or in your lap.
"I recommend starting with the 'thumbs' or innermost nails, as they can be the most difficult nails to see and trim. Then, if the cat starts to squirm or tries to get away, you haven't left the most difficult nails for last," says Paolillo. "Hold the cat's foot in your hand and push the knuckle above one nail. This helps to push the nail so it sticks out away from the hair, exposing enough to trim."
To avoid hurting your pet, use care and don't be forceful. "With any cat, keep in mind that their legs do not go out to the sides of their body. All handling should keep the legs and paws in natural positions, and not be pulled or held in ways that are uncomfortable," advises Paolillo.
How short should you cut cat nails?
Number one tip: always avoid the quick. Cutting into it causes bleeding and pain.
In the same way that you trim only the white part of your nails, you need to do the same when trimming cat claws. Remember, you don't need to take a lot off, especially if you can't clearly see the quick.
Can you use dog nail clippers on cats?
Many nail trimming products are made for both small dogs and cats, so you can consider those while you shop.
"Dog nail trimmers/clippers are usually fine to use. Just be aware that some are made for very large dogs, and those will be much too large to use on the average cat," notes Paolillo.
Can you use human nail clippers on cats?
"Human nail clippers can be used," Paolillo says, "but just keep in mind that they can dull very quickly, squeezing the nail instead of cleanly cutting, and the opening of the cutter is quite small."