6 Best Cat Toothpaste Picks of 2023
Published on March 17, 2023
Humans aren't the only ones who need to take care of their teeth. Dental issues also can affect our furry family members, too. A lack of proper oral care can lead to serious periodontal diseases that have lasting impacts on their overall health. Like with humans, preventative dental care is the best way to go.
A large part of this preventative care is rooted in regular, routine brushing to ensure a clean mouth and teeth, so having a proper cat toothpaste is important.
Here, we'll take a look at the best cat toothpastes available to pet parents and provide recommendations to make it easy for those shopping around.
Our Top Cat Toothpaste Picks
Why You Need a Cat Toothpaste
Much like humans, cats are susceptible to all sorts of dental issues that require attention. From plaque buildup to gum disease and everything in between, cats face many of the same issues as us. Brushing routinely – up to three times a week – is the best way to preventatively combat these potential problems.
However, in brushing your cat's teeth, pet parents should never use the typical human varieties from their bathroom cabinet. Using a toothpaste specifically formulated for a pet is important, as human toothpaste contains ingredients that are generally considered toxic to pets.
"Due to fluoride content, we want to make sure we are using cat specific toothpaste and not human toothpaste," explains Dr. Natalie Marks, a veterinarian at VCA Blum Animal Hospital.
How We Ranked Our Toothpaste Picks
In making our recommendations for cat toothpastes, we took a variety of factors into consideration, including:
Ease of use. Since brushing their teeth may not be your cat's favorite activity, we made sure to highlight brands that offered brushless options or included specially designed toothbrushes to make the process a little easier for both them and you.
Overall brand recognition. We included a mix of well-known brands that have been around for years, as well as others that you may not be as familiar with but still make a great toothpaste for your feline friend.
Consumer reviews. Since reviews are usually one of the first things pet parents look at when it comes to shopping for something new for their kitty, we did the same and made note of any crucial consumer callouts
Price point/overall cost. Cat toothpaste will most likely be an item on your repeat purchase list, so we took a look at the cost of each to highlight ones that are lower in price, as well as those that may be a little more expensive but still fantastic options.
6 Best Vet-Approved Cat Toothpaste Options in 2023
All featured products are chosen at the discretion of the author. However, Vetstreet may make a small affiliate commission if you click through and make a purchase.
Best Overall Cat Toothpaste
Our Pick: Petsmile Professional Pet Toothpaste
Petsmile Professional Pet Toothpaste is a premium cat toothpaste product that's formulated with a proprietary ingredient called Calprox. The product dissolves the protein that allows plaque and bacteria to stick to teeth and makes it easier to brush away buildup. It is specially formulated for pets, free of BPA and parabens, and made with ingredients considered human-grade.
The best part about Petsmile Professional Pet Toothpaste is its ease of use. You can either put the brush-free formula on your cat's teeth and let it do its thing or use a toothbrush for an even deeper clean. Pet parents rave about their cats loving the flavors of this toothpaste, along with how well it works.
Pros
Can be used with or without a toothbrush
Cats can eat and drink right after application; no need to wait
Vegan, gluten-free, human-grade ingredients
No BPA, parabens, silica, or sulfates
Comes in multiple flavors, including "London Broil", "Rotisserie Chicken", and "Say Cheese"
Dental kit with Petsmile toothbrush is also available for purchase
Cons
Pricier than other cat toothpastes on the market
Best Cat Toothpaste and Toothbrush Set
Our Pick: Nylabone Advanced Oral Care Cat Dental Kit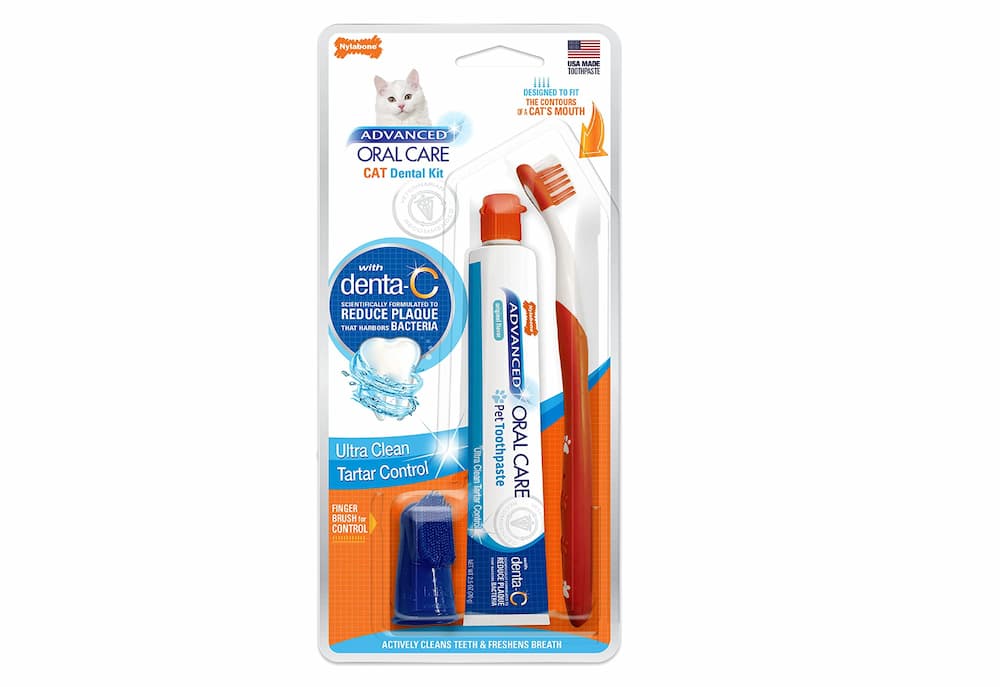 Well known across the pet industry for creating quality dental products for cats and dogs, Nylabone is a brand many pet parents love, which is one of the reasons why their full advanced dental kit is a popular pick. Providing pet parents a quality all-in-one kit for dental care, it includes a pet-specific toothpaste with Denta-C to help get rid of plaque, a finger toothbrush, and has a full-size, cat-specific toothbrush that's built to clean hard-to-reach areas.
Pros
Toothpaste is formulated with Denta-C to help fight plaque
Full-size toothbrush is designed specifically for a cat's mouth contours
Good price point
Nylabone is a widely recognized, high-quality pet care/toy brand
Cons
Cat-specific kit is only available with one toothpaste flavor
Best Enzymatic Cat Toothpaste
Our Pick: Virbac CET Enzymatic Toothpaste
Virbac has over 30 years of history in veterinary at-home dental care, making it a brand that many pet parents trust. Formulated with enzymes that both fight plaque and freshen breath, this enzymatic toothpaste for cats provides a great at-home solution for teeth cleaning. Plus, the non-foaming agents make it safe for daily use and swallowing, and it's available in a variety of flavors, including vanilla-mint, poultry, and beef. Many pet parents say that their kitties adore the taste.
Pros
Enzymatic formula fights plaque, bacteria, and bad breath
Safe for daily use
Available in multiple flavors
Virbac has been a trusted pet brand for over 30 years
Pros
Best Toothpaste for Kittens
Our Pick: Oxyfresh Dental Kit
Suitable for all cats (and dogs!), Oxyfresh's dental kit comes with a pet gel toothpaste and a few finger brushes, as well as a water additive that can help promote dental care beyond brushing. And because the toothpaste and additive are safe for kittens, you can begin working a healthy oral care regimen into your little cutie's routine early.
Pros
Suitable for cats of all sizes/ages
Comes with gel toothpaste, finger brushes, and a water additive for extra care
Toothpaste and additive feature non-toxic, plaque-fighting Oxygene
Flavor-free formulation is great for picky cats
Cons
Best Brushless Cat Toothpaste
Our Pick: Oratene Brushless Toothpaste Gel for Cats
Oratene's brush free oral gel offers an easy teeth-cleaning solution for pet parents that requires – you guessed it – no brushing. This brushless cat toothpaste simply adheres to your feline's teeth, providing protection without the hassle of brushing. For pet parents looking to get into a simple dental routine, this is a viable solution.
Pros
Brush-free formula
Easy application
Free from alcohol, xylitol, detergents, and chemicals
Freshens breath
Cons
Doesn't replace need to brush at certain intervals
Higher price point
Best Value Cat Toothpaste
Our Pick: Arm & Hammer Complete Care
Arm & Hammer is a widely recognized brand, and their pet dental care kit provides excellent value for pet parents looking into oral care. This kit includes cat-friendly toothpaste, a toothbrush, and a finger toothbrush all in one package. Coming in just under $6, it's an easy one-stop option at a great price, backed by name-brand product quality.
Pros
Great price point
Utilizes baking soda to freshen breath and fight tartar
Includes cat toothpaste and two toothbrushes
Trusted, well-known brand
Cons
Limited flavor selection
Some customers said their cat didn't care for the smell or taste
Cat Toothpaste Buyer's Guide
When shopping around for the best toothpaste for cats, pet parents should keep in mind a variety of factors. Some shopping tips include:
Always read the label. It's essential to hone in on toothpastes that are specially crafted for pets, as toothpastes made for humans can be harmful. Even if the product is marketed as pet-safe, pet parents should always double check the label to make sure they're not purchasing a toothpaste with potential ingredients that could harm their pet, such as fluoride or xylitol (which is often used for flavoring).
Keep your cat's flavor preferences in mind. If you know your cat well and know the flavors they already like, try to find cat toothpastes that are similar to that flavor profile. Many dog toothpastes, which can technically be used on cats, may not resonate from a flavor standpoint.
Finding the right texture may be trial and error. Cat toothpastes come in all types of textures, from thick and pasty to gel-like to thin and watery. As you start to brush, it may take time to adjust to your cat's individualized needs before landing on the right product.
Know your options. There are many different types of pet toothpastes out there on the market, such as enzymatic toothpastes and natural toothpastes, which both require brushing to be truly effective. On the flip side, there are also brushless toothpastes that don't require actual brushing. Be sure to check out all of your options before landing on a final choice.
Cat Toothpaste FAQs
In considering cat toothpastes, many pet parents may be asking themselves some of these common questions.
Can you use dog toothpaste on cats?
Dog toothpastes are generally safe for use on cats, as both are specifically formulated for pets and remove ingredients that are toxic to animals. Just be sure to always read the label before using.
Is human toothpaste toxic to cats?
As Dr. Marks notes, human toothpaste is not safe for cats. Human toothpastes generally contain fluoride, which is toxic to cats. And be aware that even if you use a fluoride-free toothpaste, other ingredients, such as xylitol, can be harmful to your furry friend.
Do cats like mint toothpaste?
The verdict is out on this one! Many cats prefer meatier flavors to "sweeter" flavors like mint, as they lack the receptors that allow them to enjoy sweet tastes. While this is true for many cats, why certain cats gravitate to certain flavors is totally subjective and depends on the individual feline.
Is there a specific toothbrush you need to use to brush your cat's teeth?
There are a wide variety of products on the market to help brush your cat's teeth, including a number of pet-specific toothbrushes. However, if you don't have a cat toothbrush on hand, there are other options. "I love using toddler toothbrushes for cats and brushing at least three times a week," says Dr. Marks. "Alternatively, there are wipes that can be used and finger cots to make brushing easier."