Best Dog Wipes for Ears, Paws, Eyes, and More
Published on January 11, 2022
Let's be honest: giving your dog a bath is never easy—even when you have a pretty well-behaved pup that doesn't mind the water. You've got to get the temperature right, then convince them to hop in (or stay in) while you shampoo their fur, all while hoping they won't decide to give a good shake and send dirt, soap, and water all around your bathroom.
"Unless your dog gets especially dirty or has a health problem, they shouldn't need a bath more frequently than every 4 to 6 weeks or so," says Dr. Jennifer Coates, a veterinarian based in Fort Collins, Colorado. In fact, bathing your dog too often could strip the natural oils their coat and skin need to stay healthy.
But here's the thing: your dog can definitely get dirty or smelly before that 4-to-6-weeks mark. That's where dog wipes become extra helpful.
Dog Wipes: Why You Might Need Them
Dog wipes are wipes that are specifically formulated to be safe to use on your pup for cleaning and freshening up your dog's fur and coat.
There are several types of dog wipes and some have specific purposes for cleaning the eyes and ears, while others are meant to give your dog a general wipe down or a freshening up.
For example, if you come home from a long walk and your dog's paws are muddy, you can use dog wipes to clean off their feet (and protect your furniture). Or you can use a scented dog wipe to freshen them up between baths if they're starting to get a little smelly. Wipes can also come in handy for cleaning around a dog's eyes and mouth or even just wiping down their rear-end if it's getting a little stinky.
While liquid ear cleaners are often more effective, ear wipes can help clean the outside of your dog's ears, especially if you have a nervous dog. "For dogs who are anxious about ear cleaning, wipes can help as an interim solution to remove some of the ear debris while you work on getting your dog used to ear handling and cleaning," says Dr. Jamie Richardson, medical chief of staff at Small Door Veterinary.
Wipes are also designed for specific breeds too, like Bulldogs, Pugs, or other dogs with wrinkly faces. You can use wipes to clean the folds in their skin a couple of times a week to help protect them from skin infections.
Wipes can be used for more specific purposes, like wiping teeth and cleaning wounds.
The Best Dog Wipes
Having dog wipes on hand can help you keep your dog clean, fresh, and looking good. Here are our top picks for ears, eyes, and general use.
All featured products are chosen at the discretion of the author. However, Vetstreet may make a small affiliate commission if you click through and make a purchase.
Our List
Best Dog Ear Wipes
Our Pick: Pet MD Aloe Vera & Eucalyptus Dog Ear Wipes
While most veterinarians recommend liquid ear cleaner to clear wax out of your dog's ear canal, you might want to clean the outside of your dog's ear canals (or if they have floppy ears, the flap itself) because those can get pretty dirty too and these ear wipes will help you do that. They're free of alcohol so they don't sting, they're gentle enough to not irritate sensitive skin, but they're effective enough to remove dirt, wax, and discharge around the ear easily.
Highlights
Veterinarian-formulated
Perfect for between-bath cleans
Made in small batches in the USA
Designed for sensitive skin
Things to Consider:
Not as effective as a liquid ear cleaner
Small wipes so not the easiest to hold
Small container
Best Dog Paw Wipes
Our Pick: Pogi's Grooming Wipes
Available both as unscented and green tea leaf-scented, these wipes are made from sustainably harvested bamboo fiber and they're large enough for you to clean all four of your dog's paws with just one wipe. They're free of irritating chemicals but actually strong enough to get your dog's feet clean, even after a long day outside. Plus, you can buy them in a variety of pack sizes.
Highlights
Available in two scents and four-pack sizes
Made of sustainably-harvested bamboo to be eco-friendly
Large individual wipes are 8 by 9 inches so you can get a lot of cleaning done with one wipe
No parabens, alcohol, or harsh chemicals
Soothing ingredients including Aloe Vera, Vitamin E, and Hawaiian Awapuhi
Works on paws and coat
Can be used on cats, too
Things to Consider:
Packaging isn't the best so you may need to store in a zip-lock bag
Unscented isn't truly unscented
Best Dog Dental Wipes
Our Pick: Petkin Fresh Mint Dog & Cat Plaque Tooth Wipes
While brushing your dog's teeth with a toothbrush and toothpaste is still the best option, not all dogs will tolerate that type of brushing. Enter: dog teeth wipes, like these ones from Petkin. If you use them daily, you can help remove any food particles caught in their teeth and help prevent the build-up of plaque and tartar. These also contain baking soda to help remove stains.
Highlights
Can help remove plaque and tartar
A great option for dogs that won't tolerate toothbrushes
Affordably priced
Work on cats and dogs
Contains baking soda to remove stains.
Things to Consider:
Not as effective as regular brushing
Best Dog Eye Wipes
Our Pick: Great Eyes Tear Stain Wipes
If your dog tends to get tear stains around their eyes, these wipes can help. They're made with safe, non-irritating, and naturally-derived ingredients and they're very gentle on your pup's skin so you can easily wipe away any stains on their face. Plus, a regular cleaning with these wipes can minimize the chance that your pup will get an infection. They're also a good choice for removing any goop, mucus, or drool stains on your pet's face too.
Read the full review of Great Eyes Tear Stain Wipes.
Highlights
Easily removes stains around eyes and mouth
Nature-derived ingredients
Will gradually clear build-up of eye residue
No sulfates, parabens, MEA, DEA, or alcohol
Available at a discount with a subscription
Safe to use weekly
Made in the USA
Things to Consider:
Not safe for puppies under 12 weeks
You'll need to re-saturate wipes by turning container upside down and shaking
Wipes can dry out if the lid is not sealed correctly
Best Antiseptic Wipes for Dogs
Our Pick: PetMD Chlorhexidine Wipes With Aloe
If your dog has a cut or scrape, rashes, or a healing infection, you will want to regularly clean the wound—and these wipes can help you do that safely. They contain chlorhexidine, which is an antiseptic antibacterial that won't sting as you clean your dog's injury, and you can use them on your cat or horse too.
Highlights
Antiseptic and antibacterial
Large individual wipes so you can use one wipe to clean more
Veterinarian-formulated
Doesn't sting
Made in the USA
Things to Consider:
Can be harmful if ingested so store them safely
Need to turn container upside down to rehydrate wipes
These wipes feel oily to the touch
Best Dog Deodorizing Wipes
Our Pick: Nature's Miracle Deodorizing Bath Wipes
Nature's Miracle is a staple among pet parents for a reason: their products are great at fighting odors—and now you can fight some of your own pet's odors by giving your dog a quick wipe down with their wipes. They're available in two different scents and four different container sizes. They're mild enough for everyday use and they're safe to use on puppies.
Highlights
Mild enough for everyday use
Alcohol-free
Safe for all life-stages
Two different mild scents
Effectively removes dirt and pet dander, while fighting odors
Things to Consider
Packaging lid isn't the easiest to open
Not made in the USA
Best Antifungal Wipes for Dogs
Our Pick: VetOne KetoHex Antifungal & Antibacterial Veterinary Formulated Wipes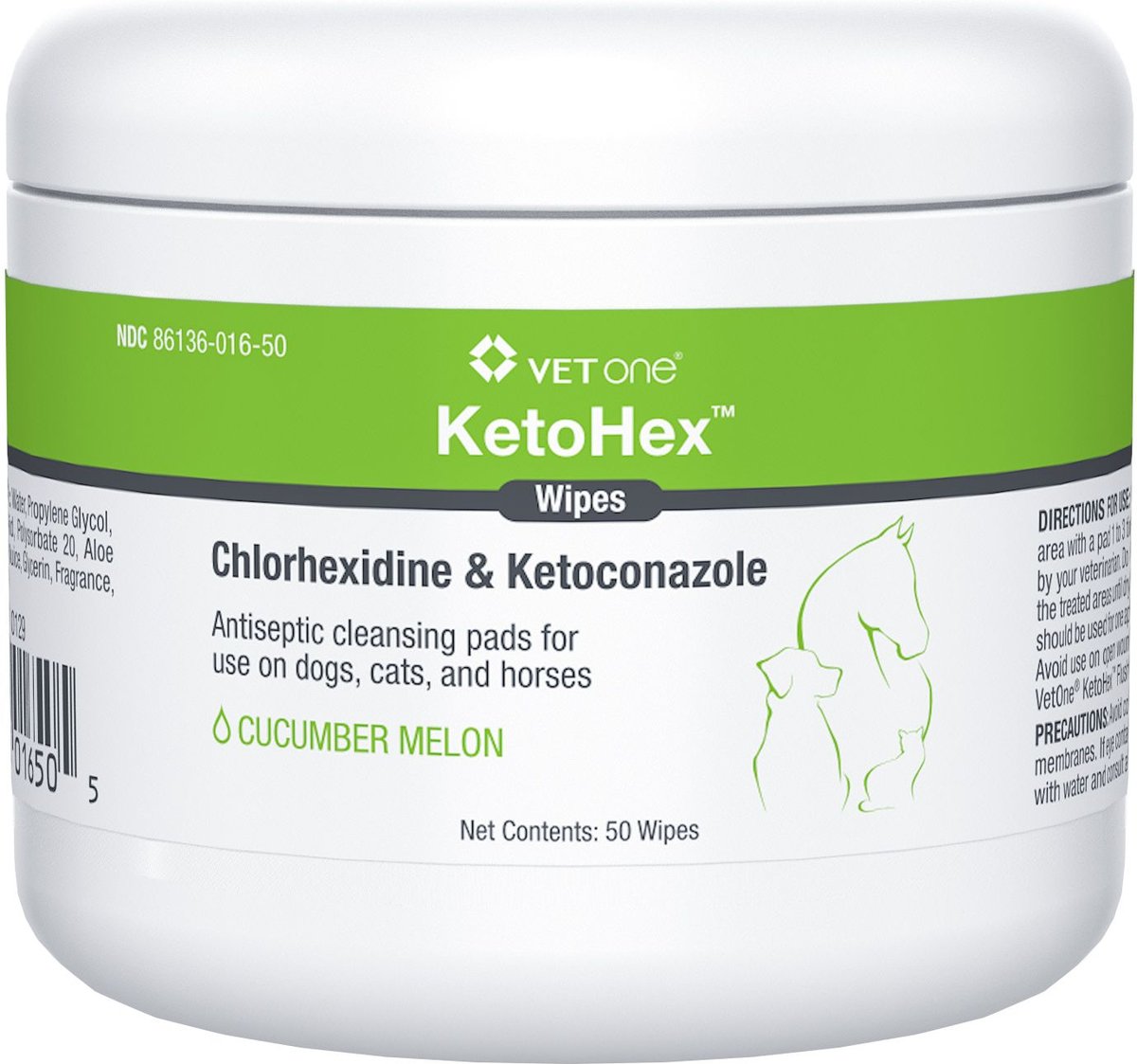 If you have a wrinkly dog, like a Bulldog, or your dog tends to get fungal skin conditions or lesions on their skin or paws, these wipes can help clean, treat, and protect your dog's skin. They're veterinarian-formulated and very easy to use. They don't sting either.
Highlights
Medicated antifungal and antibacterial wipes
Great choice for wrinkly dogs
Treats, cleans and prevents infections
Safe for skin folds, paws, and other problem areas
Can work for cats and horses too
Things to Consider:
Only 50 wipes per container
Not a substitute for veterinary care
Not the best smelling dog wipes
Best Allergy Wipes for Dogs
Our Pick: Med Pride Bamboo Fiber Pet Wipes
Made from sustainable bamboo, these wipes are good for the planet and dogs with allergies. They're hypoallergenic and contain no alcohol or parabens, so they won't irritate your dog's sensitive skin, especially if they have allergies. In fact, they contain both vitamin E and aloe to help nourish and soothe the skin. Use on the face, paws, fur — or anywhere your pup needs a little wipe down!
Highlights
Eco-friendly wipes made of sustainable bamboo fibers
Hypoallergenic and enriched with vitamin E and aloe
No alcohol or parabens
Ultra gentle for dogs with sensitive, allergy-prone skin
Can buy in bulk
Things to Consider:
These do have a slight scent
Best Puppy Wipes
Our Pick: Earth Rated Dog Wipes
While not exclusively designed for puppies, these wipes are so gentle that they're safe to use on puppies, post-surgery dogs, and cats. Each wipe is large, so you can clean an entire puppy (and a lot of your adult dog) with one wipe. The ingredients are safe, you can buy an unscented option, and once you're done cleaning your puppy, you can compost the wipes—which keeps the planet happy too.
Highlights
Safe enough to use on puppies and cats
Free of alcohol, parabens, sulfates
Large 8 by 8-inch wipes
Compostable wipes
Available in unscented or lavender
Two size packages are available
The company donates to shelters and rescues
Can be used on paws, body, and rear-end
Things to Consider:
Pricier than most wipes on this list
Wipes are very thin
Not made in the USA
Best Cucumber Melon Ear Wipes
Our Pick: DelRay Advanced+ Ear Cleaning Wipes
Save 35% with first AutoShip order + 5% off future Autoship orders at PetMeds from VetStreet using code: VETSTREET35
DelRay's Advanced+ Ear Wipes contain a light but aromatic cucumber melon scent, perfect for on the go or after bathing or swimming. For dogs with excessively dirty ears, these 100 wipes go a long way when used two to three times daily over several days. Each wipe is slightly over two inches for ideal finger gripping in the ear cleaning process.
Highlights
Made in the USA
Cucumber melon scent leaves ears smelling fresh
May help prevent infections with regular use
Advanced veterinary formula is designed to make ear cleaning quick and easy
Perfectly portable for on the go
Things to Consider
Some pet parents may not care for a scented product
Multi-dog households may use the product up faster
Always seek veterinary care if symptoms do not improve
Tips for Using and Storing Dog Wipes
While using wipes on your dog is pretty straightforward, there are some general safety tips and storage tips to keep in mind.
Use wipes for their intended purpose. It's important to remember that dog wipes are not all the same. If you pick up all-purpose wipes, you can usually use them on most areas of your dog and most breeds of dog, except for sensitive areas like the eyes (though you should still check the instructions to be sure). But other wipes are designed for specific purposes.
For example, wipes designed for your dog's eyes, ears, rear-end, or teeth shouldn't be used interchangeably. Some might contain moisturizing properties for the skin, or antifungal properties. Make sure you use them for their intended purpose so you don't irritate your dog's skin or cause them harm.
Avoid heavy fragrances. In general, try to opt for dog wipes that have soft scents (or no scent). While you might enjoy scented wipes, the smell might be too much for your dog (who has a stronger sense of smell than you) and those perfumes might even irritate your dog's skin.
Keep packaging closed tightly. To make your dog wipes last as long as possible, reseal the container they come in. You can also put them in a plastic, resealable bag at home to give them extra shelf-life and keep them from drying out.
Store them away from your dog. Be sure to keep your wipes out of reach from your dog. Most dog wipes contain ingredients that are not meant to be ingested and they could cause harm to your dog's gastrointestinal tract if eaten.
Don't substitute baby wipes. Dog wipes are not the same as human wipes, so if you run out of dog wipes, don't reach for baby wipes. Dogs and people have a different skin pH, so baby wipes might irritate, dry out, or make your dog's skin itch. Plus, the ingredients in human wipes might not be safe for your dog if they were to lick them. So if you run out of dog wipes, just use a wet-paper towel.