6 Best Cat Tunnels of 2023
A cat tunnel is a must-have for every cat owner, especially if you have a high-energy feline. Tunnels for cats provide a fun and safe area to play and can keep pets busy for hours!
Whether it's a game of hide-and-seek or racing through on a chase, your cat will love their new cat play space. Cats are curious creatures that crave stimulation so having a cat tunnel system will help keep your frisky friend entertained and out of trouble.
Need some tips on which tunnels are worth buying for your housecat? We've narrowed the choices down to the very best ones on the market.
Our Top Tunnel Picks
All featured products are chosen at the discretion of the author. However, Vetstreet may make a small affiliate commission if you click through and make a purchase.
What Is a Cat Tunnel?
Cat tunnels are tubes generally made out of a durable soft material such as nylon or polyester. These play areas for cats allow them to tap into some of their instinctual behaviors like running, chasing, spying, pouncing, hiding and of course, napping.
There are many different types of cat tunnels to choose from including indoor, outdoor, circular, straight, muti-tunnels, and cat tunnel beds.
For kittens, you can purchase cat tunnels that crinkle, have hanging cat tunnel toys, and can even find some that can change shapes so your little furry friend never gets bored.
Why Do Cats Like Tunnels?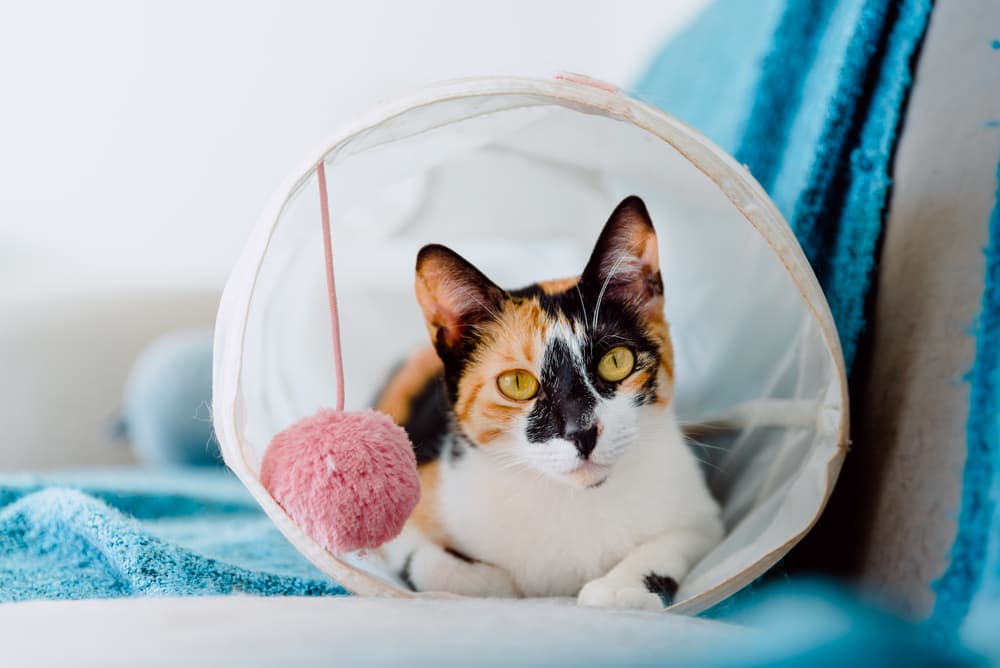 Cats love to play – especially kittens who are full of energy and need a lot of stimulation. Your cat will love rolling around in a tunnel, running through it, and playing with hanging cat tunnel toys. Cats also enjoy using cat tunnels as a hiding spot, which they instinctively do when they're scared or when they're just being playful.
Owning a cat tunnel is also a great way for your cat to get regular exercise. Daily exercise is important for their health and preventing weight gain – a common problem for inactive house cats.
After a cat play session, your fatigued feline will love to curl up for a cat nap in the warm and cozy cat tunnel. Similar to their ancestors in the wild, house cats like to sleep in a warm and safe place so they can feel secure and out of danger. Many cats prefer to sleep in a cat tunnel bed for these reasons rather than on a regular cat bed.
How We Chose Our Top Cat Tunnels
We took many things into consideration when pulling together our list of favorites. In addition to testing these tunnels out, we looked at customer reviews, price, durability, functionality and any warranties offered.
We also took into account the safety features, style, and the ease of setting up and putting away these cat tunnels.
And when searching for the best cat tunnels, we also chose options that cater to a variety of cats, including older cats with less energy who might want a place to relax, and higher energy kittens and extra playful cats looking for ways to be entertained.
6 Best Cat Tunnels of 2023
With so many different cat tunnel variations to choose from, we broke them down into the most common types and identified what we liked (and disliked) about each. Hopefully this will help you pick out the perfect cat tunnel for your favorite four-legged friend!
Overall Best Cat Tunnel
Our Pick: Tucker Murphy Dayshia Tunnel Pet Cat Condo
Our overall favorite cat tunnel system is the Dayshia Tunnel Cat Condo by Tucker Murphy Pet. Though it's a bit pricier than other models, they sure packed a lot into this cat tunnel! This luxurious tunnel for cats features a long cat tube with a warm and cozy bed, a sisal board for scratching, cat tunnel toys, and a grooming brush. This heavy-duty design is made of wood covered with carpet and plush velvet cloth. It can quickly collapse and expand for easy storage and is made for indoor use.
Pros
Many different features to keep felines entertained
Easily collapsible
Cat tunnel toys (cat bell and ball)
Stylish to fit a variety of home decor
Cons
More expensive than other comparable cat tunnels
No manufacturer's warranty
Only comes in one color
Best Indoor Cat Tunnel
Our Pick: 12″ H Kandy Plush Nesting Cat Condo
For indoor cats, this plush cat tunnel is our favorite. Your cat will love this multifunctional cat tunnel, bed, and sisal scratching wall combo. It's made of wood and durable polyester and has two different size condos to accommodate a bigger or smaller cat. This scratching tunnel for cats easily collapses for quick storage and comes in two different colors, brown or gray. Customers call it a great purchase for the price – and we have to agree!
Pros
Several different features
Cat tunnel toy (hanging ball)
Stylish
Excellent customer reviews
1 year warranty
Cons
More expensive than other comparable cat tunnels
Small-size condo is quite small
Best Outdoor Cat Tunnel
Our Pick: Kitty City Outdoor Play Triple Cat Tunnel
If you're looking for a bigger outdoor cat tunnel system, this multi-tube play station features a maze of tunnels and two cubes to relax in. It's a great way to safely let you feline explore the great outdoors! It's made of durable nylon mesh, which allows plenty of airflow on hot days. It's also outfitted with two zipper doors. This three-way play tunnel is big enough to accommodate several cats of all sizes, with the cubes measuring 14". This cat tunnel comes with stakes to secure into the ground.
Kitty City also makes additional add-ons, such as an outdoor play kennel that can be attached to this cat tunnel for the ultimate cat play wonderland!
Pros
Great user reviews
Lightweight and easy to assemble
Additional products available for a larger play area
90-day return policy
Cons
Only comes in one color
Uses stakes to secure to the ground so may not work as well indoors
Best Cat Tunnel Bed
Our Pick: KUCDBUN Cat Tunnel Bed
This 2-in-1 cat tunnel bed combo not only comes with a comfy pet bed with a canopy, built-in "crinkle" paper, cat tunnel toys, and a removable mat for easy cleaning. This is a great choice for multiple cats or other pets, including rabbits, ferrets, or small dogs. The cat tunnel can detach from the bed and collapse in seconds for quick and easy storage. It's made of canvas suede fabric with a steel frame and the cat tube opening is about 10.5" to accommodate most cats. This cat tunnel comes in two colors: coffee brown or matcha green.
Pros
Lightweight and quickly collapsible
Comes with cat tunnel toys (hanging ball, bell, and cat feather toy)
Useful if you have other small pets in your home
Great bang for the buck
Cons
Suede fabric is not as durable as polyester. May not be the best choice for heavy scratchers, high energy cats, or households with puppies
Makes some noise between the bell and crinkle material
Only a 30-day return policy
Best Cat Tunnel for Multi-Cat Homes
Our Pick: Cat Tunnel Toy and Cubes Combo
If you have multiple cats or other small pets, this 3-in-1 combo pet tunnel, cat cube, and cat tent is our recommendation. The cat tube can be detached from the tent and cube for fun games of hide-and-seek or for a little privacy. It's made of lightweight, tear-resistant polyester and comes with two hanging cat tunnel toys (bell and ball). The cut tunnel opening is 10" to fit average sized cats or other pets under 15 pounds.
Pros
Lightweight and quickly collapsible
Great price
Comes in three different fun colors
Lots of different play options for multiple cat homes
Cons
This is a big cat tunnel system, make sure you have the space!
Only a 30-day return policy
Only bright color options available, so may not blend with decor
Best Budget-Friendly Cat Tunnel
Our Pick: LUCKITTY Geometric Cat Tunnel
Since most of us are pinching pennies these days, here's our cat tunnel choice for the best bang for your buck. Customers agree, as it has nearly all 5-star reviews. It's made from a steel frame with waterproof Oxford cloth on the outside and soft flannel on the inside. The cat tube is collapsible and measures 9.8" to accommodate small to medium sized cats. It comes in three different stylish colors/patterns.
Pros
Excellent reviews from cat parents
Lightweight and quickly collapsible
Great price
Includes two hanging cat tunnel toys
Cons
Smaller than many other cat tubes, may not fit larger cats
Only 30-day return policy
Cat Tunnel Buyer's Guide
Cats are notoriously fussy, so you want to make sure to check out the many different options and pick out the right cat tunnel for your finicky feline. Here are some tips for finding the best cat tunnel for your feline friend:
Take size into consideration. The first thing to consider is the size. Make sure to check the measurements so that your cat will fit comfortably. Your cat tunnel should be big enough for your cat to easily run through and to lie down and stretch out, but not too big, or your cat may not feel the security it instinctively wants to hide and nap. The diameter for most cat tunnels measures about 10" wide, which is good for an average sized cat.
Settle on a type. Next, you'll want to pick the style and type of your new cat tunnel. Is it for a playful kitten who likes crinkly sounds and wants to play with cat toys? Will it be your cat's bed? Will it be kept indoor or outdoor? (You can use an outdoor cat tunnel for indoor cats, but not the other way around). Do you have multiple cats or other small pets? Answering these questions ahead of time will help narrow down your options.
Look for durable materials. You should also check the durability of the material. If you have a more energetic and playful cat, you may need a stronger material, such as polyester, nylon, or plastic. These will endure more scratches and wear than lighter/softer materials like felt or suede fabrics, which would be a good option for an older, less active cat. Keep in mind that if the cat tunnel material rips, it could expose the wires and potentially be dangerous. You can also check the reviews to see how a cat tunnel held up for other customers.
Consider the aesthetics. You'll want to take into account the aesthetics of the cat tunnel and how easy it is to set up and put away your cat tube. Many tunnels for cats are big. If you don't have room to keep one set up all the time, make sure it can easily collapse and store. And if you have a small area for the cat tunnel, you may want to opt for a single cat tube rather than a big multi-tube cat tunnel that will take up a lot of space. Lastly, pick out a color for your cat play tunnel that compliments the rest of your decor.