Dog Skin and Coat Supplements: 12 Best Options for Itchy Pups
Dog skin and coat issues are unfortunately pretty common. Though a variety of issues can cause itchy skin in dogs, allergies are a common culprit. Around 10 percent of all dogs suffer from some type of skin allergies (1), and environmental allergies in dogs are on the rise (2). Skin infections or parasites could also be to blame for itchy skin, which is why it's always important to visit your veterinarian to figure out the underlying cause before trying any over-the-counter remedies.
If your dog has allergies, he may relentlessly itch and scratch or chew his fur, leading to bald spots and dry, patchy skin. This is where a high-quality dog skin and coat supplement may help to reduce itching and inflammation and alleviate discomfort. Learn more about the potential benefits and how to choose the best skin and coat supplement for your dog.
Best Skin and Coat Supplements for Dogs: 12 Options to Consider
There are many skin and coat supplements for dogs to choose from. Here are a few to consider.
All featured products are chosen at the discretion of the author. However, Vetstreet may make a small affiliate commission if you click through and make a purchase.
Our Picks
Life Extension has based its dog products on science for over 40 years. Their salmon-flavored skin & coat chews are packed with EPA, DHA, and Omega-3's from fish oil. Their research indicates effects on skin and coat within 60 days and best effects after 180 days. With regular use of Life Extension's skin & coat chews, your dog may experience less itching and overall improved fur and coat health.
Highlights
Proudly made in the United States
Made without artificial colors or flavors
Most dogs enjoy the tasty salmon flavor
Contains fish oil sourced from wild-caught anchovies from Peru and salmon from Alaska
Your dog will think they are getting a yummy treat, but you know it's a supplement, too
Can be taken in conjunction with other Life Extension dog products
Ideal for dogs with sensitive skin
Generous 90-day supply with auto-ship discount available
Things to Consider
Not for use in dogs under one year old
Must be stored in a cool, dry place
Dogs over 61 pounds require four soft chews per day
Get 20% off with code VETSTREET20
This all-in-one daily dog supplement powder from Front of the Pack (FOTP.com) includes "soothe itchy skin and allergies" as one of its benefits. It's also marketed as being able to help relieve hip and joint stiffness, reduce stress and anxiety, provide digestive support, promote mental sharpness, support immune health, help to maintain healthy heart function, and can even keep a pet's breath fresh.
Highlights
With eight functions in one, this product can help to relieve your pet's itchy skin, while also tackling other common ailments, like digestive upset.
It's non-GMO and is formulated without any artificial flavors or colors, which is a plus for pet parents who like to keep things natural.
The One is also hypoallergenic and pesticide-free.
It's veterinarian-approved and comes with rave reviews from pet owners.
One pouch contains 60 scoops and costs $39.99.
Things to Consider
Front of the Pack says pet owners can expect to see results in four to six weeks, so it may take a month or two to notice a change in your pup.
This is a dog supplement powder, so you'll want to mix it into your dog's food. Some picky eaters may boycott their food if they don't like the taste of a supplement, so make sure you stir it up really well.
If the powder doesn't work for your pet, you might want to switch to a dog skin and coat supplement that comes in a treat form.
Dogs under 25 pounds will need 1 scoop per day, while those 50 pounds and up need 3. So depending on your dog size, one pouch can range from a two-month to a 20-day supply.
20% off first auto-ship order with code VETSTREET20
These new soft chews from Open Farm can help support your dog's skin health while promoting a soft and shiny coat. They're rich in omega-3 fatty acids, EPA, and DHA from sustainably sourced salmon and cod liver oils and also feature biotin, a B-complex vitamin that plays an important role in maintaining healthy skin and hair. Plus, we love that you can trace the origin of every single ingredient Open Farm uses back to the source. No mystery ingredients here!
Highlights
100% traceable ingredients
No artificial flavors, preservatives, wheat, corn, or soy
90 soft chews per container
Save 5% when you choose autoship
Things to Consider
Recommended daily amount is 1 soft chew for dogs up to 25 pounds, 2 soft chews for 26 to 75 pounds, and 3 chews for over 75 pounds
Start with half of the recommended amount for the first week, then increase to the recommended daily amount. You can split your dog's daily intake between morning and evening
Store in a cool, dry place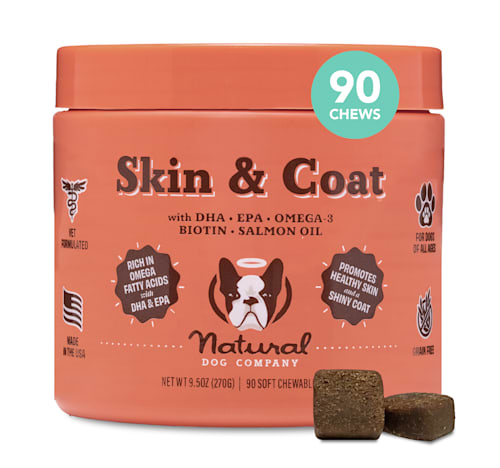 From puppies to seniors and every canine in between, all dogs deserve to look and feel their best. And with these skin and coat chews from Natural Dog Company, it's a breeze. The chewable supplements help provide itch relief and a healthy coat for all breeds, ages, and sizes. Packed with nutrition-boosting ingredients like DHA Gold Omega-3, wild Alaskan salmon oil, and Vitamin C, the veterinarian-approved chews help prevent skin irritation naturally. Customers rave about how the chews help pups who have experienced fur loss due to excessive itching. Plus, the salmon and pea flavor is a hit with many dogs!
Highlights
Relieve and prevent skin irritation
Promote a healthier coat
Formulated with DHA Gold Omega-3, EPA, wild Alaskan salmon oil, Vitamin C, and biotin
Ideal for all breeds, ages, and sizes
Many customers said their dogs love the taste
Things to Consider
Some customers mentioned the smell is very strong
20% off All Orders with code VETSTREET20
This skin and coat supplement from Finn is packed with vitamins and minerals, as well as omega 3s and DHA from wild Alaskan salmon oil, to help nourish your pet's skin and coat. It also contains a healthy dose of zinc, which helps to keep a pet's skin hydrated and looking its best, as well as vitamins C and E, which help to keep skin cells healthy and promote your pet's overall well-being. This blend of nutrients can help curb itching, dry skin, and inflammation.
Highlights
This product is made in the USA, contains natural ingredients, and is grain-free.
The company has a 100 percent "Happiness Guarantee" and allows customers to try it risk free and return it if it doesn't work for them.
In addition to helping to keep a dog's coat healthy, this product also contains biotin, which promotes a stronger hair structure and helps to control shedding.
This skin and coat supplement for dogs is bacon, cheese, and beef flavored, so it should appeal to most palates.
Things to Consider
This dog skin and coat supplement comes as a soft chew, so it might be a good option for dogs who aren't fans of dog supplement powders being added to their food.
Dogs under 25 pounds will take 1 soft chew daily, while larger breeds over 75 pounds will need 4 per day.
Each package comes with 98 chews and costs $28.
Made with natural, quality, whole foods and concentrates, the Missing Link is a dry, granular powder you add to your dog's daily meals. The combination of omega 3 and omega 6 helps your dog maintain healthy skin and coat. This superfood supplement helps sustain energy levels while supporting soft tissue, muscle, tendon, and ligament health.
Highlights
Ingredients are completely sourced in the United States and Canada
Cold processed to maintain peak nutritional value for your dog
Vacuum-packed for optimal freshness
Highly palatable with many 5-star reviews on Amazon
Veterinarian-formulated
Contains fresh ground flaxseed, taurine, and nutritional yeast to help support heart health.
Things to Consider
Due to the high fiber content in this product, start by feeding small amounts.
Store in a cool, dry place after opening
This product contains grain.
Sample buyer review: "Labradors seem to always have skin and coat issues. I've been feeding this supplement every day for a couple of years and it's really made a noticeable difference in how soft & shiny their coat is and I think it helps with shedding somewhat. The key factor is consistent use of the product to get and maintain results. My three dogs will lick the bottom of their dish to get every last bit of this stuff."
This dog skin and coat supplement was created by veterinarians to help pets achieve their best skin health, as well as find relief from itching. These chews are formulated with essential fatty acids, and also contain turmeric curcumin to help reduce inflammation. They have biotin for healthy fur, colostrum for gut health, and flaxseed, anchovy, sunflower, and coconut oils.
Highlights
In addition to helping your dog find itch relief, this dog supplement reduces inflammation and softens your dog's skin and coat.
It's safe and effective for dogs that are 6 months and older and is made in the USA.
Dogs seem to approve of the flavor.
Things to Consider
This dog skin and coat supplement comes in different sizes to accommodate the dosage requirements of different dogs.
Extra small dogs need a 2-gram chew a day, while extra large dogs will need a 10-gram chew. Thus, it's important to purchase the right size for your breed.
Each package has different pricing. The large size, for instance, is $43 for a 30-day supply.
Buy at Dinovite and Save 10% with Code DV10
This dog supplement powder not only stops itch but also acts as a dog probiotic powder, as it's infused with a prebiotic and probiotic complex. It also contains healthy omega-3 fatty acids to support healthy skin and a shiny coat, and can help combat itching due to seasonal allergies.
Highlights
Dinovite dog supplement powder contains essential vitamins, minerals and enzymes, also acting as a dog multivitamin powder, which can help to support a dog's immune system.
It's outfitted with everything from flax seeds to dried kelp, active cultures, zinc, alfalfa, and vitamin E.
It's made in the USA and comes with a "satisfaction guarantee."
Things to Consider
As this is a dog supplement powder, you'll want to give it to your dog with his food. Make sure to mix it in well so he won't just eat around it in his bowl.
This product got a four-star rating on Amazon, with many customers saying it worked wonders for their pup. Some customers said, however, that their dogs didn't like the taste.
Zesty Paws dog skin supplements help to combat itching from seasonal allergies, as well as skin hot spots. These grain-free soft chews promote skin health, support immune function, and may help maintain normal histamine levels in dogs. And they are lamb flavored, so pets will definitely enjoy wolfing them down.
Highlights
Zesty Paws come highly rated and are filled with all-natural ingredients, like apple cider vinegar, flax seeds, and salmon oil.
They also contain five strains of probiotics, as well as prebiotics, a variety of vitamins, minerals, protein, fiber, and antioxidants to support a dog's immunity.
One Amazon reviewer called these "miracle vitamins."
Also available in peanut butter flavor
Things to Consider
Dog skin supplements, like Zesty Paws, can take a while to work. So don't expect to see relief overnight.
One customer gave the product a five-star review but titled her review "Be patient, it took around 2 ½ weeks to see results."
A dog under 25 pounds will take one chew per day, while a dog over 75 pounds will need three.
Each package comes with 90 soft chews for a price of $26.97.
These dog skin supplements from Bark & Spark market themselves as being a "one-stop allergy aid" that combats environmental pollutants, seasonal allergies, and food allergies. They can help ease a variety of symptoms, from unwanted paw licking to itching, scratching, fur chewing, bald spots, hot spots, rashes, and irritation. This supplement is infused with omega-3s, DHA and EPA, as well as a special blend of nutrients and vitamins, turmeric, quercetin, bromelain, and pumpkin enzymes.
Highlights
Bark & Spark's Allergy Relief Treats are easier on the wallet, at $16.66 for 120 soft chews.
They are suitable for dogs of all ages, including puppies and seniors, and are an easy-to-feed option for those not wanting to mess around with mixing dog supplement powders into their pet's food.
They are also formulated to help maintain a healthy gut and aid digestion.
These are also free of wheat, artificial flavoring, preservatives, corn, and soy.
Things to Consider
A dog up to 20 pounds will need two soft chews per day, making one package a 60-day supply. But dogs 61 pounds and over will need six soft chews a day, which can be a lot to remember to give to your pup (although he likely won't complain!) and will only last for a 20-day supply.
One pet parent said their dog would not eat the treats as is and recommended smothering them in peanut butter to help them go down easier, so a note for picky eaters. Most people said their pups like them though.
This vet-formulated dog skin supplement chew contains omega-3 fish oil, plus probiotics and colostrum to support a healthy gut. It helps combat seasonal allergies and also helps to maintain your dog's natural immunity. It targets seasonal allergies, food allergies, and environmental allergens. The treats contain a blend of probiotics, as well as ingredients like colostrum, apple cider vinegar, ginger, kelp powder, and quercetin.
Highlights
These are natural bacon flavored, so dogs won't fuss over having to take them on a daily basis.
If your dog doesn't like the taste or this dog skin supplement doesn't work for you, the company offers a money back guarantee.
Customers really like the ease of use of a chew as opposed to a powder.
Things to Consider
Each pouch contains 120 chews for $26.99.
Dogs under 10 pounds will need one chew per day, making this a 120-day supply, while those over 50 pounds will need four chews per day, putting the supplement at a 20-day supply.
Dandy takes the guesswork out of wondering what your dog needs for the healthiest skin and coat possible…as well as overall health. Take a simple quiz and let Dandy recommend a daily assortment of four supplement treats based on what will benefit your dog most. Or, build your own pack to ensure Dandy's Shine Boost formula is included. These daily skin-and-coat supplement treats contain a twin boost of omega-3 and omega-6 to give your pup a powerful dose of anti-inflammatory and skin-calming oils. Whether you choose your own mix of daily supplements for your dog or let Dandy recommend a customized mix for you, each supplement offers a tasty blend of all-natural ingredients to help your pup thrive. And because Dandy daily supplement packs are delivered to your doorstep once a month, keeping your dog in great health couldn't be more convenient.
Highlights
Dandy can recommend daily supplements based on what your dog needs most, or you can build your own daily packs.
Choose Dandy's veterinarian-formulated Shine Boost supplements to soothe skin and promote a shinier coat
Each omega-rich Shine Boost treat contains wild Alaskan salmon oil to soothe skin, improve coat, and promote healthy joints
Monthly shipments contain 30 daily packs with 4 supplement treats each
Things to Consider
Consult with your veterinarian before starting your dog on any supplements
Include any health conditions your dog has in your quiz responses to ensure you get the best recommendations for your pet's unique needs
Treats can be broken into smaller pieces and placed on a meal for dogs
Dog Skin and Coat Supplement Buyer's Guide
Dog Skin and Coat Supplement Benefits
Dog skin and coat supplements can help provide relief for pets who are itchy and uncomfortable due to allergies. "These supplements help to moisturize the skin and contain ingredients to reduce inflammation, which is the main source of itching," explains Dr. Anthony Hall, owner of Private Veterinary Consulting Services. These dog supplements contain a mixture of anti-inflammatory ingredients, as well as vitamins and minerals to help combat allergens.
How to Choose a Dog Skin and Coat Supplement
When shopping for dog skin and coat supplements, you'll encounter many different types. Some dog supplements come in soft chew form, while others are available as a liquid or a dog supplement powder. If possible, find a product that is formulated by or recommended by a veterinarian. You'll also want to prioritize certain ingredients. "Omega-3 and omega-6 fatty acids in the form of DHA or EPA are always good and recommended," says Hall. "The other things to look for are tocopherols, which are often used as a binding agent, but those are also a source of vitamin E as well." Vitamins like selenium and biotin are also good for skin, coat, and nails.
Avoid any products that contain xylitol or artificial sweeteners, as these can be toxic to dogs. Hall says to also avoid giving your dog any human supplements for skin health—always purchase one made specifically for pets.
Depending on your dog's individual needs, you may want to consider an "all-in-one" dog skin and coat supplement that doubles as a dog multivitamin, a dog joint supplement powder, or a dog probiotic powder. If your dog has additional ailments, like digestive upset or joint pain, you might benefit from purchasing one of these multifunctional dog supplements.
Dog Skin and Coat Supplement: Other Tips and Advice
When giving your dog a skin and coat supplement, it's important to get the dosing right. "Most supplements and medications are done by the weight of the dog. And so if you're giving a Chihuahua dose to a Great Dane, then it's really not going to be doing much," says Hall. You also don't want to overdose a small dog with a dosage meant for a larger breed.
To give a dog supplement powder, Hall suggests mixing it in with your dog's food. You can serve the soft chews as regular treats, even asking your dog to perform a trick before giving him one. If your dog doesn't like the taste of a dog skin and coat supplement chew, you can also coat it with peanut butter or a piece of cheese. "Every dog has their own preference on taste and texture and what they prefer," says Hall. "So I would recommend starting out by buying a small pack to start."
You might experiment with a powder and if your dog doesn't like that, move on to a soft chew or liquid. Rotate until you find a dog skin and coat supplement that works and that your dog also enjoys taking. That way you won't waste money on unused containers of dog supplement powders or chews and will save yourself the hassle of trying to bribe your dog to eat something he doesn't want to eat.
If your dog is itchy and uncomfortable due to allergies, Hall says it's generally safe to try an over-the-counter, high-quality dog skin and coat supplement. But if you notice any strange side effects after your dog uses the product or his symptoms aren't improving, call your veterinarian. While these products take time to yield results, Hall explains that there is a cutoff point. "If you're using a supplement, anywhere between two weeks to two months, and there's no difference, then depending on how severe the issue is, go see your vet."