14 Best Calming Treats for Dogs in 2023
When my Cocker Spaniel was a puppy, some random kids on bicycles tossed fireworks at him while we were out on a walk. The kids quickly sped away, but left me with a dog who freaks out at fireworks and thunderstorms to this day. Fortunately, calming treats for dogs have made a big difference in how my dog reacts to loud sounds.
If a dog becomes stressed, separated from their owner for too long, or is hyper in general, calming dog treats are a viable option to take the edge off without a prescription.
We always recommend you talk to your dog's veterinarian before administering any calming treats or new supplements. Keeping my dog calm without turning to chemicals or traditional medication is very important to me and millions of other dog moms and dads.
Our Top Calming Treats for Dogs
How We Ranked Our Picks
We narrowed our list down to treats that we've personally tried, received positive reviews, are third-party tested, veterinary recommended, and have a good overall reputation.
We scoured through the feedback from pet parent reviews and looked at cost, availability, and ease of administration.
All featured products are chosen at the discretion of the author. However, Vetstreet may make a small affiliate commission if you click through and make a purchase.
Best Calming Treats For Dogs
Calming treats for dogs are not medicinal but they are categorized as nutraceuticals, much like nutritional supplements consumed by their human counterparts.
We can't make specific claims but we have gathered together what we consider to be calming treats worth considering for your dog in times of fear, distress, or anxiousness.
Best Calming Treat for Dogs with CBD
Our pick: Honest Paws Calm CBD Bites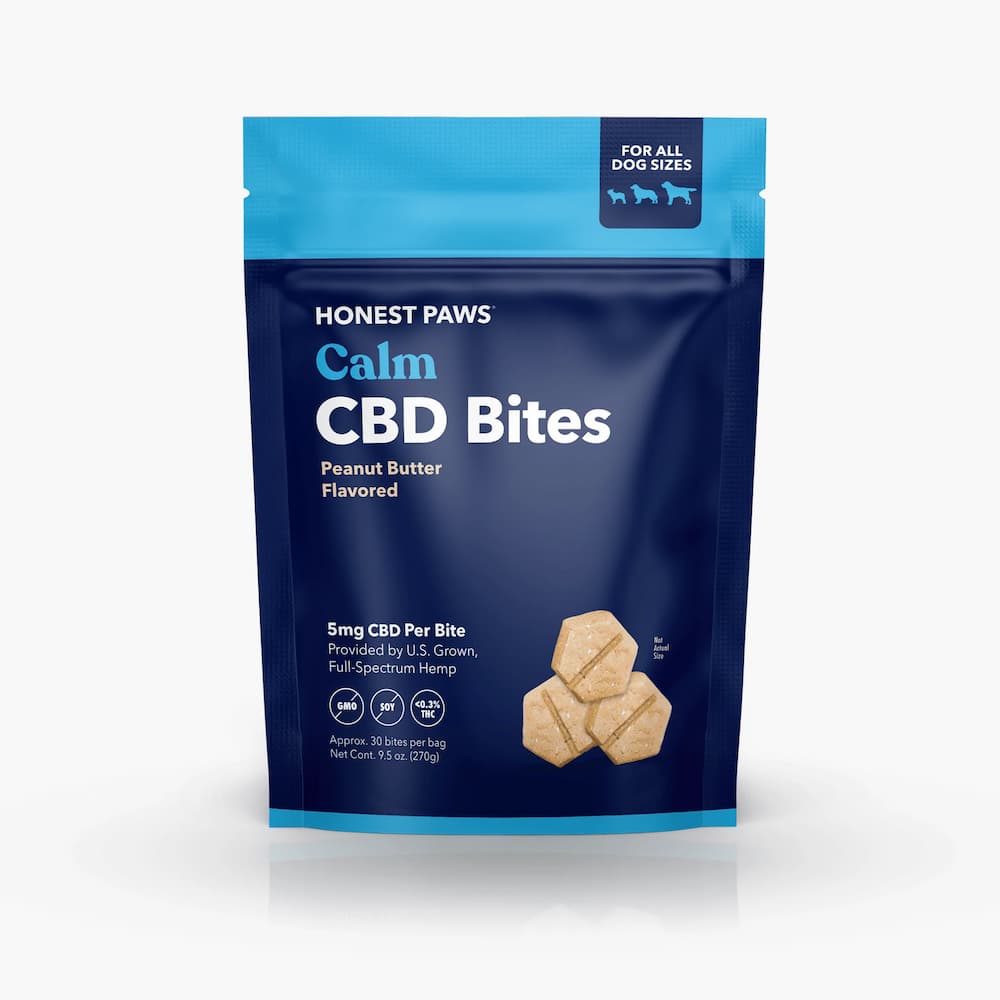 Get 15% off your order with code VETSTREET
| | |
| --- | --- |
| Active Ingredients | Organic full-spectrum hemp oil 40mg (contains 5mg of naturally occurring CBD) |
| Other Ingredients | MCT oil, organic barley flour, organic coconut oil, organic oats, organic peanut butter, whole dried eggs |
| Dosage | Under 25 pounds = 1 whole bite/day; 25-50 pounds = 2 whole bites/day, Over 50 pounds = 3 whole bites/day |
| Treat Type | Crunchy bites |
With 5 milligrams of organic, full-spectrum CBD per crunchy bite, these peanut butter-flavored calming treats from Honest Paws are formulated to naturally reduce a dog's stress and anxiety. Whether your pup deals with separation anxiety when you leave the house, chronic stress, or noise phobias, these Calm CBD Bites can be used situationally or daily as a preventative measure. In fact, you may notice calming effects within as little as one hour after your dog eats them. An Honest Paws best seller, these treats are crunchier and bigger than their soft chews but can still be easily broken along the partition line for smaller dogs.
Highlights
Contains U.S. grown full-spectrum hemp
Formulated to help maintain calmness, manage behavioral issues, and provide cognitive support
Third-party tested and NASC certified for quality
No GMOs, soy, dairy, gluten, xylitol, or artificial flavors
Made in the USA with globally sourced ingredients
30-day money back guarantee
Things to Consider
Although these are human-grade treats, they are not for human consumption and the bag should be kept out of reach of pets and children
An exam by a veterinarian is recommended before using this product
Pet parents with larger dogs who require 3 bites per day will run through the bag pretty quickly (there are about 30 bites per bag)
Best Calming Treats For Hyper Dogs
Our Pick: ElleVet Calm and Comfort Chews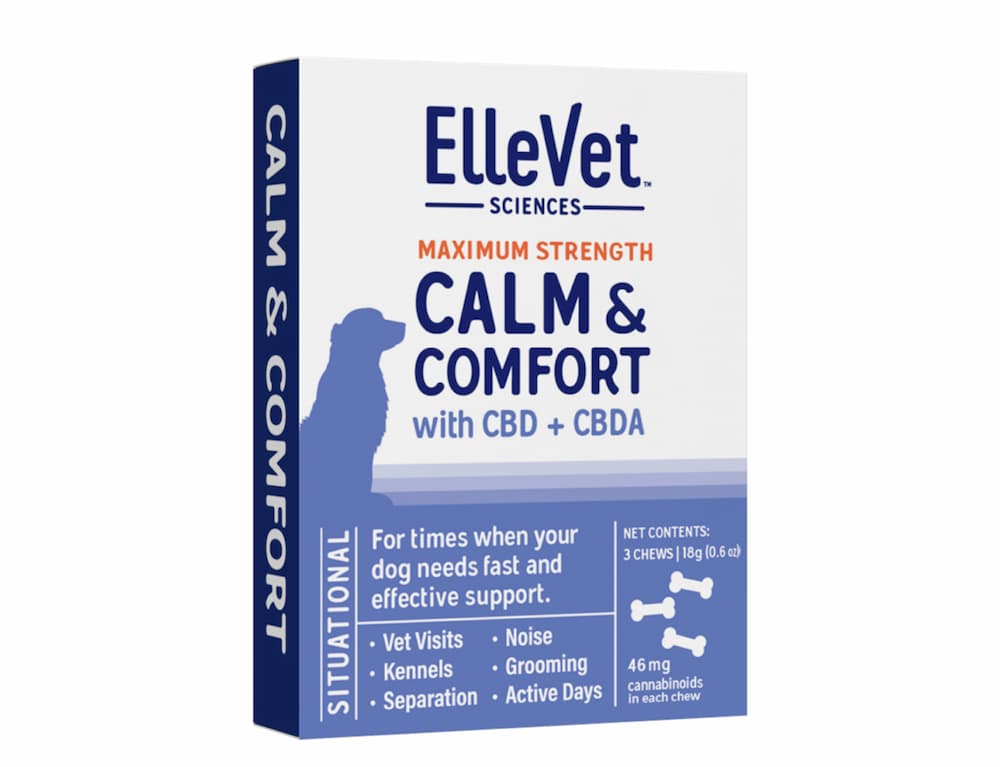 | | |
| --- | --- |
| Active Ingredients | Hemp oil |
| Other Ingredients | Brewer's yeast, glycerin, guar gum, molasses, organic sesame seed oil, pea protein digest, peanut butter, pork flavoring, potato starch, rice bran, rice starch, sorbic acid, sugar, sweet potato, tapioca starch, water |
| Dosage | 5-11 pounds = ¼ chew, 12-20 pounds = ½ chew, 21-34 pounds = 1 chew, 35-60 pounds = 2 chews, 61-100 pounds = 3 chews, 100+ pounds = 4 (or more) chews |
| Treat Type | Soft chew |
Sometimes dogs can be overly excitable, at which point channeling that energy into an activity, sport, walk, or play session is best. If a dog is overly excitable, work in conjunction with a veterinarian and/or positive reinforcement behaviorist in addition to adding in a calming treat for hyper dogs.
Hyper dogs who are food motivated will find extra pleasure in these calming treats. In a clinical trial at the Cornell University College of Veterinary Medicine, over 80 percent of participating dogs showed significant or dramatic improvement while using products from ElleVet Sciences.
Highlights
ElleVet products contain less than .3% THC, which will not cause a psychoactive effect.
Ideal to have on hand for situational hyper behavior such as nail trims, grooming visits, meeting new people or being in a new environment.
Designed to provide situational support within 45 minutes.
Cannabinoid concentration of 46 mg per chew.
Completely organic product.
Veterinarian recommended.
Things To Consider
These chews do contain CBD.
3 chews per pack, so they won't last long.
Contains peanut butter, rice bran, brewer's yeast, sweet potato, tapioca starch, pea protein digest, and natural prebiotic.
If dogs are over 100 pounds, Ellevet Sciences recommends giving more than four chews.
Best Organic CBD Treat for Dog Anxiety
Our pick: Evn CBD Dog Treats
| | |
| --- | --- |
| Active Ingredients | 4 mg of organic full-spectrum CBD per treat |
| Other Ingredients | Organic oat flour, organic molasses, organic oat bran, organic coconut oil |
| Dosage | Under 20 pounds = ½ to 1 treat, over 20 pounds = 1 to 2 treats |
| Treat Type | Crunchy dog treats, CBD oil for dogs also available |
Evn is a CBD brand that prides itself on the purity and quality of its products, which include a wide range of CBD gummies, oils, capsules, powders, and topicals for people, as well as 100% organic CBD treats for dogs. Given that Evn's CBD line is used by humans ranging from Olympic athletes to high-powered entrepreneurs, pet parents can feel good about giving these crunchy, calming, clean-ingredient CBD dog treats to their pups. In addition to using 100% organic ingredients, the treats contain only CBD derived from hemp that's organically grown on family-run farms. And Evn adds an extra processing step to isolate and remove even trace elements of THC, so you can be sure your dog treats contain 0.0% of the psychoactive ingredient. That makes Evn CBD dog treats a healthy, great-tasting organic treat that offers a wide range of benefits, from alleviating your dog's stress and anxiety to pain relief and general wellness.
Highlights
Tasty, crunchy CBD treats are 100% organic, vegan, gluten-free, and made with only five non-GMO ingredients.
Each treat contains 4 mg of broad-spectrum CBD derived from organically grown hemp sourced from family-run farms.
Treats may help ease stress, anxiety, and pain in dogs and promote overall wellness.
Contains 0.0% THC, which is even lower than the limits set by federal regulations.
Third-party tested by ISO 17025 accredited labs to ensure purity and potency.
Free ground shipping on US orders.
30-day satisfaction guarantee or your money back.
Things to Consider
Package contains only 20 treats, which could get pricey if you have a larger dog. However, the brand offers a 20% discount if you subscribe for regular shipments.
Additional discounts available on the Evn app.
CBD Oil for Dogs also available.
Best Calming Dog Treats for Travel
Our Pick: NaturVet Quiet Moments Calming Aid
| | |
| --- | --- |
| Active Ingredients | Chamomile flower, passion flower, thiamine mononitrate, ginger, L-tryptophan, melatonin |
| Other Ingredients | Brewer's dried yeast, canola oil, dried potato product, flaxseed, glycerin, lecithin, maltodextrin, mixed tocopherols, natural flavoring, rosemary extract, sorbic acid, tapioca starch, vegetable oil, water |
| Dosage | Up to 26 pounds = 1 chew, 27-50 pounds = 2 chews, 51-99 pounds = 4 chews, 100+ pounds = 6 chews |
| Treat Type | Soft chews. Also available in tablets. |
NaturVet has been making veterinary-formulated dog supplements since 1994, and these calming treats are a great option if your dog gets anxious while traveling. While they contain calming ingredients like melatonin, thiamine, and L-tryptophan, they are also formulated with ginger to reduce motion sickness. If you plan to use them for traveling, just give your dog the recommended dose 30 minutes prior to departing. In addition to the high-quality ingredients, these calming aids for dogs are made in the USA in a cGMP facility and have the National Animal Supplement Council (NASC) seal of approval.
Highlights
Contain ginger to help reduce anxiety while traveling
Available in 60, 180, 240-count jars
Soft, palatable chews that dogs enjoy
Made in the USA
NASC seal
Things to Consider
If you have a large dog, you'll need to administer 4-6 treats per dose
Best Calming Crunchy CBD Treat for Dogs
Our Pick: King Kalm Crunch CBD Dog Treats
Get 15% Off Site-Wide with Code VETSTREET
| | |
| --- | --- |
| Active Ingredients | 2-3 milligrams of CBD per treat |
| Other Ingredients | Gluten-Free Stone Ground Oat Flour, Rolled Oats, Eggs, Almonds, Honey, Turmeric, Black Peppercorn |
| Dosage | Unavailable |
| Treat Type | Crunchy biscuit |
It's tricky to explain the calming and healing benefits of CBD to dogs. But the benefits of cookies…well, that they understand! King Kanine's King Kalm Crunch combines yummy organic ingredients like honey, rolled oats, almonds, and turmeric with broad-spectrum cannabidiol derived from U.S.-grown hemp into an all-natural calming cookie dogs love. Each crunchy Honey Oat treat contains 3-4 mg of CBD, as well as essential vitamins and omega-3 fatty acids.
King Kanine is passionate about bringing pets and their parents the purest, premium CBD products to help with stress, anxiety, pain, swelling, and inflammation. So King Kalm Crunch is formulated by a licensed holistic physician and nutritionist and features CBD oils held to the highest manufacturing and testing standards, with lab results available online for all to see.
Highlights
Made with naturally occurring PCR hemp oil.
Manufactured in a GMP Certified, ISO-90001 Certified FDA facility.
Third-party tested for purity, potency, and overall quality
Free of THC, pesticides, and solvents.
Made with all-natural, organic ingredients.
Also available in Blueberry and Apple Cinnamon flavors.
100% gluten-free.
Made in the USA.
Things to Consider
Each treat contains approximately 3-4 mg of CBD, and each 8 oz package contains about 30 treats.
Because King Kalm Crunch is made with organic, all-natural ingredients, it costs a bit more than other calming treats.
Best Powdered Calming Supplement For Dogs
Our Pick: Dr. Harvey's Relax and Stress
| | |
| --- | --- |
| Active Ingredients | Spirulina, lecithin, nutritional yeast, garlic, flax seed meal, alfalfa leaf, kelp, rose hips, red clover blossoms, kava kava root, hops flowers, chamomile flowers, cat nip leaf, damiana leaf, lobelia herb, passion flower herb, valerian root, rosemary leaf, and skullcap herb |
| Other Ingredients | None |
| Dosage | 2-20 pounds = 1 scoop, 21-50 pounds = 2 scoops, 51-95 pounds = 3 scoops, 96-150 pounds = 4 scoops |
| Treat Type | Powder supplement |
Designed as an all-natural calming aide without harmful side effects, Dr. Harvey's supplement is gentle and effective to sprinkle onto a dog's food daily. Give a scoop or more to your dog based on her weight and slowly acclimate your pet to the supplement. I always like to start small and build on the dosage with any sort of calming treat or powder.
Highlights
Made in the United States.
Ideal for dogs with destructive behaviors, noise aversion, or general anxiety.
Contains no dyes, preservatives, chemicals, or synthetic ingredients.
Includes a proprietary blend of ingredients like spirulina, alfalfa, kelp, and valerian root.
A pioneer in holistic and natural nutrition for animals, Dr. Harvey started his career in 1970 as a human practitioner in New York City.
Things to Consider
Fussy dogs may not like anything added to their food
Can be used daily but for larger dogs, the powder does go fast
A bit on the more expensive side for a jar formulation
Best Calming Hemp Treats For Dogs
Our Pick: PetHonesty Advanced Calming Hemp + Treats For Dogs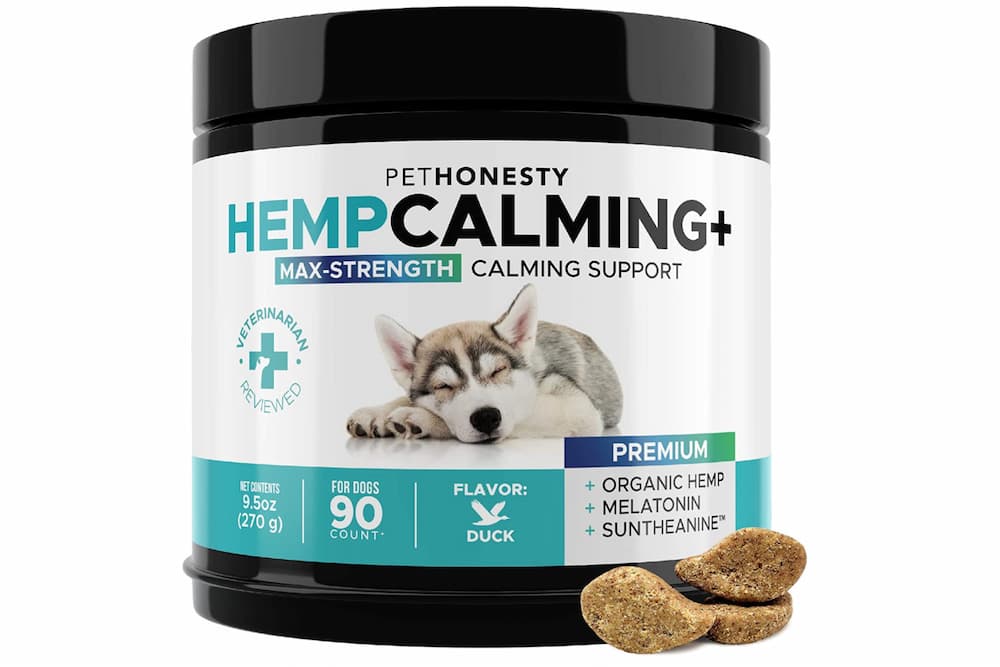 | | |
| --- | --- |
| Active Ingredients | Organic hemp oil and powder, organic chamomile, organic ginger root, valerian root, L-tryptophan, melatonin, suntheanine |
| Other Ingredients | Barley, carrot, coconut glycerin, duck, flaxseed, mixed tocopherols, natural bacon flavoring, oat flour, palm fruit oil, rosemary extract, sorbic acid, sunflower lecithin, sweet potato |
| Dosage | 1-25 pounds = 1 chew, 26-75 pounds= 2 chews, 75+ pounds = 3 chews |
| Treat Type | Soft chew |
Many pet parents turn to hemp treats for dogs for anxiety, cognitive dysfunction, pain, arthritis, and even seizures. Though results vary and each dog is different, hemp-based treats remain a viable option for some dogs.
PetHonesty's CalmingHemp+ claims to reduce stress in 30 to 45 minutes for situations such as car rides, vet visits, thunderstorms, and hyperactivity. No need to hide this in food or sneak it into a treat, as these maximum strength soft chews seem like treats to your dog.
Highlights
Tremendous amount of positive reviews.
Made in the USA without GMOs or wheat, corn, and preservatives.
Ingredients include suntheanine, a clinically researched form of an amino acid in green tea leaves.
Coupled with melatonin, organic chamomile, and hemp seed without any THC or CBD.
Based in carrot, sweet potato, and flaxseed for a taste most dogs love.
Things To Consider
Some reviews say it works but the affect wears off rather quickly.
May become expensive depending on size of the dog (bigger dogs = more treats).
Contains duck and barley.
Best when given on a full stomach.
Best Homeopathic Calming Formula for Dogs
Our Pick: Bach Rescue Remedy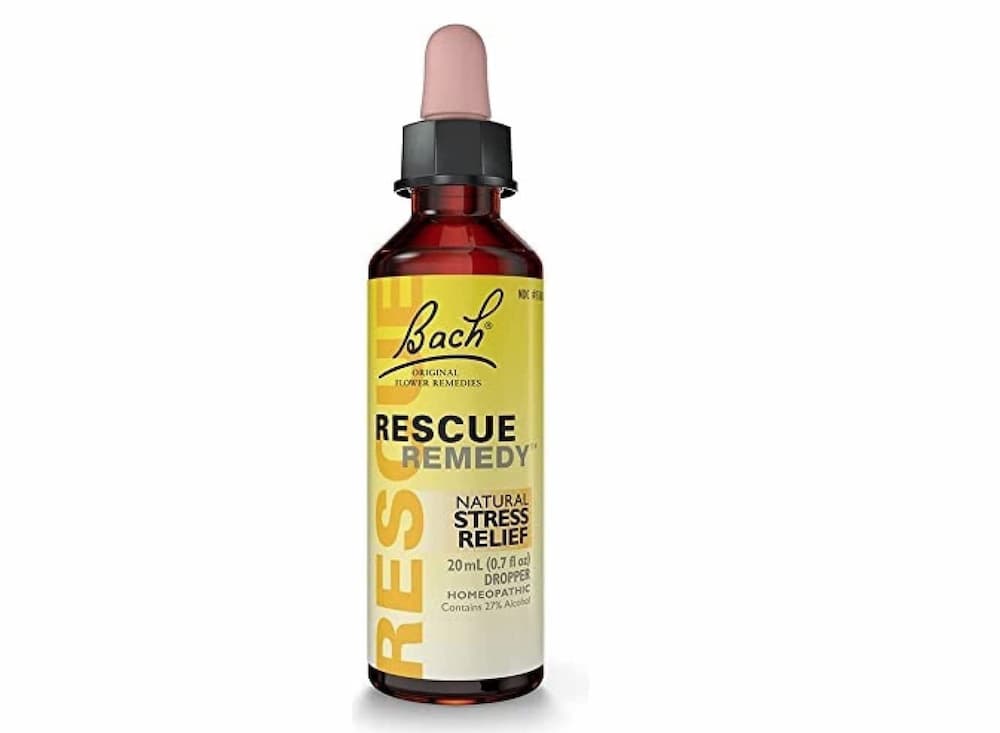 | | |
| --- | --- |
| Active Ingredients | 5 x dilution of: Prunus cerasifera HPUS (Crab Apple), Clematis vitalba HPUS (Clematis), Impatiens glandulifera HPUS (Impatiens), Helianthemum nummularium HPUS (Rock Rose), Ornithogalum umbellatum HPUS (Star of Bethlehem) |
| Other Ingredients | 80% glycerine, 20% water |
| Dosage | 4 drops in mouth or added to dog's food or water |
| Treat Type | Tincture |
While this calming formula for dogs may not be your typical "treat," Bach Rescue Remedy has been a trusted all-natural pet stress reducer for years. This tincture uses a blend of five different natural flower essences to alleviate anxiety symptoms in dogs, cats, and other pets. The formula was developed by a doctor and it's plant-based and free of sugar, artificial flavors, gluten, and major allergens. Because it is natural, this tincture can be used in conjunction with other stress relief supplements and products, but make sure to discuss it with your veterinarian before administering it.
Highlights
Doctor developed and all-natural
Plant-based formula without additives
Can be used for all breeds and all sizes
Can be administered to cats, horses, birds, rabbits, and lizards, too
Things to Consider
Some dogs may not like being given drops in their mouths
Could be a little messy for travel
Best Calming Dental Sticks For Dogs
Our Pick: Zesty Paws Hemp Elements Calming Orastix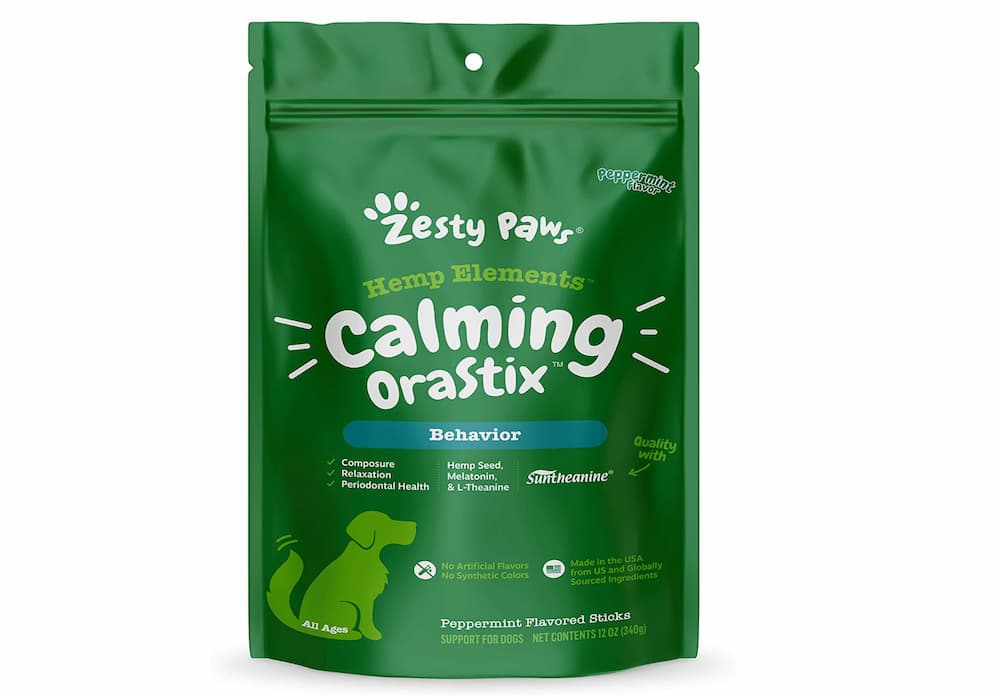 | | |
| --- | --- |
| Active Ingredients | Suntheanine, melatonin, magnesium citrate, chamomile, valerian root, taurine, hemp seed |
| Other Ingredient | Chickpea, tapioca flour, coconut glycerin, hemp protein, brewer's yeast, bone broth powder, lactic acid, kelp meal, sorbic acid, magnesium citrate, rosemary, peppermint oil, citric acid |
| Dosage | Up to 25 pounds = ½ stick, 26-50 pounds = 1 stick, 50+ pounds = 1-2 sticks |
| Treat Type | Dental stick |
Some dogs love to sit and work on a treat, so Zesty Paws created a dental stick snack that helps to clean teeth as dogs gnaw on it. As a bonus, the sticks contain melatonin, magnesium citrate, chamomile, and valerian root to help calm nervous pups.
To support periodontal health, Zesty Paws includes peppermint oil, rosemary extract, and kelp in the sticks to keep doggy breath at bay. Feed your dog a Zesty Paws stick before a thunderstorm, car ride, or vet visit and minimize stressful situations.
Highlights
Zesty Paws is a member of NASC (National Animal Supplement Council).
Made in the USA from globally-sourced ingredients.
Simple to dispense with a 100 percent satisfaction guarantee.
Smaller dogs get one stick where larger pets over 75 pounds require up to 3 sticks.
Amounts can be split between morning and night.
Things to Consider
12 to 13 sticks per bag can get expensive to dispense regularly, especially for larger dogs.
Contains bone broth powder but not clear on flavor.
Some dogs may not like the peppermint taste.
As with all dental chews and sticks, dogs should be supervised when chewing on these.
Best Calming Tablet For Dogs
Our Pick: Maxxidog Maxxicalm Calming Aid
| | |
| --- | --- |
| Active Ingredients | Taurine, inositol, chamomile, passion flower, L-theanine, thiamine, magnesium |
| Other Ingredients | Dicalcium phosphate, isomalt, liver, magnesium stearate, microcrystalline cellulose, natural flavor |
| Dosage | Under 25 pounds = .5-1 tablet, 25-50 pounds = 1-2 tablet(s), 50+ pounds = 2-4 tablets |
| Treat Type | Tablet supplement |
Some pet parents (and dogs) prefer palatable tablets to avoid caloric treats. Maxxidog's calming tablets for dogs are designed to work in tandem with training your dog to better behavior. Designed to promote a balanced dog without inducing drowsiness, taurine and inositol are two of the active ingredients.
Highlights
Use at the rate of one tablet per 25 pounds.
Designed to relax dogs and not make them sleepy.
Contains 120 liver-flavored tablets.
Many multiple-star reviews on Amazon.
All-natural ingredients.
Things to Consider
Dogs over 50 pounds require two to three tablets daily.
Available in liver flavor only.
Contains taurine, an amino acid found naturally in fish and meat.
Manufacturer recommends using it for a few weeks before a specific stressful event.
Best Calming Treats for Large Dogs
Our Pick: Heavenly Hounds Dog Stress and Anxiety Relief Treats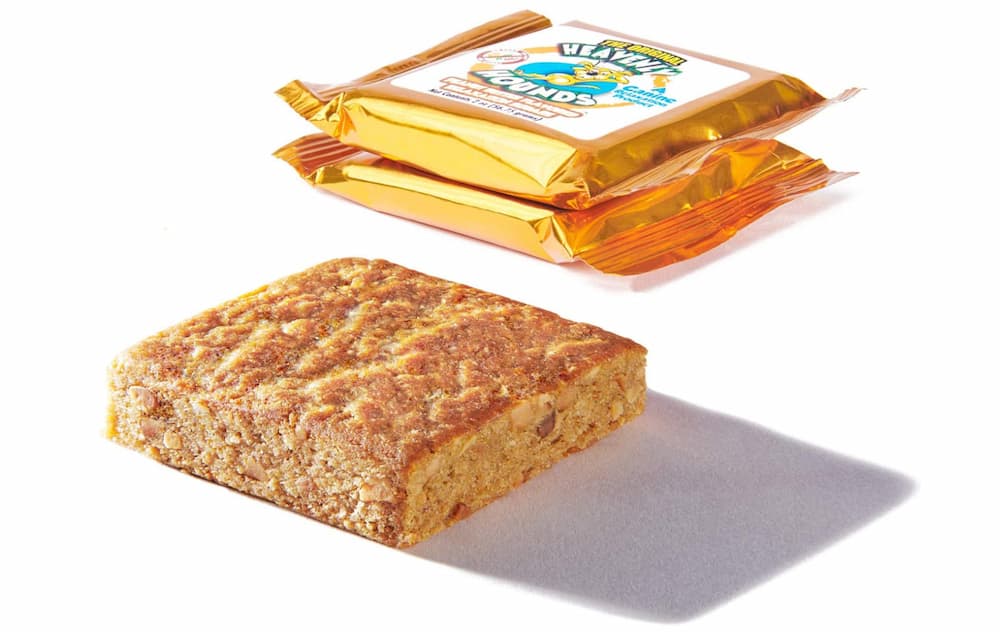 | | |
| --- | --- |
| Active Ingredients | Valerian root, passion flower, niacin, thiamin |
| Other Ingredients | Baking powder, brown sugar, egg yolk, eggs, ginger, gluten-free flour, invert syrup, palm oil, peanut butter, peanuts, water |
| Dosage | Under 10 pounds = ¼ square, 10-20 pounds = ½ square, 20+ pounds = 1 square |
| Treat Type | Soft, chewable square |
Large dogs often need a larger serving of calming treats to experience the benefits. And that can get frustrating for pet parents who have to give their dogs multiple chews or treats per day. But these squares from Heavenly Hounds are a great size for dogs over 20 pounds, who only need to be given one full square to reduce anxiety. These tasty, peanut-butter-flavored squares contain ingredients like valerian root, niacin, and thiamin to help calm down dogs. They are made without hemp and manufactured in the USA.
Highlights
One square is enough for larger dogs.
Made in the USA.
Individually wrapped for convenience.
Contain active, natural ingredients like valerian root, niacin, and thiamin.
Tasty, peanut-butter flavor.
Things to Consider
These can get really pricey if using on a daily basis. We recommend them for once-in-a-while calming benefits.
Only available in peanut-butter flavor.
If giving these to smaller dogs, the squares need to be broken up for correct dosing.
Best Calming Treats For Small Dogs
Our Pick: BONIES Calming Formula Small Dog Treats
| | |
| --- | --- |
| Active Ingredients | Chamomile, lavender |
| Other Ingredients | Brown rice powder, rice powder, vegetable glycerin, water, tapioca starch, pea powder, natural chicken flavor, carrageenan, calcium carbonate, brewers dried yeast, lecithin, parsley powder, citric acid, peppermint oil, mixed tocopherols |
| Dosage | Recommended for dogs 5-25 pounds |
| Treat Type | Chew bone |
BONIES are all-natural, low calorie dog treats that are infused with brown rice, lavender, and chamomile. Designed with small dogs in mind, they are recommended for those weighing 15 to 25 pounds. In addition to helping ease nervousness and anxiety, the chew helps scrape off tartar to promote good oral hygiene in a dog's mouth between brushings.
Highlights
Made in the USA.
Natural chicken flavor that dogs love.
66 calories per treat.
Targeted at small dogs who are nervous, anxious, and have anxiety.
Feed one bone daily as a healthy treat.
Things to Consider
Supervision of dogs while eating any treat is advised.
Only available in one flavor.
Some say the texture seems rubbery, but it is designed as a chew.
Best Everyday CBD-Free Calming Chews for Dogs
Our Pick: This Dog's Life Bye Bye Pup Worries Calming Chews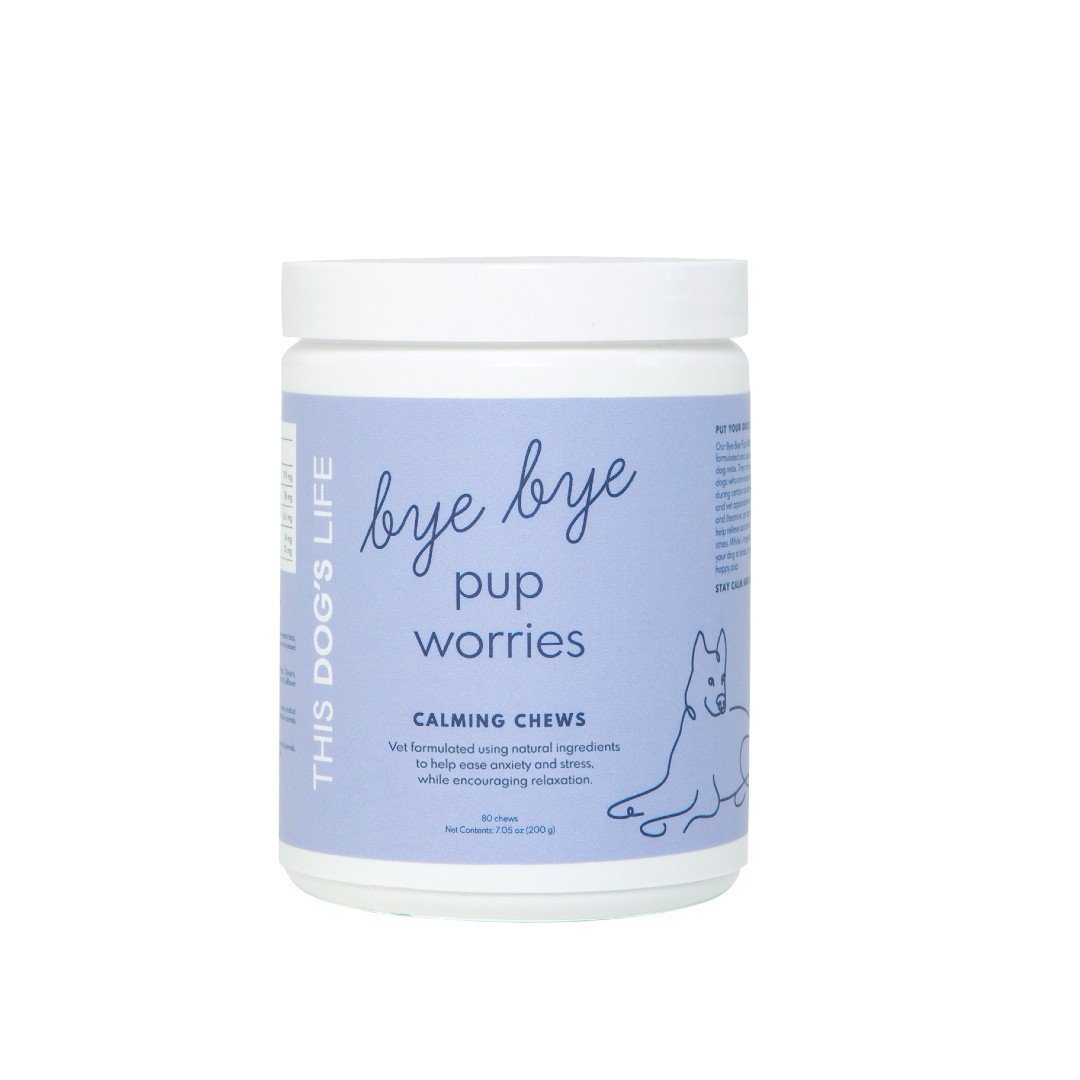 | | |
| --- | --- |
| Active Ingredients | Lemon balm, thiamine, L-theanine, L-tryptophan |
| Other Ingredients | Arabic gum, brewers yeast, citrus pectin, glycerin, hydrolyzed vegetable flavor, mixed tocopherols, oat flour, propionic acid, safflower oil, sunflower lecithin, water |
| Dosage | Under 44 pounds = .5 chew, 45-66 pounds = 1 chew, 66+ pounds = 2 chews |
| Treat Type | Soft chew |
Some dogs get stressed out by specific triggers, like fireworks, thunderstorms, or trips to the vet. Others experience low-key nervousness or anxiety every day. Bye Bye Pup Worries from This Dog's Life eases all kinds of stress, from persistent to occasional, slight to severe. And because these calming chews are made with all-natural calming ingredients and no CBD, you can use them as often as you like to help settle and soothe your dog.
Bye Bye Pup Worries uses powerful natural ingredients like lemon balm, green tea, amino acids, and vitamins to boost mood and alertness, support relaxation, and reduce overexcitement. Best of all, you can treat your dog to these calming chews as needed or every day. In times of extreme stress, you can even double or triple the recommended dose. Bye Bye Pup Worries is completely CBD-free and safe for long-term use, so that means less stress and worry for pet parents, too!
Highlights
Made with natural, high-quality ingredients, including lemon balm for calmness and alertness, thiamine (known as the "anti-stress" vitamin), and serotonin-bosting, aggression-reducing L-Tryptophan.
Chewable treat helps with hyperactivity or destructive behavior.
Free of corn, artificial ingredients, and wheat that may cause stomach upset.
Vet-formulated and proudly made in the USA.
For dogs under 44 lbs, daily dose is half a chew, a full chew for dogs 45-66 lbs, and two chews for dogs over 66 lbs.
Safe to double or triple the dose in times of increased stress and anxiety.
Fast-acting formula typically produces results within 20-30 minutes, though this can vary.
Save 10 percent off with a subscription and you'll never have to worry about running out.
Things To Consider
Has not been proven safe for pregnant animals or animals intended for breeding.
Tub contains approximately 80 chews, so it might not last as long if you increase dosage or have a large dog.
Best Calming Bar for Dogs
Our Pick: Kradle Calming Bliss Bar
| | |
| --- | --- |
| Active Ingredients | Proprietary BotaniTek Blend (SAMe (S-Adenosyl methionine), GABA (gamma-Aminobutyric acid), Shoden Ashwagandha (Withania somnifera) root extract, L-theanine, Passionflower extract (aerial parts), L-Tryptophan) |
| Other Ingredients | Bacon, Baking Powder, Brown Rice Syrup, Brown Sugar, Egg Whites, Ginger, Gluten Free Flour (Brown Rice Flour, White Rice Flour, Millet Flour, Sorghum Flour, Xanthan Gum) Mixed Tocopherols (To Maintain Freshness), Peanuts (Roasted Unsalted), Peanut Butter (Sugar Free) |
| Dosage | 5-25 pounds = 1/2 bar, 26-50 pounds = 2/3 bar, 51+ pounds = 1 bar |
| Treat Type | Soft chew bar |
Imagine being able to give your dog a tasty snack bar infused with a plant-derived formula of natural ingredients. It's a win-win for the dog and you. Kradle's soft bake bars are infused with ashwagandha, passionflower, and more in their very own BotaniTek™ plant-derived innovation. The convenient nature of each breakable bar makes them ideal for travel. For dogs who just aren't fond of oils or tinctures, Kradle's soft, chewy bars provide the ideal solution.
Each bar breaks easily into three pieces so you can decide how much or how little to serve your dog. Smaller dogs would get 1/3 of the bar, while larger dogs over 51 pounds receive the entire bar. Made with real peanut butter and bacon bits, dogs can't resist the chewy texture and mouthwatering flavor in each bite. Results vary by dog, but most dogs react within 30 to 60 minutes.
Highlights
Made with a proprietary blend of human-grade ingredients to calm anxious dogs
Can easily be broken into smaller pieces
Contains no melatonin which generally makes dogs drowsy
Manufacturer instructs they are safe for daily use
Bacon bits and peanut butter flavor that most dogs drool for
Made in the USA
Contains no artificial flavors or colors
NASC certified
Things to Consider
A bit on the pricey side
Contains no CBD
Manufacturer indicates safe for dogs of all ages, but always check with your veterinarian first.
Calming Dog Treats Buying Guide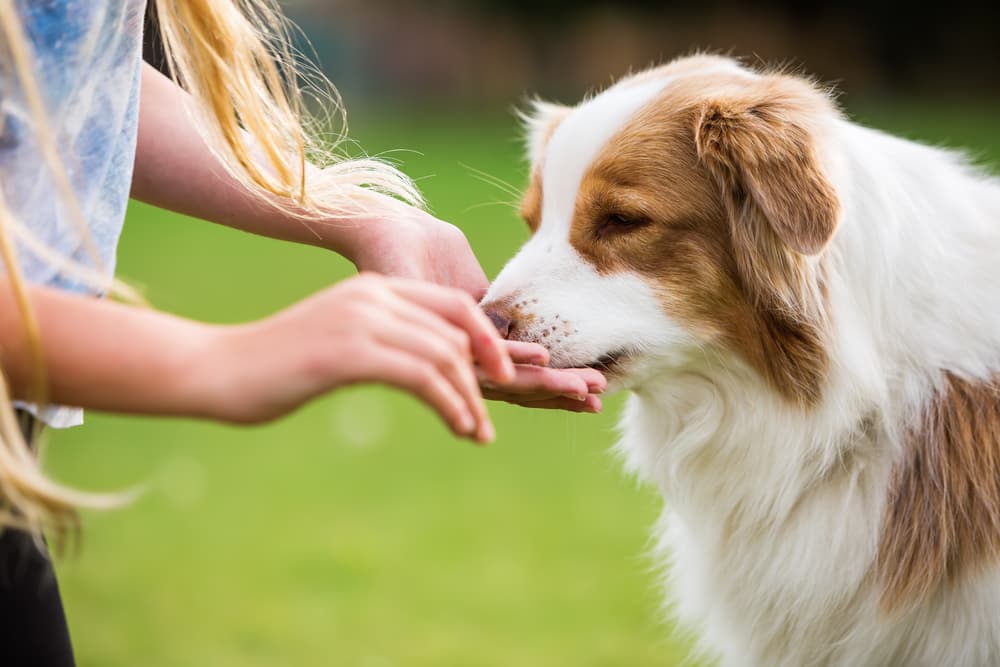 Even the most chill and laid-back dogs may get a bit tense now and then. Perhaps a dog doesn't like road trips, car travel, nail clippings, or veterinary visits. Some dogs freak out and get nervous if their parents are moving to a new home, a new baby is in the family, or they are left alone for a long period of time.
Positive reinforcements can help with some canine behaviors, but calming treats are designed to calm a dog and help them stay calm. With some preparation, dogs can feel safe and pet parents will have peace of mind.
Like all products for dogs, not all calming treats are created equal. Fears, phobias, and anxiety can cause stress for dogs and their owners, so here's what to look for when considering a calming treat for your pooch.
Look for Testing or Veterinary Formulation
Forego the claims and promises on a label or social media ad and look for trusted ingredients that are veterinary formulated and third-party tested. Ingredients commonly used in calming treats for dogs include melatonin, chamomile, CBD, and L-tryptophan (the ingredient that makes us sleepy after eating turkey).
Determine Your Dog's Type of Anxiety
Another key thing when shopping for calming treats is to determine what type of anxiety your dog has and base your search on those results. If your dog displays anxiety when alone, she could be suffering from separation anxiety. If your dog cowers, shakes, or hides from loud noises, fear-related anxiety could be to blame. Does your dog have any other symptoms that accompany anxiety? Illness or disease can also cause anxiety in dogs.
Calming treats aren't a cure all, and it's best to get to the source of the anxiety or fear before giving your dog a treat to chill out.
Find The Right Delivery System
Calming products for dogs are available in many forms such as sprays, tinctures, tablets, chews, pills, and even plug-in diffusers that release calming canine pheromones. Before administering anything to your pup, know whether she is amenable to swallowing a pill or if a chew is a better option. Fortunately, we live in a day and age where calming treats for dogs are plentiful.
Dog Calming Treats FAQs
Are calming treats safe for dogs?
Yes, in general, calming treats are safe for dogs. Most are made with natural ingredients such as melatonin, chamomile, valerian root, L-tryptophan, and hemp to promote calming and stress relief.
That being said, all dogs react differently to active ingredients in calming treats. So, it's important to talk to your veterinarian before offering new treats and to monitor your dog for any side effects or reactions. Calming treats may produce a drowsy or sedative effect.
Make sure to look for calming dog treats that are veterinarian formulated or recommended, that undergo testing to verify ingredients and potency labels, and that have transparent and high-quality manufacturing processes.
Are hemp calming treats safe for dogs?
Yes, hemp calming treats—made with or without CBD—are safe for dogs. Hemp dog treats made with cannabidiol (CBD), contain less than .03 percent THC and will not get your pet high. While most hemp dog treats are safe for dogs, make sure to check the ingredient label and discuss the treats with your veterinarian to make sure they are a good fit for your individual pet.
Are calming treats safe for puppies?
Before giving a calming treat to your puppy, it's a good idea to check the dosing instructions to ensure the treat is safe for young dogs. Many calming treats are formulated for all life stages, but some are not recommended for puppies. Follow the manufacturer directions and reach out to your veterinarian if you have any questions about giving your puppy calming treats.
Do calming treats work for dogs?
Calming treats do provide a reduction in stress and anxiety for some dogs. However, all dogs are different, and there is no guarantee that calming treats will work for an individual dog. You may need to try different types of calming treats with different ingredients to find a formulation that works for your dog.