8 Best Cat Carriers of 2023
Published on September 19, 2023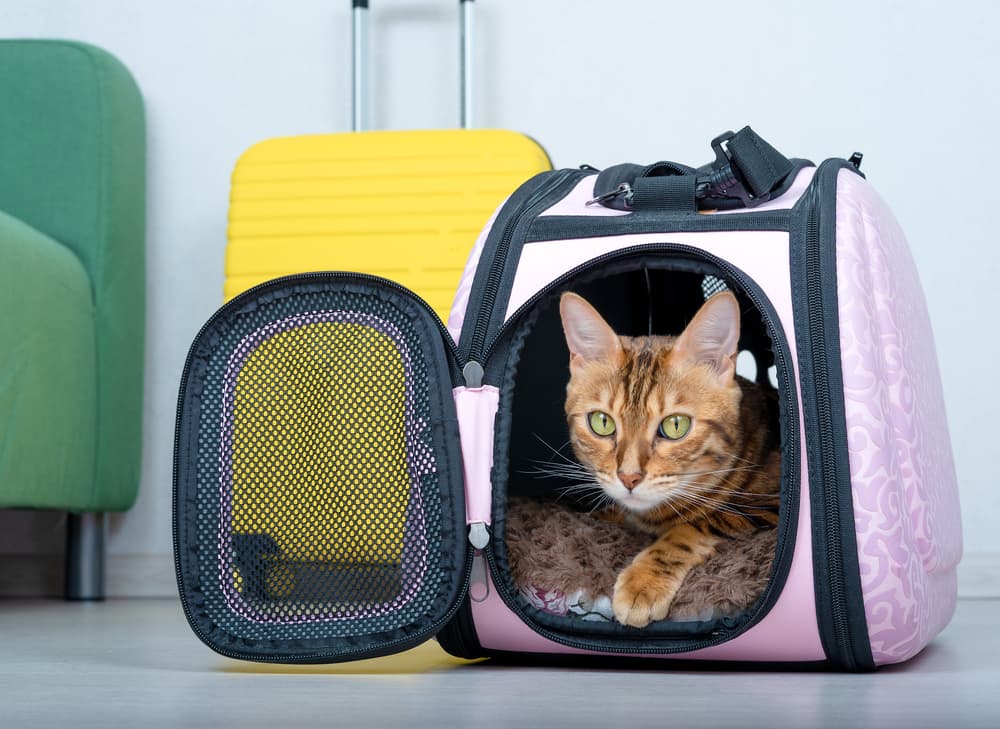 Whether you're headed overseas, up a mountain, or across town to visit the veterinarian, traveling with your cat is always an adventure! It's also becoming more popular — with over 2 million pets traveling on commercial flights every year. But with so much travel comes the need to find a secure, comfy, and safe cat carrier to transport your favorite feline.
To help you narrow down the right option for your kitty, we've rounded up eight of the best cat carriers, plus added some guidance on how to choose one based on the type of travel you'll be doing.
Cat Carriers: Why They're Important
Keeping our cats safe is most pet parents' number one priority. And no matter the destination, a carrier helps you move your feline friend around safely and comfortably.
Restraining your cat during travel is always recommended, but for some modes of transport, it's also a legal requirement. If you're bringing your cat with you on a plane trip, for example, you'll need to use an airline approved pet carrier for either in-cabin or cargo travel (depending on the length of your trip). Always check the rules for each airline, as the dimensions or type of carrier they allow may vary.
At home, cat carriers can also serve other purposes, like being a safe place for your cat to stay contained if they're ill or to relax without being disturbed by other pets, children, or guests.
Types of Cat Carriers
With so many different types of cat carriers out there, it can be overwhelming to find the best one to suit both your needs and your cat's needs. You might even find you'd like a couple of different options depending on the type of travel you'll be doing. Cat carriers come in a huge range of designs, but they can be split into two main categories:
Hard-sided cat carriers
Made from rigid plastic with a hard shell, these carriers are sturdy and easy to clean, and come in a wide range of sizes. They're very durable and are well suited for most types of travel, making them one of the most popular options out there. They can be a little bulky and hard to carry, though, especially if your cat is a larger breed.
Soft-sided cat carriers
Made from flexible materials like mesh and fabric, soft cat carriers come in a range of styles, from holdalls, to cat bubble backpacks designed for hiking, to airline-approved pet carriers. Soft carriers are simple to store at home as they often fold flat. They're also lightweight and easier to maneuver, which makes them great for in-cabin air travel. Just keep in mind that soft carriers can get damaged by your cat's claws and aren't as durable as hard carriers.
Our Top Cat Carrier Recommendations
In addition to brand recognition and my own experience as a pet parent to five different cats (all of whom have slightly different preferences when it comes to their preferred carrier), I considered the following factors when choosing the best carriers for cats to include on our list.
Type of carrier/travel. While we have specific recommendations for our best hard and soft cat carriers, we included an assortment of both styles under various categories on our list, many of which are ideal for different types of travel.
Durability/safety. We looked into how the carriers on our list would hold up to extended use, as well as any additional features that can help keep your cat safe, like seatbelt pass-through sections and points of ventilation.
Ratings/reviews. To help provide perspective from other pet parents who have used the cat carriers on our list, we also scoured the review section for each option.
Price. And finally, though some of our picks are a little more on the expensive side, we made sure that we included carriers at all different price points.
Our List
8 Best Cat Carriers of 2023
All featured products are chosen at the discretion of the author. However, Vetstreet may make a small affiliate commission if you click through and make a purchase.
Overall Best Cat Carrier
Our pick: Midwest Homes Cat Carrier
Perfect for a quick trip to the veterinarian or for a longer road trip, this bestseller is our favorite cat carrier. It can be assembled in five quick steps (and without tools!), so you'll be able to get your cat set up for your trip in no time. The ventilated sides offer plenty of airflow, and for added comfort, you can pop your cat's bed inside.
Pros
Bestseller on Amazon
Quick and easy assembly
Simple to clean
Dimensions: 20.7″ x 13.22″ x 14.09″
Cons
Larger cats may not want to be in it for longer periods of time
No top entry door
Best Large Cat Carrier
Our pick: AmazonBasics Two Door Cat Carrier
Sturdy enough to hold a cat up to 20 pounds, this carrier is the most popular choice for larger breeds. The top door makes it much easier to place your cat securely inside — no more scratches! Plus, if your cat is an anxious traveler and gets a little agitated, the hard sides of this carrier are tough enough to keep them safe.
Pros
Front and top doors for easy access
One-handed opening with spring-loaded latch
Well ventilated
Dimensions: 22.83″ x 14.96″ x 12.99″
Cons
Not airline approved
May be difficult to carry
Best Small Cat Carrier
Our pick: MuchL Soft-Sided Cat Carrier
Cute and compact, this small cat carrier is the perfect pick for little furballs. It's designed with heavy-duty, waterproof polyester and mesh windows for lots of ventilation. Zippered openings on both sides make it easy to get your cat in and out, and the adjustable, padded shoulder strap promises comfortable carrying.
Pros
Compact size is compliant with most airline regulations
Waterproof
Mesh windows
Two side entry points
Padded shoulder strap
DImensions: 16.92″ x 8.26″ x 11.81″
Cons
May not be big enough for larger cats
Best Cat Backpack Carrier
Our pick: Texsens Innovative Bubble Backpack Pet Carrier
Cat backpacks are so popular now, especially if you want to bring your cat on a hike or out for the day. Your little traveler cat will love looking out through the breathable mesh windows of this cat backpack carrier as you take on the trail or a trip through town. Plus, the padded shoulder and chest straps mean you'll be comfortable too!
Pros
Mesh windows for added ventilation
Foldable design
Padded straps
Washable mat included
Dimensions: 12.6″ x 11.4″ x 16.5″
Cons
Slightly larger cats may not be able to sit properly
Best Soft Cat Carrier
Our pick: Sleepypod Mobile Pet Carrier Bed
This is one of the best soft pet carriers we've ever seen. It's got two separate openings: a small one at the top and a larger one around the sides for easier in and out. It also comes in a variety of colors and has a cozy interior lining, and there's even a mini version that fits underneath most airline seats. Plus, as an added bonus, you can zip off the top to turn the Sleepypod into a bed for your cat at home or on the go. (Pro tip: this is also a great way to familiarize them with their new carrier!)
Pros
Padded shoulder strap
Two openings for easy access
Mesh top
Can double as a cat bed
1-year warranty
Dimensions: 17" x 13.5" (original); 13" x 11" (mini)
Cons
Best Hard Cat Carrier
Our pick: Petmate Two Door Cat Carrier
If you know you need a sturdy pet carrier, look no further than this one from Petmate. It's made with recycled materials and has plenty of ventilation for your cat to be comfortable on their trip. Both of its two doors have easy-to-use handles for simple one-handed opening and closing.
Pros
Quick access through the top or front
Easy to assemble and clean
Made with recycled materials
Available in various sizes and colors
DImensions: 24.05″ x 16.76″ x 14.5″
Cons
Not airline cabin approved, though it is approved for most airline cargo areas
Best Airline Approved Pet Carrier
Our pick: Top Paw Travel Airline Carrier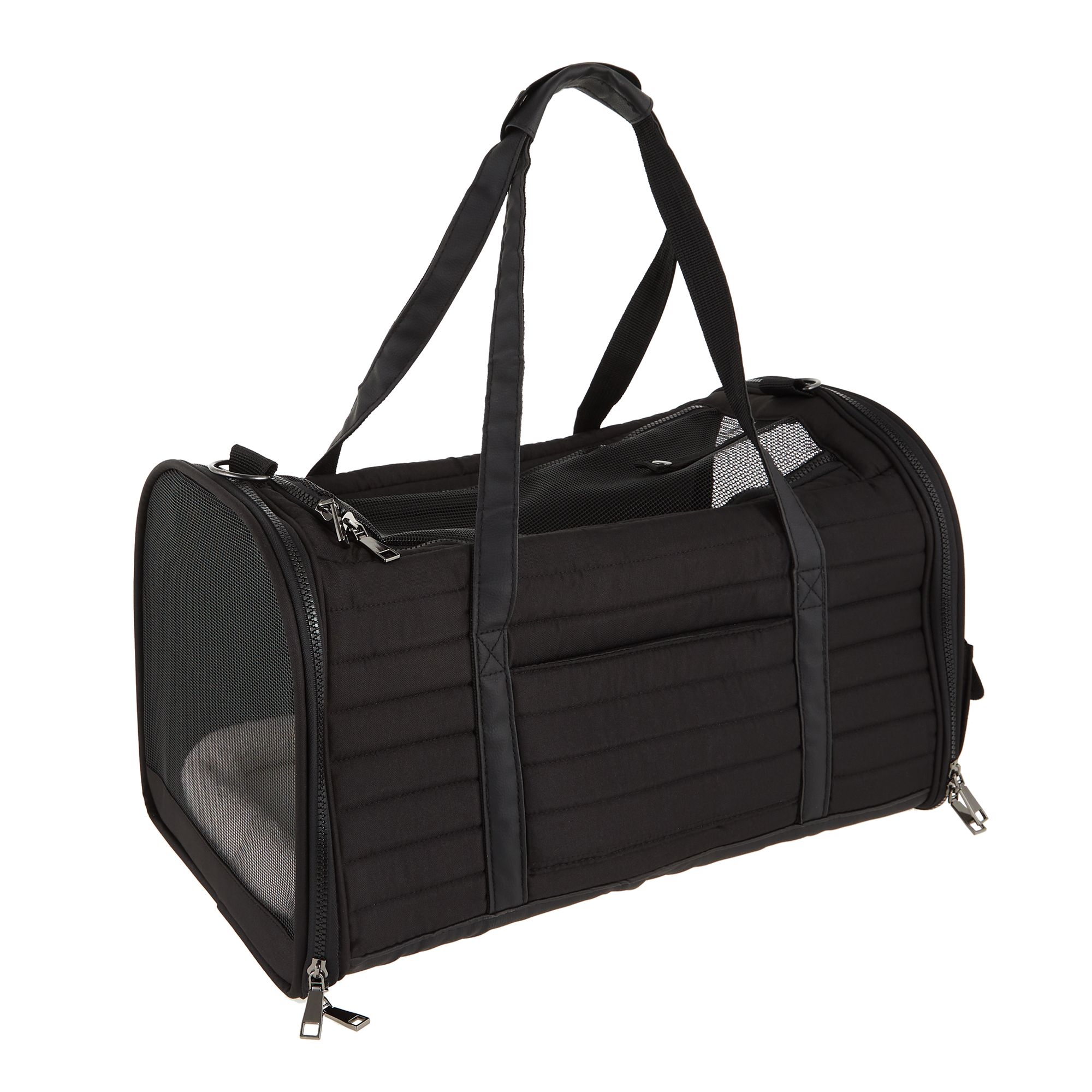 Turning your cat into a little jet-setter? This Top Paw Travel Airline Carrier will help keep them traveling in style. With a firmly padded base for stability, this soft carrier has plenty of room for your kitty to stretch out. There's also a soft faux fur pad inside, as well as a harness attachment point for added security while on the go.
Pros
Removable shoulder strap
Stable bottom with feet
Luggage handle sleeve
Includes a dispenser for waste bags (bags sold separately)
Dimensions: 18" x 11" x 11"
Cons
A bit more expensive than other options
Best Cat Carrier for Anxious Cats
Our Pick: Cat-in-the-Bag Cozy Comfort Carrier
If you have a slightly anxious cat, or a cat that just loves to be close to you, a cat carrier bag like this is definitely worth a try. The shoulder strap allows you to use it hands-free, making your cat feel safe, secure, and snuggled right next to you while still being able to observe everything going on around them. While cat bags may not be the most conventional type of carrier, with many great reviews from happy customers (people especially love it for vet trips!), we think this one is worth trying to see if your cat approves.
Pros
Handle doubles as a shoulder strap
Seat belt pass-through for car trips
Velcro cat paw openings are ideal for grooming and nail-trimming
Available in various colors and sizes
Made of 100% cotton
Washable
Cons
Unstructured bag provides less stability; this would not be a good option for air travel
Unconventional design may not suit all cats
Cat Carrier Buying Guide
When looking for a cat carrier, there are plenty of things to consider. While you might be able to get away with using a cardboard box for a trip to the vet in a pinch, it's always best to buy a cat-specific carrier before you need it.
As a pet parent, you know your cat best, so it's a good idea to choose a carrier based on their personality and the type of trip you'll be taking. A curious and confident small cat might love a bubble backpack so they can check out the world around them. But a large, timid cat may prefer a hard-sided carrier that provides more security.
What to Look for in a Cat Carrier
When choosing the type of carrier you need, consider the following features:
Size. Any carrier needs to be large enough for your cat to stand up and turn around comfortably. Before buying a carrier, measure your cat's length and height and compare this with the carrier dimensions. It's also worth bearing in mind that if a carrier is too big, your cat may move around too much and feel less secure.
Materials. Hard-sided carriers are easy to wipe down, but when it comes to soft-sided versions, look for washable materials and removable padding.
Design. Carriers with opaque sides can make cats feel more secure, as they offer a barrier between them and the outside world. Soft carriers sometimes have mesh sides, which can provide added ventilation.
Your travel needs. If you travel a lot with your cat, you might find different carriers are best for specific trips. A hard carrier is great for visits to the veterinarian, but you (or your cat!) might prefer a soft holdall style carrier for plane journeys or road trips.
Durability. Hard carriers are extremely durable and even if your cat scratches, they won't get damaged. Soft carriers can become ripped by claws and teeth over time, so always regularly check for any tears or holes in the fabric.
Safety Tips for Traveling With Cats
Trying to get your cat into the carrier may be the most difficult part of your journey! It's always worth practicing this at home before a trip. You can use toys and blankets to make the carrier as comfortable as possible, as well as treats to encourage your cat to come over and investigate their new carrier.
When in the car, you'll always need to restrain your cat's carrier. The best location is on the floor behind the driver's seat. If you place your cat's carrier on the rear seat, make sure to secure it with the seatbelt.
If you think you'll need to check on your cat in an open area like an airport waiting lounge, it's also worth choosing a carrier with a leash attachment point you can clip onto their harness.