Best Cat Food for Weight Loss: 7 Healthy Options
Updated on February 07, 2023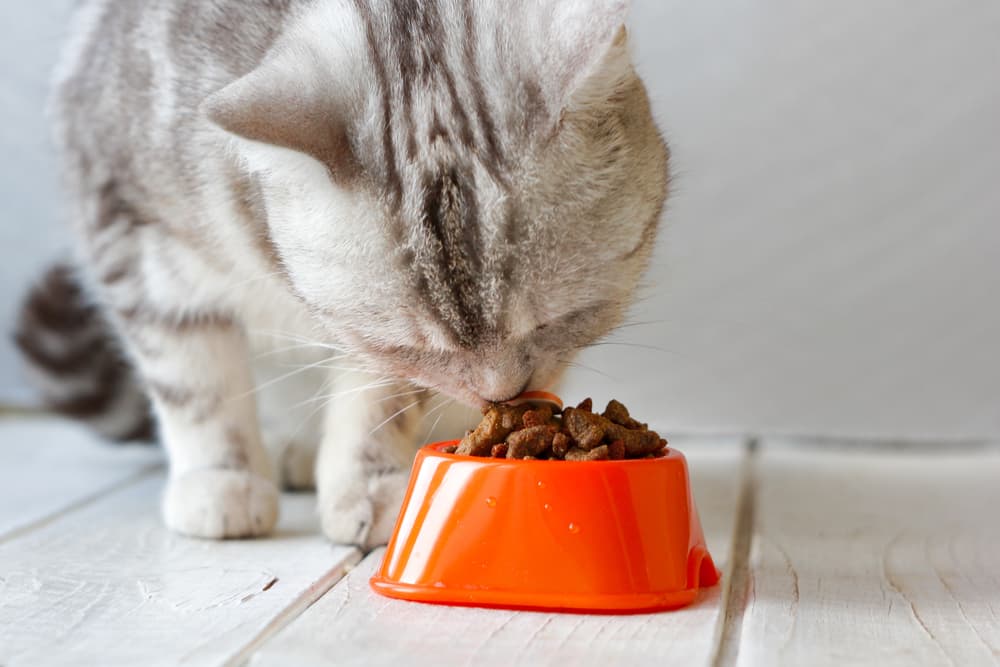 Just like us humans, cats love their food—sometimes too much. Combine that with the life of leisure that many of our beloved house cats live (like sunbathing in their favorite chair for hours), and sometimes, your food-motivated cat starts to pack on the pounds, which isn't healthy.
Almost 60 percent of cats in the United States are considered overweight or obese (1), which makes them prone to a variety of health issues. "Excess weight causes increased inflammation in a cat's body," explains TB Thompson, a veterinarian from Phoenix, Arizona. "It can cause or worsen problems like osteoarthritis, asthma, heart disease, diabetes mellitus, pancreatitis, kidney disease, and fatty liver."
Diets aren't easy for anyone, even Fluffy—but the food you feed your cat can definitely make a difference.
Our Picks:
Weight Loss Cat Food: What to Know
If your cat needs to lose weight, you may think it's simply a matter of feeding less of your cat's normal food. Portion size does play a big role—if you give your cat too much food, he might overeat and gain weight. However, if you are feeding the recommended amount and start cutting back on regular portions, you could be depriving your cat of essential nutrients.
To avoid nutritional deficiencies, your veterinarian may recommend switching your cat to a food that's been specially formulated for weight loss or weight control. "Weight loss cat food can help your cat lose weight successfully without compromising balanced nutrition and without making your cat super hungry all the time," says Thompson.
You can also look for cat food that's labeled as "weight control" or "weight maintenance." While these foods might have a slightly higher calorie content than "weight loss" labeled foods (and are not necessarily aimed at weight loss), they're still on the lower side in terms of calories and can still help your kitty shed some excess pounds, Thompson explains.
Once your cat starts to lose the excess pounds, you might also see his health improve as a whole. You might notice that he is more energetic and playful, or that he spends more time around you (rather than sleeping). This also has another added benefit: if your cat is more active overall, it will be easier for you to notice when he is not feeling well.
Keep in mind that it is unhealthy for your cat to lose too much weight in a short period of time. As a general rule, cats can safely lose about 0.5-2 percent of their body weight per week, which comes to about 4 ounces per week for a 20-pound cat (2).
Is Wet or Dry Food Better for Overweight Cats?
Your cat can lose weight on wet or dry food—it really depends on the cat and what kind of food he prefers.
Wet food has a lot of extra moisture, which makes it less calorically dense even though the portion might be bigger. This can help your cat feel full sooner, even if he ate fewer calories.
"I've definitely had cat patients who have done better with wet weight loss cat food because it kept them feeling more satisfied," says Thompson. "But even cats who refuse to eat wet food altogether can lose weight with the right dry food and diligent monitoring."
Best Cat Food for Weight Loss: 7 Healthy Options
All featured products are chosen at the discretion of the author. However, Vetstreet may make a small affiliate commission if you click through and make a purchase.
Best Wet Cat Food for Weight Loss: Overall Winner
Our pick: Smalls Human-Grade Fresh Cat Food
25% off + free treats for life with code VETSTREET5
While not specifically designed for weight loss, Smalls Human-Grade Fresh Cat food is a great choice for a cat that needs to shed some extra pounds. All their recipes are high in moisture and protein, while also being low carb and free of fillers. This ensures that more of what your cat eats gets turned into energy he can use. You can choose between chicken, turkey, or beef recipes, all of which are available in two different textures (smooth and ground).
Highlights
Made with fresh, high-quality animal proteins that have been sustainably-sourced
No preservatives or fillers
Human-grade ingredients
Ships right to your home
Things to Consider
Only available via subscription
Needs to be refrigerated
Best Dry Cat Food for Weight Loss
Our pick: Instinct Raw Boost Healthy Weight
If you're on the fence about whether to give your kitty dry kibble or raw food, this might be the cat food for you. With 10 percent fewer calories than the company's raw food, this grain-free formula contains fiber to keep your kitty full, L-carnitine to help burn fat, probiotics to support digestive health, and antioxidants to support immune health.
Highlights
Protein-packed with chicken as the first ingredient
Contains freeze-dried raw bits of protein
Natural ingredients
Contains L-carnitine to burn fat and maintain a healthy weight
Has lots of healthy fiber to keep your cat feeling full
Things to Consider
Contains some by-products
On the pricey side for dry food
Best Canned Cat Food for Weight Loss
Our pick: Blue Buffalo True Solutions Fit & Healthy Wet Cat Food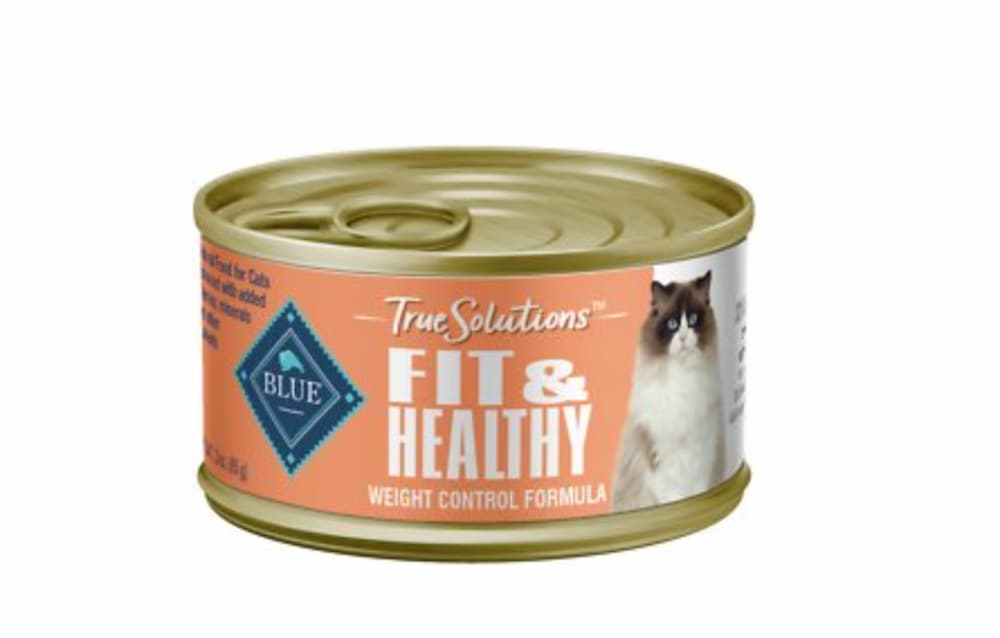 With chicken, chicken broth, and chicken liver as the first three ingredients, this protein pate is also full of healthy fiber, vitamins, and nutrients. It also contains L-carnitine, a natural amino acid that helps the body turn fat into energy and maintain a healthy weight.
​​
Highlights
Chicken is the first ingredient
Contains L-carnitine to help burn energy
Wheat-free recipe
Full of fiber to help your cat feel fuller
No by-products, artificial flavors, or preservatives
Things to Consider
Chicken is the only flavor
Only sold in 3-oz. cans
Pricey compared to other foods
Best Adult Weight Management Cat Food
Our pick: Purina Pro Plan Focus Adult Weight Management
If your cat isn't a fan of pates, it can be tough to find a wet food he'll eat that will also help him lose weight. But this Purina Pro recipe with ground turkey has a consistency that falls between a pate and a chunky wet food, offering a middle ground. This might appeal to cats that are picky about texture or that are getting older in age and need a softer food. The recipe also has 10 percent fewer calories than most Prop Plan options, while still containing 25 essential vitamins and minerals your cat needs to be healthy.
Highlights
Made with real turkey
Designed to maintain muscle mass
Ground formula is easy for cats to chew
Packed with 25 essential vitamins and minerals
Most user reviews suggest cats love the flavor
Things to Consider
Not an all-natural recipe
Only sold in 3-oz. cans
By-products in the ingredients
Best Prescription Weight Loss Cat Food: Wet
Our pick: Blue Buffalo Natural Veterinary Diet Weight Management + Urinary Care
As mentioned earlier, overweight or obese cats are at risk for a variety of health conditions, and that includes urinary problems. That's why this prescription weight loss cat food is designed to help both weight loss and urinary health at the same time. With chicken as the first ingredient, this recipe is high in protein, fiber and moisture, while also still being low calorie. It also has controlled levels of magnesium and sodium to balance urinary pH.
Highlights
Chicken is the first ingredient
Helps weight loss and urinary health
Grain-free, low calorie recipe
Blue Buffalo foods are formulated by animal nutritionists, food scientists, and veterinarians
Things to Consider
Only one flavor available
Your vet needs to prescribe this food
Best Senior Cat Food for Weight Loss
Our pick: Chicken Soup Weight and Mature Care Cat Food
Older cats can sometimes gain weight as they slow down and spend more time sleeping. So if you have an older cat that needs a diet, this wet food might help (and appeal to them!). It's specially formulated to meet the nutritional needs of older cats, it's relatively low calorie, and it's packed with protein, including ocean fish, chicken, salmon, and duck, as well as real vegetables and fruit for fiber.
Highlights
Protein-heavy recipe
All-natural ingredients
Wheat and corn free
Available in large 5-oz. cans
No byproducts
Made in the USA
Things to Consider
Only one recipe (so cats either like or don't like the flavor)
Best Healthy Weight Cat Food for Indoor Cats
Our pick: Halo Holistic Healthy Weight Indoor Cat Dry Food
Made only with whole meat from sustainably caught fish and non-GMO produce, this dry cat food is formulated with all-natural ingredients so that it's easy for your cat to digest while also losing or maintaining a healthy weight. It's also packed with nutrients to help your cat maintain his overall health too.
Highlights
Fish is sustainably caught
Formulated to be easy to digest
No byproducts or meals in recipe
Non-GMO ingredients
Includes nutrients for well-rounded health, including a healthy coat and eyes
Things to Consider
Not for cats who don't like fish
Weight Loss Cat Food Brands: What to Look For
When choosing a weight loss cat food, the smartest move you can make is to read the label carefully. "Make sure the food is labeled as complete and balanced," Thompson says, to ensure it has the nutrients, vitamins, minerals, fats, and other supplements your cat needs to stay healthy.
Here are some other details veterinarians like Thompson recommend paying attention to:
Calories
"Some supposed weight loss foods have just as many calories as average cat food," says Thompson, while other foods not labeled specifically for weight loss are great choices.
The goal is to make sure the food you choose has fewer calories per cup than the one your cat is currently eating. Your cat will only lose weight if there is an overall caloric deficit.
Protein vs. Carbohydrate Content
Cats are true carnivores and natural hunters, so they generally do well when they eat food that's high in protein. It can also help preserve their muscle mass while they're trying to lose weight.
Look for food that lists protein as the first ingredient and be wary of foods that have too many carbohydrates as the first several ingredients. It's okay for there to be some carbs, though, as this gives the food fiber, the next thing to look for.
Fiber
Fiber helps your cat feel full, even if he ingests fewer calories. Look for foods with increased soluble and insoluble fiber, Thompson says. This fiber will generally come from healthy carbohydrates, such as sweet potato, pumpkin, or brown rice.
Avoid Fillers
Some foods will have a lot of low-cost ingredients in them that have little nutritional value and aren't as healthy for your cat. These include animal by-products, grain products, and corn or wheat gluten.
How to Help Your Cat Lose Weight: Tips and Advice
In addition to feeding your cat the right food to support his weight loss, you can also help him lose weight some other ways too:
Encourage regular, low-impact exercise. Encourage your cat to play with a new toy or an interactive toy, such as a feather wand. "Increasing activity will improve your cat's mental attitude as well as burn a few more calories," says Thompson.
Cut back on the treats. We've all been there: your hungry, purring kitty hops up on your desk and gives you that wide-eyed, pleading look that screams "treats please." It's hard to resist, but it's in his best interest if you keep the treats to one or two small ones a day.
Stick to portions. Make sure you feed your cat the portion recommended by your veterinarian or the packaging and not more.
If you're unsure what food to get your cat—or if your cat is having trouble losing weight even on a weight loss cat food—talk to your vet, especially if your cat is severely overweight or if you aren't seeing a slow, gradual decrease in weight after 6-8 weeks, Thompson says.
"[Your] vet can recommend a special diet with a controlled calorie content that will increase your cat's chances of success in losing weight," says Thompson. "It's rare that we can't figure out a way to safely reduce a cat's weight but sometimes it takes ingenuity. Don't give up."