9 Best Sensitive Stomach Cat Foods
You always want what's best for your cat. And all this time, you've been feeding her what you thought was the best cat food ever. Well, not all cat meals are created equal.
And while some formulas—from dry to wet—boast many health benefits, some cats need food that is gentler on their stomachs. Some cats experience digestive issues, causing them to become ill after each feeding.
So, how can you navigate your cat's tummy troubles? By choosing a sensitive stomach cat food that fits her nutritional needs and lifestyle. Read on for some expert advice and product recommendations to help your beloved pet.
Our Top Picks
Does Your Cat Need Sensitive Stomach Cat Food?
While it's common for cats to cough up hairballs, if your fur baby is vomiting after meals or suffers from diarrhea consistently, you may want to try switching up her cat food to see if things improve. Your cat may have a sensitive digestion system and require a special diet.
"Signs that your cat may need a sensitive stomach diet, for the most part, may begin to manifest as inappetence (or lack of appetite), regurgitation, vomit, diarrhea, constipation or hair balls," says Dr. Brian Bourquin, founder and chief medical officer of Boston Veterinary Clinic.
Bourquin also notes that cats that have consistent hairball issues usually have underlying gastrointestinal issues or food allergies.
"Any repeatable issues can be concerning, and you should seek your veterinarian's opinion immediately," he says. "They can then best assess and help you decide a remedy for your cat such as a different over-the-counter food, or a restricted diet, or if your feline needs further testing."
Reasons Your Cat Might Need a Sensitive Stomach Cat Food
There are many different reasons your cat may need food formulated for sensitive stomachs.
These include:
Allergies
Parasites
Low-quality food with artificial additives, fillers and preservatives (which cause gastrointestinal problems)
A sudden change in food (if you swap formulas, do it gradually)
An unbalanced diet (too much or too little of nutrients)
"A cat may require sensitive stomach cat food, or a restricted diet, if they are experiencing food allergies, specific food sensitivities, or other issues due to underlying gastrointestinal (GI) issues," says Bourquin. "These can first manifest as hairballs, vomit, or loose stool."
Sensitive Stomach Cat Food: Key Benefits
According to Bourquin, when choosing cat food for a sensitive stomach, you should look for ones with easily digestible ingredients, probiotics, or other digestive enhancers. But he cautions against making a switch without talking to your veterinarian.
"Before putting your cat on any type of restrictive diet or giving them any sensitive stomach food, you should always seek your veterinarian's opinion on the matter."
Cat foods formulated for sensitive stomachs provide the following benefits:
Made with easily-digestible ingredients
May help maintain a cat's weight
Provides balanced nutrition
Reduces stool odors
Minimizes or prevents vomiting and diarrhea
Acts as a great source of protein
9 Best Sensitive Stomach Cat Foods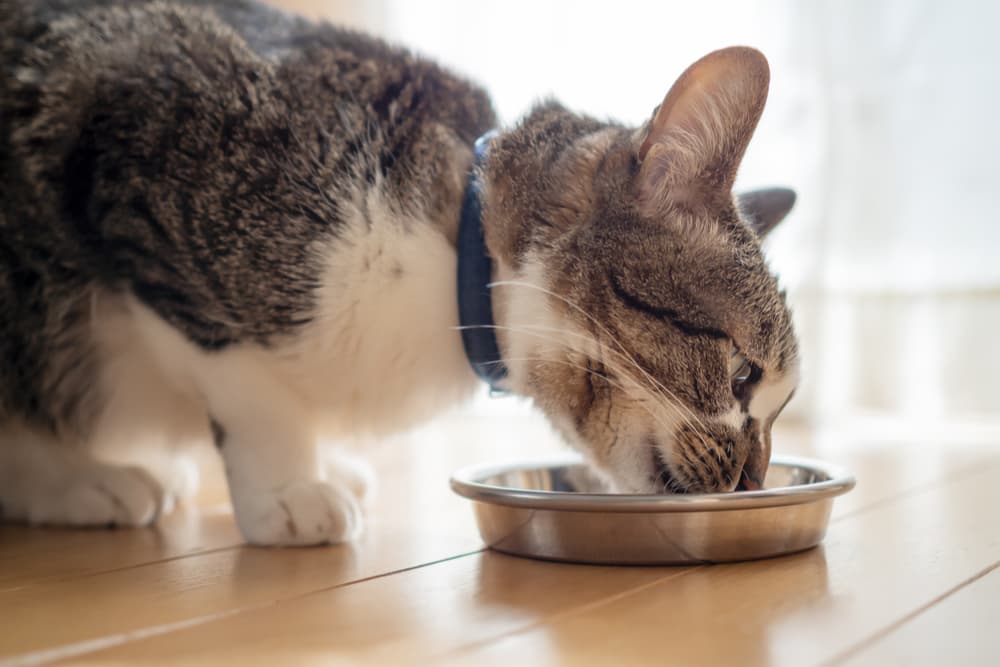 Once your vet has assessed your cat's needs and you both have decided on the need for a sensitive stomach cat food, consider the following options:
All featured products are chosen at the discretion of the author. However, Vetstreet may make a small affiliate commission if you click through and make a purchase.
Best Overall Sensitive Stomach Cat Food
Our Pick: Blue Buffalo Sensitive Stomach Natural Adult Dry Cat Food
A trusted brand, Blue Buffalo delivers a sensitive stomach food that packs a healthy punch with mixed grains (like oatmeal and brown rice), vegetables and fruits, and real chicken. Providing a balanced diet, this option offers the right vitamins, minerals and antioxidants that will not only aid in digestion, but will help a cat's immunity.
Highlights
Made of real chicken
Has prebiotics and probiotics
Has Omega 3 and 6 fatty acids
Things to Consider
Bag does not reseal, so you'll want to make sure it doesn't go stale by using your own sealed container.
Best Wet Cat Food for Sensitive Stomachs
Our Pick: Royal Canin Feline Health Nutrition Digest Sensitive Loaf in Sauce Canned Cat Food
Specifically formulated to give cats digestive support, this sensitive stomach formula promotes health through its blend of vitamins and minerals. When my cat was vomiting consistently, our vet recommended this product to us and it worked really well.
Highlights
Good for cats of different ages (over 1 year)
High in protein
Things to Consider
Best Raw Cat Food for Sensitive Stomachs
Our Pick: Smalls Freeze-Dried Raw Duck Cat Food
25% off + free treats for life with code VETSTREET5
Though not specifically formulated for cats with digestion issues, this raw option is a great pick for cats who might be sensitive to other protein sources like chicken or beef. Duck is a novel protein that may be easier to digest for some felines. And we love that Smalls removed the mess of serving raw food by freeze drying high-protein morsels. This is a great raw option for cats transitioning from a dry kibble.
Highlights
All the benefits of a high-protein, raw diet without the mess
Has no added antibiotics, steroids or artificial hormones
Duck is a novel protein and may benefit cats with food allergies
Also available in Chicken and Turkey
Things to Consider
It's a higher price point than other cat foods on this list.
Best Dry Cat Food for Sensitive Stomachs
Our Pick: Merrick Purrfect Bistro Complete Care Grain-Free Sensitive Stomach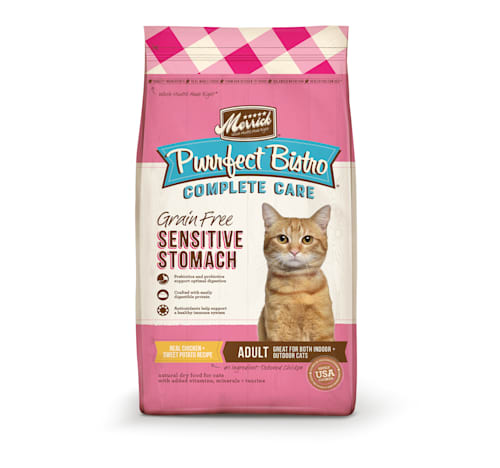 We love this grain-free option because it lists deboned chicken as the first ingredient. The recipe contains other whole ingredients like easy-to-digest sweet potatoes, as well as both pro- and prebiotics to also assist with digestive health. Added vitamins, minerals, and taurine provide enhanced nutrition, and Omega fatty acids help promote healthy skin and fur.
Highlights
Limited-ingredient, grain-free recipe
First ingredient is deboned chicken; other whole ingredients and prebiotics/probiotics help aid in digestive health
Contains Omega-3 and Omega-6 fatty acids
Uses no artificial colors, flavors, or preservatives
Things to Consider
Best Cat Food for Diarrhea
Our Pick: Grandma Lucy's Anti-Diarrhea Freeze-Dried Cat Meal Replacement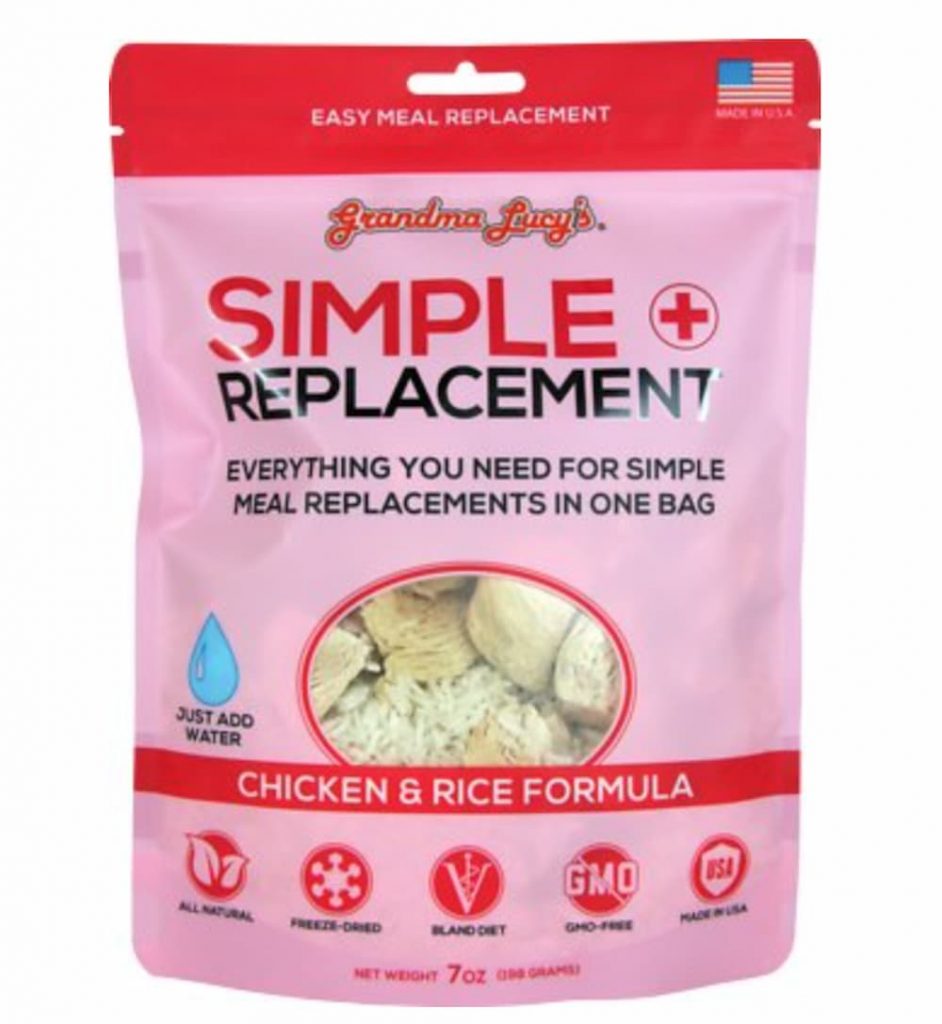 If your cat is experiencing bouts of diarrhea, switching temporarily to a bland diet is useful. But constantly cooking chicken and rice at home can be a bit of a pain. That's why we love this option from Grandma Lucy's. It's freeze-dried, so you can keep it in your cupboard until you need it. All you have to do to prepare this meal is add boiling water. It's a great short-term meal replacement for cats with diarrhea.
Highlights
Makes serving a bland diet simple
Very easy to prepare
The only ingredients are freeze-dried chicken and white rice
Things to Consider
Not meant as a long-term solution or diet
It's more expensive than making chicken and rice at home
Best Cat Food for Cats That Throw Up
Our Pick: Iams Proactive Health Sensitive Digestion & Skin Dry Cat Food
We love this Iams sensitive cat food option for cats who particularly have vomit issues because it is made up of 33 percent protein, and a special blend of fiber and prebiotics to increase good bacteria in the tummy.
Highlights
Also helps regulate amount of water in intestines
Omega-3 and omega-6 fatty acids will support skin and coat
Not too pricey
Things to Consider
Contains several corn ingredients (which digests fine, but cats may still free hungry)
Best Kitten Food for Sensitive Stomachs
Our Pick: Blue Buffalo Basics Limited Ingredient Diet, Grain Free Natural Kitten Pate Wet Cat Food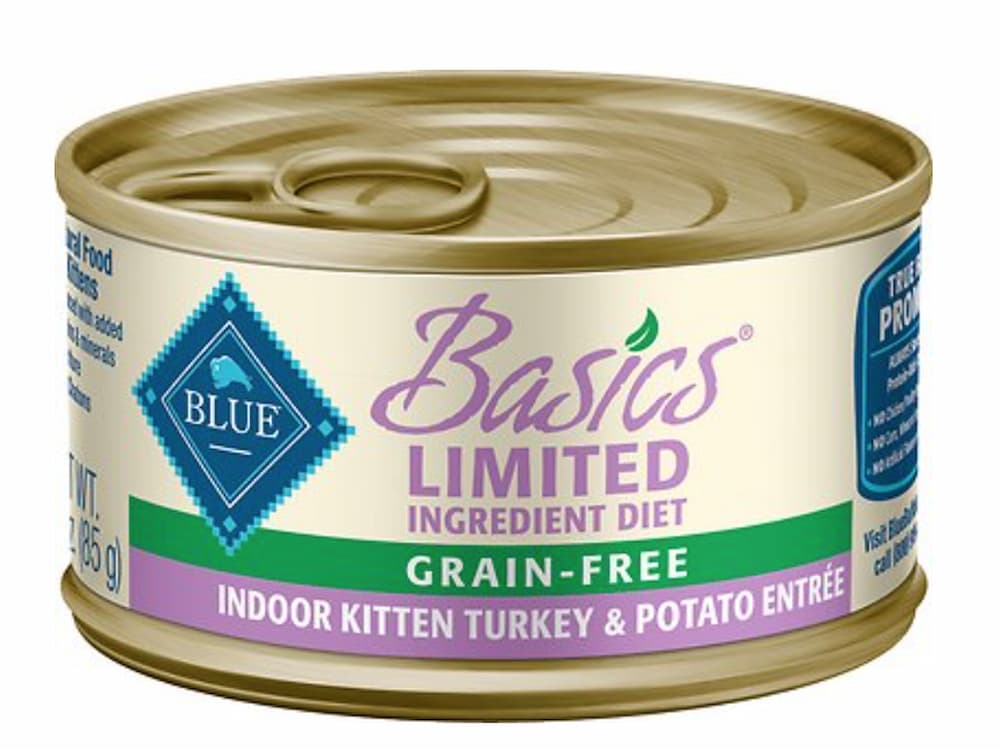 Containing limited ingredients, which is a plus if your kitten has a sensitive stomach, this pick also contains omega-3 fats to aid in cat development. Formulated to promote gentle digestion as your furry friend gets used to wet food, this variety doesn't contain chicken, beef, dairy, eggs, grain, gluten, by-product meals, corn, wheat, soy, artificial flavors or preservatives—some of which are allergy culprits.
Highlights
Less ingredients than most cat food
Contains single animal protein (real turkey)
Includes vitamins and minerals, like DHA (which promotes brain development)
Things to Consider
Comes in only a pate version, so hopefully your kitten likes the texture
Best Senior Cat Food for Sensitive Stomachs
Our Pick: Hill's Prescription Diet i/d Digestive Care Chicken Flavor Dry Cat Food
Developed by nutritionists and veterinarians, this prescription diet cat food supports the digestive health of senior cats in a great way. This product also aims to improve stool quality with its specific formula of nutrients, protein, fat, and fiber.
Highlights
Also helps reduce the risk of urinary issues
Can also control cell oxidation with its antioxidants
Things to Consider
Buying this product requires veterinary authorization
Best Budget Cat Food for Sensitive Stomachs
Our Pick: Purina ONE Natural Sensitive Skin & Stomach Formula Dry Cat Food
For the best value, Purina ONE Natural Sensitive Skin & Stomach Formula Dry Cat Food aims to nourish adult cats with its high-protein formula made of turkey and other quality ingredients.
Highlights
Each one cup serving has 36 grams of protein
Includes antioxidants and omega fatty acids
Crunchy kibble will also help prevent plaque buildup, keeping teeth and gums clean
Things to Consider
This formula was recently changed and some long-time buyers claim their cats are not fans