High-Protein Cat Food: 7 Best Options
Published on March 30, 2022
Pet parents know all too well just how difficult it can be to select a cat food formula that their feline friend actually likes. But ensuring the recipe is formulated to provide proper nutrition and support that allows your cat to thrive is just as important.
Cats are obligate carnivores, which means they are biologically required to consume meat in order to achieve and maintain optimal health and wellness. A diet that doesn't include enough animal protein can lead to possible health issues down the line, which is why a high-protein diet can be beneficial for most healthy cats. Below, we've rounded up some of the best high-protein cat food formulas to suit various needs and tastes.
Our Top High-Protein Picks
The 7 Best High-Protein Cat Foods
All featured products are chosen at the discretion of the author. However, Vetstreet may make a small affiliate commission if you click through and make a purchase.
Best High-Protein Cat Food: Overall Winner
Our pick: Smalls Human-Grade Fresh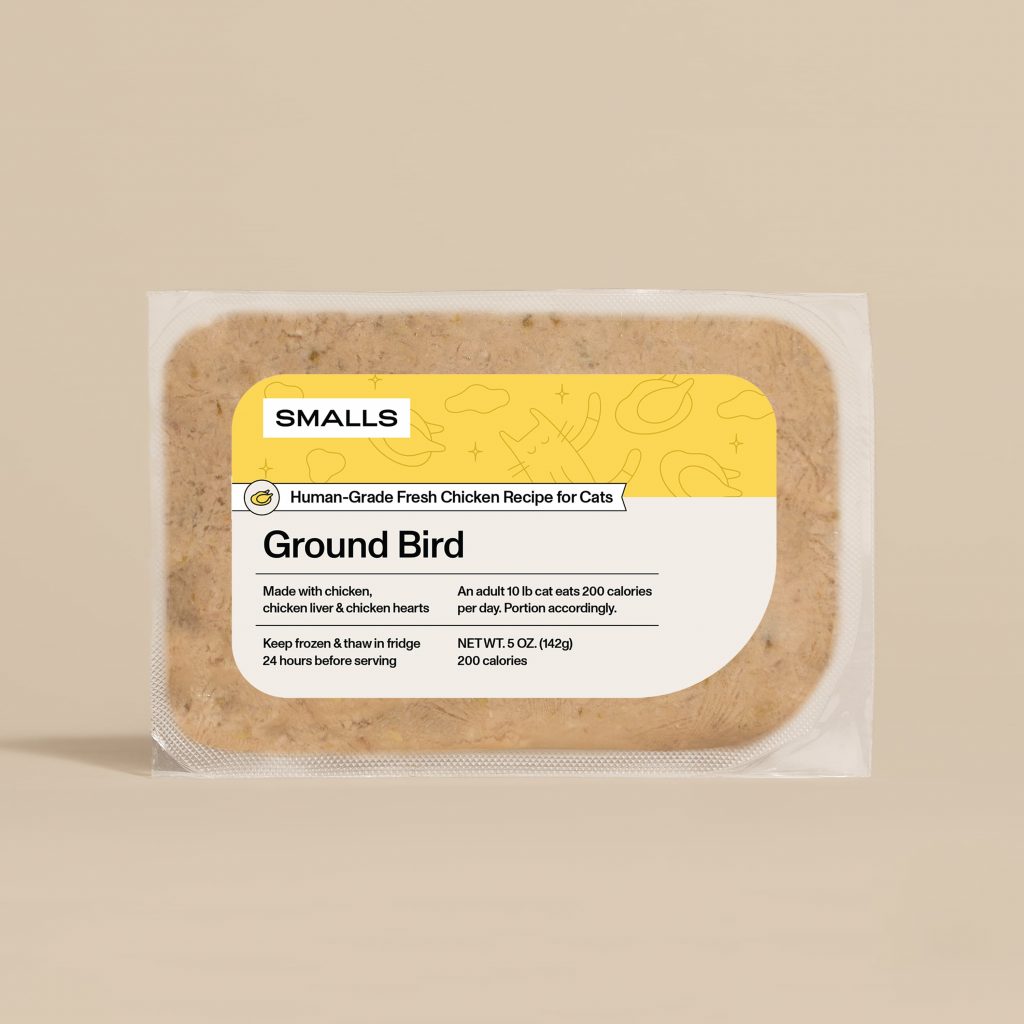 25% off + free treats for life with code VETSTREET5
Smalls human-grade fresh cat food is a clear frontrunner when it comes to quality ingredients and taste. This high-protein wet cat food is available in three proteins (chicken, turkey, or beef) with no additives or mystery meats. For example, the Bird recipe features chicken thigh, breast, liver, and heart. These yummy human-grade recipes are also a smart option for picky eaters, as they are available in smooth, ground, or pulled textures, depending on what your feline friend prefers.
Highlights
Chicken and turkey are available in three textures (smooth, ground, or pulled) and beef is available in two textures (smooth or ground) to suit your cat's taste
Transparent, additive-free ingredient list
Science-backed formula that you can feel good about
Ships right to your door for added convenience
Meets AAFCO nutrient profiles for all life stages
Things to Consider
The price is high compared to other options on the list
Smalls' "Cat Concierge" customer service team is only available online; no direct phone support
Best High-Protein Dry Cat Food
Our pick: ORIJEN Original Grain-Free Dry Cat Food
Looking for a high-protein dry cat food that will appeal to picky eaters? The ORIJEN Original Grain-Free Dry Cat Food is formulated with 90 percent premium animal ingredients, including chicken, turkey, turkey giblets, chicken liver, whole mackerel, whole herring, and flounder. If that's not enough to entice your finicky feline, it's also freeze-dried coated for added flavor. Plus, you'll have peace of mind knowing that the tasty ingredients also support your kitty's digestion, skin and coat, and heart health. What more could you and your cat ask for?
Highlights
The formula is crafted with 90 percent whole-prey animal ingredients, including poultry, organs, and bones
First five ingredients are fresh or raw
Contains prebiotics like dried chicory root and fiber from fruits and veggies
Omega-3 fatty acids from pollock oil support skin and coat health
The freeze-dried coated formula will appeal to most picky eaters
Meets AAFCO nutrient profiles for all life stages
Comes in 4-, 10- or 12-pound bags
Made in the USA
Things to Consider
The price point is quite high for dry cat food
Includes a mix of plant-based protein
If your cat isn't a fan of the Original recipe, other flavors are available
Best Budget-Friendly High-Protein Cat Food
Our pick: Crave Adult Grain-Free Dry Cat Food
Your feline friend deserves high-quality cat food, but that doesn't mean you have to spend your entire grocery budget on premium kibble. Crave is a good option for those looking for a relatively budget-friendly dry adult cat food that doesn't skimp on quality. The 40 percent high protein formula features real chicken as the first ingredient—no soy or grains like corn or wheat. It also contains quality carbohydrate sources for energy, plus vitamins, minerals, and other nutrients.
Highlights
40 percent high-protein diet to support a strong, lean body
Real chicken is the first ingredient
No chicken by-product meal, soy, corn, or wheat
No artificial flavors, colors, or preservatives
Available in 2-, 4- and 10-pound bags
Great price point for the quality
Comes in other flavors like Chicken & Salmon or Salmon & Ocean Fish
Meets AAFCO nutrient profiles for maintenance
Things to Consider
Chicken is not the only source of protein. Also contains pea protein, split peas, fish meal, and potato protein
Some customers were surprised at the size of the kibble, which is a bit larger than other cat foods
Best High-Protein Freeze-Dried Raw Cat Food
Our pick: Smalls Freeze-Dried Raw
25% off + free treats for life with code VETSTREET5
If you're looking for a convenient yet efficient way to ensure your cat is getting a high-protein meal that is minimally processed and rich in nutrients, freeze-dried raw cat food is worth considering. Smalls freeze-dried raw offers the same high-protein advantage as raw cat food without the fuss of having to handle raw meat on a regular basis. There are three different formulas to choose from: chicken, turkey, and duck, all of which are free from mystery meat, artificial flavors, and preservatives.
Highlights
Very convenient alternative to traditional raw cat food options
No mystery meat or artificial flavors
Crunchy texture ensures even picky cats will gobble it right up
Meets AAFCO nutrient profiles for all life stages
Things to Consider
The formula is expensive compared to other brands
Smalls' customer service is only available via text or chat
Best High-Protein Cat Food for Senior Cats
Our pick: Blue Buffalo Healthy Aging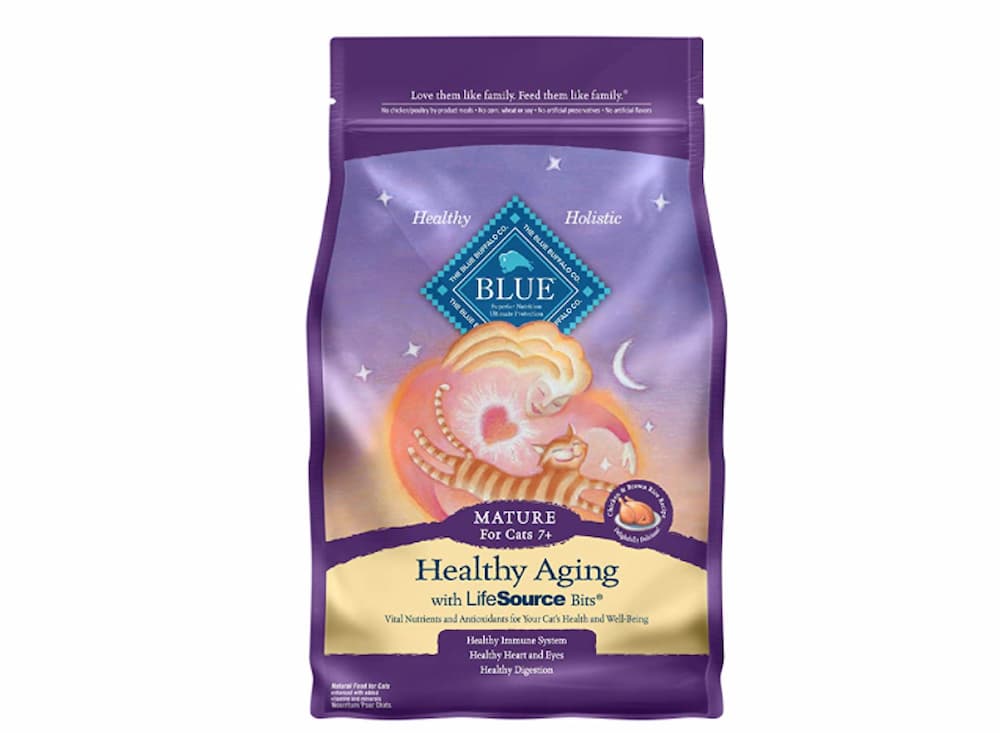 Senior cats require a much more specific diet than kittens or adult cats, including less calorie-dense portions and slightly less protein. That said, most healthy senior cats should still be consuming a relatively high-protein diet. The Blue Buffalo Healthy Aging is a smart option for the majority of senior cats and features deboned chicken as the first ingredient. The senior-specific formula includes the right balance of essential proteins, amino acids, and carbohydrates to ensure your senior furbaby remains healthy and happy into their golden years.
Highlights
Made with deboned chicken, brown rice, flax, and peas
Formulated with the right amino acids and essential proteins to support senior health
Great price point for the quality of the formula
Enhanced with additional antioxidants, vitamins, and minerals
Free from artificial additives, corn, wheat, and soy
Meets AAFCO nutrient profiles for maintenance
Things to Consider
Some pet parents mentioned that their cats didn't like the taste or texture
The kibble size might be too large for senior cats with missing teeth
Best High-Protein Cat Food for Kittens
Our pick: Wellness CORE Natural Grain Free Turkey & Chicken Liver Pate Canned Kitten Food
You might not think that kitten-specific food makes that much of a difference for your new furbaby—but kittens require a much more nutrient dense food for the first few months of their life. Wellness CORE Natural Grain Free Turkey & Chicken Liver Pate canned kitten food is an excellent high-protein option geared toward kittens, thanks to its grain- and additive-free recipe, added DHA to help support both healthy brain and eye development, and soft pate texture that makes it easy for those tiny little teeth to comfortably chew.
Highlights:
Turkey is the first ingredient
Grain-free recipe
Formulated with high-quality ingredients that support kitten health
Soft pate texture allows kittens to easily chew
Free from artificial additives and fillers
Meets AAFCO nutrient profiles for all life stages
Comes in 3-oz and 5.5-oz cans
Things to Consider:
The price per serving is rather high
Some pet parents mentioned that their kittens didn't like the flavor
Best High-Protein Cat Food Topper
Our pick: PureBites Mixers Grain-Free Cat Food Toppers
PureBites Mixers are an excellent wet food option for cat parents looking for a no-nonsense, high-protein meal topper or treat. Choose from seven different flavors with limited ingredients, such as pure chicken breast in water or wild skipjack tuna paired with Alaskan salmon in water. These grain-free cat food trays are extremely high in protein as well as super hydrating. Note that at around 30 calories per tray, the wet food serving is not a complete and balanced meal on its own.
Highlights:
The grain-free formula consists of just one or two protein-packed ingredients
Available in seven flavors
Includes added water to ensure your furbaby is receiving adequate hydration
Things to Consider:
Intended for supplemental feeding only; This is a mixer that can be fed along with a complete and balanced cat food
Refrigerate unused portions
Lots of packaging given the size of each serving
High-Protein Cat Food Buyer's Guide
How Much Protein Does a Cat Need?
"Cats require a minimum of 26 percent protein as adults and a minimum of 30 percent as kittens. This can vary if your cat is sick," explains Dr. Emily Swiniarski, veterinarian and chief medical officer of PAWS Chicago. "Many senior cats require higher levels of protein due to muscle loss. Dogs require less protein than cats because cats are obligate carnivores, meaning they must eat meat in order to thrive."
What Is Considered High-Protein Cat Food?
Because the pet food standards established by the Association of American Feed Control Officials (AFFCO) are based on minimum amounts of protein, anything over 30 percent protein is labeled as high-protein, when in reality, it's not a high-protein food when compared to a cat's natural diet. Technically there are no regulations stipulating what is truly a "high-protein" cat food, Swiniarski says, but it could be considered anything over the minimum amount of protein in the food.
High-Protein Cat Food: What to Look For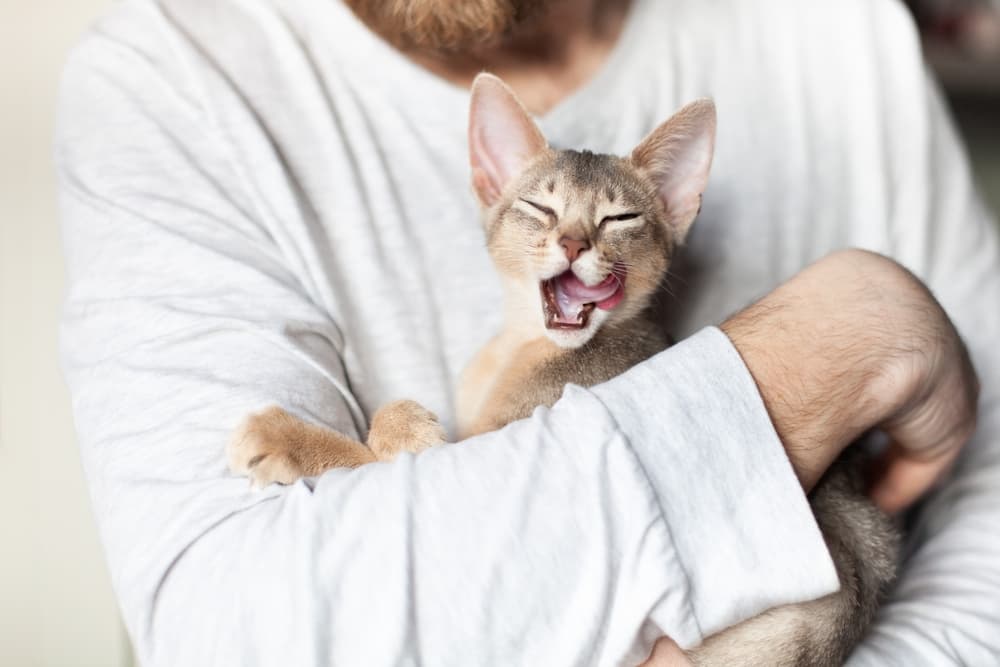 With the number of options and formulas on the market these days, selecting the right cat food for your feline friend can be a paralyzing decision—but it doesn't have to be. Here's what you'll want to keep in mind to ensure you're making the right decision for your cat:
Consider opting for wet food: "Canned foods contain higher moisture content, which is beneficial to cats in many ways," Swiniarski says. "Having evolved from desert dwellers, cats do not drink much water but increased water can help cats avoid dehydration and keep the kidneys and bladder healthy." With dry cat food, nutritional value and integrity is often lost due to the high temperatures and high pressure used during the production process. If you prefer kibble, you can always mix in a high-protein wet food topper to supplement your pet's diet and boost hydration.
Look for whole meats: "Look for meat in your cat's food. Even meat meal is good for cats, as it contains dense protein and minerals—it is essentially meat without the water," Swiniarski says. "Grains, fruits, and vegetables are not a required part of a cat's diet but can be part of completing a balanced diet," she adds.
Avoid soy-based protein: Again, since cats must eat meat from other animals in order to survive, you'll want to beware of soy used as an ingredient to increase the protein content in a diet without adding to its quality. "Soy-based proteins do not contain the same amino acids and essential nutrients that cats need," Swiniarski says.
Ensure proper amino acids: If the cat food label has the AAFCO symbol, the food has met the minimum requirements for protein as well as amino acids to support complete and balanced nutrition, Swiniarski says. "Cats must eat enough meat to ingest specific levels of amino acids that come from the breakdown of proteins (and other foodstuff)," she adds. "Choosing a food supported by AAFCO requirements will ensure proper amino acids." The most important amino acid to look for is taurine, which is essential for cats.
High-Protein Cat Food: Pros and Cons
High-protein cat food is well-worth the investment for most feline parents. Here are some of the major benefits as well as things you'll want to consider before making the switch.
Pros
Most cats thrive on a high-protein diet: "Most cats do very well on a high-protein diet that is nutritionally complete and balanced," Swiniarksi says. "There is no evidence to suggest otherwise, except for cats with kidney disease."
Amino acids build and repair important body functions: The protein and amino acids in high-protein cat food can help ensure your cat stays in great shape. Protein can build and repair everything from muscles and skin to fur and claws while also benefiting proper hormone regulation and boosts the immune system as well.
Cons
High-protein can be harmful for cats with kidney disease: "High-protein diets are not good for cats with kidney disease. Kidney disease itself is very common in senior cats. If fed a high-protein diet, the kidneys must work extra hard to filter excess protein in the bloodstream," Swiniarski says. "Studies in humans show that high-protein diets cause kidneys to decline faster. While this is not proven in cats, studies do show improved quality of life when protein levels are controlled in nutritionally complete and balanced diets during kidney disease."
A high-protein diet might cause weight gain: "Excess protein is broken down into glucose and filtered through the kidneys. High-protein diets can cause weight gain—some healthy weight gain like increasing muscle mass, but it can also cause cats to become overweight with excess fat," Swiniarski says. "Young or active cats are much less likely to become overweight."
You'll want to speak to your veterinarian about how much protein your cat requires based on their age, weight, and lifestyle before making any changes to their existing diet.