Best Fresh Cat Food: 5 Options to Consider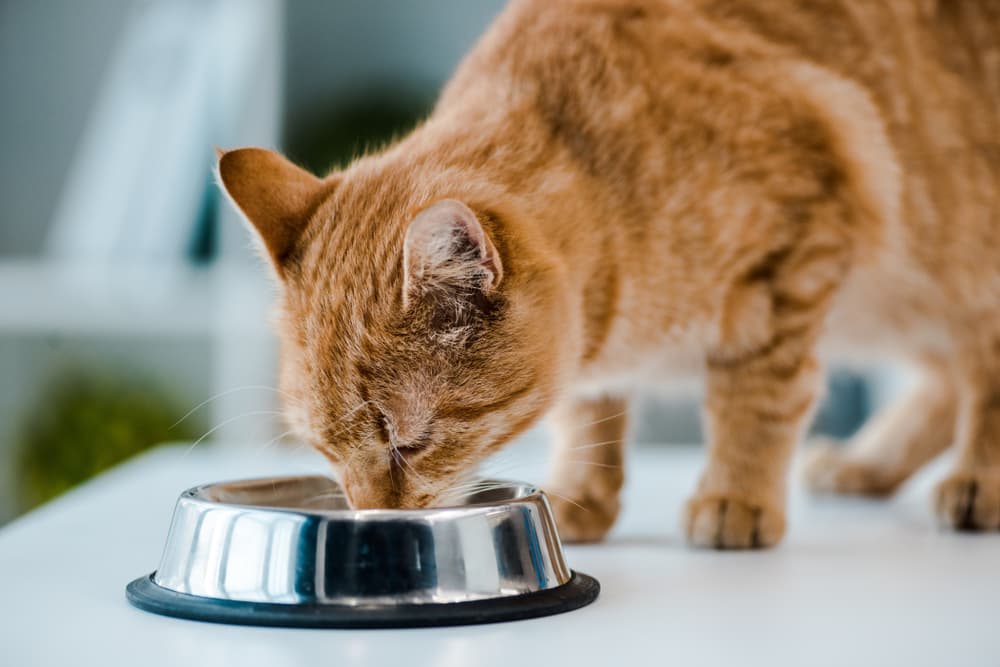 One of the key responsibilities of pet parents is ensuring that their fuzzy friends have good food to eat. While kibble and canned food have been the main players in the cat food arena for quite some time, a new segment of the industry has been gaining speed over the past few years: fresh cat food.
Many cat owners have come to swear by the fresh food options that are now readily available in grocery stores, pet stores, or via online subscription. These foods boast easy digestibility, enticing flavors, and health benefits not found in traditional cat food. But how true are these claims? And what exactly differentiates fresh cat food from the canned stuff?
Our Picks:
What is Fresh Cat Food?
Let's start with the basics. According to Dr. Emily Swiniarski, veterinarian and chief medical officer of PAWS Chicago, fresh cat foods "tend to use products that are less processed [than traditional cat foods], such as raw meat instead of meat meal." These foods also typically use fewer preservatives and must be refrigerated or frozen to prevent bacterial growth and maintain freshness.
However, it's also worth noting that a cat food with "fresh" on the label won't necessarily meet the above criteria. "The United States Food and Drug Administration does not specifically restrict foods from being labeled as 'fresh,' so there are no set standards," Swiniarski explains.
Pros and Cons of Fresh Cat Food
We all know that cats are picky creatures, so one of the biggest benefits of fresh cat food is that it might be more appealing to your kitty than the alternatives. "Some cats may prefer the texture and taste of fresh foods as opposed to canned foods," Swiniarski says. "And, depending on the brand and contents, fresh food may be easier to digest."
Swiniarski is sure to add, though, that fresh food has a shorter shelf life. "In addition, fresh food cannot be left out to be grazed on throughout the day—cats will need to eat their fresh food within approximately an hour."
Fresh Cat Food: What to Look For
Regardless of what type of cat food you want to feed your fur baby—fresh or kibble, raw or canned—you want to make sure that the food meets the Association of American Feed Control Officials (AAFCO) standards. "Whichever fresh food you feed your cat should be approved by AAFCO or a veterinary nutritionist. This ensures the diet is well balanced," Swiniarski says. This information should appear somewhere on the food's label. You'll also want to consider:
Brand transparency: Is the company transparent about where its ingredients come from and how its recipes are prepared? Do they own and operate their own kitchen facilities? Is the food regularly tested by an independent laboratory for safety? See if this information is readily available. If you're feeding fresh, raw cat food, find out what type of pathogen control methods the company uses and how those methods affect the nutritional benefits of the food.
Quality of ingredients: Look for recipes that feature whole food ingredients and that are free of preservatives, fillers, artificial colors and flavors, and "mystery meats." You may notice the term "human-grade" on some fresh pet foods, which means it is made from ingredients that are fit for human consumption. According to AAFCO's definition, human-grade cat food must ensure that "every ingredient and the resulting products are stored, handled, processed, and transported in a manner that is consistent and compliant with regulations…for human edible foods." (1) Keep in mind that the term "human-grade" is only used for pet foods. Food for humans is simply considered "edible" by the US Department of Agriculture (1).
Shelf life: If your fresh food is frozen, what is the freezer shelf life? This may range from six months to a year, depending on the brand. Most companies recommend thawing meals in the refrigerator overnight. Check the package to see how long the food will stay fresh in the fridge once defrosted (usually around 5-7 days). If your food arrives fresh, not frozen, find out if you are able to freeze any leftover food within a one-week window.
Satisfaction guarantee: If your cat is a picky eater, check to see whether the company will offer a full refund after a trial period of trying the new food—and how many days you have to let them know if you're not satisfied.
5 Best Fresh Cat Food Delivery Services and Brands to Consider
If you're interested in feeding Fluffy fresh foods, here are our picks for the best brands.
All featured products are chosen at the discretion of the author. However, Vetstreet may make a small affiliate commission if you click through and make a purchase.
25% off + free treats for life with code VETSTREET5
One of our favorite fresh cat foods is Smalls Human-Grade Fresh. This protein-rich food comes in three proteins (chicken, turkey, and beef) and two textures (smooth and ground), making it easy to find an option that works for even the pickiest cat. Their "Bird" recipe features chicken thigh, breast, liver and heart, their "Other Bird" recipe has skin-on turkey thigh and chicken liver, and their "Cow" recipe contains lean ground beef, cow liver and heart. These tasty proteins are complemented with veggies like green beans, peas, and kale or spinach.
Smalls Human-Grade Fresh cat food does not contain meat byproducts or artificial colors or flavors. It's also free of preservatives. Smalls makes a point of only using USDA-certified, humanely harvested and sustainably sourced ingredients. We also like that Smalls is a service that delivers cat food straight to your door, so you always have some on hand when your kitty is hungry.
Highlights
Food delivered right to your door
No artificial colors or flavors
Free of preservatives
Made in the USA
Formulated to meet nutritional levels established by AAFCO Cat Food Nutrient Profiles for all life stages
Things to Consider
Food arrives frozen and should only be thawed 24 hours before you are ready to use it
Open wet food must be kept in the fridge and only keeps for 5-7 days
Only available through a subscription service
JustCats Fish & Chicken fresh food is a low-carbohydrate, high-protein diet formulated for adult cats of all breeds. It contains yuca root, which absorbs and retains moisture, which helps ensure your cat is fully hydrated. It also includes chicken liver, which is rich in essential nutrients.
Further, JustCats Fish & Chicken has no preservatives, grain, or gluten. JustCats is also touted as being good for cats with allergies or sensitive GI tracts.
Highlights
High-protein formula
Yucca root helps ensure your cat stays hydrated
Grain- and gluten-free
Things to Consider
Only available in one flavor
Bag is not resealable, so you will need a separate storage container
Will need to be kept in the refrigerator once opened
Darwin's Natural Selections offers complete and balanced nutrition for cats. Comprising free-range, cage-free, or pasture-raised meats and organic vegetables, this raw food is minimally processed to maintain vital nutrients and is crafted using human-quality ingredients. Further, it contains no grains, fillers, hormones, or chemical preservatives. It is available in three proteins—chicken, turkey, and lamb—for cats that crave a little variety.
Highlights
Ethical ingredients
High protein
No fillers
Includes veggies
Things to Consider
Kittens should not eat raw food
Has a very limited shelf life and must be refrigerated
Freshpet Vital Cat Food is 100 percent natural, forgoing grains and meat meals. This chicken and beef paté comes in 1-pound rolls, allowing you to slice off a precise portion for your furry friend. Freshpet foods are found in a refrigerator, at Petco, PetSmart and other specialty locations, and must remain refrigerated. They should be used within seven days of opening.
Highlights
Non-GMO verified
No nitrates or fillers
Meets AAFCO Cat Nutrient Profiles for all life stages
Things to Consider
Must be refrigerated at all times
Food must be portioned by the pet parent
Get 20% off your first 16 bag box with code PETS20
Raised Right has two human-grade cat food recipes, one made with turkey and one made with chicken. The food is lightly cooked in a USDA-inspected facility with ingredients that pass the standards necessary for human consumption. Raised Right's food was developed with the assistance of a veterinarian and pet food formulation expert. The recipes are low in carbohydrates and do not contain any high-carb fillers like potato, rice, oats, corn, or wheat. Raised Right will also help you create a nutritional plan for your pet based on his or her activity level.
Highlights
Low-carb meals
Food contains fruits and vegetables for a balanced diet
Food developed in partnership with a veterinarian and pet food formulation expert
Food meets AAFCO Cat Food Nutrient Profiles
Things to Consider
Only available online through a subscription service
Food arrives frozen and must be defrosted prior to use
Once defrosted, food must be used within six days
Fresh Cat Food: Tips and Advice
If you're thinking of changing your cat's food to one of the delectable options above, there are a few things you should keep in mind.
Most of the foods above are recommended for adult cats, not kittens. Kittens have different nutritional requirements. Furthermore, raw food is not suitable for kittens because kittens are more susceptible to food-borne illness than adult cats. If you're switching your cat's food, know that transitioning should be a gradual process, not a sudden switch. Most experts recommend spacing the transitions out over at least a week, first introducing a bit of the new food to their old food before gradually phasing the old food out (2). Changing food without a transitional period can give your kitty an upset stomach or other digestive issues.