8 Cat Foods for Allergies in 2023
Published on October 03, 2023
If you've got an itchy cat, it's time to find them some relief. And if food allergies are to blame, that relief comes in the form of a new diet with special protein sources. But how do you find the best cat food for allergies? Let's get into it!
We spoke with a board-certified feline dermatologist and a board-certified feline nutritionist to explore what feline food allergies are and what foods are most commonly to blame. Then, with the help of our experts' insights, we dished out our list of the best food for cats with allergies.
Just remember, cat food allergies are relatively rare, and they share a lot of symptoms with other health issues. So, you should always schedule a visit with your veterinarian before doing any detective work at home.
Cat Food for Allergies: Our Top Picks
What Are Cat Food Allergies?
According to Dr. Frederic Sauvé, DVM, MSc, Diplomate ACVD, dermatology professor at the University of Montreal, about 20 percent of cats suffering from itchy skin can blame the food they're eating. "An allergic reaction is an overreaction of the immune system to something that should be well tolerated," he explains. This differs from food intolerance or sensitivity, which doesn't have an immune response.
Basically, the body mistakes a food source (commonly a protein type) as harmful rather than nutritious. So, the body's center for fighting harmful intruders—the immune system—starts attacking. When this happens, your cat's skin begins to itch, and they might develop lesions and rashes, have diarrhea or vomit, and become more susceptible to secondary infections.
"An intolerance is usually more associated with just the digestive tract," explains Dr. Korinn Saker, DVM, board-certified feline nutritionist and professor at North Carolina State University College of Veterinary Medicine. A cat might pass gas or feel bloated when they have a food intolerance, but the signs and symptoms aren't system-wide and are typically less severe than an allergic reaction. "If not managed over time, allergies can be life-threatening," she adds.
Common Cat Food Allergens
The protein source in the food often cause allergic reactions. Fish, chicken, beef, eggs, and milk are the most common culprits of food allergies in cats. Sauvé notes that scientists are still working to fully understand the range of compounds that could cause reactions, as they're not always straightforward.
"Cats don't generally outgrow their allergies," Saker adds. Instead, you and your cat have two options:
Identify the offending food and eliminate it from the diet
Begin a novel protein or hydrolyzed diet
There's no way around it; changing a cat's diet is the key to treating food allergies, Sauvé says.
Types of Cat Food for Allergies
Before changing your cat's diet to resolve food allergies, Saker and Sauvé both recommend talking to your veterinarian. "There are other diseases that can mimic the symptoms of the food allergy," Sauvé says. To rule out other conditions, your veterinarian will first evaluate the symptoms and may perform basic tests like skin scraping and cytology to ensure it's not a bacterial skin infection or parasites.
Once your veterinarian diagnoses food allergies as the cause, they'll recommend a food elimination trial or a prescription diet.
It's also important to note that because food allergies cause your cat to itch and lick, secondary skin infections are common. Without antibiotics for the infection, switching your cat's diet likely won't resolve the secondary symptoms.
Novel protein cat food
Whether called a novel-protein diet or a limited-ingredient diet, the idea behind this hypoallergenic diet is that your cat eats only a protein they haven't had before, or a protein known to not cause a reaction.
However, identifying a novel protein can be more difficult than some pet parents may think. "There are very few people who know every food their cat's digestive tract has been exposed to or that can recall it all," Saker says. Consider a paté labeled chicken and gravy. Saker says that while the label might indicate this is a chicken-only meal, a closer look at the ingredient list likely indicates multiple protein sources.
Again, Saker stresses the importance of talking to your veterinarian before trying to do this on your own. "Trying an elimination diet trial on your own without the help of a veterinarian can be a little tricky," she says. This is because it involves a complete dietary history of your cat, identification of a novel protein, and a strict and patient trial-and-error period of feeding a novel protein-only diet.
Hydrolyzed protein cat food
In cases where a diet elimination trial is too difficult or symptoms do not resolve, your vet may recommend a hydrolyzed protein diet.
This is a special prescription food that uses a chemical process to cut the protein into super small pieces. "It decreases the molecular weight of the proteins so that it's so small that the proteins are not recognized by the immune system," Sauvé explains. If your cat is allergic to chicken, there's a chance they can continue eating their favorite food when it has been hydrolyzed.
Just keep in mind that this doesn't work for every single cat. "There are still some animals that might recognize the weight of those molecules," Sauvé warns. "Most animals won't, but there are more sensitive animals that will recognize this hydrolyzed weight."
Over-the-counter vs. prescription hypoallergenic cat food
According to Saker, choosing between a prescription hypoallergenic diet and an over-the-counter diet comes down to a few factors. First, hydrolyzed diets are only available with a prescription. If novel protein is not an option or if your cat is experiencing a severe reaction, they must see their veterinarian for a prescription hydrolyzed diet.
Saker also mentions that the manufacturing protocols for non-prescription diets aren't as strict. "There is a chance of some degree of contamination of other protein sources in the over-the-counter diets," Saker explains. "Those diets are not made on a dedicated line in the production plant. In between runs of different diets they certainly clean the machines, but there's always an opportunity for protein allergens to get trapped in the machine and make their way to the next run of food." Not all cats will have a reaction to trace amounts of allergens, but more sensitive cats are at risk.
How We Made Our Selections
With expert guidance from Sauvé and Saker, we rounded up the best foods for cats with allergies. In addition to ensuring that our recommended cat foods meet the Association of American Feed Control Officials (AAFCO) standards for a complete and balanced meal, we took the following factors into consideration:
Nutritional values. Of course nutrition is high on any pet parent's list of priorities when it comes to purchasing cat food, so we made sure to provide many healthy options on our list.
Quality control. Since the smallest trace of an ingredient can trigger an allergic reaction, we made sure to call out the brands with top-notch quality control protocols.
Ratings/reviews. We looked into what other pet parents had to say about each of our selections, sharing their thoughts and feedback throughout.
Price. While most cat foods for allergies tend to be on the pricier side, we took the cost of each option into account and included at least one less expensive option.
8 Best Cat Foods for Allergies in 2023
All featured products are chosen at the discretion of the author. However, Vetstreet may make a small affiliate commission if you click through and make a purchase.
From prescription diets to novel protein recipes, here's our list of the best cat foods for allergies.
Best Overall Cat Food for Allergies
Our pick: Purina Pro Plan Veterinary Diets HA Hydrolyzed Feline Formula
"It can be really challenging in a cat to find a source of novel protein," Sauvé shares, "so working with hydrolyzed protein is really fantastic for that reason." This formula is a highly palatable kibble made with hydrolyzed chicken liver and meat. Pet parents say that making the transition from regular kibble to HA was a breeze, thanks to its tantalizing taste.
While the protein molecules are broken down so small that their immune system won't recognize them, this prescription food delivers all the important nutrients your cat needs without the itch or digestive upset.
Pros
Formulated with hydrolyzed proteins
Single carbohydrate source
Highly palatable and digestible dry food
Antioxidants support immune health
Helps promote a healthy urinary system
Meets the AAFCO nutritional requirements for maintenance
Purina owns their manufacturing plants, employs board-certified nutritionists and veterinarians, and conducts research at the Purina Institute, which means trustworthy quality assurance in every bag.
Cons
Not suitable for growing kittens
Available by prescription only
Best Dry Cat Food for Allergies
Our pick: Hill's Prescription Diet z/d Skin/Food Sensitivities Dry Cat Food
This dry cat food from Hill's is another prescription hydrolyzation diet specially formulated to minimize the risk of adverse reactions by cutting protein into tiny, unrecognizable pieces. Plus, because this recipe requires a prescription and is made on a dedicated line, there's less risk of cross-contamination when compared to over-the-counter limited-ingredient choices.
Pros
Formulated with hydrolyzed protein
Natural fiber for stool normalization
Supports a healthy skin barrier
Meets the AAFCO nutritional requirements for maintenance
Hill's pet food recipes are created by 220 veterinarians, food scientists, technicians, and Ph.D. nutritionists, and researched at Hill's Global Pet Nutrition Center
Cons
Not suitable for growing kittens
Available by prescription only
Best Wet Cat Food for Allergies
Our pick: Royal Canin Feline Selected Protein PR Loaf in Sauce Canned Cat Food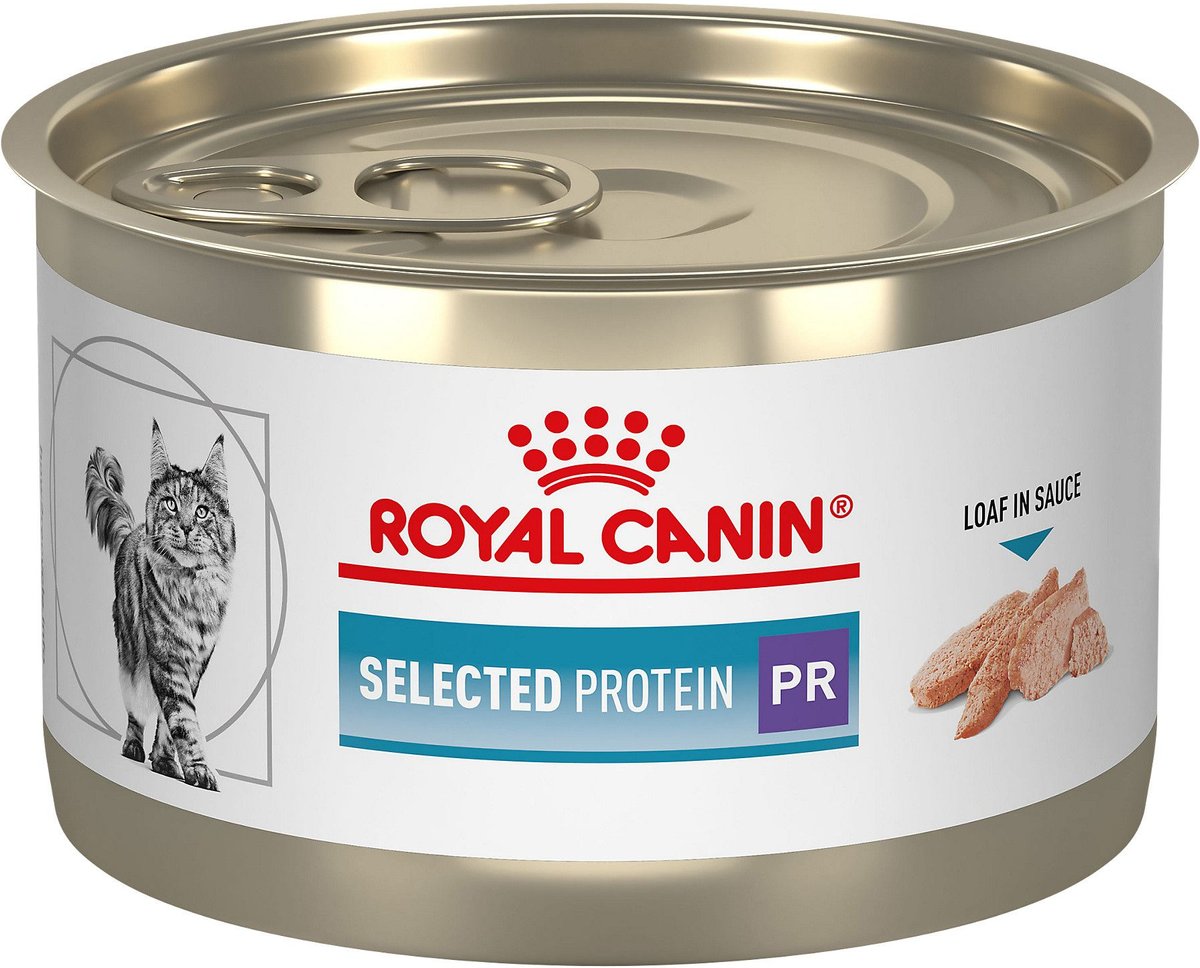 Hydrolyzed wet food options for cats are few and far between, so we're happy to have this option from Royal Canin, a longtime trusted brand with a pet-first mindset and recipes developed with input from veterinarians and nutritional experts. The single protein in this wet hypoallergenic food is rabbit, which might be novel to some felines. Plus, this food promotes skin and coat health as well, thanks to B vitamins, amino acids, and Omega-3 fatty acids.
Pros
Rabbit is the single-source hydrolyzed protein
Moisture-rich loaves in sauce
Formulated to support digestion, stool quality, and skin and coat health
Meets the AAFCO nutritional requirements for maintenance
Cons
Not suitable for growing kittens
Available by prescription only
Higher price point
Best Affordable Cat Food for Allergies
Our pick: Blue Buffalo Natural Veterinary Diet HF Hydrolyzed for Food Intolerance Dry Cat Food
Veterinarian-prescribed hydrolyzed cat foods aren't cheap, but Blue Buffalo offers a more affordable option that doesn't sacrifice quality or taste. This salmon-based formula is packed with Omega-3 and Omega-6 fatty acids that repair the skin barrier, reduce inflammation, and leave your cat's coat shiny and soft. As an added bonus, according to the brand, all their foods and treats undergo a rigorous six-point quality check.
Pros
Formulated with hydrolyzed proteins
Highly palatable dry food
Omega-3 and -6 fatty acids reduce inflammation and heal the skin
Antioxidants for immune health
No grains, artificial preservatives, and artificial flavors
Good price point
Meets the AAFCO nutritional requirements for maintenance
Blue Buffalo foods are produced in U.S.-based manufacturing plants that are Global Food Standard Initiative (GFSI) certified. They employ board-certified nutritionists and veterinarians and ensure Good Manufacturing Practices (GMP)
Cons
Not suitable for growing kittens
Available by prescription only
Best Fresh Cat Food for Allergies
Our pick: JustCats Fish & Chicken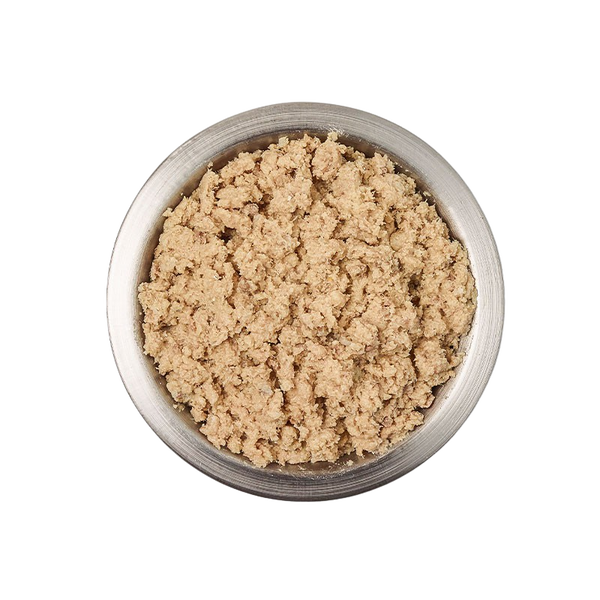 Grain-free, gluten-free, and specially made for sensitive tummies and food allergies, JustCats is a fresh, whole-food recipe developed by veterinarians at JustFoodForDogs (JFFD). While cooking up fresh batches of food in one of nine kitchens across the U.S., they encourage pet parents to drop by, see what they're making, and ask questions. The fish and chicken recipe is the only one available for cats at the moment, but since they have such an extensive selection of frozen, fresh, and at-home DIY kits for pups, we're hoping to see more feline formulas developed in the future.
Pros
Non-prescription formula
Whole food ingredients
Grain and gluten free
Tapioca starch is the only carbohydrate
High in moisture and protein
Meets the AAFCO nutritional requirements for maintenance
Available for shipping or same-day pick-up from a local kitchen in California, Chicago, New York, or Washington
JFFD foods are made in American kitchens. Their recipes are created by in-house veterinarians, including board-certified nutrition, dermatology, and toxicology experts. Dietary evidence-based research is completed in collaboration with major universities
Cons
Not suitable for growing kittens
Higher price point
Best Limited Ingredient Cat Food for Allergies
Our pick: Merrick Limited Ingredient Diet Real Duck Pate
Founded in 1988, Merrick holds true to their standards of creating small-batch food in their Texas kitchen. While some of the proteins that they offer are known allergens in cats, we love that there's a variety of different options to choose from, allowing you to steer clear of the ones that don't agree with your kitty. The first ingredient is always meat, and their recipes are supplemented with pre- and probiotics for easy digestion.
Pros
Non-prescription formula
Whole food ingredients
Grain, corn, and soy free
Several protein choices, including duck, tuna, turkey, chicken, and salmon
Meets the AAFCO nutritional requirements for maintenance
Merrick pet foods are made in their Hereford, Texas kitchen. Their recipes are created by in-house veterinarians with help from scientists, chemists, and specialists in food production, quality, and safety.
Cons
Not suitable for growing kittens
Best Freeze-Dried Cat Food for Allergies
Our pick: Primal Freeze Dried Cat Food Nuggets Rabbit Formula
This single-protein freeze-dried cat food option is a great choice for pet parents seeking a novel protein like rabbit, which many cats haven't been introduced to. If rabbit isn't a novel protein source for your cat, these Primal Freeze-Dried Nuggets are also available in pork and venison. The recipe is 92% meat and bone from grass-fed, antibiotic-free protein sources. The other 8% is fortified vitamins and minerals like omega-3 fatty acids to soothe the skin.
Pros
Non-prescription formula
Single-protein recipe
Made with organic fruits and vegetables
Comes in multiple novel protein sources including rabbit, pork, and venison
Meets the AAFCO nutritional requirements for all life stages, including kittens
Cons
Needs to be hydrated before serving
Best Grain-Free Cat Food for Allergies
Our pick: Instinct Real Rabbit Grain-Free Limited Ingredient Diet
Because grain-free food can be beneficial for cats with itchy skin or digestive issues, many pet parents prefer to serve it, especially if they suspect their kitty may have food allergies. This one from Instinct kills two birds with one stone, formulated with a raw novel protein (rabbit) and without grain, corn, wheat, or soy. Many customers say their cats love the vitamin-packed paté, noting that the benefits outweigh the higher price tag.
Pros
Non-prescription raw formula
Single-protein recipe features farm-raised rabbit for vital amino acids
One vegetable (peas) and a variety of vitamins and minerals provide a balanced diet
Meets the AAFCO nutritional requirements for maintenance
All Instinct food is cold-pressured to safely eliminate pathogens and tested by an external lab
Cons
Not suitable for growing kittens
Higher price point
Cat Food for Allergies: Buyer's Guide
Before you click "add to cart" (or literally add it to you cart), keep the following in mind when researching and purchasing novel protein or hypoallergenic food for cats:
Talk to your veterinarian
If you suspect your cat has food allergies or sensitivities, talk to your veterinarian before changing their diet. Food allergies share symptoms with other conditions that only your veterinarian can diagnose or rule out. If your cat has red, itchy, or irritated skin, they may need a soothing ointment or antibiotic before their symptoms resolve.
A prescription may be necessary
Your veterinarian will suggest the most appropriate diet for your cat based on a complete dietary history and national needs. For cats with severe reactions or when an elimination diet isn't possible, a recommended diet may require a written prescription from your veterinarian.
For cats with minor symptoms or when a novel protein is identified, there are limited-ingredient diets available in dry, wet, freeze-dried, and budget options. However, cat food labels are not required to disclose trace amounts of other ingredients, like the cross-contamination of proteins, Sauvé says.
Read food labels
A cat food might be advertised as containing a certain protein, but the ingredient list might reveal that multiple proteins were used to meet the nutritional needs, Saker says. Instead, look for single-protein foods labeled as limited-ingredient. Small-batch and privately-owned manufacturing sites with on-staff veterinarians ensure the highest quality and nutritional profiles of foods.
Sauvé adds that while pinpointing the allergen, consider avoiding foods with fish, chicken, beef, eggs, and milk, as they're the most common proteins to cause allergic reactions in cats. If your cat is open to eating different foods, try a novel protein like venison, rabbit, or pork.
Whichever food you choose, it should have a statement saying it meets the nutritional requirements set by AAFCO for kittens, adults, or all life stages. This ensures the nutritional adequacy and quality of the food.
Cat Food Allergy FAQs
Can cats have allergies to food?
Like humans, cats can have food allergies. Feline food allergies don't develop during your cat's life. Instead, your cat is born with an allergen and experiences immune reactions when introduced to that allergen through food.
How do I know if my cat has food allergies?
Symptoms of feline food allergies can include excessive licking or grooming, gastrointestinal upset (vomiting and/or diarrhea), decreased appetite, weight loss, ear infection, excessive gas or bloating, miliary dermatitis, and respiratory irritation.
What food is good for cats with allergies?
A novel protein diet may contain foods like rabbit, pork, or venison, which can be good alternatives to allergy-inducing proteins like chicken or fish. When skin irritation is a symptom of your cat's allergic reaction, "Omega-3 fatty acids could be one of the tools in our box to help the animal be more comfortable," Sauvé says. However, Saker warns that if your cat has an allergy to fish, you'll likely want to avoid foods with fish oil.
How long does it take for cat food allergies to go away?
"Generally, when you do a food elimination trial, it may take about two to four weeks for gastrointestinal signs to resolve, meaning vomiting, diarrhea, and regurgitation," Saker says. Skin conditions related to allergies take longer to resolve – anywhere from eight to twelve weeks. "If you don't see something improving within two weeks, it's likely that the particular diet alone is not the key," she adds.
Can food allergies cause sneezing in cats?
Food allergies can cause respiratory irritation in cats. Because the symptoms of food allergies can mimic many other upper respiratory infections, it's important to schedule a checkup with your veterinarian to pinpoint the issue.