Smalls Cat Food Review: A Closer Look at the Fresh Meal Delivery Service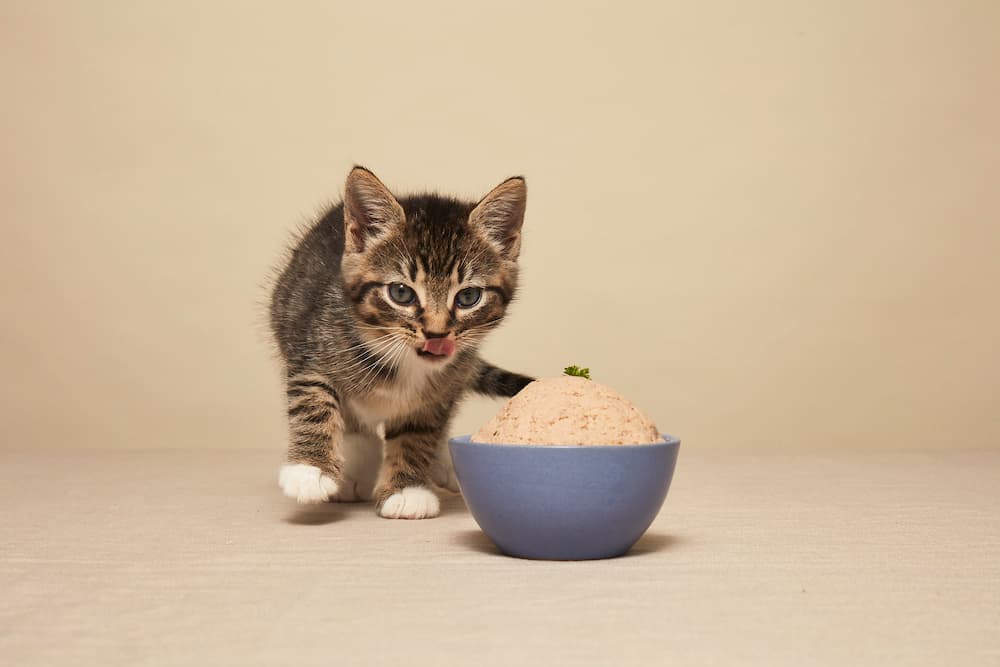 It should come as no surprise to many cat owners that some inexpensive cat food varieties are probably not the best choice for our feline friends. Full of carbs, grains, and other additives, certain cat food brands miss the mark on nutrients. That's why more pet parents are considering healthier alternatives, like human-grade fresh cat food and freeze-dried raw cat food.
According to Technavio Research, the fresh pet food market is rising in demand in the U.S., particularly for human-grade fresh pet food with high-quality ingredients that aid in digestion and strengthen immunity. The fresh pet food market is expected to grow at a compound annual growth rate of more than 24 percent between 2019 and 2023, the report reveals.
Thankfully, fresh cat food delivery services like Smalls have emerged in recent years to meet this demand.
What is Smalls Cat Food?
Smalls is a subscription meal service for cats. High in protein with no fillers, Smalls cat food includes only USDA-certified, humanely-harvested, sustainably-sourced ingredients. With your cat's health at the forefront, Smalls offers human-grade fresh cat food and freeze-dried raw cat food delivered straight to your door.
The company's mission is to put cats first. In fact, they put big profit margins aside in favor of what cats truly need, crave, and deserve. This is not your "fad" cat diet.
Unlike most meal kits made for humans, no cooking will be involved on your part. Smalls cat food is cooked with healthy ingredients by caring chefs. And the best part is, Smalls is not loaded with preservatives like other traditional pet food with a shocking 25-year shelf life. Smalls believes that real food should spoil.
To produce this healthy alternative to typical cat food sold on shelves at pet stores, Smalls chops, steams, and freezes, then ships to you.
Once your cat is eating Smalls for a period of time, you'll start to notice a difference in their overall health—from their coat to their energy to their breath.
Smalls Cat Food Features
All featured products are chosen at the discretion of the author. However, Vetstreet may make a small affiliate commission if you click through and make a purchase.
So what makes Smalls different from other cat food?
Smalls meals are cooked with care, just like they would be in your own kitchen. Their process revolves around preserving all of the nutrients and moisture that a cat needs to live a happy, healthy life. Smalls chops then steams ingredients to accomplish that. Once cooked, the meals are frozen, packed, and shipped to your home.
Smalls is also human-grade, which means all of the ingredients are the same quality as what you'd buy at the grocery store and feed yourself. And because Smalls is sourced and made with love and care, feeding this food to your cat may result in the following:
In two to four weeks, your cat should have fresher breath and a better-smelling litter box
In one to two months, your cat should be digesting well, breaking down hairballs better, and have shinier and softer fur
In three-plus months, your cat should have better energy and get more restful naps.
25% off + free treats for life with code VETSTREET5
Smalls Cat Food Varieties
Currently, Smalls cat food comes in two types:
Human-Grade Fresh Cat Food
Simply put, the human-grade fresh cat food recipes from Smalls are good enough for humans to eat and are made with all-natural ingredients. Flavors include:
Bird: This is a chicken protein that's made out of 92 percent chicken breast and thigh, 6 percent liver, and 2 percent heart.
Other Bird: A combination of turkey and chicken, this one is made out of 91 percent skin-on turkey thigh and 9 percent chicken liver.
Cow: This is made out of 90 percent lean ground beef, and 10 percent cow liver and heart.
Fish: This one is made out of 85 percent wild Alaska pollock, 9 percent mackerel, and 6 percent salmon oil.
Freeze-Dried Raw Cat Food
If your cat likes crunch or you need an easy-to-serve treat, Smalls freeze-dried raw recipes make for a great, high-protein option, compared to the typical kibble. Flavors include:
Raw Bird: This is freeze-dried chicken.
Raw Other Bird: This is freeze-dried turkey.
Raw Water Bird: This is freeze-dried duck.
Smalls Cat Food Delivery: What to Expect
When your Smalls cat food shipment arrives, it will come frozen and packaged in one of those silver bubble wrap bags to keep the meals at an optimal temperature. Ice packs will keep the food cold while in transit. As soon as you open the box, it's best to store your Smalls human-grade fresh meals in the freezer until it's time for use. If you ordered their freeze-dried raw cat food, it can be stored in your pantry.
You will have to plan ahead for feeding your cats the human-grade fresh options. Since the products come frozen and are stored that way until the week you plan to use it, you will have to thaw out each Smalls meal package for a full 24 hours before serving. If you plan to serve your cat some of the food right away, you can keep one packet inside your refrigerator and store the rest in your freezer.
Upon opening the Smalls meal package, you will simply need to scoop it out of the plastic and into your cat's dish. Don't be shocked by the fresh food scent. Depending on the flavor, you may notice a strong odor—but it's no more offensive than the smell of wet cat food out of cans. The Bird varieties, for instance, smell a little like hard boiled eggs. The texture of Smalls' human-grade fresh meals reminds us of moist ground meat like a cooked meatloaf.
The freeze-dried raw cat food options come in easy-to-open and easy-to-store packaging. Similar to a Ziploc bag, you can reseal them for later use once opened. These should be stored in a cool, dry place.
The texture of Smalls freeze-dried raw cat food reminds us of dried mushrooms that need to be rehydrated, but the meals work more like freeze-dried fruits—they're ready to serve and enjoy upon opening.
Putting Smalls Cat Food to the Test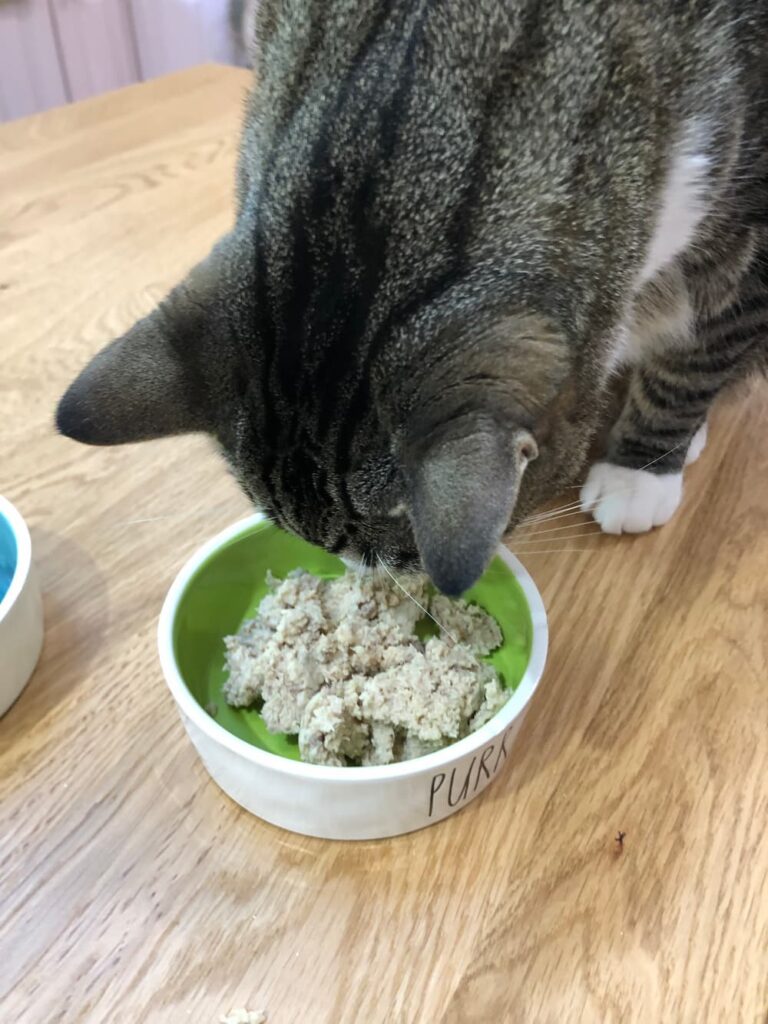 My two middle-aged cats, Franklin and Eleanor, recently had the pleasure of sampling Smalls cat food, and I am happy to report back our findings.
Upon serving the first Smalls human-grade fresh meal to my cats, the smell definitely attracted them. As each cat smelled the offering, they licked and sampled as expected. While Franklin scarfed it up right away, Eleanor was a little skeptical. She walked away, but later returned to eat it.
After sampling different flavors, Franklin and Eleanor both seemed to love the fish variety, while the bird variety took a little convincing. Keep in mind that you can heat up Smalls human-grade fresh meals slightly to bring out the yummy aroma. This may help entice your cat if he or she shows any hesitation.
Upon giving my cats Smalls freeze-dried raw food for the first time, both were very skeptical. Because the freeze-dried food doesn't give off a strong scent, it took a while for my cats to realize it was even cat food at all. Once they realized that it was in fact edible, they sampled the food just as they would their treats. They didn't scarf it up though. They ate pieces reluctantly. So like small children you offer vegetables to, I continued to offer Smalls freeze-dried raw food as snacks a few days in a row, and eventually, both cats became fans.
I've since started mixing Smalls freeze-dried raw food into their meals as if it were kibble, and both cats now seem to like it more than they initially did.
Things We Like About Smalls
We like Smalls and we think your cat will, too. Aside from the brand promise to give your cat only the healthiest of cat meals around, here are other reasons why we think Smalls is a great option for your cat:
The food is fresh and sourced from the finest ingredients
They offer a variety of recipes
They have a user-friendly website where you can answer a handful of questions and find out the best plan for you and your cat
It's essentially a meal subscription service for cats, so you can get the products automatically shipped to you, eliminating the need to run to the pet store
All of Smalls' recipes are made in the USA
Packaging is 100 percent recyclable
Smalls will offer a full refund of your sampler order if your cat doesn't enjoy any of the flavors or textures
Things to Consider About Smalls
While we love Smalls and all it has to offer, there are some key factors to consider before making a decision to switch your cat over to this new way of healthy eating:
The human-grade fresh food is not pre-portioned like canned cat food and its packaging is not re-sealable like the freeze-dried raw food, so you will need a container to save the remainder.
One package will last your cat roughly five meals whether served with kibble or not.
Not every cat will like every flavor.
Some cats may just be picky, and getting used to Smalls may take them a couple of weeks to adjust.
Any time you switch your cat's diet, it's a good idea to talk to your vet to ensure the food meets your cat's individual needs. For example, Smalls food may not be suitable for some cats in the later stages of kidney disease.
The price will vary depending on the plan you've selected, but it can cost around $2.50-$3.50 per cat/per day.
25% off + free treats for life with code VETSTREET5
Smalls Cat Food: Our Verdict
So here's the bottom line…
After researching how Smalls is sourced and made, without question, it is one of the healthiest cat food options around. While you will have limited options compared to other cat food brands with several flavors, the all-natural ingredients, no preservatives, and freshness can't be beat. While Smalls costs more than the typical canned cat food variety, the fact that it's delivered to your door is a definite plus and may also be worth the budget. Just be aware that if you switch cat food to Smalls (or any other brand for that matter), there will be a transition period where your cat may eat very little of it. They'll come around.