10 Best Orthopedic Dog Beds of 2023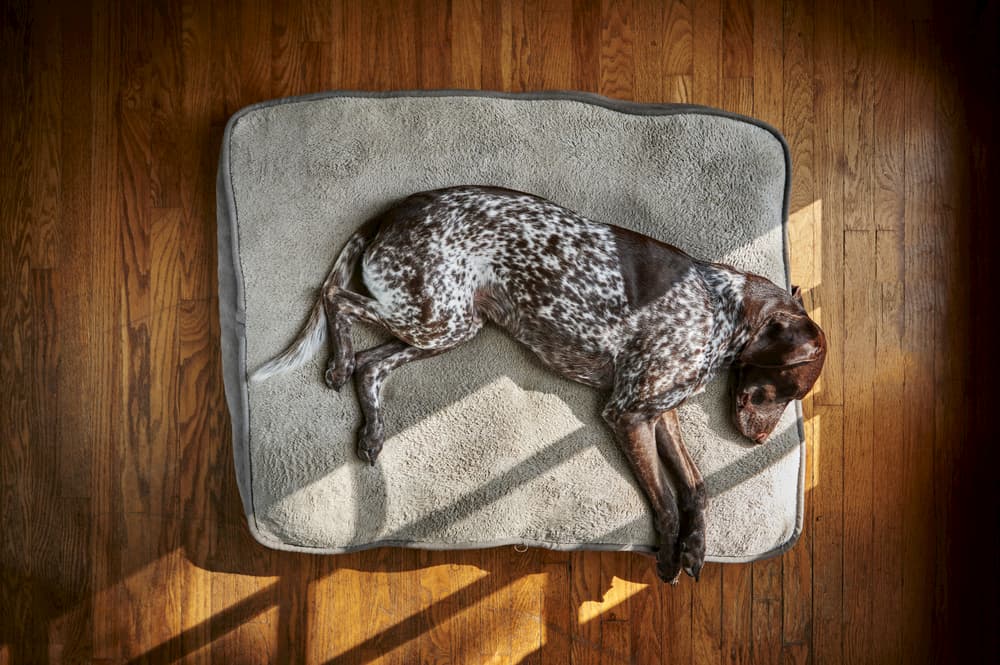 Dog beds have come a long way since they first hit the marketplace. These days, our canine best friends deserve the very best to help ease their arthritic joints while helping them stay cozy and comfortable. Whether your dog has arthritis, joint pain, older bones, or general aches and pains that come with age, a quality orthopedic dog bed can make a world of difference.
Throughout a dog's life, our pups put a lot of wear and tear on ligaments, tendons, joints, bones, and muscles which can lead to injuries, surgeries, rehab, and long-term issues. Orthopedic dog beds are designed to provide extra support to joints and bones, with particular attention to the elbows and hips. A dog should not sink into padded softness nor should he feel the floor beneath the bed.
Not all orthopedic dog beds are created equal. Some have cotton padding and orthotic foam while others vary in density and thickness. We're taking a deep dive into the world of orthopedic dog beds designed to help keep your pet's body supported as he takes a load off or slumbers gently to sleep.
Orthopedic Dog Beds: Our Top Picks
Video Review of Our Top Beds
What Are Orthopedic Dog Beds?
Unlike typical dog beds that are filled with a polyester filling or foam padding, orthopedic dog beds are built to support. A good comparison is that of a bed pillow. Everyone has a different preference from soft to firm, down feathers to cotton fill. Since our pups can't tell us what feels good on their aching, growing, or injured joints, orthopedic dog beds are designed specifically for comfort and support.
A high-quality durable orthopedic bed for dogs should be thick but not with any ordinary filler. It should not sink deep when the dog lays on it. There are a variety of terms and features that get tossed around when manufacturers market orthopedic beds to dog parents. From waterproof to machine washable, memory foam to bolster, and durable to nonslip, the world of orthopedic dog beds is filled with choices.
Dogs of all ages, shapes, and sizes endure stress to their bones, joints, and muscles. But senior dogs may find extra benefits from an orthopedic bed.
Whether you are a first-time dog parent looking to provide some extra support for a larger breed or a long-time dog mom or dad needing further information, we've taken the guesswork out buying an orthopedic dog bed.
How We Ranked Our Top Orthopedic Dog Beds
We did a lot of research and testing to find the best orthopedic dog beds available. The ones on our list:
Have good overall reviews where they are sold online
Have a removable cover and are machine washable
Are available in a variety of sizes for a variety of dogs
Made by a brand with a good reputation
May offer a money-back guarantee or warranty
Have a solid firmness factor while retaining comfort for the dog
Are reasonably priced
Because we live in modern times and we treat our dogs like members of the family (rightfully so), there is no "one size fits all" nor one brand of orthopedic dog bed.
We considered a bed's price point in our decision making for this list, but keep in mind that more features mean more money. As humans, we spend hundreds and even thousands on the perfect mattress, so why not give the same to the furry family members who simply want to lay by our sides in comfort?
All featured products are chosen at the discretion of the author. However, Vetstreet may make a small affiliate commission if you click through and make a purchase.
Best Orthopedic Dog Bed: Overall Winner
Our pick: Big Barker 7" Headrest Orthopedic Pillow Dog Bed With Removable Cover
| | |
| --- | --- |
| Sizes and Dimensions (LxWxH) | Large (48 x 30 x 7 inches), Extra Large (52 x 36 x 7 inches), Giant (60 x 48 x 7 inches) |
| Colors Available | Burgundy, Charcoal Gray, Chocolate, Khaki |
| Bed Type | Orthopedic Pillow Top |
| Warranty | 10-year warranty |
My dog owned this particular orthopedic bed before his BFF paw-swiped it away. I can personally attest to the cozy cuddle factor of a medium-sized Cocker Spaniel and a larger-sized mixed breed vying for the best spot on this bed.
First and foremost, the Big Barker orthopedic dog bed is made with the company's proprietary OrthoMedic foam construction. They designed this bed to support the weight of over 300 pounds of dog, which helps protect precious joints from pain and discomfort.
Made for dogs over 50 pounds, the Big Barker bed is available in three sizes for varying dog breeds and weights. The mattress allows large and extra-large dogs enough room to stretch their legs out. It is designed to last and retain 90 percent of its original shape without flattening or "pancaking" with time.
Not all orthopedic dog beds have multiple layers, but Big Barker handcrafts their orthopedic bed in three stages using American-made foam. A 2-inch bed base, a 3-inch high density core, a 2-inch bed surface, and a 4-inch headrest provide optimal support for every nook, cranny, crack, and crevice on a dog's joints.
If your dog doesn't need a large 48-inch bed, an extra-large 52-inch bed, or a giant 60-inch bed, Big Barker makes a Barker Junior that's perfect for smaller dogs.
Big Barker Orthopedic Dog Bed Video Review
Highlights
Multi-layer support for big dogs over 50 pounds.
Machine washable, with a microfiber cover.
Non-slip surface on the bottom of the bed.
Brand offers a 10-year warranty. They'll send you a new bed if yours doesn't last for a whole decade.
CertiPUR-US Certified. Made with eco-friendly practices.
Money-back guarantee. If your dog doesn't love it in the first year, Big Barker will offer you a refund and cover return shipping costs.
Things to Consider
Reviews of this bed are overwhelmingly positive. However, the price point is high, which could be tough for pet parents on a budget. However, with a 10-year warranty, we think this bed is worth the investment!
Most Advanced Technology In a Dog Bed
Our pick: Newton Baby Pet Bed
| | |
| --- | --- |
| Sizes and Dimensions (LxWxH) | Small (21 x 25 x 6 inches), Medium (25 x 39 x 7 inches), Large/X-Large (30 x 55 x 8 inches) |
| Colors Available | One color |
| Bed Type | Washable orthopedic and cooling dog bed |
| Warranty | 100-night free trial |
When it comes to advanced technology, Newton Baby's pet bed is outstanding. Using their Wovenaire technology, we love that this orthopedic bed is both cooling and supportive on joints throughout your dog's life. The fill material is unlike any we've encountered. It is made of 90 percent air and 10 percent food-grade polymer, which feels like foam and latex.
When the bed needs to be washed, simply toss it in your washing machine. The core can be cleaned with a shower spray or outside with a hose. Any shed or dander is easily removed from cover to core.
Comfort is of utmost importance, as without it most dogs will ignore a dog bed. This isn't the case with Newton Baby's Pet Bed. When placed side by side with our current dog bed, our pups ran to the Newton dog bed right away. What made our hearts smile is that puppies curled up next to older dogs on it.
When it comes to breathability, the Wovenaire technology wins paws down. Most memory foam beds tend to trap heat. Newton's dog bed features a temperature-regulating core which is cooling and provides lasting support.
Newton goes above and beyond to ensure your dog receives a supportive, independently-tested bed. The bed has been put through the highest industry emissions safety standard to help improve indoor air quality. It tested and certified for low chemical emissions.
Choose from one of three sizes to accommodate every size of dog. Consider ordering an extra cover if you want to rotate now and then. The bed ships free within one to two business days of ordering from Newton.
Highlights
Cooling, chic, and easy to care for
Orthopedic support and temperature regulating
Durable, scratch resistant, and made for longevity
Easy to assemble bolsters, cover, and core
Newton pet beds contribute to cleaner indoor air
100-night trial with risk-free returns
100 percent breathable and washable Wovenaire core
Things to Consider
Avoid placing core in direct sun or heat
After washing, core and bolster are tumble dry low
Bed is not chew-proof
Best Orthopedic Dog Bed For Arthritis
Our pick: The Dog's Bed Orthopedic Dog Bed
| | |
| --- | --- |
| Sizes and Dimensions (LxWxH) | Small (25.5 x 20 x 2 inches), Medium (30 x 25.5 x 3 inches), Large (36 x 27 x 4 inches), X-Large (43.5 x 34 x 4 inches), XX-Large (51.5 x 39 x 4 inches) |
| Colors Available | Gray Plush, Black Faux Fur, Brown Plush, Brown with Brown Trim, Dark Blue with Red Trim, Gray Faux Fur, Gray Linen, Gray with Black Trim, Gray with Blue Trim, Honey Fur |
| Bed Type | Orthopedic Bolster Bed |
| Warranty | None available |
The mattress in The Dog's Bed orthopedic dog bed is designed with a multitude of arthritic conditions in mind. These include elbow and hip dysplasia, torn cruciate ligaments (which I've been through with my dog twice), and osteochondritis.
With a solid two inches of premium grade and high-density orthopedic memory foam over a two-inch solid base of support foam, they've designed this to keep joints comfortable and youthful longer. Because it is slightly elevated off the ground, dogs who have difficulty stepping onto higher canine mattresses and beds won't have that problem with The Dog's Bed.
We love that this bed comes with an easy-clean cover, which is easy to vacuum and wipe. Designed for longevity, should you need to replace the cover, The Dog's Bed has them affordably priced. The covers are also machine washable. Plus, The Dog Bed has a waterproof mattress that will help "catch" any accidents.
A lot of dogs love to curl up when they sleep, and the bolster feature of this particular orthopedic bed makes them feel less vulnerable and more at ease. My dog loves to rest his chin on a bolster bed like this despite his 12-year-old joints. A bolster is great to help cradle a dog so he doesn't roll out of it during a deep sleep.
The Dog's Bed Orthopedic Dog Bed Video Review
Highlights
When it comes to cleaning, this one gets top marks with the waterproof mattress and easy-to-wash cover.
Available in a variety of size selections for different breeds.
Orthopedic memory foam, plus support foam makes it extra comfy, especially for dogs with arthritis.
We like the clean and modern design, which comes in classic colorways.
Things to Consider
Some online reviewers say that the waterproof cover in the bed makes it a bit noisy. Keep that in mind if your dog likes to toss and turn!
Best Orthopedic Dog Bed For Large Breeds
Our pick: FurHaven NAP Deluxe Memory Foam Pillow Dog Bed
| | |
| --- | --- |
| Sizes and Dimensions (LxWxH) | Small (20 x 15 x 3 inches), Medium (30 x 20 x 3 inches), Large (36 x 27 x 3 inches), Jumbo (44 x 35 x 4 inches), Jumbo Plus (53 x 42 x 5 inches) |
| Colors Available | Wide range of patterns and colors available including gray and tan neutrals, blues, greens, browns. |
| Bed Type | Orthopedic Mattress |
| Warranty | 90-day limited coverage warranty; 60-day Worry Free program |
They had me at Jumbo Plus on this one. For dogs up to 125 pounds, such as a Great Dane, or smaller dogs with big attitudes, the FurHAVEN NAP Deluxe Memory Foam Pillow Dog Bed is made with size in mind. If your dog happens to be a bit smaller, no worries: they offer a super selection from small to jumbo plus. The memory foam topper is 2.5 inches thick for the jumbo size.
Their memory foam core is a great start, but they laminate it to medical-grade polyurethane so a larger dog's weight is cradled like a baby. Longer, more restful naps without the constant need to toss and turn for comfort makes for a happier dog.
Older, disabled, and injured pets won't despair nor hesitate at stepping ever-so-easily onto the FurHaven NAP orthopedic dog bed. Dogs such as Golden Retrievers can even sleep together on this orthopedic bed because sharing is caring and the room is ample.
This particular orthopedic dog bed for large breeds comes in a variety of fabrics and colors. The cover feels good with its silky-soft faux fur and durable oxford polycanvas designed to last.
Highlights
Specifically designed with large breeds in mind.
Memory foam and medical-grade polyurethane are a top-notch combo.
The design is sleek and simple, perfect for blending in with your home decor.
CertiPUR-US Certified. Foam is made in the USA.
Easy to clean with a machine-washable cover.
Things to Consider
If you have hardwood or tile floors, some buyers have commented that this bed has a slippery bottom. Look into a non-slip mat or place this on carpets for the best results.
Most Comfortable Orthopedic Dog Bed
Our pick: The Dog Bed by Casper
| | |
| --- | --- |
| Sizes and Dimensions (LxWxH) | Full bed: Small (26 x 19 x 6), Medium (33 x 25 x 6), Large (45 x 35 x 7) |
| Colors Available | Blue, Gray, Sand |
| Bed Type | Orthopedic Memory Foam |
| Warranty | 1-year limited warranty |
Casper mattresses are well-known for providing us humans with an unrivaled sleep experience, complete with cooling foam, incredible support, and dual comfort layers. The same qualities apply to The Dog Bed, a Casper mattress for canines equipped with a few bonus features to create the ideal orthopedic sleep environment for pups of all ages and sizes.
Tired of going through bed after bed because your dog can't seem to get comfortable? Thanks to the dual-layer foam construction, pups will feel like they're sleeping on a supportive cloud. This bed soothes sore joints and muscles, providing proper support and pressure relief for a good night's sleep.
Casper's dual-layer design features one layer of Visco elastic memory foam and one layer of polyurethane support foam encased in an easy-to-remove washable cover. Bonus points for the smart design with sewn-in pockets to hide the metal zippers. No more scratched floors!
Beyond the supportive construct and ergonomically correct design, dogs can dig their paws into the cover. The cover is practically impenetrable, featuring some of the strongest bonded microfibers (nylon, polyester, and olefin.)
Best of all, Casper's dog bed comes with a 30-night risk-free trial for extra peace of mind. In the unlikely chance that it doesn't work out, you don't have to keep what your dog doesn't like.
Highlights
Fortified materials remain stable with use so the bed won't sink, slump, or sag.
Heat-bonded cover fibers help prevent fur from sticking.
Raised bolsters provide support and promote a sense of safety.
Choose from three size selections — Small (dogs up to 30 pounds), Medium (dogs up to 60 pounds), and Large (dogs up to 90 pounds).
Sturdy cover launders easily in the washing machine.
Zippers are safely tucked away to prevent scratching floors.
Things to Consider
No size is available for dogs over 90 pounds.
The center piece can be removed and flipped, but the bolsters cannot.
The cover is not urine-proof. Use a pet-safe spot cleaner where necessary.
See more buyer reviews at Casper.com.
Toughest Orthopedic Dog Bed
Our Pick: K9 Ballistics Tough Orthopedic Dog Bed
| | |
| --- | --- |
| Sizes and Dimensions (LxWxH) | Small (24 x 18 x 5 inches), Medium (33 x 27 x 5 inches), Large (40 x 34 x 5 inches), X-Large (54 x 38 x 5 inches), Giant (68 x 40 x 5 inches) |
| Colors Available | Black, Blue, Green, Tan |
| Bed Type | Orthopedic Mattress |
| Warranty | 120-day warranty |
If you have a dog that is hard on their beds, then you need something durable that will stand up to scratching and moderate chewing. This supportive option from K9 Ballistics is a great choice. It features a ripstop ballistic nylon cover that is scratch resistant and waterproof. The brand uses CertiPUR-US certified foam, which is made in U.S. facilities, and it doesn't flatten or wear out over time. The cover is machine washable and waterproof for easy cleaning.
Highlights
A tough bed that will stand up to digging, scratching and moderate chewing
However, this is not a chew-proof dog bed, and isn't designed for heavy chewing or biting
Cover is removable and machine-washable
USA made with CertiPUR-US certified foam
Brand offers a 120-day warranty
Things to Consider
Remember, it's not designed for very heavy chewers
Not the softest or coziest dog bed in terms of the cover
The mattress is on the firmer side. It's supportive, but firm
Best Cooling Orthopedic Dog Bed
Our pick: Sealy Lux Quad Layer Orthopedic Dog Bed With Cooling Gel
| | |
| --- | --- |
| Sizes and Dimensions (LxWxH) | Small (25 x 20 x 5 inches), Medium (36 x 28 x 7 inches), Large (42 x 32 x 8 inches), X-Large (48 x 38 x 8 inches) |
| Colors Available | Brown, Gray, Navy, Green |
| Bed Type | Orthopedic Bolster, Cooling |
| Warranty | None available |
We've all had nights where we kick the covers off because it's too darned hot. Dogs can't tell us their bed is too warm, but the folks at Sealy must speak dog. Within their quad element core of comfort is an energy gel cooling layer designed to dissipate heat away from the sleeping surface. Dogs stay cooler for a more comfortable nap.
Without using any poly-fill or low-grade foams, Sealy combines memory foam, cooling energy gel, orthopedic foam, and a layer of high density foam to provide a firm, sturdy base even on those hot nights and dog days of summer. The high density foam within the bed ensures dogs will never feel the floor beneath their bodies.
Sealy Lux Quad Dog Bed Video Review
Highlights
Cooling technology is a huge plus for warmer weather or climates.
Sealy has a great reputation for human mattresses, and pet parents are smitten with their dog beds too.
This bed offers a machine-washable cover for easy cleaning and a water-resistant liner.
Non-skid bottom that helps the bed stay in place
CertiPUR-US Certified. No formaldehyde, no phthalates, and eco-friendly practices.
Things to Consider
The waterproof cover does crinkle and is a bit noisy.
You do need to "assemble" this bed, and some reviewers found assembly confusing.
Best Orthopedic Foam Dog Bed
Our pick: Barkbox Memory Foam Platform Dog Bed
| | |
| --- | --- |
| Sizes and Dimensions (LxWxH) | Small (24 x 16 x 3 inches), Medium (28 x 18 x 3 inches), Large (35 x 22 x 3 inches), X-Large (41 x 29 x 4 inches), XX-Large (50 x 34 x 5 inches) |
| Colors Available | Black Windowpane, White Windowpane, Espresso, Gray, Navy, Sand, Plush Light Gray, Plush Pink, Plush Sand, Stripe |
| Bed Type | Orthopedic Mattress |
| Warranty | 1-year warranty |
High-density pressure-relieving foam is combined with temperature-regulating gel memory foam to provide optimal therapeutic support on a dog's joints. The ergonomic gel memory foam is great for all dogs, but especially those with mobility issues and arthritis.
This is an orthopedic plush memory fun bed that comes in four sizes, four colors, has a removable cover to machine wash, and comes with the most adorable squeaker toy as a gift. I know because we own this bed and get the most use of it, especially when we travel. It doesn't weigh a ton like many orthopedic dog beds.
This Barkbox bed has several sizes and colors from which to choose. If your dog is anything like mine, you have a few beds strewn about your abode for his comfort!
Highlights
Price is a plus. With all of the features and attention to detail, the price tag doesn't break the bank.
Easy to clean. Pet parents are encouraged to toss the cover right in the washing machine.
We love the color selection.
The memory foam is comfortable for dogs with orthopedic issues.
Things to Consider
If you have a larger breed, this bed runs a bit small. Make sure to check sizing before purchasing.
This bed doesn't have bolsters or headrests. It's just a flat, memory-foam mat.
Best Orthopedic Sofa Dog Bed
Our Pick: Bedsure Orthopedic Dog Bed
| | |
| --- | --- |
| Sizes and Dimensions (LxWxH) | Small (20 x 15 x 6 inches), Medium (28 x 23 x 7 inches), Large (35 x 25 x 7 inches), X-Large (42 x 32 x 7 inches), XX-Large (53 x 42 x 8 inches) |
| Colors Available | Brown, Gray, Navy Blue, Washed Blue |
| Bed Type | Orthopedic Sofa |
| Warranty | None available |
There are plenty of reasons why the Bedsure Orthopedic Dog Bed is a top seller on Amazon. It's extremely plush and comfortable. The sofa-style bed offers a cozy flannel covering and bolsters on all sides that provide pets with plenty of support and places to rest their heads. It features 3-inch high-density, egg-crate foam to evenly distribute your dog's weight and offers a non-skid bottom, which makes getting in and out of the bed easy on dogs with joint or mobility problems. The cover is removable and machine washable, plus the bed comes with a waterproof liner to help keep the foam layers clean and protected.
Highlights
High density egg-crate foam distributes weight evenly
Sofa style bolsters provide lots of lounging options
Available in a variety of sizes and colors
Removable cover and waterproof lining make it easy to keep clean
It's an affordable orthopedic option
Things to Consider
Replacement covers are not available to purchase separately
Beds run a little small, even with the size chart. If you're unsure, size up
Not a very firm orthopedic bed. Larger dogs may sink in more than desired
No warranty
Best Orthopedic Dog Bed For After Surgery
Our pick: PetFusion Ultimate Dog Bed
| | |
| --- | --- |
| Sizes and Dimensions (LxWxH) | Small (25 x 20 x 5.5 inches), Large (36 x 28 x 9 inches), X-Large (44 x 34 x 10 inches), XXL/Jumbo (50 x 40 x 13 inches) |
| Colors Available | Chocolate Brown, Sandstone, Slate Gray |
| Bed Type | Orthopedic Bolster |
| Warranty | 36-month warranty |
They call this one the ultimate dog bed, and for pups recovering from surgery, this orthopedic dog bed is a comforting area for rest and respite. The last thing any dog mom or dog dad needs to worry about is a dog's comfort in his bed after any surgical procedure.
The pillow on this dog bed is of medium firmness, the cotton is breathable, the base is non-skid, the bolsters are pre-loaded for maximum support, and the memory foam base is six inches of pure support.
Dogs recovering from surgery often leave stains that may ooze from wounds. The water-resistant and tear-resistant factors of the PetFusion ultimate dog bed put this one in a league of its own. It's simple to spot clean and easy to remove hair. When it's time to fully wash the cover, toss it in the laundry machine and tumble dry on gentle.
This bed also offers a great selection of sizes. Measuring 50 inches by 40 inches, the XXL Jumbo size can easily hold a 200- pound dog or more. Don't worry if you're more the small or medium sized dog parent—there are options available for you, too.
Highlights
The cover fabric is certified as "Skin Contact Safe" making it a great option for dogs who just had surgery.
The non-skid bottom makes it easy for recovering dogs to get in and out of.
CertiPUR-US Certified. Having surgery is hard enough on a dog, so don't worry about any unnecessary chemicals or toxins in this bed.
It's easy to spot clean and you can machine wash the removable cover.
Things to Consider
You do have to assemble this bed.
Some reviewers said that the fabric does collect a lot of dog hair. But, it's easy to remove and clean.
Orthopedic Dog Bed Buying Guide
Now that you understand what constitutes an orthopedic dog bed, there are specific qualities, attributes, and features to consider before purchasing one.
Buy for your dog's size. Some orthopedic beds, like the ones from Big Barker and FurHaven, are really designed with larger dogs in mind. That doesn't mean they don't offer options for smaller dogs, but some brands cater to large and giant breeds. Factor in your dog's size when shopping for a bed and make sure to consult measurements to order something that works for your pet.
Factor in the firmness. All orthopedic dog beds are made to support your dog's joints, but the level of firmness differs from brand to brand. Manufacturers use different filling and support systems in their beds. Typically, larger dogs need a firmer orthopedic bed than smaller dogs, but all dogs have their specific preferences.
Consider cleaning. Orthopedic dog beds can be a bit bulky due to their layers of foam and support, so look for beds that are easy to clean. Beds with removable covers and waterproof layers or liners can keep the foam and mattress portions protected.
Decide if a warranty is important. Some orthopedic beds are more expensive than regular dog beds. If you're going to invest in one of these products, consider whether a warranty or money-back guarantee is important to you. Some brands offer robust warranty coverage to protect against damage or dissatisfaction. If the bed you're considering doesn't offer a warranty, make sure to do ample research before purchasing to make sure it's right for your pet.
Orthopedic Dog Bed FAQs
What makes a dog bed orthopedic?
Orthopedic dog beds are designed to provide extra support to a dog's joints. This means these beds usually have multiple layers and use specialty foam to cradle your dog and relieve pressure. While many orthopedic dog beds are made with memory foam, not all memory foam dog beds are considered orthopedic.
Are orthopedic beds good for dogs?
Yes, in general, orthopedic beds are a good option for dogs—especially those who have arthritis, joint problems, or mobility issues. For dogs with joint conditions, orthopedic beds are much more comfortable and will provide dogs with a better rest. Dogs that are more well rested have more energy and a better overall quality of life. If you have a young puppy or a healthy adult dog who doesn't suffer from joint problems or mobility issues, you may not need an orthopedic bed.
Are orthopedic dog beds worth it?
Orthopedic beds for dogs tend to be more expensive than traditional dog beds. However, the extra cost will ensure that your dog remains comfortable and feels supported when lying down and resting. Most orthopedic dog beds are extremely well made and many offer warranties or money-back guarantees. While buying an orthopedic dog bed is an investment, the benefits to your dog are worth it.
How do you clean orthopedic dog beds?
Cleaning an orthopedic dog bed will depend on the type of bed you decide to purchase. Many beds have removable covers that are machine washable. Additionally, some have waterproof lining, which helps to protect the mattress and foam layers from accidents. In between throwing the covers in the washing machine, you can wipe the bed down with a wet cloth or spot clean as needed. Make sure to consult the manufacturer's instructions for cleaning advice.
The Right Orthopedic Bed for Your Dog
Whether your dog is a young pup or young at heart, a high-quality orthopedic dog bed like those on our list can really make a difference in their quality of life.
Dogs provide us with unwavering loyalty and love and we owe it to them to provide a soft yet supportive place to rest. From nap time to bedtime, the right orthopedic dog bed can make your dog comfortable for years to come. Sweet dreams!